I'll admit it, I am a holiday addict. You give me a holiday, and I'll give you an excuse to go overboard. Valentine's Day, Easter, 4th of July, Halloween….I love them all. But the winter holidays, Thanksgiving and Christmas, those are my favorites. So it should come as no surprise that I've got a few things planned for the upcoming holiday season. The first is Operation Christmas Child.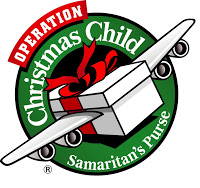 A couple of weeks ago SouthernSavers.com posted an announcement about an amazing non-profit organization that had never heard of before. Operation Christmas Child sends shoebox-sized gifts to needy children all over the world at Christmastime. When I read about it on Jenny's site, I thought it was wonderful idea. I thought it would be nice to participate, and I even thought about posting a link on my own site. But I didn't really get moving on it. And then this past Sunday at church, I opened up the bulletin and there was an insert for the very same organization. As I sat there and read about these children around the globe who literally have nothing, I was struck by the fact that I have so much and they have so little, and I knew it was time to act.

Shopping with coupons has put me into the unique position of having more than I or my family could ever possibly use. I originally started my Share-the-Wealth Wednesday giveaway as a way to give back to my readers. But if you read my blog regularly, you are learning for yourself how to use coupons, and, if you don't already, soon you will have more than you need as well.
So why not give back to someone who really needs it? This holiday season, I will be using my savings skills to gather items to fill as many shoeboxes as I can. And for those of you who are discovering the joys of coupon shopping along with me (and even those of you who aren't), I am throwing out a challenge:  join me! Make a commitment to do something this holiday season, whether you fill one box or fifty, or decide to give back in another way.
Packing a shoe box is simple and it could be a fun project to do with your kids, or with a group of friends. You can choose the gender and age group of the child you fill a box for, and you can even register your box online so that you can track the package online and see where it ends up. What a great learning opportunity! For detailed instructions on packing your box and dropping off your donation, click here.
My personal goal is to fill 10 shoeboxes for Operation Christmas Child by November 22nd, the day the boxes are due back at my church. In the next few weeks, I will post updates on my progress as well as thrifty ideas for items to fill the boxes.
I encourage all of you to set your own goal and post it in a comment below, and to help others participate by sharing box filler ideas. I also encourage you to get as many of your friends and family to participate as well so that together, we can make a big difference in a lot of children's lives this Christmas.
On November 22nd,  the day the boxes are due, I will randomly pick three participants to each win a $15 Starbucks Gift Card, just my personal way of saying "thank you" for joining me. To be eligible to win the gift card, all you have to do is post a comment below on how you plan to "give back" this holiday season.