Welcome back to the Beginner's Guide to Cleaning! We've now tackled our living spaces, kitchen, and bathrooms, which means at this point, your house quite possibly looking better than it has in years!
I'm hoping that motivation is starting to get contagious, because this week we will be tackling the room or rooms that most often get completely ignored. Because let's face it….while our living room, kitchen, and even the bathrooms are public spaces, our bedrooms are a little more private. And while privacy is nice, it is also very easy to just shut the door and ignore the mess.
But a clean bedroom is not easier on the eyes, it is a sanctuary from a hectic life. It your place to refresh and recharge, to get a good night's sleep each evening so that you are ready to start your day. From a health standpoint, it should be kept relatively dust free to reduce the amount of allergens in the air while you sleep. And maybe it is just me, but I honestly believe there is nothing better at the end of a long day than snuggling into a well-made bed!
Once again I will walk you through the steps for cleaning the surfaces most commonly found in this zone, giving detailed instructions for how to clean each one. If you are already a bedroom-cleaning whiz, much of it may be review—feel free to skip to the end of the post, or add your own tips & tricks in the comments below! At the end of the post you will get a printable checklist to use as you tackle your bedroom.
Are you ready? Here we go!
Step 1: Pre-clean & declutter
Supplies needed: A large basket + a large box
How-To: Start by stripping the bed; wash sheets while cleaning the rest of the room. Pick up any items lying around the bedroom, including any clutter that has collected on dressers and chairs. Hang clothes and place other items in appropriate baskets to be put away. (A great task for kids!) Use a large box to collect toys, clothing, and other items that are no longer used or needed, then donate items as soon as possible, before they find their way back into the house. If you are feeling extra motivated, you may want to try decluttering & organizing your bedroom closet before you begin. The 40 Hanger Closet Challenge is a great place to start. Or, if you are tackling your kids' rooms, you may want to consider removing most of their toys.
Step 2: Clean Ceiling Fans, Vents, Lights, & Upper Ledges
Supplies needed: Vacuum with hose attachment, hand vacuum, or portable wet dry vac, warm soapy water, rag
How-To: Vacuum excess dust from top of fan and/or upper ledges. Use wet rag to gently clean blades; rinse and repeat if necessary.
Step 3: Dust
Supplies needed: reusable or disposable dusting wand
How-To: Run duster over all horizontal surfaces, including bookshelves, the tops of light switches and fixtures, picture frames, clocks, mirrors, and any knick knacks or figurines.
Step 4: Wash Windows & Mirrors
Supplies needed: Glass cleaner, squeegee, rag
How-To: Spray glass; run squeegee against glass from side to side, wiping blade with rag as necessary.
Step 5: Clean Curtains & Blinds
Supplies needed: washing machine, iron & ironing board, duster, mild soapy water & rag
How-To: If curtains are washable, remove curtains and wash in cold water on permanent press. Tumble dry on low and remove while still very slightly damp. Iron and re-hang. If curtains are dry clean only, consider having them cleaned or spot clean with mild soapy water. For blinds, dust gently with dusting wand until all dust is gone. If necessary, spot clean gently with a wet rag and mild soapy water.
Step 6: Clean & Polish Wood Furniture
Supplies needed: Murphy's Oil Soap, Furniture Polish, rags
How-To: Fill sink or bucket with warm water and a few capfuls of Murphy's oil soap. Use rag moistened with oil soap mixture to clean all wood furniture, including bookshelves or hutches, desks, tables, and dining chairs. I also like to use this mixture to clean my leather furniture, although it does not specifically say on the bottle that it is intended for leather, so be sure to test a small hidden area first! Once wood is clean, polish surfaces with an oil-based furniture polish. Apply polish to damp cloth, rub on surface, than buff off with a second dry cloth.
Step 7: Clean Baseboards
Supplies needed: Vacuum with hose attachment, dish soap, rag
How-To: Start by vacuuming along baseboards to pick up any loose dirt, lint, or pet hair. Fill sink or bucket with mild soap solution, then wipe baseboards clean with wet rag.
Step 8: Clean rugs & carpets
Supplies needed: Vacuum, baking soda, stain remover, dish soap, rag
How-To: Before beginning, be sure to check whether bag or canister is full, and empty if necessary. Also check rollers to make sure they are free of strings or debris. Vacuum rugs to remove all loose dirt and surface hair. Fill sink or bucket with mild soap solution, then spot clean rugs with stain remover and/or mild water solution. To deodorize after spot cleaning, sprinkle rug with baking soda, let sit for 20 minutes, then vacuum again. Be sure to get under bed!
Step 9: Clean hard floors
Supplies needed: Broom & dust pan, dust mop, wet mop.
How-To: Before beginning, move as much furniture from the floor as possible. Starting at one end of the room, carefully sweep loose dirt and hair towards the center of floor. Methodically make your way around the room, sweeping all dirt towards the center into one pile. Sweep into dustpan and throw away. Next, do a sweep of the floor with your dust mop to remove any remaining dust or hair. Spot clean any sticky or dirty spots, or mop entire floor with wet mop and let dry.
Step 10: Make the Bed
Supplies needed: Clean sheets & blankets, bedspread or duvet, pillows
How-To: (For step-by-step photos, check out this tutorial on how to make a perfect bed.) Start by smoothing the mattress cover & pulling it tight over all four corners. Unfold fitted sheet (check out this tutorial for how to fold a fitted sheet), then spread out over bed. Fit corners over mattress and smooth with your hand. Unfold flat sheet and spread over bed with finished edges facing down. The top of the sheet should be even with the top of the mattress, the sides should hang down equally, and there should be plenty of extra at the bottom to tuck into mattress. Spread blanket over flat sheet, checking to make sure it hangs equally on both sides. Tuck blanket and flat into bottom of mattress to hold sheet in place, then fold and tuck bottom corners. Fold top of blanket and flat sheet over about 12-15". Tuck sides under mattress, if desired. Spread bedspread or coverlet over blankets, then fold additional blanket or duvet to cover bottom half of bed. Fluff pillows and arrange at top of bed.
Of course now that you know just what to do, it is time to get to work!
Part Six Assignment
Just to review, here is your sixth assignment:
Set aside a good chunk of time—at least 2-4 hours—sometime this week to work on deep cleaning your master bedroom, as well as a few hours to work on your kids' bedrooms (or to help them with their tasks.)
Clear the clutter in each bedroom. Make it a goal to keep nothing on your dressers. Continue working on training your family to use the "collection zone" you set up in week three.
Follow the Bedroom Cleaning Checklist to get your bedroom neat and tidy from top to bottom. If possible, open up the windows to let in some fresh air as well!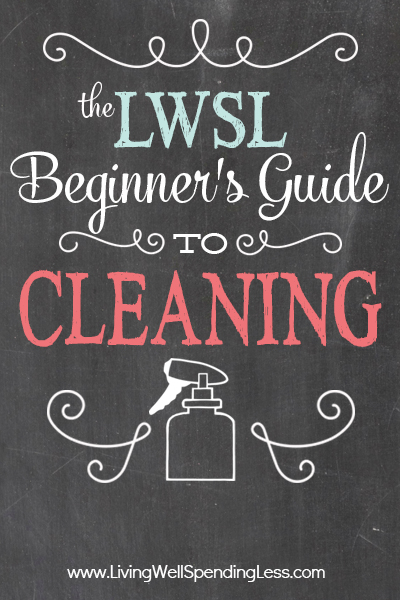 The LWSL Beginner's Guide to Cleaning:
The LWSL Beginner's Guide to Cleaning:
Part 1:
Getting Started
Part 2: Cleaning Supply 101
Part 3:
How to Clean Your Living Space
Part 4
:
How to Clean Your Kitchen
Part 5
:
How to Clean Your Bathroom
Part 6
:
How to Clean Your Bedroom
Part 7
:
Laundry 101
Part 8
:
Home Maintenance & Seasonal Cleaning
* * *
Did I miss anything? What are your biggest challenges to keeping your bedroom clean?
TAKE BACK CONTROL OF YOUR HOME LIFE
---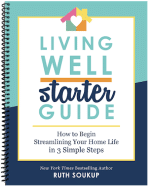 Ever feel like you just can't keep up? Our Living Well Starter Guide will show you how to start streamlining your life in just 3 simple steps. It's a game changer--get it free for a limited time!
If you love this resource, be sure to check out our digital library of helpful tools and resources for cleaning faster, taking control of your budget, organizing your schedule, and getting food on the table easier than ever before.