For all of us loyal Publix shoppers here in the South, the launch of the new digital coupon service might be the most exciting coupon news since Publix released their official coupon policy almost two years ago. This is BIG stuff, people! (And I apologize in advance to all you non-Publix or non-coupon shoppers; you may just want to skip this post, or go learn how by reading my Beginner's Guide to Coupons series. It will change your life!)
I admit that lately I have not been all that good about clipping coupons. I haven't bought a Sunday paper in months. Between homeschool and blogging and shuttling my girls to dance and gymnastics and church and the library, I don't always have time to clip coupons (or even prepare a list) before I go to the store, but I do make an effort to only buy things when they are on sale. (And we all know that saving money on groceries is not about the coupons!) Yes, I could save more if I were to clip coupons to use on top of those sale prices, but for now this is what I can do, because any savings is better than none!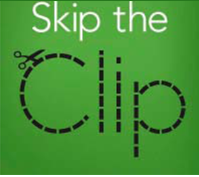 I'm excited about the digital coupons at Publix because clicking a button to digitally "clip" a coupon is so much easier and faster than the paper alternative. In a pinch, it can even be done from your phone right in the store as you shop. This is a nice feature for people who are frequently running around like a chicken with their head cut off on the go and don't always have time to fully plan their shopping trip (i.e. ME!)
Of course for all you fanatical coupon shoppers who are determined to squeeze every last percentage point out of your savings total, digital coupons might not be that big of a deal just yet, for several reasons:
First, the selection of digital coupons still seems pretty limited to me. Granted, new coupons are added often, but from what I've seen so far there aren't a lot of coupons that match up with store sales. For those that really want to maximize their savings on every item, paper coupons will still be necessary. I am hopeful, as the program starts to take off, that the selection of available coupons will increase, but at this point that is just pure speculation on my part.
Second, you can only clip one of each digital coupon, which means that if you are trying to stock up on a sale item, you will definitely still need to clip paper coupons in order to use multiple coupons.
Third, the digital coupons will not double. For those of us here in Florida, that is no big deal since we don't have double coupons anyway. However, for the rest of the South, not being able to double your coupon could make a big difference.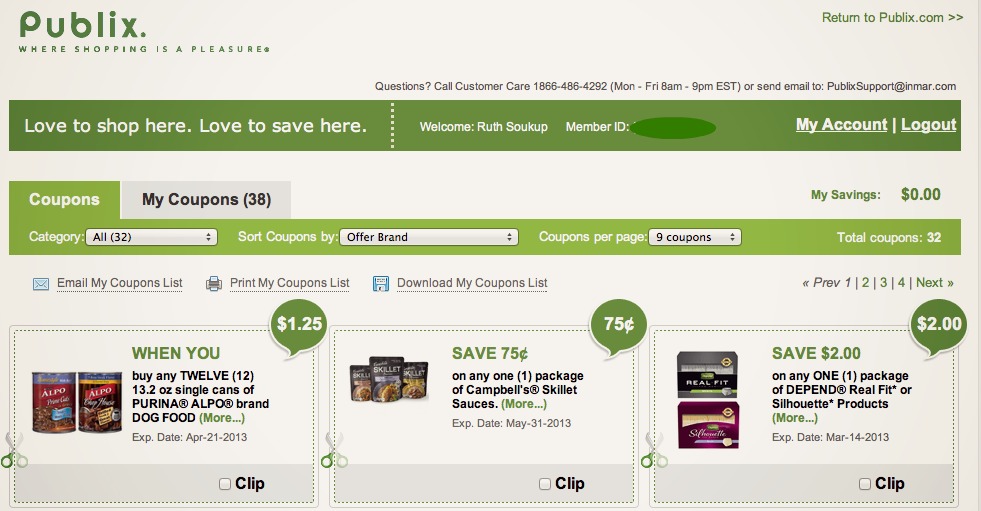 Of course for the rest of us, who only wish we could be a little more fanatical every week but simply don't always have time, I think this digital coupon thing is pretty darn cool. Not only is it super easy to get signed up, it takes almost no time or effort to use. You don't even have to remember to bring a special card–just punch in your phone number at checkout. Best of all, using digital coupons doesn't prevent you from using paper coupons as well, you just can't use both a digital coupon and a paper manufacturer's coupon on the SAME item.
I had my first chance to try out the new system yesterday. Once again I had very little time to clip paper coupons, although I did manage to grab a few for M&Ms and texas toast. The rest of the coupons I used on my trip were found in-store, on displays or blinkie machines, along with a few digital coupons. Checkout was a breeze–the only difference was now entering my phone number–and when all was said and done I had saved 61% off my total!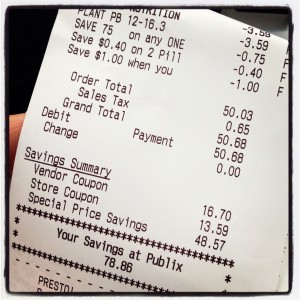 Ultimately extreme couponing has to work for you and your family. For some, spending hours and hours clipping coupons does little more than add extra stress and take time away from other important things. For others, where money is a major source of stress, spending time on coupons is what helps your family most. At the end of the day, I'm just happy Publix has brought us another option for saving money on groceries.
Finally, for those of you who still have questions, hopefully these FAQs will help alleviate any lingering confusion:
How do I know if digital coupons are available in my store?
Digital coupons are now available in all Florida and Alabama Publix stores, and will be available everywhere else by March 15th.
How do I sign up for Publix digital coupons?
To get signed up, simply visit the Publix.com/coupons, then create your account and choose your coupons.
Is there a digital coupon card I need to get?
No, your account is attached to your phone number. To apply your digital coupons to your purchase, just punch in your phone number at checkout.
What if I forget to punch in my phone number at checkout?
Let the cashier or customer service department know and they will re-ring your item.
Will my digital coupons be doubled?
No. Digital coupons do not double.
What if I have both a paper coupon and a digital coupon for the same item?
You can only use one manufacturer's coupon per item, even if one is digital and one is paper. You should use whichever one has the highest value. The register will take off whichever coupon was presented first.
Do digital coupons expire?
Yes, digital coupons expire. If you don't use it by the time it expires, the system will take it out of your available coupons and move it to the Expired tab in your account.
How often do new coupons get added to the website?
Manufacturers can add coupons at any time. Check the website often!
Can I use a digital coupon in my account the select it again to use a second time?
That depends on the manufacturer.
For a few more details, check out my segment on WINK News!
* * *
Have you tried using digital coupons at your Publix store? What did you think? Do you have any tips or tricks to share?
TAKE BACK CONTROL OF YOUR HOME LIFE
---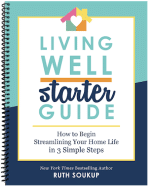 Ever feel like you just can't keep up? Our Living Well Starter Guide will show you how to start streamlining your life in just 3 simple steps. It's a game changer--get it free for a limited time!
If you love this resource, be sure to check out our digital library of helpful tools and resources for cleaning faster, taking control of your budget, organizing your schedule, and getting food on the table easier than ever before.