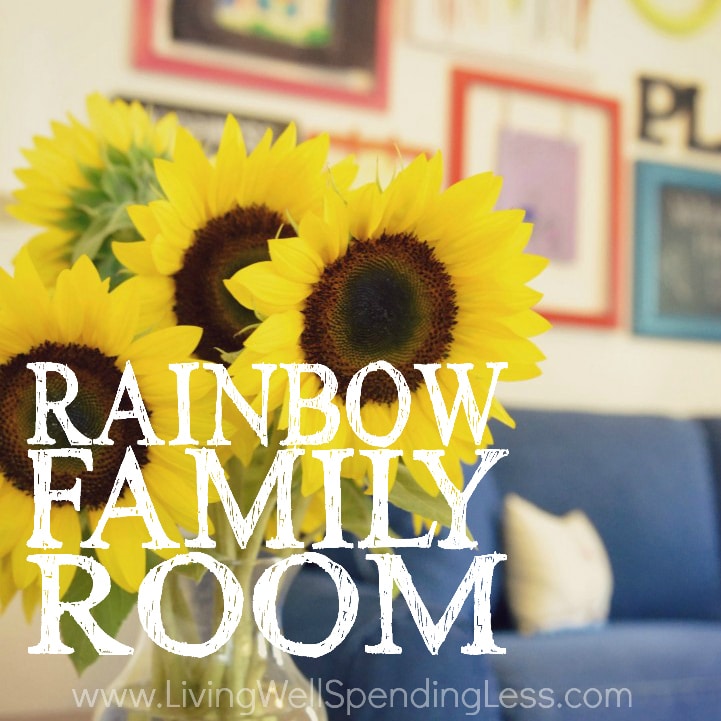 My husband Chuck was out of town this week for a business trip so I decided to surprise him by remodeling our former guest room while he was gone. This was a project we have been planning for a while but are never able to get to. In fact, we sold our guest bedroom set a few months ago in anticipation of the project, and even started ripping out the carpet, but then life took over and the room became little more than an ugly storage room.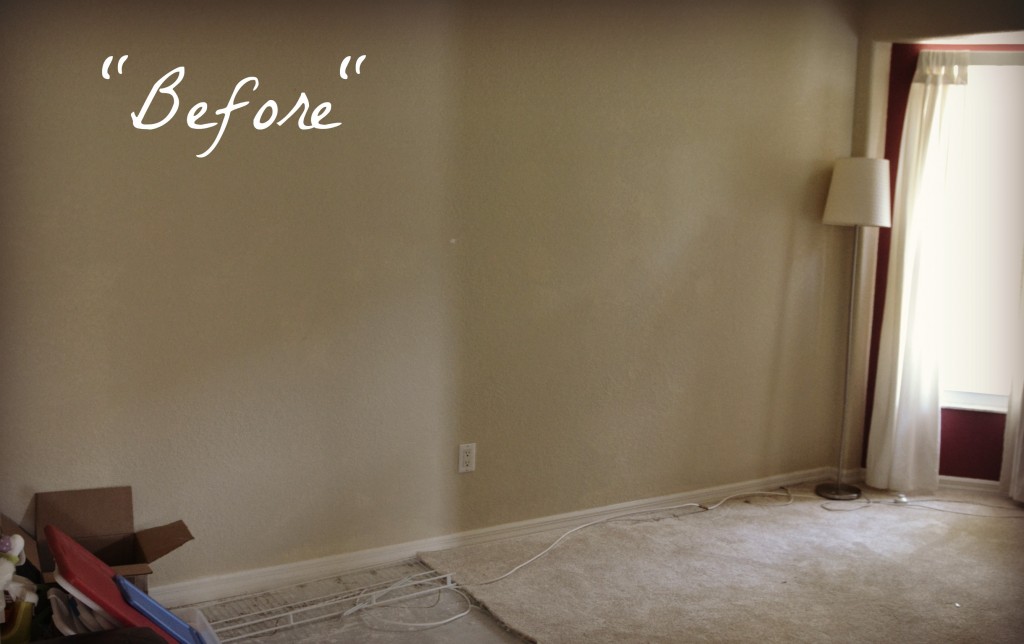 Taking on such a big project all by myself was a little daunting, but luckily we have a good friend who is a great contractor and could help with all the construction-y stuff like installing the bamboo floors (which had been sitting in boxes in the closet since 2004!), installing a new ceiling fan, and hanging shelves the right way (you know, the way where they don't fall down and can actually hold stuff on them.)
In all honesty, I didn't do a whole lot of pre-planning for this project. In fact, I didn't even decide to do it until last week. My main goal was just to paint the walls and have the new flooring installed, 2 things Husband and I had discussed at length but never had time to do. Because that room had always felt dark and dreary to me, I chose the most unlikely of colors (at least for me): white. (Technically the color is called "Swiss Coffee" by Behr.)
I couldn't bear the thought of having to do 3 or 4 coats to cover up the existing paint so I splurged on the Behr Premium paint that claims to be a paint and primer in one. It ended up being a good decision because the walls looked great after only 2 coats.
The transformation, as soon as I started painting, was immediate. The room became so much brighter and instead of this awful depressing room that I had always hated, it suddenly felt like a blank canvas. A colorful plan began forming, (inspired largely by one of my favorite blogs, whatever), and the only question became whether we could possibly pull it off in just 4 days. It was a LOT of work to get it all done in time, but everything came together really well.
The only major purchase I made was the couch, which was definitely the biggest and most expensive thing I have ever bought without first consulting my husband. But I absolutely loved the denim and thought it was perfect for the room, so I took a risk. The rest of the furniture was stuff we had on hand already, except for the little window seat stools ($25 each at Target) and the little red table ($30 at Marshall's, spray painted by me.)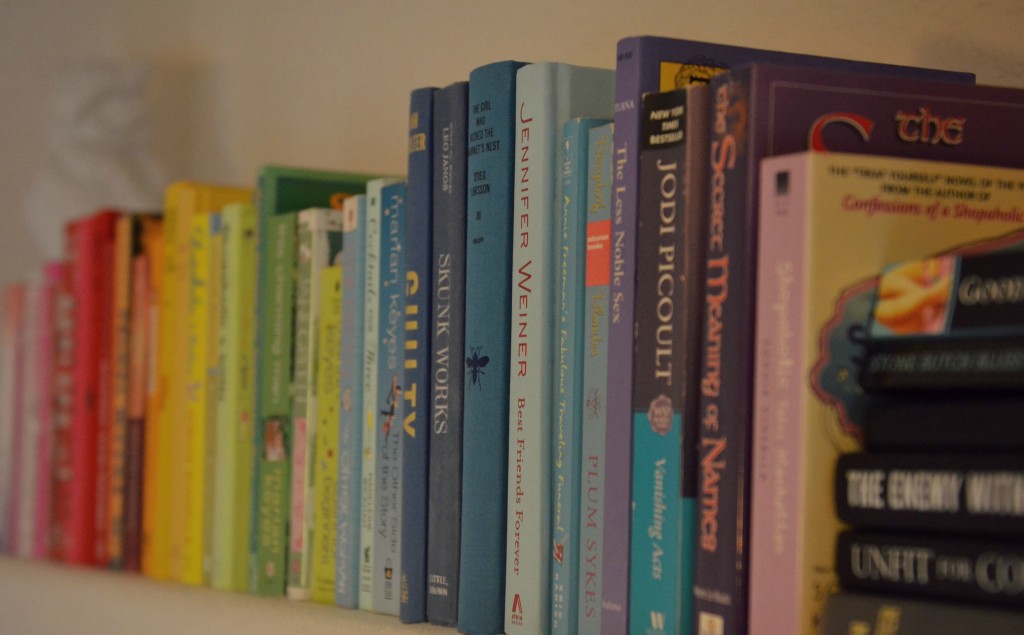 I love the rainbow effect of these books. It is probably my favorite part of the whole room. And check out the awesome owl, a sweet surprise gift from my talented friend Angela.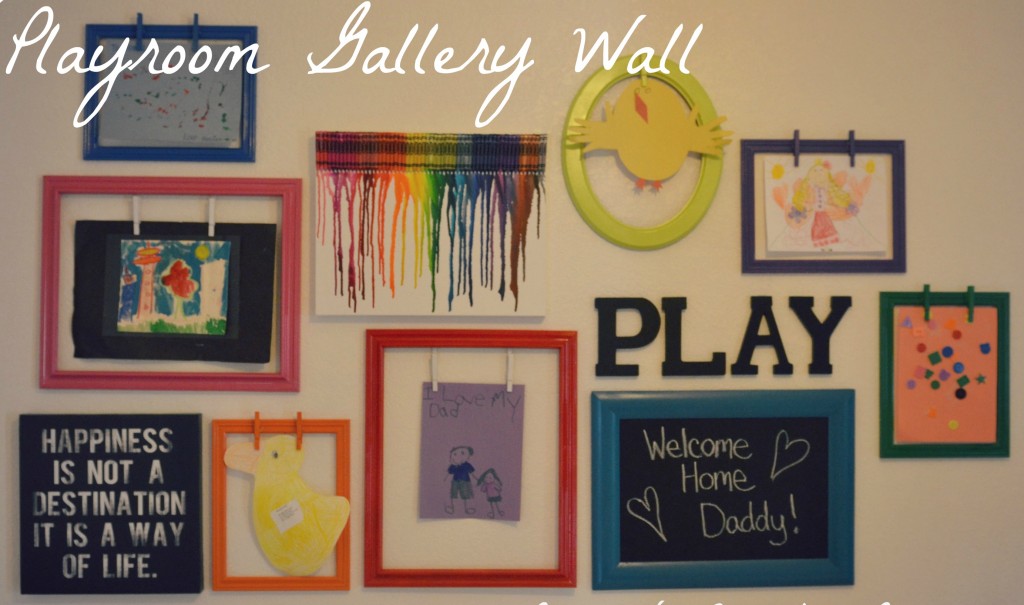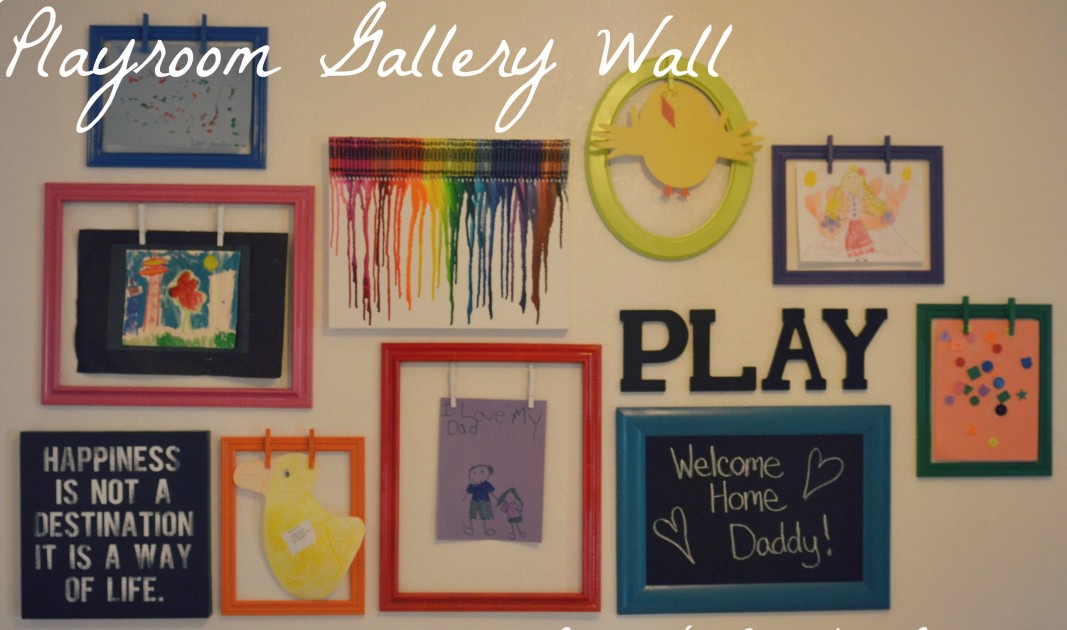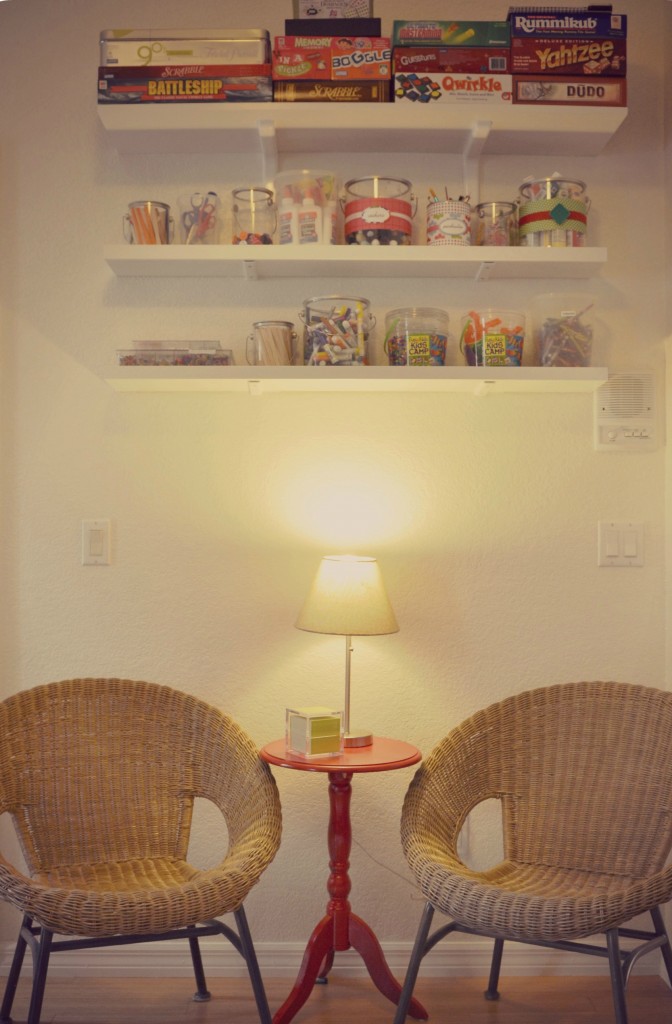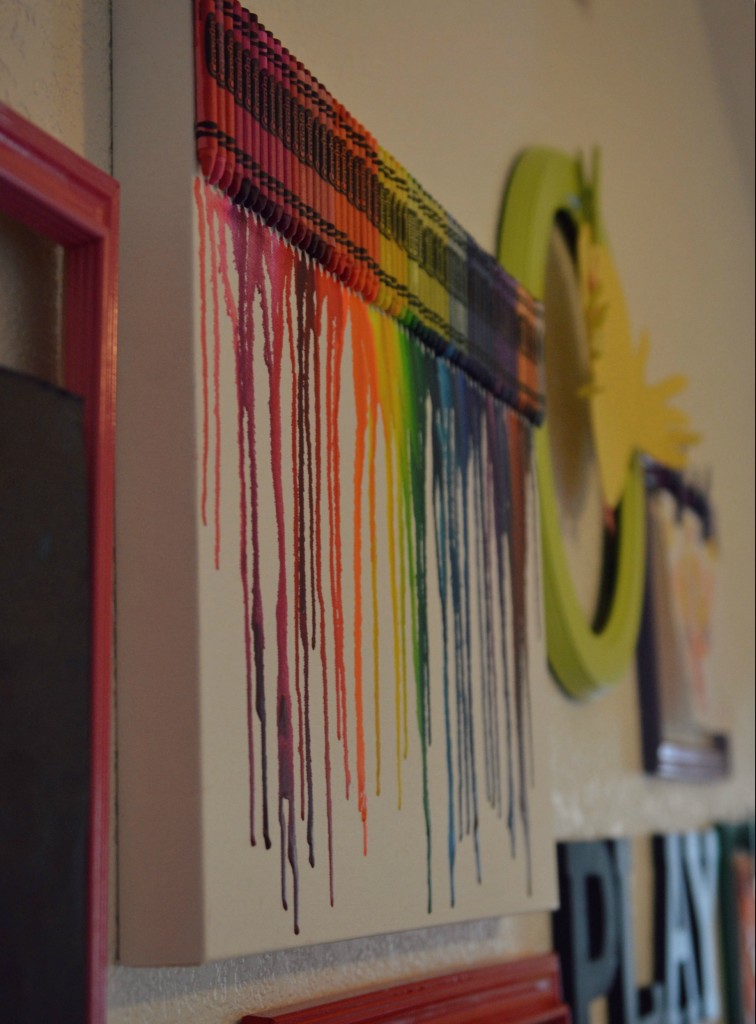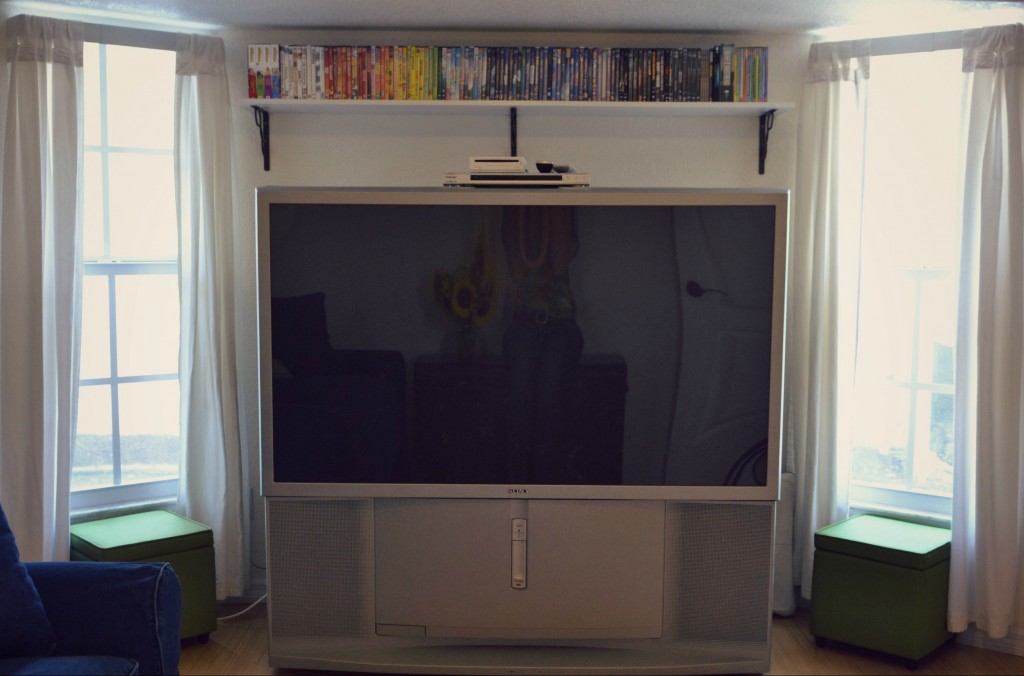 This gigantic TV was a relic from husband's bachelor days. Not wanting it to be the focal point of our living room, I banned it to this room where it has sat unused for years. Now it finally has a home.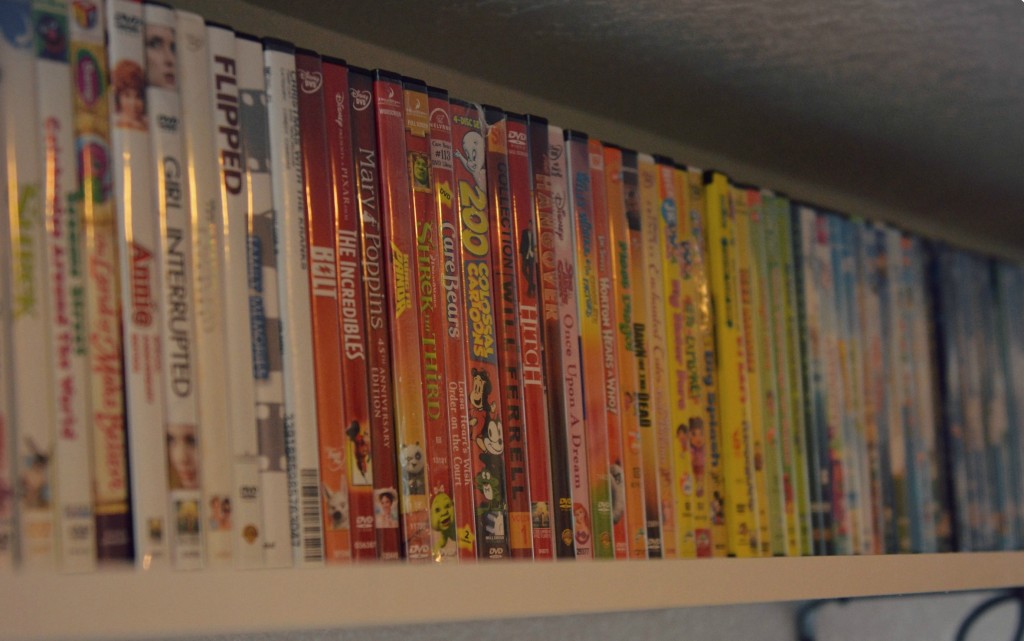 More rainbows. What a happy way to organize DVDs!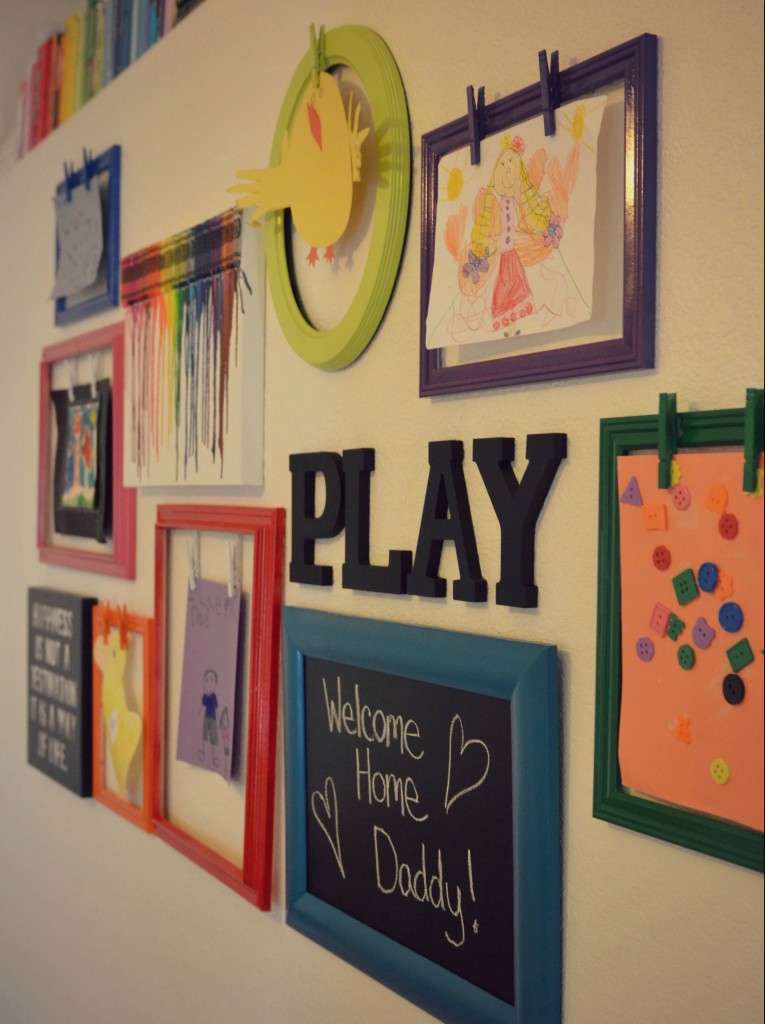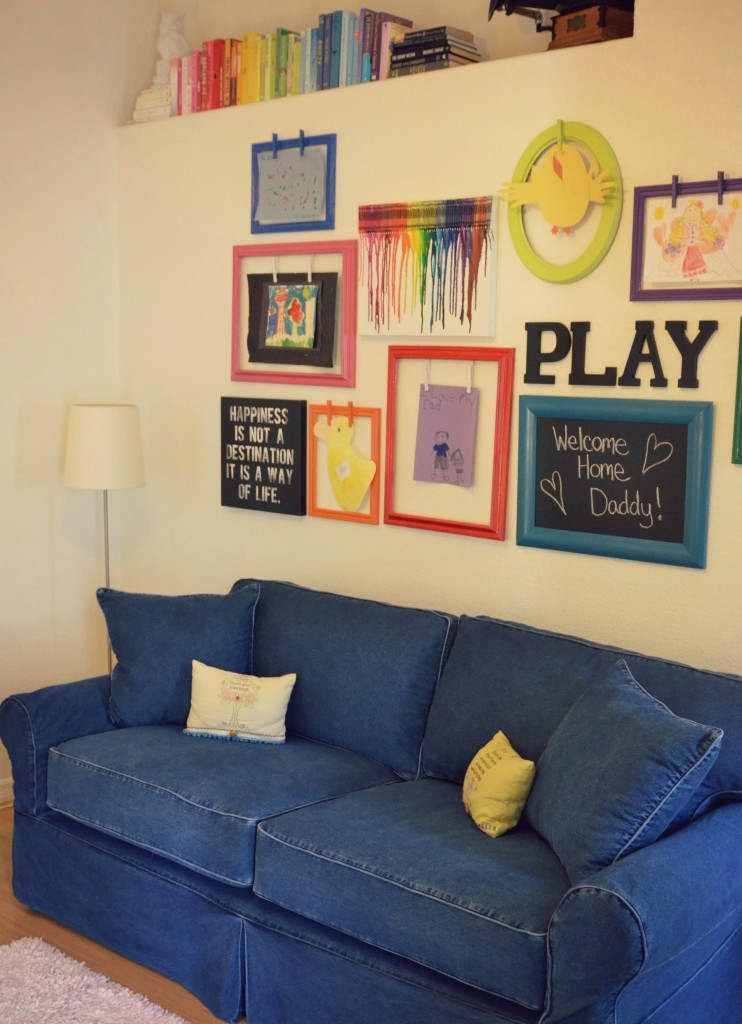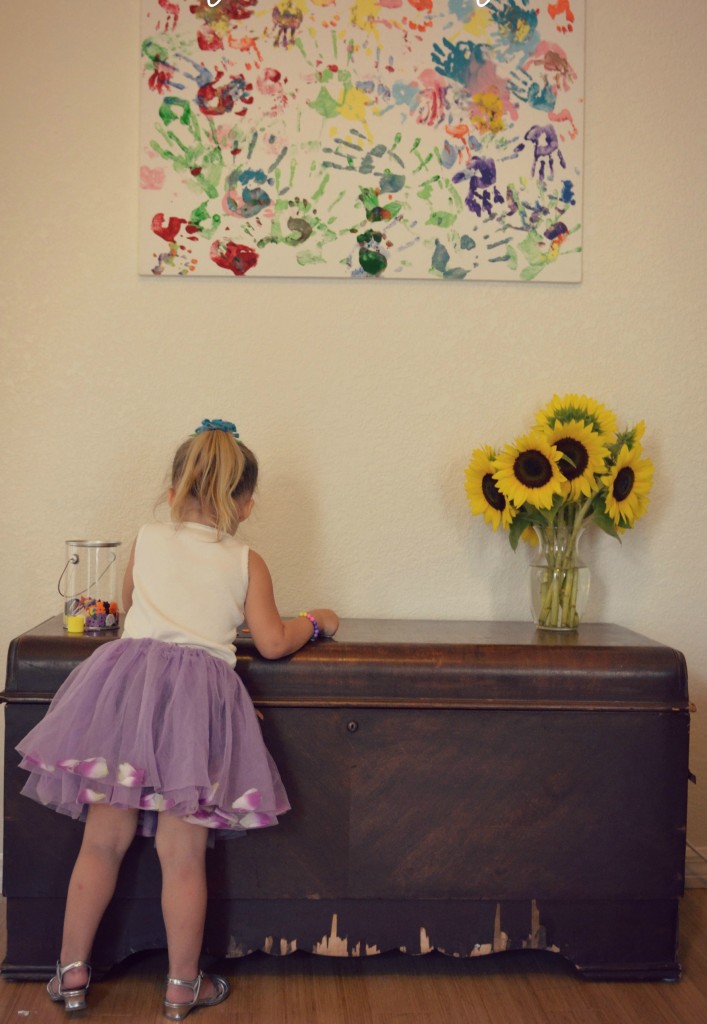 The girls had a lot of fun with this simple (but messy) art project.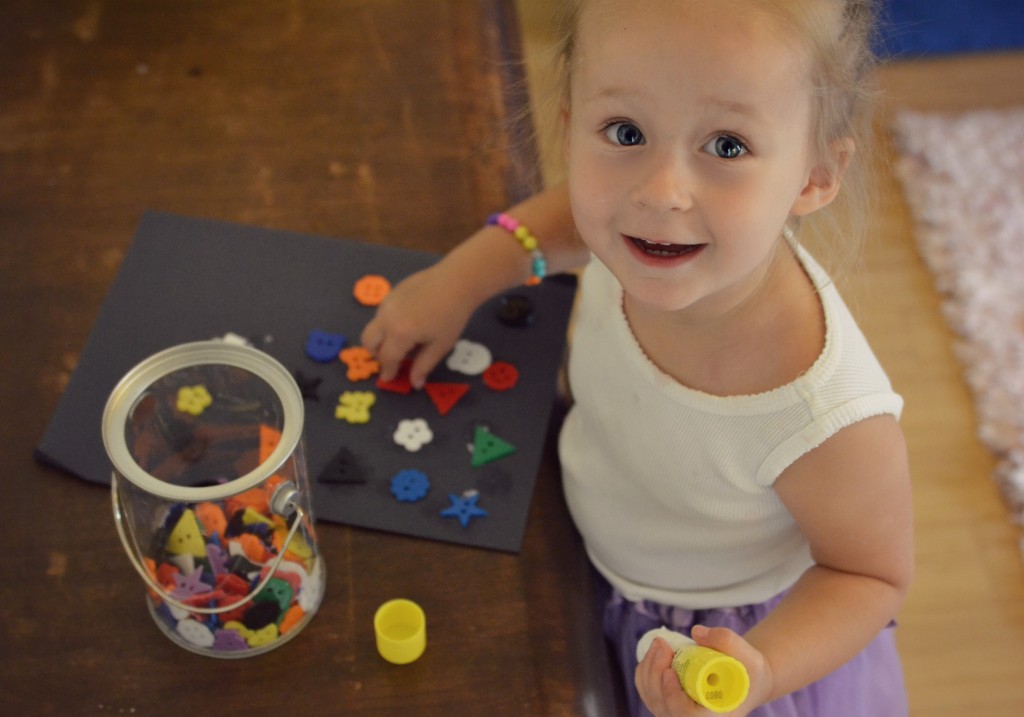 The girls loved helping, especially with the art & crafts part. I'll have to do a separate post just for all the DiY projects we did! They couldn't wait for daddy to come home to show him his surprise, and while I was a little worried that Maggie, in all her enthusiasm, would give it way over the phone, she totally played it cool. What a pro!
As soon as the room was ready to go I became a nervous wreck worrying how Chuck would react. They make it look so fun on those "while you were out" shows, but my stomach was in knots all day. Luckily I needn't have worried…he loved the room! And surprised was an understatement–he was absolutely shocked! I don't think he would've suspected me to take on a project like that in a million years, which made it just that much more fun.
We are all excited about having this new space. We finally have a place to play the Wii, which had been sitting in the attic unused since we moved from Seattle 3 years ago, and the girls have an awesome wall to display their constant flow of artwork. All in all, it was a lot of work but I would do it again in a heartbeat.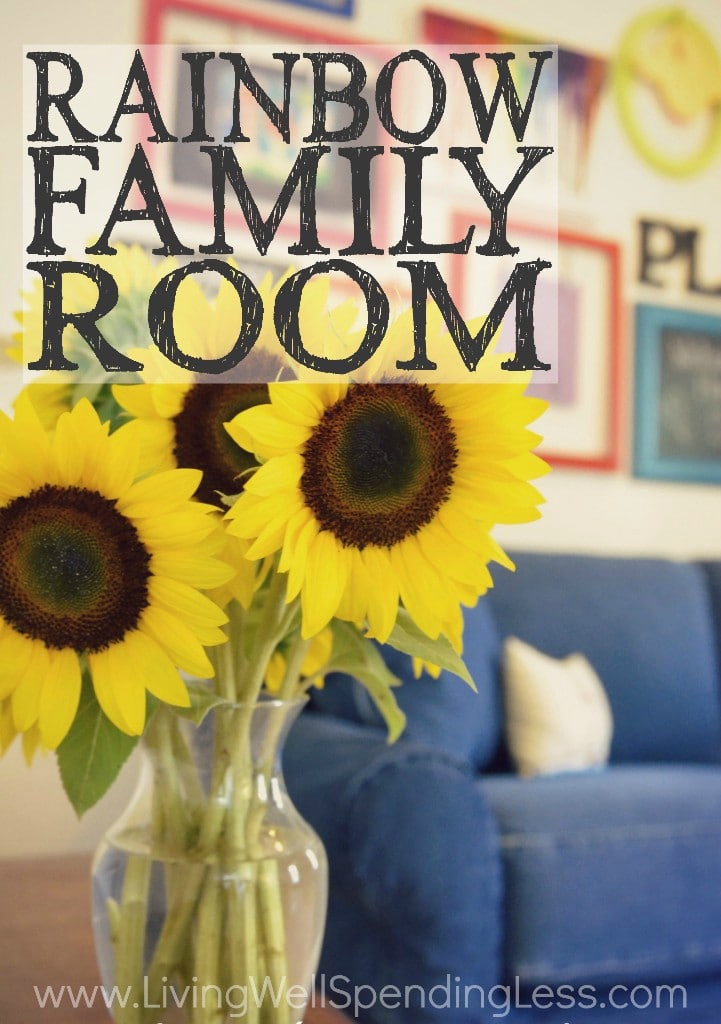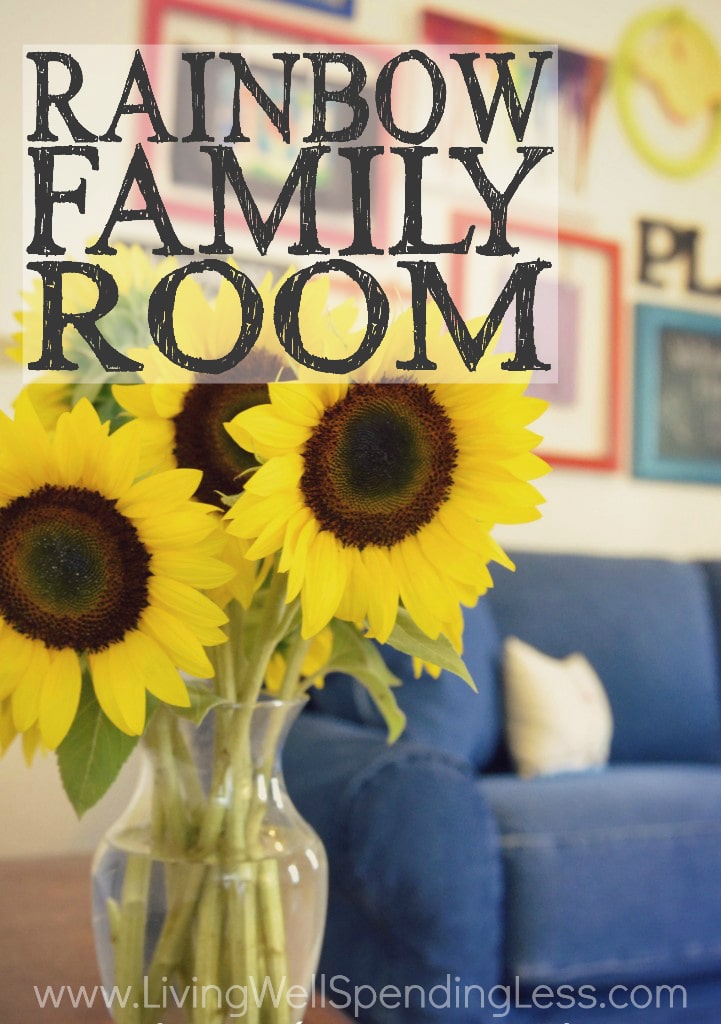 UPDATE: My normally non-expressive husband totally surprised me the the other day by writing a little poem–something he's never EVER done before. It was so funny and cute and I was blown away, & he said I could share it:
Ode to a Guest Room
There once was a room full of clutter. One look in the door made us shudder. The colors were less than bright; it was mostly a terrible sight. We thought someday soon, it could be something better All ideas it seemed, though, turned into a fetter. It had been used for a granny, then was home to a nanny. It was used for our guests, it was used for our mess! The room was a crutch and it didn't help much with the goals on our plate, we thought that our fate was to have this square footage be useless to us….and never be great. Then along came my wife, the love of my life; She decided to end this terrible strife. Working on the room while I was away, She worked and she worked on that room night and day. By the time I got back, the room was all done, It had a new floor, new paint, and new fun. It had a new couch, and a table, and games. It had some new pictures with everyone's names. She took an old burden and lifted from me, That old crummy room was now history. So now I must thank you for being my wife, I love you, my honey, for the rest of my life.
TAKE BACK CONTROL OF YOUR HOME LIFE
---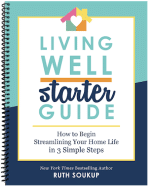 Ever feel like you just can't keep up? Our Living Well Starter Guide will show you how to start streamlining your life in just 3 simple steps. It's a game changer--get it free for a limited time!
If you love this resource, be sure to check out our digital library of helpful tools and resources for cleaning faster, taking control of your budget, organizing your schedule, and getting food on the table easier than ever before.