Updating your kid's bedroom can feel daunting—it's time consuming and can easily become WAY expensive. Suddenly a trip to the store for a new $50 comforter turns into a $500 room makeover that wasn't in the budget. (Eek!)
But, as I am learning firsthand, kids go through tons of transitions and phases, so bedroom updates are (sometimes unfortunately) inevitable. Pastels and patterns that were once sweet and loved become "too babyish" or disliked, as they no longer reflect our kid's age group or evolving personal "style." Toys and books go in and out of favor and tastes change as they grow up, until we suddenly find our kids begging for a certain "look" for their bedroom.
Fortunately, switching up a kid's bedroom doesn't have to be a budget-breaker. If you plan ahead, you can come in under budget and accomplish a lot in just one weekend. Plus, when we work together and tap into our family's creativity—it can be a lot of fun! When we get our kids invested in the process, they not only love their new room, but oftentimes they also gain a renewed commitment to keeping toys off the floor and school supplies organized.
Here's a few decorating "hacks" for kids' bedrooms to help make the most of their space and ensure the process is affordable, fun, and easy!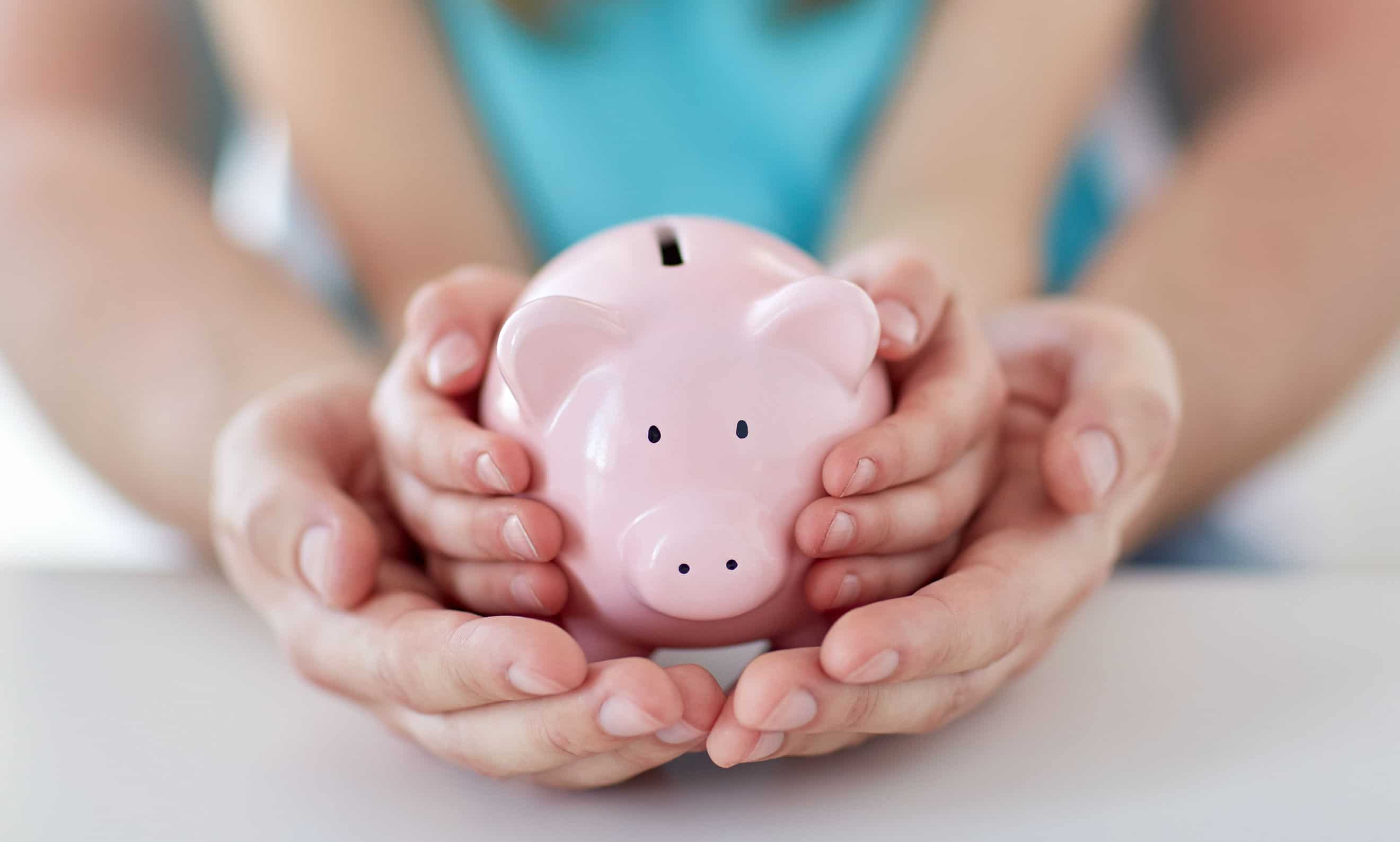 1. Get Your Kids Involved
Most kids probably don't give a hoot about the difference between ecru, eggshell and ivory wall paint. However, most of the time, they'll be the ones intent on updating their room in a certain way (especially when they're older), so they'll want to have a voice and get involved in the decorating process.
Talk to your son or daughter about what they'd like their room to look like and set a budget together. What do they like to do in their room? Is there something they struggle to keep organized? If a child hates making the bed, maybe a duvet and a couple pillows are easier than a layered coverlet with a draped throw, pillow shams, and the whole nine yards.
If kids struggle to keep art supplies off the floor, maybe a desk or creative area would help them stay more organized. Would they like a cork-board for ideas and inspiration? Find out what speaks to them.
2. Plan it Out First
Make a list of what they'd like to do and even consider sketching it out first. It can be tempting to just start moving furniture, but we don't want to find out things are too cluttered halfway into the process. Plus seriously, who has time for all that?
Decide on colors, furniture needed, and areas to improve or organize. Maybe there's a theme your child is really into. Try to encourage them to pick themes that are a little more universal. For example "rock and roll" as opposed to a specific band (which they might not love in a few months) or "sports." This allows for changing tastes and favorites, so kids can make their own minor updates as they go along.
During planning, don't forget to stick to your budget. Think of creative ways to reuse items on hand or make simple changes. Can painting a piece of furniture, a light fixture, or a storage container be enough, rather than going out and buying new?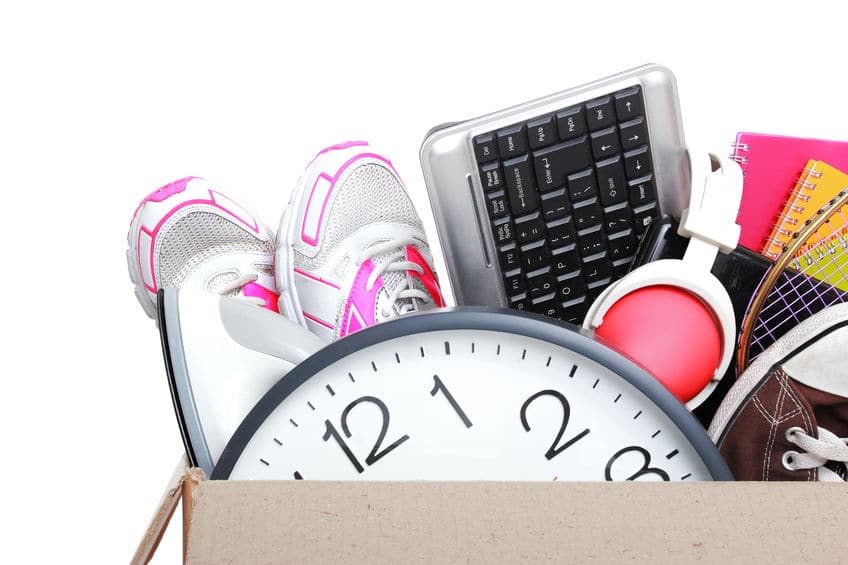 3. Go Simple, and Clear the Clutter
To really make a space useable, clear the clutter. Often, taking out all the unused toys, books, games and "stuff" will make a HUGE difference. In fact, sometimes that's all that's needed to update!
Adopt a less-is-more philosophy. If your daughter wants a more sophisticated room, then perhaps it's time to let go of the stuffed animals, toys and dolls she no longer plays with. Give them to a good home, such as a charity like the Salvation Army, and frame some of her favorite art to go on her shelves. Add a few spray-painted storage containers or baskets, and her room will feel brand new!
As we simplify, really consider what items are still "near and dear" to kids, then let go of the rest. When kids transition from their preschool and early elementary years to the "tween," pre-teen and teenager stage, you might notice they may naturally accumulate less clutter. Toys get bigger and more tech-based, and their focus shifts from playing dress-up, pretend and collecting—to exploring, being active, reading and art.
4. Add Lots of Storage Options
Kids are often little collectors (in case you haven't noticed!) so we're often faced with games and toys with tons of tiny pieces and parts (think action figures, Legos, dolls). Once you've pared down to the things they really use and want to keep, find storage that fits what they have and encourage them to adopt a "one-goes-in, one-goes-out" mentality when they add to their collections.
As our kids grow, we wake up one day to find we're dealing with a suddenly prolific amount of hair accessories, nail polishes, stickers, jewelry, cards, action figures, cars, games, pens, erasers, markers, crayons, books and little items they've collected outdoors and on adventures. Making space and sense of it all might be quite a challenge!
Find or re-purpose some baskets, cover storage boxes with paper, or use dollar store containers to rein in all of the bric-a-brac. Try to set parameters with a cork board or use changeable frames to keep their galleries rotating. Encourage kids to let go of less-meaningful items and hold on to experiences and memories instead of "stuff."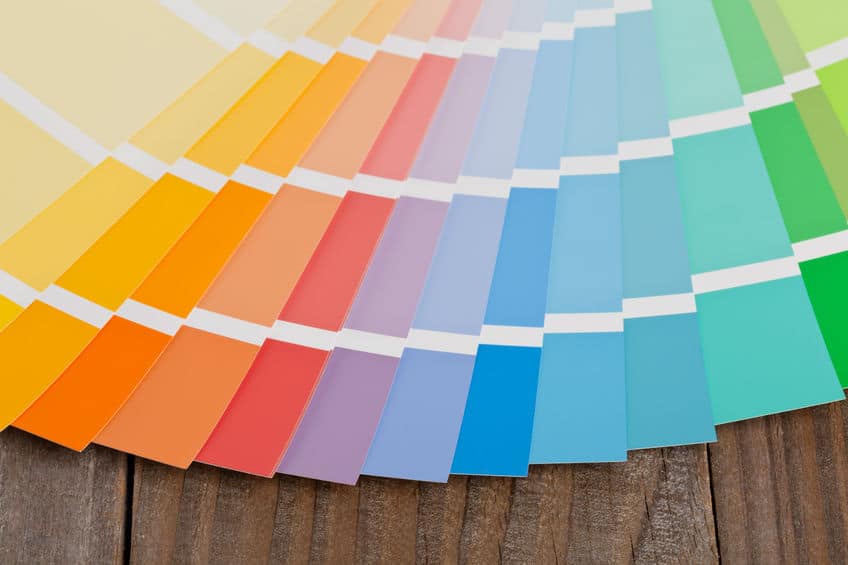 5. Pick a Neutral Palate and Accent with Color
A fresh coat of paint can be inexpensive and a great way to update a room and give everything a clean, new start. If a child's favorite color is bright or dark, consider using it as an accent color and keeping walls more neutral and interchangeable.
Using soft blues, sage green, tans and grays on the walls can make things feel calming and restful in a bedroom. Add color and personality with accent pillows, rugs, frames, light fixtures, storage containers, and accessories.
Maybe this year's favorite color is deep blue, but next year kids might be all about green. Dark colors are often difficult (and more expensive) to cover because they require multiple coats of paint. They also show mistakes and streaks much more than light options. Save yourself some time and hassle and go with lighter colors.
If kids have their heart set on a bright wall, try an accent wall or trim, to cut costs and save on paint. It can also help to save later on when décor changes and a strong color no longer matches the theme.
6. Create Zones
Kids' rooms can be a little chaotic with toys, games, and collections. Corral some of the chaos by creating "zones" within the bedroom. Even small rooms can benefit from zoning.
A desk and bookshelf in the corner becomes the learning zone. A bed and nightstand becomes the sleeping zone. A rug near storage bins might be the perfect area to build and play, or an easel and art supplies on a shelf lend a creative space. By creating these areas within the room, it gives each part a purpose and everything has a place.
When it's time to clean up, accessories go back to the desk, backpacks are hung nearby on a hook, and books go back to their home on the shelf. Small items and collections might be displayed in jars near the window so everything has a home within the space.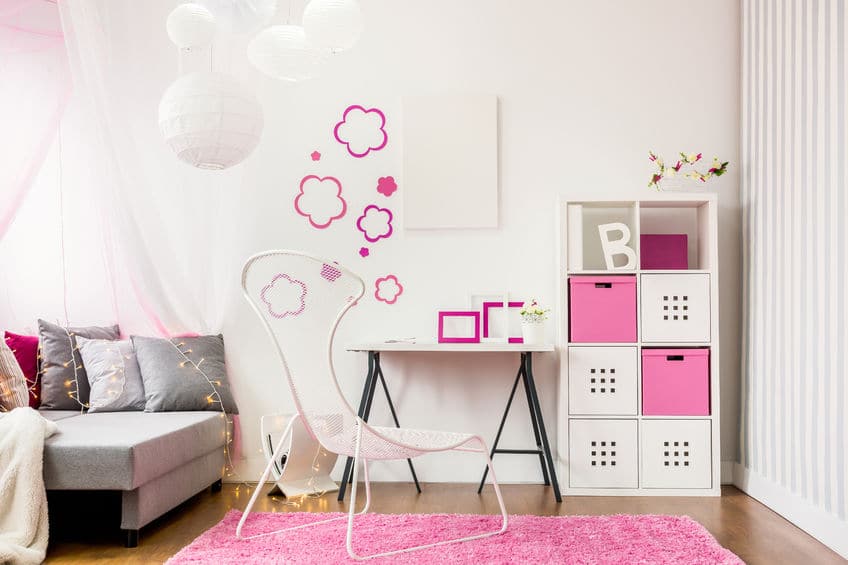 7. Add Personal Flair
One thing about all kids—they're full of personality! Their room can be a great place to let their personality shine and really add to the atmosphere. Artwork can be proudly placed on display in changeable frames to create a rotating gallery. Photos of friends and mementos might go up on a bulletin board or in a special memory box.
Allow kids to brainstorm what's important to them and what they would like in their room. Do they love Disney? Are they totally into superheroes?
These favorite items really add personality and cohesiveness to a room. It's also fun to add initials on a wall or as bookends—literally giving kids a chance to put their name on their space and own it!
8. Use Vintage to Your Advantage
Kids are hard on furniture, walls and flooring. Even the most careful kids can have accidents: a spilled bottle of paint, a pen that leaks, or a plant or fishbowl dripping on the top of a dresser.
Instead of sweating it and getting upset, decorate on a budget by repurposing vintage items and things already on hand. Put a new cushion on a chair, give a favorite piece of furniture a fresh coat of paint, or buy a second-hand desk (or even make a "rustic" desk fashioned from a table or a plank atop cinderblock).
Repurposed suitcases can make great storage containers that easily slide under a bed or look cute stacked in a corner. Adding some enamel paint to a chandelier or a funky piece of pottery can add a fun focal point to the whole room. There's something very charming about retro pieces and kids can really get into painting them or decoupage.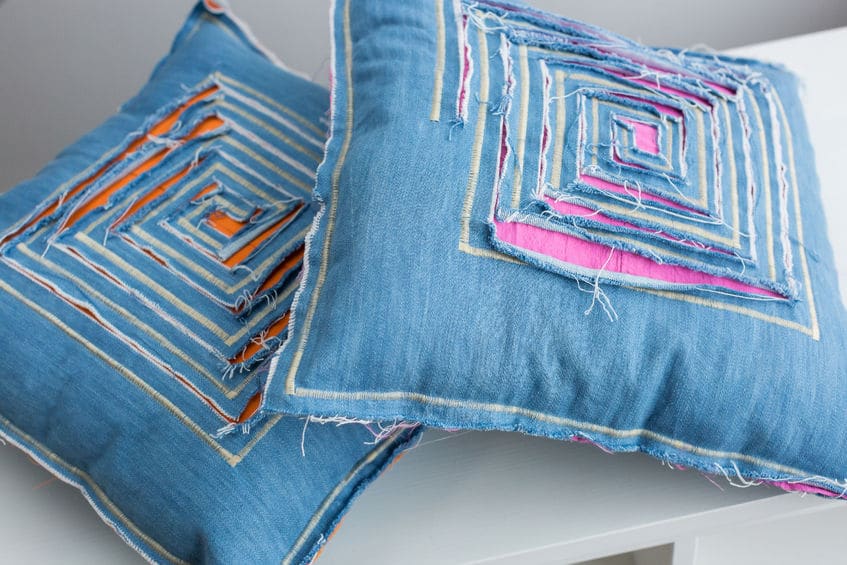 9. DIY
Yes, it's convenient to buy a bed-in-a-bag or order a line of matching room décor from Pottery Barn. With one glance, we can see how the entire room will look; everything matches and "goes" together.
Unfortunately, as amazing and tempting as it can be to buy readymade, it's far more expensive than DIY. Plus, if you do it yourself, kids get exactly what they want and their personality, style and taste can shine through.
Construct "poofs" or seating areas from big beanbag chairs or large pillows and cover them in a fabric of their choice. Put together a duvet cover by sewing two flat sheets together and leaving a hole and a few buttons at the top so it can be changed and washed. Cover throw pillows or use fun fabrics to make a simple café curtain. Cover desk accessories with cute paper and DIY wall art.
10. Repurpose and Recycle
To change up a kid's bedroom, many of the items you need are probably already in the house! Look at what's on hand in other rooms, or where some sanding and paint could refresh an item.
Jars, baskets and boxes can be great for repurposing in kids' rooms. Give new life to old magazine and coat racks, or use hooks to organize hats, scarves and dress-up items.
Redecorating a kid's room is a great time to organize other areas of the house, and use what's there. Throw pillows from the couch can move to a child's bedroom, an entertainment center can become a book and computer shelf, or a bench can become a window seat.
Decorating kids' rooms doesn't have to cost much—paint, fabric and a little creativity can really go a long way. Clearing out the clutter and organizing the room first can make the space workable, functional and fun for all!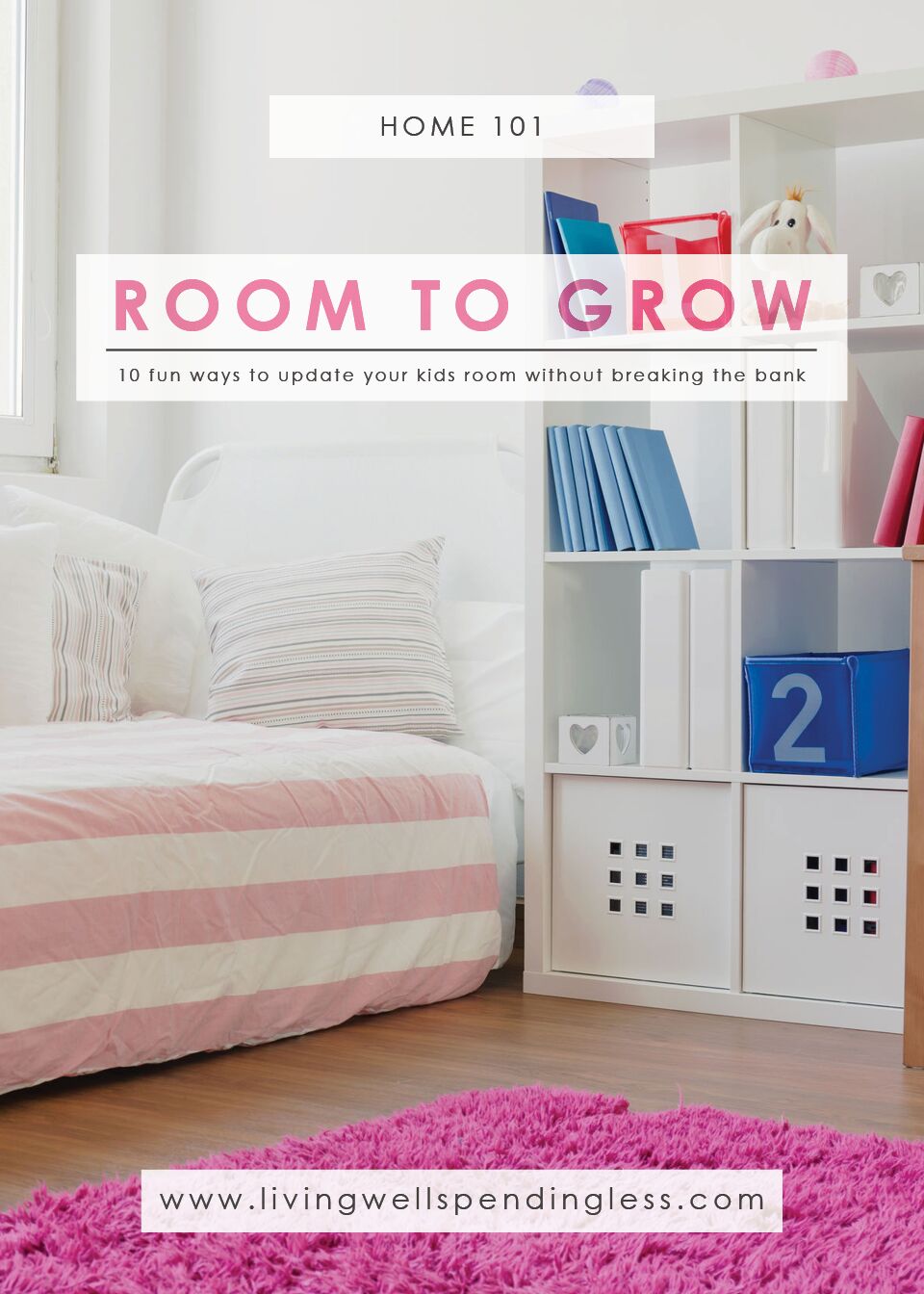 TAKE BACK CONTROL OF YOUR HOME LIFE
---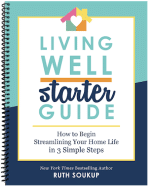 Ever feel like you just can't keep up? Our Living Well Starter Guide will show you how to start streamlining your life in just 3 simple steps. It's a game changer--get it free for a limited time!
If you love this resource, be sure to check out our digital library of helpful tools and resources for cleaning faster, taking control of your budget, organizing your schedule, and getting food on the table easier than ever before.