Need help keeping your holiday spending in check this year? Don't miss these awesome tips for how to save on food and plan your menus & shopping list!
Thanksgiving. Christmas Dinner. Holiday Parties. Seasonal baking. For most of us, food plays a pretty central roll in all those holiday festivities. We all have our favorites, that certain special dish we only eat once a year. Without it Christmas or Thanksgiving just wouldn't be the same.
Oh, the pressure.
And while our mouths start watering at the mere thought of golden roasted turkey & homemade apple pie, the cost of food, especially when combined with all of the other expenses this time of year, can be a serious strain on your budget.
Even scarier, it is often one of those "hidden" expenses that we don't account for when we think about holiday spending. IF we do a budget at all–and that is a pretty big if–our focus tends to be on the big things like gifts & travel, but left unchecked, a holiday food budget can easily spiral out of control.
Luckily, it doesn't have to be that way. With a little forethought, you can still prepare all your favorite recipes, plan the BEST parties, and bake to your heart's content without going broke.
How to Save on Food for the Holidays
The key is planning ahead and then taking advantage of the amazing grocery sales & coupons that are available this time of year.
Planning Ahead
Here's the brutal truth: if you wait until the last minute to buy the things you need, you will end up spending a lot more. If you decide to do your Thanksgiving shopping on the Wednesday before, or even just the weekend before, you will have no choice but to pay whatever prices the stores are asking. And while some items will undoubtedly be on sale, many other items that you need will not be.
And that's exactly where they get you! They count on those last minute shoppers and all those last-minute necessities purchased at full price. They WANT you to be desperate!
Don't you want to be smarter than that?
Because here's the thing–all those big holiday store sales are starting NOW, which means you've got to get your game face on and come up with a plan of attack–or at least a shopping list that you can start working on.
The VERY BEST thing to do RIGHT NOW is to spend some time figuring out all the food dishes you will need to make this holiday season, starting with Thanksgiving all the way through New Year's Eve. Be sure to include holiday meals, baking, and any entertaining you plan to do, as well as any food-based gifts that you would like to make.
Once you've got your menu in place, create a "master list" of all the ingredients you will need between now and January 1st. And then–and this is the big key–you can shop the grocery sales each week & buy the items that you need when they are on sale, not right when you need them!
This quick video can help explain it even better:
Do you see how it works? Instead of buying everything all at once, you strategically pick up the items you know you'll need BEFORE you might need them, when they are at their lowest possible price.
So, for instance, if you know that you are going to need approximately 10 pounds of butter between now and Christmas, grab it when it is on sale for $1.99 a pound, NOT when it is $5. Think about it–just that one item alone could save you $30.00! (Which, in my mind, is free money, which then could easily be applied towards much more important things like SHOES!)
But see how that works? And if you can save $30 by strategically purchasing butter at the right time, then think of how much MORE you could save by doing the same thing with all the other items on your list–flour, sugar, chocolate chips, canned goods and chicken stock, meat, cereal, spices & seasonings, coffee, wine, beer, eggs, and so, so much more!
(Again, if you haven't yet printed the Free LWSL Holiday Planner, be sure to do that right away. Along with priority setting, budget planning, & gift planning, there are pages to help you plan your menu and your master grocery list.)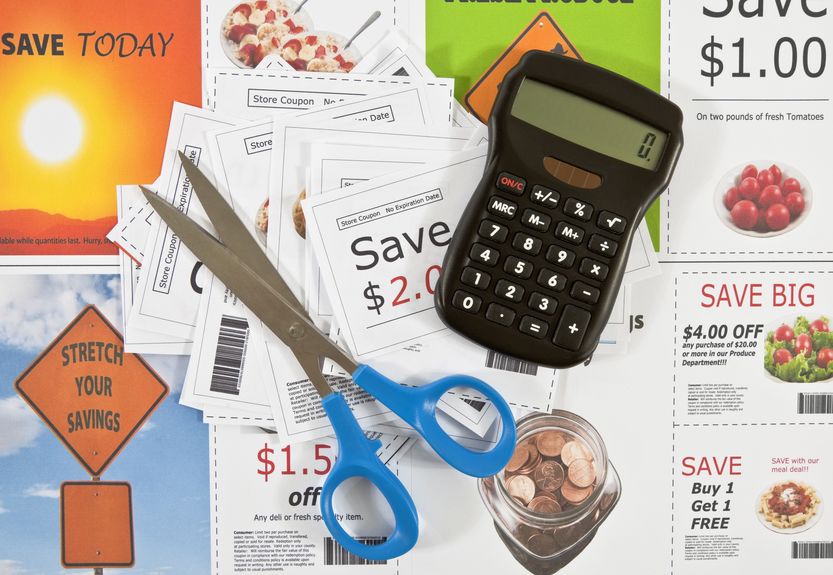 Grocery Sales & Coupons
But what if you want to save on food EVEN MORE?
Well, to be honest, if there were ever a time to start using coupons, it is November and December! The grocery store promotions AND the available coupons are just so good this time of year. Food manufacturers want you to buy their brands and they are going out of their way to reel you in.
The key to effectively using coupons though, as I explained in this post on how to cut your grocery bill in half, is knowing how to stack your coupons ON TOP of the store sales, which means using the right coupon at the right time.
So, going back to our butter example–if you really wanted to be a smart holiday grocery shopper, you would look to see if there were any coupons available for that particular brand of butter, and then get as many as those coupons as you could (hopefully 10!), and then use those coupons on the day that butter was on sale for $1.99. So if your coupon was for $1.00 off, you would end up getting your ten pounds of butter for just $0.99, saving more than $40 in the process. (Better shoes!)
And if all that sounded really confusing or stressful, it is SUPER important to remember that smart shopping starts with shopping the sales, not by using coupons. And that means that if trying to plan ahead AND shop the sales AND use coupons is just too much for you, just focus on taking advantage of the many, many in-store promotions happening each week, and buying a little bit at a time.
That said, to really maximize your savings you will want to add coupons to the mix. If you've never used them before, the LWSL Beginner's Guide to Coupons is a great place to start, and the week 2 lesson is especially helpful for learning how to match coupons to the store sales.
In the end, saving a HUGE amount of money on your holiday grocery budget–literally cutting your costs in half or more–isn't really that hard. It doesn't have to take you any more time, and you don't have to change what you're eating. All you have to do is plan ahead and then shop strategically, making sure that you are always buying what's on sale each week.
Other similar articles:
PIN FOR LATER: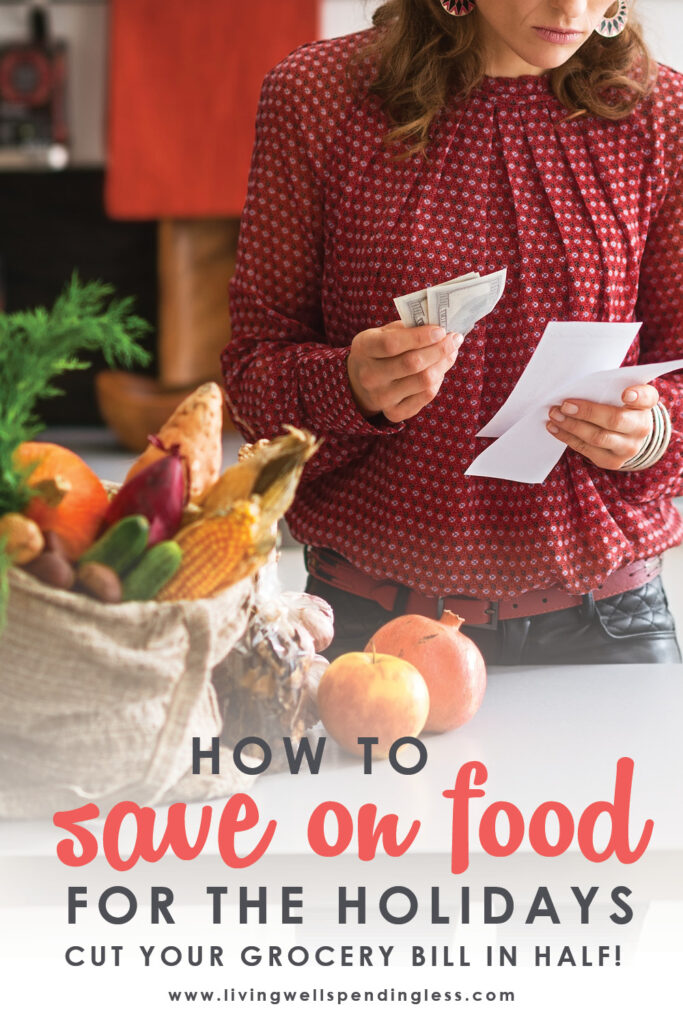 TAKE BACK CONTROL OF YOUR HOME LIFE
---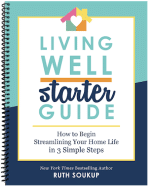 Ever feel like you just can't keep up? Our Living Well Starter Guide will show you how to start streamlining your life in just 3 simple steps. It's a game changer--get it free for a limited time!
If you love this resource, be sure to check out our digital library of helpful tools and resources for cleaning faster, taking control of your budget, organizing your schedule, and getting food on the table easier than ever before.