Want to let your kids express themselves without all the mess of tie-dye? Instead create DIY sharpie t-shirts they will love designing and wearing!
When my girls were little (like little wee ones!), I was in charge of the crafts for our church play group. Now, that they are getting older, I still love to take the time to sit down and craft with them.
We decided to make fun t-shirts that could not have been easier (and mess free!).
Over the years, they have brought home a lot of tie-dye t-shirts from camps. I just did not want to deal with the hassle and mess that creates. Since I seem to be addicted to Sharpie art projects, I decided, why not make a t-shirt?
And, best of all, it can be done by almost any age child with any art ability.
DIY Sharpie T-Shirts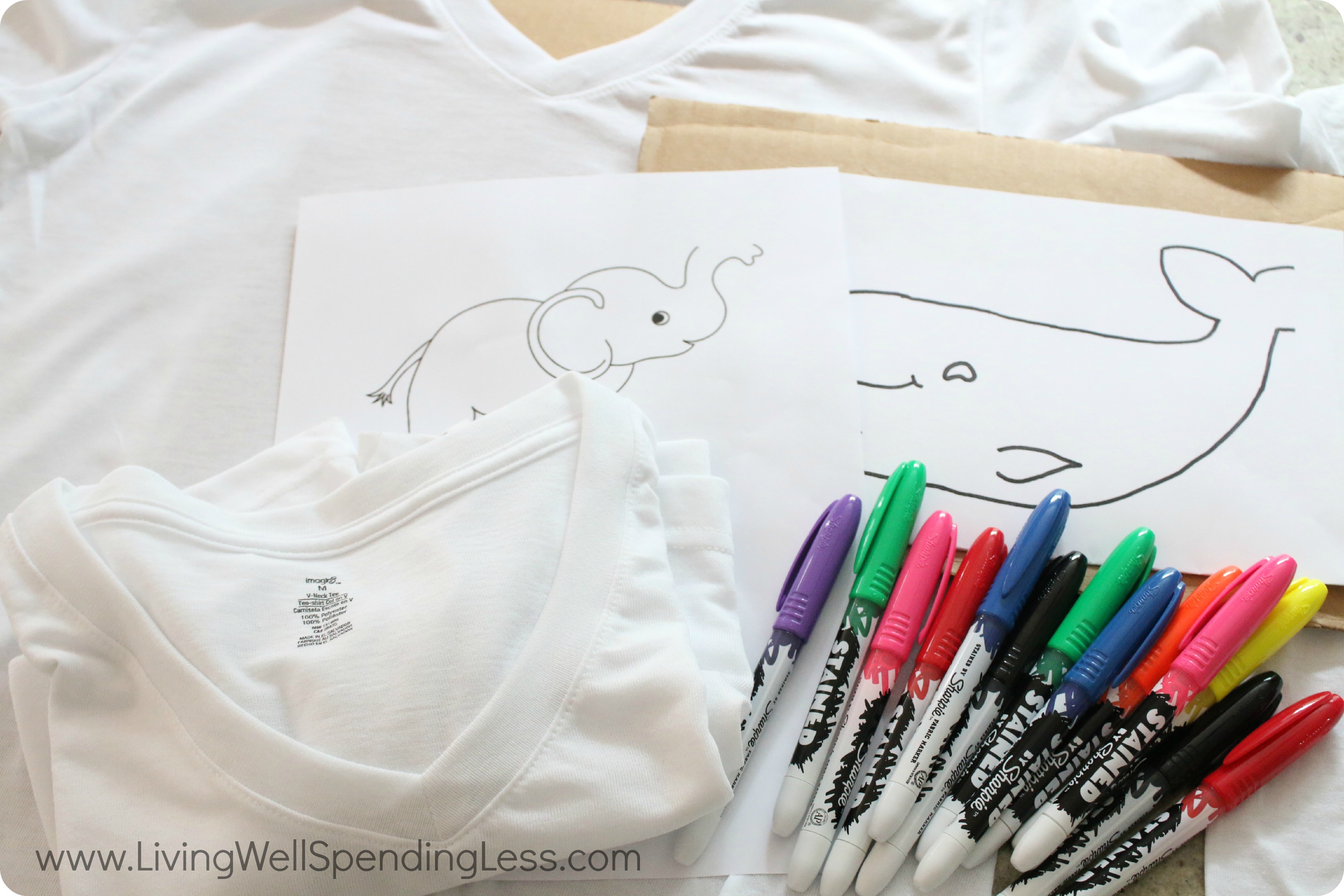 Here is what you need:

T-shirts (I ironed ours quickly first). White t-shirts will work best for this project
Stained Fabric Markers
by Sharpie Pieces of cardboard for each shirt Print outs of the image you want to trace.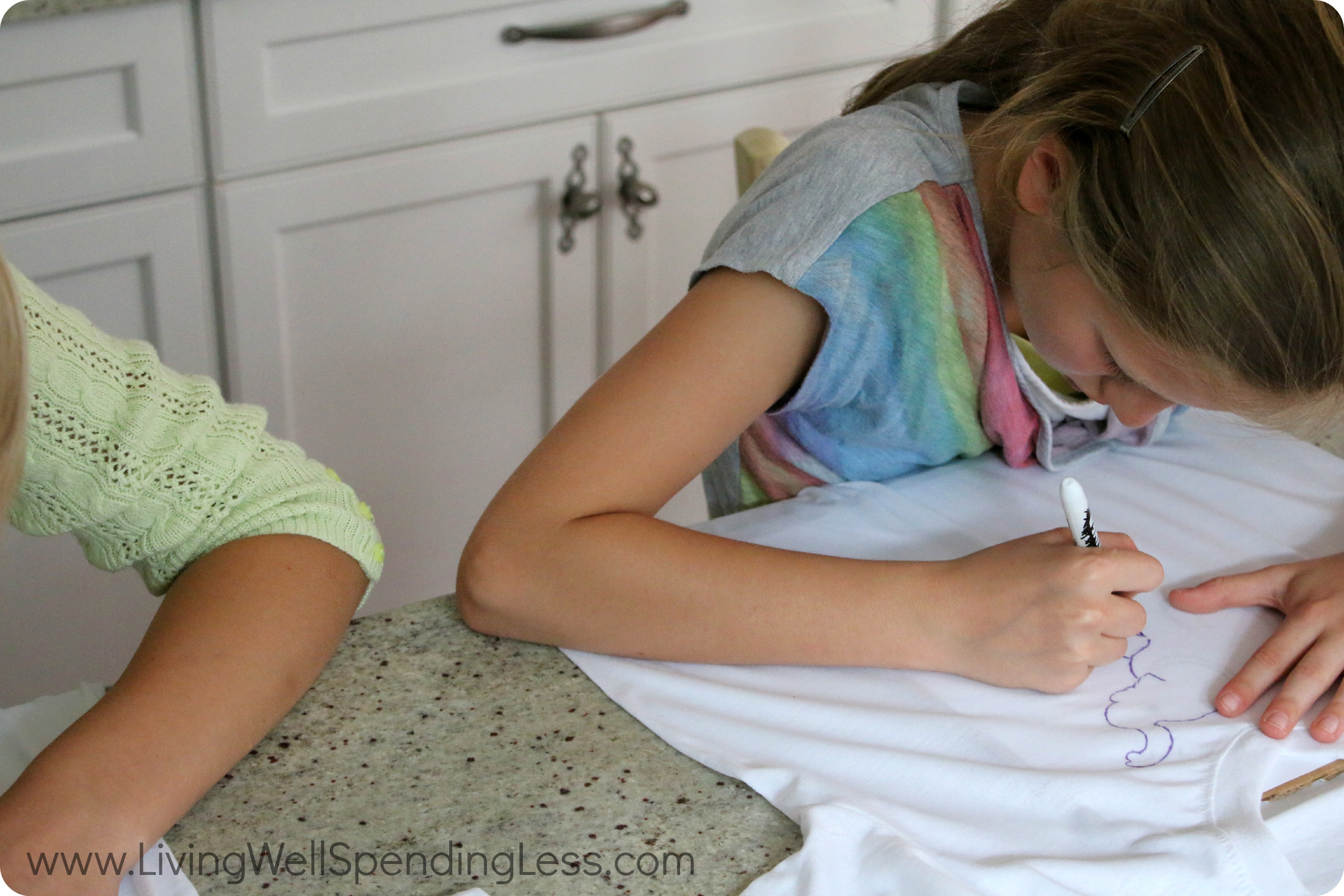 Step 1: Start by placing the cardboard inside the shirt to prevent the ink from transferring through to the back and then place the image you want to trace inside the shirt, on top of the cardboard. We found our image by simply searching on the web for "Elephant silhouette" and "whale silhouette". A page from a coloring book would work really well also. If you child is younger and / or does not want to trace, you could also use stencils, or better yet – just have them draw what is in their imagination.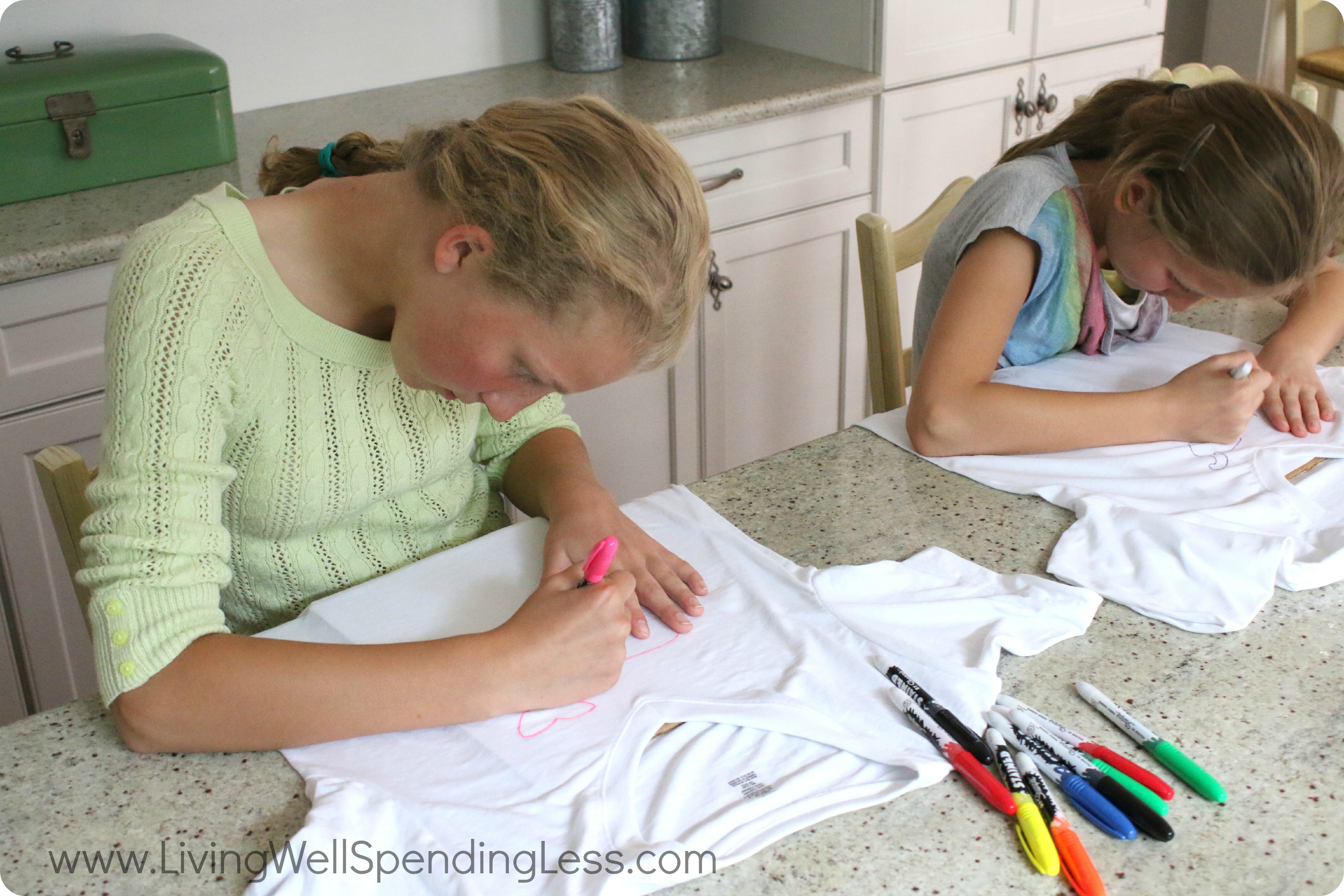 Step 2: Simply start tracing the image that is inside the t-shirt. The markers have a longer tip so they can also easily be used to add details like shading if you would like. However, the work pretty easily to just draw a line. The ink feathers a little but does not run.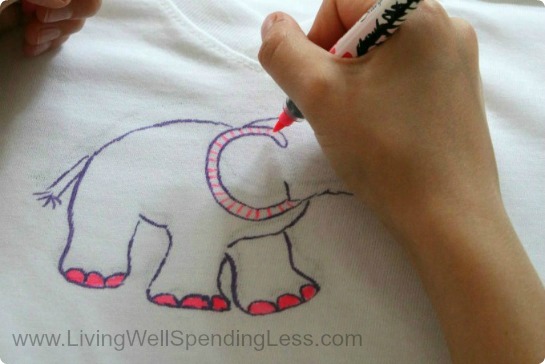 Step 3: After the outline is complete, you can add more details. My older daughter chose to just add "Summer 2014". My younger daughter decided to add more details. Because, really, all purple elephants should have pink toenails.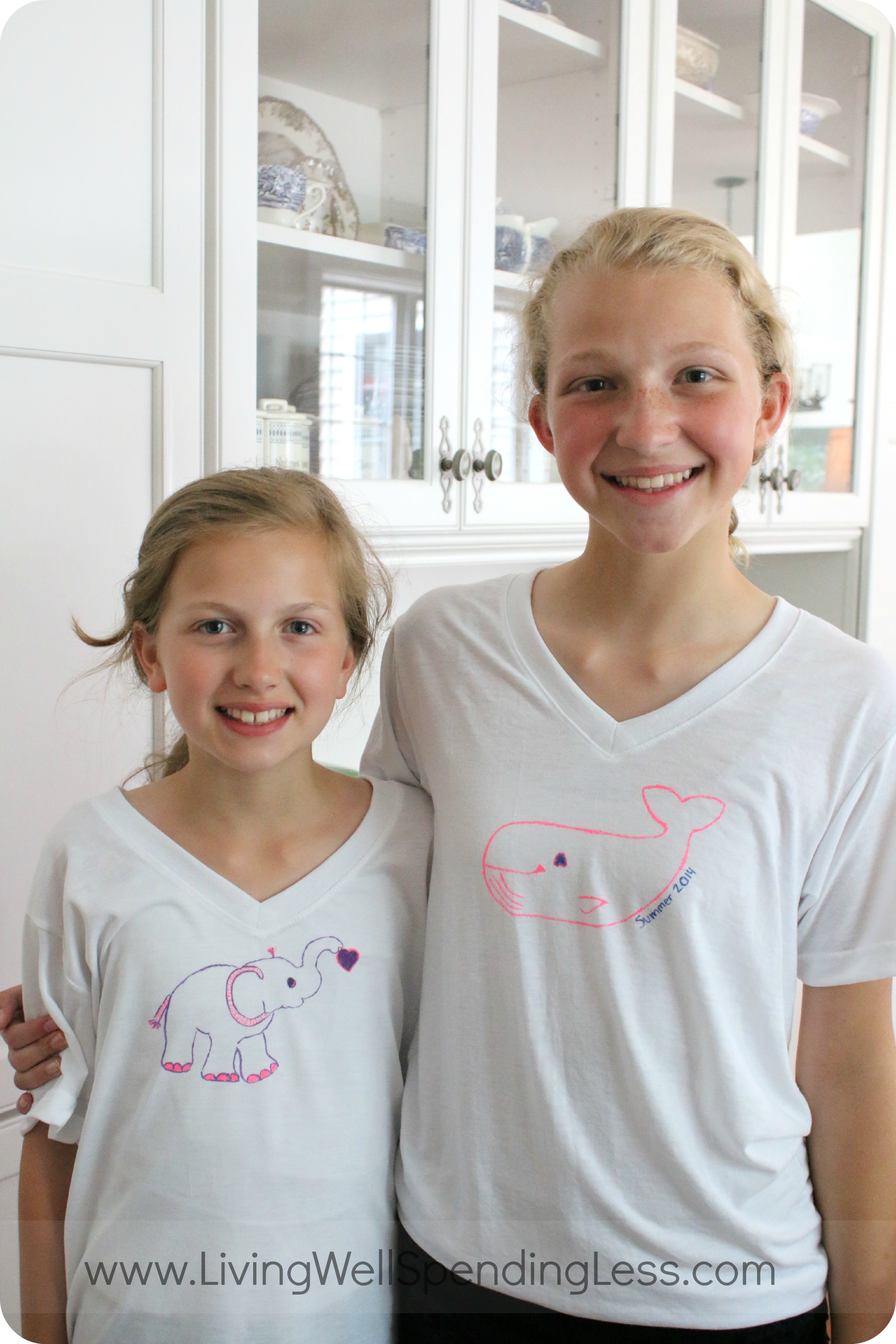 In the end, both shirts came out super cute. The funny part was I had really expected my younger daughter, who is 11 to be into it. While she was, my older daughter came home telling me how she had told her friends at school about her new whale shirt! According to the package directions, the shirts should be machine washed in cold water and hung to dry.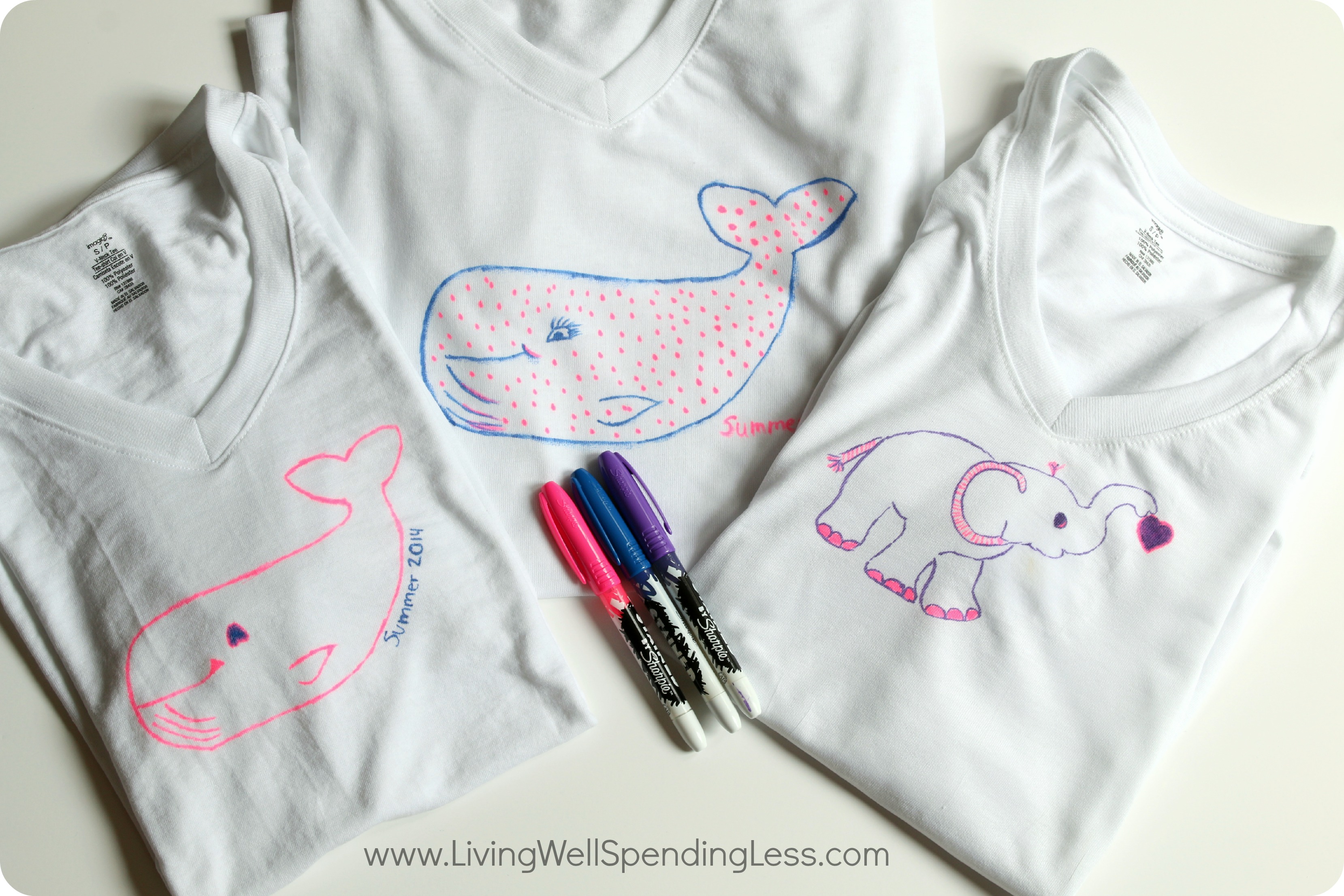 Of course, I didn't want to be left out, so I made a whale shirt also – but mine has a case of the pink measles. Of course, the best part is that we all slowed down for a little bit and had something to do together. That is always a win in my book!
Don't miss these other fun DIY Projects!
What fun design would put on your Sharpie Stained t-shirt?
PIN FOR LATER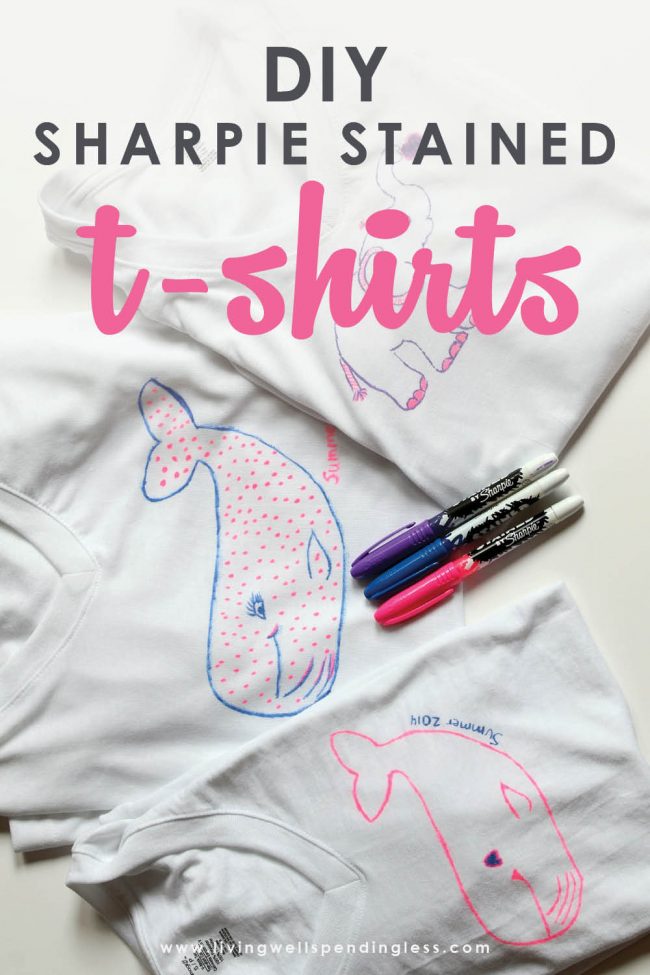 TAKE BACK CONTROL OF YOUR HOME LIFE
---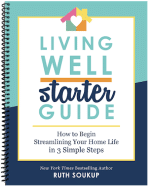 Ever feel like you just can't keep up? Our Living Well Starter Guide will show you how to start streamlining your life in just 3 simple steps. It's a game changer--get it free for a limited time!
If you love this resource, be sure to check out our digital library of helpful tools and resources for cleaning faster, taking control of your budget, organizing your schedule, and getting food on the table easier than ever before.