Ever feel like you have nothing to wear? Use these 7 genius tricks to simplify your wardrobe and declutter your closet today!
Do you ever feel totally overwhelmed by your closet? Have you ever stood in front of a wardrobe FULL of clothes and still felt like you had NOTHING to wear?
Yep, been there!
It can be SO hard to find the things we want to wear or even figure out what goes together, especially when we are in a rush (which is often!) We have enough to worry about and plenty to do—who the heck wants to worry about what to wear on top of everything else?!
Wouldn't it be nice to be able to just simplify your wardrobe?
Imagine opening your closet every morning and easily picking out an outfit that flatters, feels good, fits, and looks great. It can happen to you, I promise!
It's time to take back your closet! Let's get your wardrobe simplified and organized. Really, it's so freeing!
Simplify Your Wardrobe
Wondering how to get started? Learning how to keep a wardrobe of beloved, fresh, quality pieces means you'll always have something great to wear. Less clothing actually becomes more. Here's how…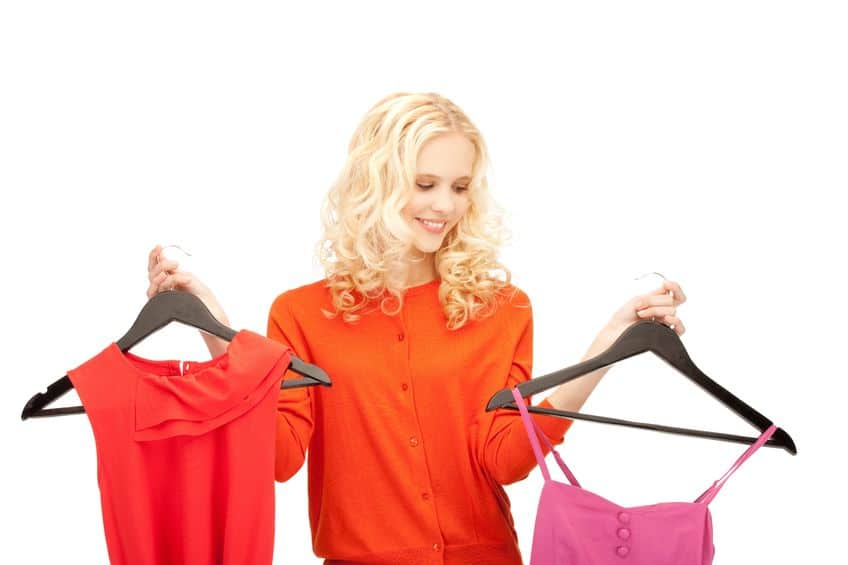 1. Keep Only What Fits
When you start to weed through your wardrobe, one of the first rules of thumb is to keep only what fits and what's in good repair. While I know it may sound difficult, if you really want to simplify, you can quickly eliminate any items you're hanging onto because you're waiting for weight gain or weight loss, or because you've set them aside for repairs and alterations. If there's a quality item requiring tailoring, ask yourself honestly if you're going to have it done or refashion it yourself. If you are, then by all means take it to the tailor NOW. Give yourself three days—and if you haven't dropped it off for alterations or made the repair, then let it go.
If you have gently used items that just don't fit, consider donating them to a woman's shelter or program helping needy women find professional dress. You can always give these pieces to a friend with similar taste who would give them a good home or post them on a neighborhood swap page.
Have several items in a similar size range? Consider selling them as a "lot" on eBay. Group the items together and sell as a "lot of five skirts, size 10." Sometimes grouping items together can help you get a better price because your listing is more appealing to buyers looking for bargain clothing. Plus, you'll have less to ship!
2. Keep Only What You Love
What items in your closet are you excited to put on? Are there items that make you feel great and look terrific every time you wear them? Hold on to those items. The things you feel kind of "meh" about or the items you're keeping out of guilt (maybe you spent too much or got a gift that didn't quite fit), let go.
So often, we keep clothing that's out of style hoping trends will come back around. While it's amazing to find a closet full of vintage dresses or awesome 70s polyester pants, these items can feel more costume-y than comfortable. It's pretty hard to find a closet full of vintage items that are still relevant and in good shape.
If you're thinking of holding on to items that are more recently out of style, chances are they're even less likely to hold up. Vintage items from the 60s, 70s, 80s and even 90s are often made of higher quality and detail than items of today. The fashion industry has changed and clothing simply isn't as durable or lasting as it once was.
If there's something you just don't feel amazing in, donate it to someone else. Unless you have endless storage space, there's just no reason to hang on to it. If there's something you're unsure about, put it on "ice" for a few months and then revisit it. Chances are, you'll probably forget you even had it in the first place, so you won't have any problem letting it go.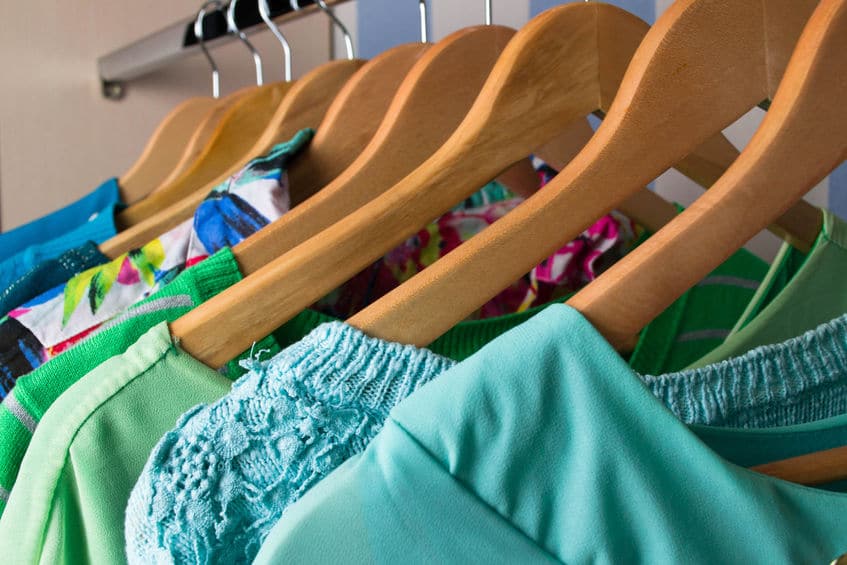 3. Try a 40-Hanger Closet
When I started my 40-hanger closet, it was because that was the number of beautiful "Huggable Hangers" I could afford. I determined that sticking with only 40 items would still give me enough to wear, without so much I couldn't sort through it. The process helped me get rid of items I was constantly skimming over.
Since paring down my closet to 40 items, I've found getting dressed to be a breeze. I love everything I own and I feel great in it. I can find everything and my clothes hold up much better because they aren't jammed into a closet, getting wrinkled and smooshed. I can find things I'm looking for quickly, plus, most of the items are interchangeable and "go" together.
As a rule, when something comes in, something must go out. If I see a new top or pants, I'm much slower to buy, because I know I have to let go of another beloved item. I carefully ensure all of the clothing I purchase is something I love and feel great in. I choose only items I like and items I feel are "closet-worthy," knowing they'll bump something else out of the running.
4. Buy Quality Clothing
If you need something new, when you shop purchase well-made, quality items. Don't buy things simply because they're on sale or a great deal. Think about how they're made—look at the quality of the stitching, the weight of the fabric, the drape, and of course, the fit.
This can be a tall order in a world full of "haul videos" on YouTube, where a few hundred dollars can buy you a closet full of clothes. We've become accustom to cheaper clothing. In Overdressed: The Shockingly High Cost of Cheap Fashion, author Elizabeth Cline points out the amount of waste and refuse that comes from the fashion industry each day. Working conditions of garment workers in third world countries are atrocious. Quotas are high and to keep up with the outputs, quality and safety are sacrificed.
Instead of opting for "bargain retailers" who can often be the worst fashion offenders, consider looking for vintage items at second-hand stores. Online stores like threadUP offer items on consignment from quality sources.
If you need something staple like a black pencil skirt, don't feel guilty splurging on something of a little higher quality. If you have one item you can interchange in many outfits, feel great in, and it'll hold up to washing, it's worth its weight in gold. Cheap clothing just leaves us disappointed, especially when a loved item falls apart after a few wears.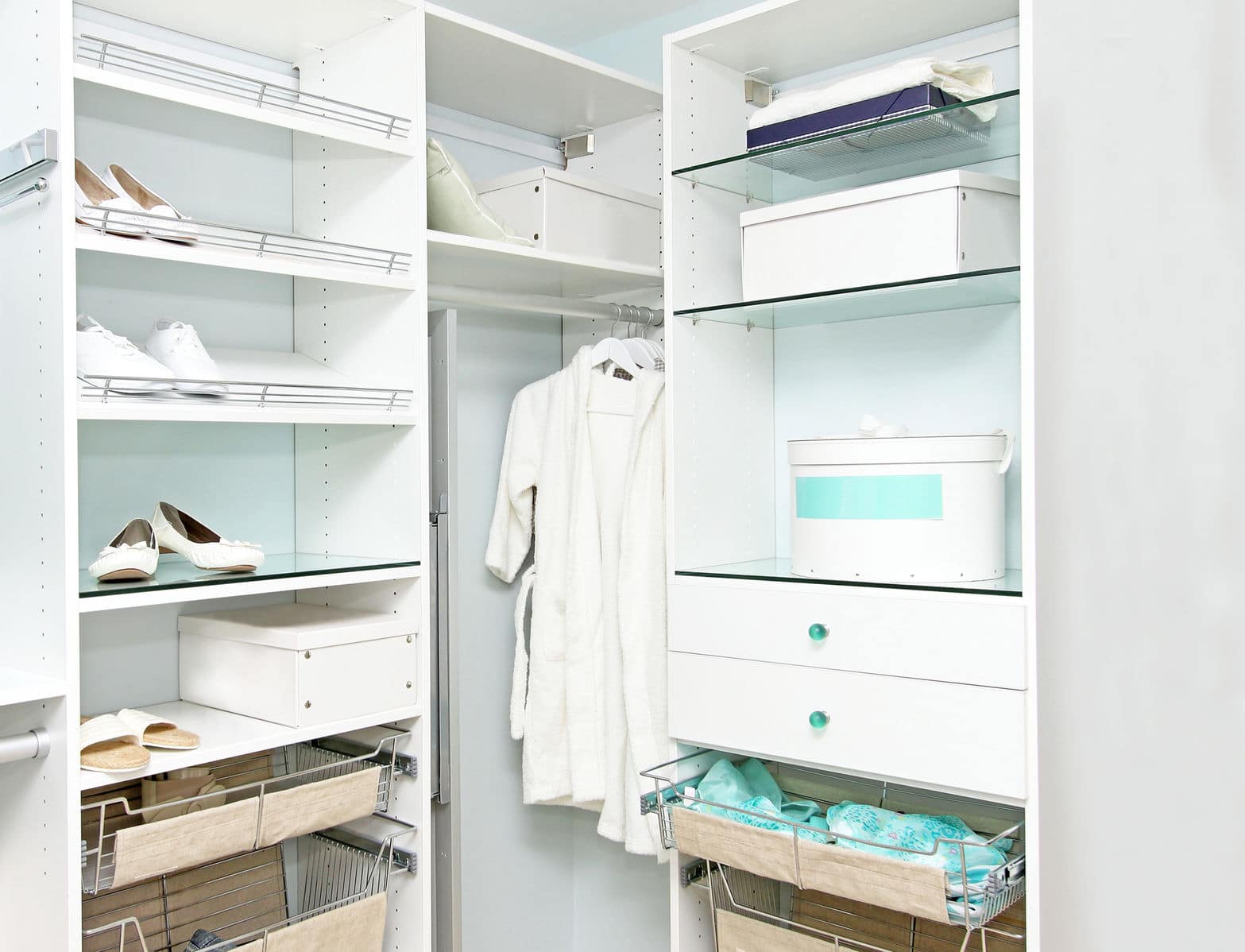 5. Try a Capsule Wardrobe
Fashion bloggers often recommend capsule wardrobes because they know it's a great way to stretch your options and make your clothes work for you. It's really as difficult as it may seem, and you can find some great suggestions on Pinterest and on fashion websites. Basically, the idea is that each piece in your wardrobe should be interchangeable with several other pieces.
Having a capsule wardrobe doesn't mean everything has to be plain or black and grey. A basic rule of thumb is to make sure each item you own can be layered or matched with at least four other items in your wardrobe. A cardigan might go with several blouses, a navy sheath dress, and a skirt. A patterned floral top might pair with jeans, grey pants, under a sweater, with a red skirt, under the same navy sheath dress, and with a contrasting striped skirt.
It can take a while to get the hang of a capsule wardrobe, but make it simple by starting with basics: classic patterns like tweed, pinstripes, houndstooth and small plaid; quality fabrics like cotton, silk, and wool; and shapes with easy-to-match silhouettes. When you run across a "wild" item like a lacy blouse, a loud pattern, peplum tops, trendy cuts, or something that just doesn't seem to play well with other pieces in your closet, ask yourself if it isn't time to replace it with a more flexible piece.
6. Watch for Easy Care
When you're shopping for clothing, watch for items that don't need to be dry-cleaned or require a lot of extra care. Merino sweaters or cashmere might be lovely, soft and go with everything, but for moms with babies, spit-up stains are going to show. Items made from suede or itchy fabrics like wool can be a challenge to layer and don't clean up easily.
It might seem less exciting, but be sure the things in your wardrobe are ready-to-wear by opting for fabrics needing less specialty cleaning. I'm talking about avoiding hard-to-press linens or fussy things with ruffles, buttons, hooks and other "bling." Go for pieces that are simple and easy to wash and then follow the instructions carefully.
I once had a very cute top with a row of beaded sequins around the bottom. Each time the top went through the wash I lost a few of the sparkles. Eventually it just looked ragged and silly. Unfortunately, the fussier and fancier the outfit, the more care and handling it will need. Give yourself a well-deserved break, make your life easier, and go for low-maintenance.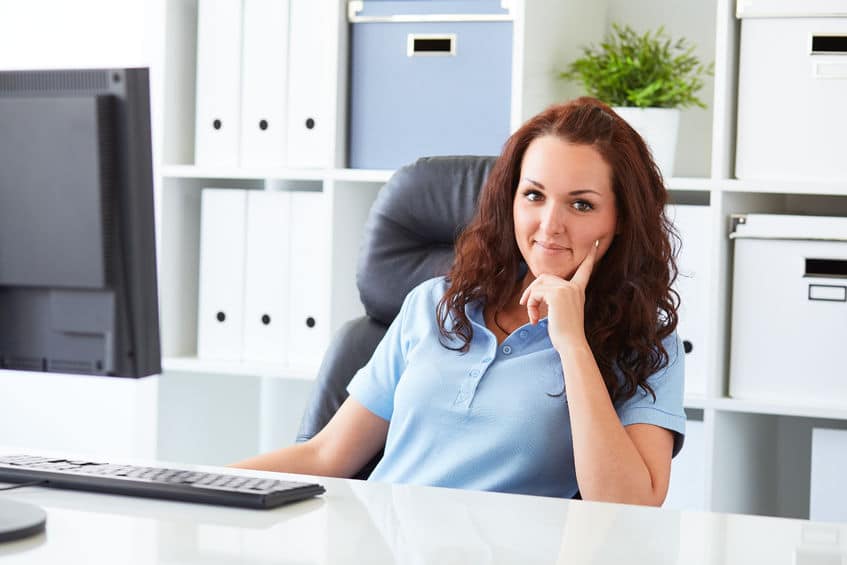 7. Opt for a Uniform
If you're a mom of young kids or someone who just doesn't like to stress about clothing but wants to look good (which probably fits the bill for most of us), consider dressing in a "uniform" of sorts. It doesn't mean you have to wear the same thing every day, of course, but pick a few key outlines and pieces you know flatter your shape and watch for similar items.
Look for clothing that's easy to layer—like a tank, a knit long-sleeved shirt, a cardigan, a button-down top or a blazer. Pair with a pencil skirt, an a-line skirt, skinny jeans, or anything you feel confident in. Once you know these are the basic components of your uniform, you can think of ways to interchange them, dress them up, and add personality.
If you prefer flats, tennis shoes or even boots, stick with a few pairs you can partner with your uniform as well. You can always throw on heels to dress it up or add some jewelry or a scarf to change the look. It's just about having a basic idea and plan for what you know looks good.
Try these tips to simplify your wardrobe, clean out your closets, and reduce the clothing clutter. Trust me, you'll feel great when you know you always have something fitting and flattering to wear.
Simplifying your wardrobe is a great way to give yourself a well-deserved break. After all, you have enough to worry about!
To recap, here are ways on how to Simplify Your Wardrobe
1. Keep Only What Fits
2. Keep Only What You Love
3. Try a 40-Hanger Closet
4. Buy Quality Clothing
5. Try a Capsule Wardrobe
6. Watch for Easy Care
7. Opt for a Uniform
Other similar articles:
PIN FOR LATER:

TAKE BACK CONTROL OF YOUR HOME LIFE
---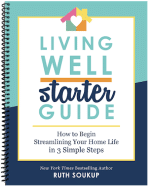 Ever feel like you just can't keep up? Our Living Well Starter Guide will show you how to start streamlining your life in just 3 simple steps. It's a game changer--get it free for a limited time!
If you love this resource, be sure to check out our digital library of helpful tools and resources for cleaning faster, taking control of your budget, organizing your schedule, and getting food on the table easier than ever before.