Want to make a meaningful impact in the world? Here are 18 small ways to make a big difference in the lives of others today!
Do you want to know a secret?
If you're in a bad mood, having a tough day, or just generally feeling down in the dumps, there's a simple trick to instantly lifting your attitude.
Not only will this trick reverse your blues or blahs, but it can also lower your blood pressure, help you find more meaning in your life, help you sleep better, and even help you live longer (for real)! Better still, this trick doesn't just make you feel better, it creates a ripple effect, changing the attitudes of those around you too.
Want to know the trick? Give back! Do something (anything!) for someone else. This might mean paying for the next person in line at the coffee shop or trying out a random act of kindness. It might mean helping a kid in need or offering assistance to someone at the store. It's simple. It's small, but it's powerfully effective.
We all want to "give back" and "make a difference," but all those words (including "philanthropy") sound expensive, time consuming, and like something we hope someone (else) does.
But we do want to help our communities and people in need. Can we possibly make a meaningful difference AND fit service work into our hectic schedules?
Many of us have heard the story of the boy walking on the beach picking up starfish and throwing them back into the ocean. A man walks by and says to the boy, "What are you doing? Surely, you can't hope to save ALL these starfish. There are hundreds on this beach. You can't make a difference."
The boy stoops down and picks up another starfish and throws it back in the ocean and says, "It made a difference to that one."
While we can't do it all, we can make a difference with simple, small actions that give back to others. Through small gestures, we can make the world a more positive, better place. Here are a few ways to get started.
Small Ways to Make a Big Difference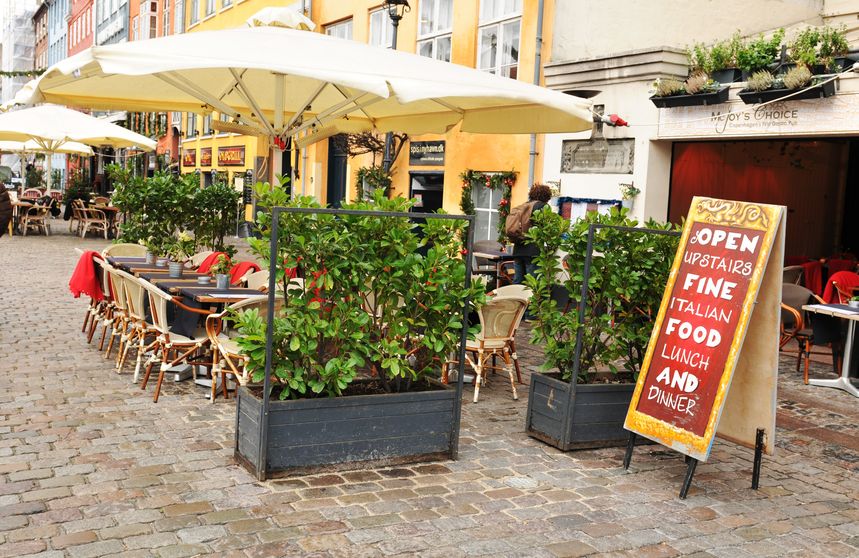 Support Local Businesses
Sometimes it's nice to buy brand name items and go with tried-and-true big business options. However, finding ways to support local businesses whenever possible can help keep money in your community and ensure the economy flourishes. In fact, if you're running a small business, you'll quickly realize the power of reciprocity and how one referral or outreach can start a ripple effect.
The next time you need a product or service, look local first. Support small restaurants, neighborhood businesses, and farmers markets. Encourage growth in your home community.
Workout for Good
Sign up for a run or walk for a good cause. Go to Running in the USA to search for local races or Active for a list of local charity walks. There are races and exercise events for nearly any cause out there. Find something near and dear and use it as motivation to get moving!
Another option is to download and app like Charity Miles, where each mile you run or walk on your fitness tracker results in a donation to a charity of your choice. For a little different motivation, try Stickk, an app where you pay in, set your goal, and then donate the money to a charity OR anti-charity depending on whether or not you hit your goal.
Recycle
Simply taking the time to recycle can make a huge difference when it comes to keeping our earth clean and making an impact on the environment. Even better, almost anything can find new life through recycling—we aren't just limited to aluminum cans.
Charities like Habitat for Humanity Restore accepts huge items from home renovations (wood, tile, trim, old bathtubs) and sells them back to renovators and homeowners looking for a deal. You can (and should!) recycle batteries, paint, medication and other items that may contain chemicals that are bad for the environment. Many communities also offer "recycle days" for large items and electronics.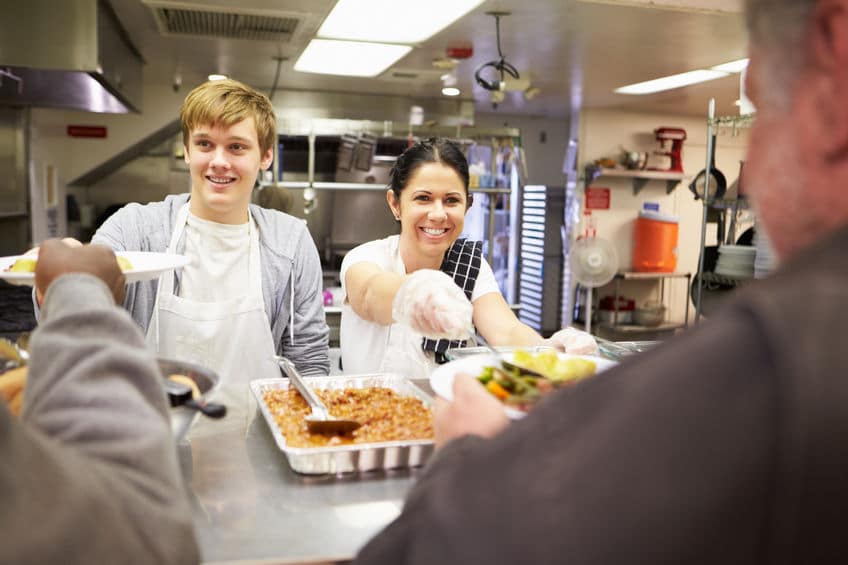 Volunteer
Yes, time is tight, but even an hour or two a month can make a difference! Many non-profits and organizations are happy for ANY volunteer time we can give. Rather than undertaking an endeavor that requires training, research and a time commitment, reach out to a school, church or other organization and let them know you have a few hours available over the next month if they need help.
Volunteer at a local soup kitchen, a school, an animal shelter, or a retirement and rehabilitation center. If you have only a short amount of time, check your local community volunteer board online, community centers, or schools.
It might mean stuffing envelopes at night or designing a flyer, but volunteering makes a huge difference to organizations that are short-staffed, even if it's just a few hours of time. Especially look for organizations that might be in affinity with your talents. For example, if you have website expertise or social media savvy, many organizations would be thrilled with a little assistance. If you're a great photographer, offer to take some photos at a local animal shelter or for a non-profit event. (You can even build your portfolio in the process!)
Get Civic
Regardless of your political affiliation, as US citizens we can all be more involved in our civic processes. Calling or writing letters to legislators about issues that concern you is a great way to make a difference—particularly with local issues where constituents can really have an impact.
Attend a city council meeting, read your local papers and news, and stay up on the latest in your city. You might even find a desire to volunteer for your neighborhood watch group or join your local school board. During election time you can find many opportunities to volunteer with campaigns or at the polls to help others do their civic duty as well.
Thank a Serviceman or Servicewoman
Our servicemen and servicewomen give so much to this country. We can make a difference by sending them thank you letters or cards. Kids will love helping design and write a special message to let them know they're appreciated.
Send messages to a service member in your family or reach out to organizations like Operation Gratitude and A Million Thanks, which help distribute letters and cards to waiting soldiers abroad. Soldier's Angels offers the opportunity to write letters too and volunteers can even adopt a military family during the holidays to help them have a great Christmas.
Cook for Others
Want to make your neighbor's day? Double a batch of cookies and take them next door. Cooking for others is a great way to show love and brighten someone's life in the process. To take it to the next level, offer to take a meal to a family in your neighborhood who may be struggling.
The organization God's Love We Deliveroffers food to those in need and is open to volunteers who want to help cook and deliver meals. Many local food pantries and shelters are often seeking volunteers who can assist with food service, donation requests, and more.
Donate Electronics
Sell your used electronics through eBay's Giving Works program which donates proceeds from the sales to a charity of your choice. Many schools also have electronic recycling programs which help those schools earn money by accepting donations of cell phones, ink cartridges, and handheld devices.
Check out World Computer Exchange which donates computers to schools, libraries and other organizations. The great thing about donating a computer is that it's also tax deductable, so get a receipt to save money at tax time!
Make a Cage Comforter
When animals arrive at shelters, they're often stressed and cold. Making a simple blanket called a "cage comforter" can help bring a snuggle to furry friends while they're waiting for their transition to a new forever home. The less stressed an animal is in a shelter, the more likely they will be to pass temperament tests and let their best side shine for potential adopters.
Cage comforters are easy to make and many different shelters and animal control organizations will take them, so check with your local shelter to see what they need. Many animal shelters and rescue organizations have long wish lists on Amazon and plenty of opportunities to volunteer, from sharing on social media to taking photos of animals to more involved volunteering.
Donate Books
Got books? So many of us have a hard time parting with books, but if it's time to start organizing shelves and letting go of a few items, there are plenty of ways to give those books a new home helping others.
Donate the books to your local library, a school, or even the Salvation Army and Goodwill (where you can get a tax deductable receipt). Other programs to look into are Books Through Barswhich gives books to those in the prison system and at Books for Soldiers where you can donate reads to those serving our country.
Be a Caring Consumer
Want to make a difference? Be a more caring consumer. Consider buying items that are sweetshop-free, cruelty-free, and made with sustainable materials whenever possible. For a guide to ethical shopping, check out the Better World Shopping Guide.
Really though, when it comes to being a caring consumer, the biggest step you can take is to simply BUY LESS. We purchase clothing that's cheaply made and doesn't last, toys and kitchen goods that are disposable, and decorations for our homes we don't need. The more simply we live, the less we will need to buy. When you do need to buy something, try to find items that are high quality and built to last. Look at sites like Buy Me Once which offers a guide to long-lasting well-made items.
Give Change
One small way to make a difference is to round up your change. Put it in the donation box on the counter (or in the tip jar) or keep a jar where you dump your change at the end of each day. Once you've saved up a good amount, take it into the bank and then donate it to charity.
Many banks also offer the option of rounding up and putting the spare change into an account (which you can then donate). Apps like Drops also give you a chance to put extra change toward a good cause. Restaurants, retail stores and others will often run roundup programs of their own, so when you're asked if you'd like to "round up for charity"—go for it!
Give Points
Amex, Chase Ultimate Rewards, and Capitol One are just a few examples of credit card companies who let you donate points to different charities. Marriott and other hotels also offer a chance to give back through their rewards programs, as do most airlines.
If you have miles that are going to expire or if you want to use credit card points for good, donation can be a great option. This can help keep loyalty accounts active, especially if you have to use them before a certain date. Many non-profits can use the miles or any donations you're willing to give, so if you have some, pick your favorite charity and give them a call.
Save Box Tops
The organization Box Tops for Education helps you give to your favorite school by clipping the little coupon "box tops" you see on many different products like Kleenex, cereal, granola bars and more. In fact, once you start looking for box tops you'll find them on tons of products!
For each box top, your school receives $.05, which doesn't sound like a lot, but it adds up quickly. Schools can earn hundreds of dollars each year to buy valuable supplies for students.
Raise Money for a Cause
A little four-year-old girl named Alex Scott started a lemonade stand to raise money to cure childhood cancer. Her first stand raised over $2,000 and inspired the organization Alex's Lemonade Stand. By the time she passed away from neuroblastoma (a form of cancer) she had raised over a million dollars.
The organization has inspired many kids and schools to hold lemonade fundraisers all over the nation and there are many other similar stories. Consider what you can do to help raise money for a cause you believe in. Whether it's joining the March of Dimes, making a craft to sell and donate the proceeds, or some other way, find a way to give back.
Give Blood
Blood donation is easy. It doesn't cost you a thing, except a half hour of time and blood donations can save lives. Many blood banks have such shortages, particularly in rural areas, so they have to buy blood from bigger banks in more populated areas. In times of natural disasters and crisis, blood banks are often stretched very thin.
Most areas have a center where you can donate or offer the option of mobile blood banks, which might even have a donation day close to your home or office. Check their website and find somewhere close by to help save a life.
Donate Hair
Locks of Love, and Wigs for Kids are both great options for donating hair. Once hair is donated, it is used to make wigs for women and children who are suffering from cancer and other illnesses.
Hair donation is simple, but be sure to check the guidelines before you or your kids donate. Grey, color-treated and bleached hair is often unusable for wigs, so many organizations have restrictions on what they are able to accept. Check to see if your hair matches the requirements and go for a short stylish new 'do!
Find a Chance to Help
Every day we are faced with opportunities to help others. If you have extra clothing, they make great donations. Maybe you have extra birthday supplies—what about donating them to a homeless shelter or organization that helps disabled adults so they can have a happy birthday celebration. If you have craft supplies you aren't using, check with a local school, community after-school program, or even an assisted living facility to see if they could use them.
It's all about getting creative and thinking of each day as an opportunity to give back to someone else. What can you do today to help someone? When you see the opportunities, you'll be amazed at what you find—from helping a neighbor struggling to take out the trash to giving a spontaneous gift or note to brighten a friend's day.
Remember, we might not be able to change the whole world, but each act of kindness makes a difference to at least one life. Find your chance to make a difference today!
To recap, Here are Small Ways to Make a Big Difference
1. Support Local Businesses
2. Workout for Good
3. Recycle
4. Volunteer
5. Get Civic
6. Thank a Serviceman or Servicewoman
7. Cook for Others
8. Donate Electronics
9. Make a Cage Comforter
10. Donate Books
11. Be a Caring Consumer
12. Give Change
13. Give Points
14. Save Box Tops
15. Raise Money for a Cause
16. Give Blood
17. Donate Hair
18. Find a Chance to Help
Other helpful resources:
PIN FOR LATER:

TAKE BACK CONTROL OF YOUR HOME LIFE
---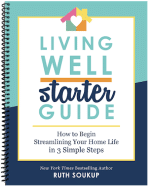 Ever feel like you just can't keep up? Our Living Well Starter Guide will show you how to start streamlining your life in just 3 simple steps. It's a game changer--get it free for a limited time!
If you love this resource, be sure to check out our digital library of helpful tools and resources for cleaning faster, taking control of your budget, organizing your schedule, and getting food on the table easier than ever before.