Don't have any extra time to clean during the holidays? Don't sweat! This speed cleaning checklist will get your home holiday-ready in minimal time!
There is no time of year when I love my house–or enjoy being at home–more than during the month of December. There is just something magical about those twinkling Christmas tree lights and festive decorations. I love turning on some mellow Christmas music (the James Taylor Christmas album is my all time fav!) and cuddling up on the couch with a cup of spiked cocoa and a good book, or watching one of my favorite holiday classics. In fact, it might the only time during the whole year when I truly just chill.
Speed Cleaning for the Holidays
But you know what totally ruins my Christmas spirit?
A messy house.
And while during the rest of the year, my regular speed cleaning routine usually works just fine, this time of year I just don't have an extra hour a day to devote to cleaning. Thus, in the interest of maintaining my sanity, I have found a way to cheat & get it done in half the time. Granted, come January my house will probably be due for some deep cleaning & reorganization, but if it gets me through the season with my sanity in tact, I am okay with that. Life is all about balance and giving yourself grace when needed!
What you will need:
Most of the year I prefer using these homemade green & thrifty cleaning products. Not only are they cheaper, but they smell better, and require me to keep far fewer bottles of stuff lying around! Even so, there is something to be said for convenience, and during the holidays my cheater go-to cleaning supplies include "green" disposable disinfectant wipes, Windex wipes, a Swiffer Wet Jet, and Swiffer Disposable Dusters.
General Guidelines:
Cleaning is much easier when you have less clutter, so the key to the plan is finding a quick and easy place to stash all the stuff. If you don't have time to do a major de-cluttering session right now, find a big box or basket that you can store in an out-of-the-way place such as the garage, basement, or spare bedroom. Use this to collect the random clutter you've got around the house, then set a date in January to go through it all.
Start at the same end of the house each time you clean. (I start in our Master Bedroom and work my way through the living room and kitchen to the girls' room and bathroom.)
Use a large laundry basket to collect items such as toys or clothing as you clean, then dump contents of basket into your garage box. It won't be pretty but at least you'll know where to find it (or where to tell the kids to look.)
On the days you need to sweep, mop, or vacuum, save it until the end, then do it all at once.
Keep daily shower cleaner in the bath/shower and spray down after each use.
The LWSL Holiday Speed Cleaning Routine:
Bedroom(s) 5 minutes each, depending on how much to pick up:
Always make the bed. Even if there are other things laying around, the room will look much, much cleaner.
Quickly pick up any clothes, toys, or dishes that are lying around.
Use a duster quickly dust the surfaces that really need it.
Bathroom(s) (5 minutes each):
Squirt toilet bowl cleaner around the rim; let sit.
Use disinfectant wipes to quickly wipe down the sinks & countertop.
Use toilet brush to quickly scrub toilet.
Use disinfectant wipes to wipe down toilet seat & lid.
Use Windex wipes to wipe any spots off mirrors & to shine faucets.
Living Room/Dining/Home Office Areas (5-10 minutes):
Quickly pick up any shoes, dishes, toys, or other items & place in basket.
Use duster to quickly dust surfaces.
Tidy desk area, throw out junk mail, and place other mail in inbox.
Kitchen (5-10 minutes, depending on how many dishes):
Quickly pick up any items that don't belong in kitchen and place them in basket(s). Gather any dirty dishes and put them next to sink.
Quickly unload (if necessary) then load dishwasher.
Hand wash dishes/pots/pans as needed
Wipe down counters & stove-top.
Dry and put away any hand-washed dishes, then drain and rinse sink–the secret to a truly clean-looking kitchen is clutter-free counters and a nice clean sink.
Finishing Up:
Use a dry mop to clean hard floors. Spot clean with a sponge if necessary.
Vacuum rugs/carpet, especially around Christmas tree (if using live tree)
Clean glass surfaces & mirrors as needed with Windex wipes.
Dump collected items in your secret garage box until further notice.
Turn the lights down, light a holiday-scented candle & play some soft Christmas music!
How do you keep your home neat and tidy during the holidays? Do you have any tips or tricks to share?
Other helpful resources:
Pin for later:
TAKE BACK CONTROL OF YOUR HOME LIFE
---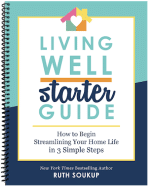 Ever feel like you just can't keep up? Our Living Well Starter Guide will show you how to start streamlining your life in just 3 simple steps. It's a game changer--get it free for a limited time!
If you love this resource, be sure to check out our digital library of helpful tools and resources for cleaning faster, taking control of your budget, organizing your schedule, and getting food on the table easier than ever before.