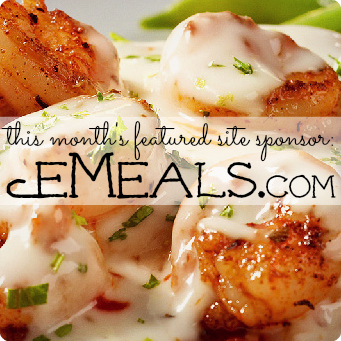 This month's featured site sponsor–eMeals–is a company that has been near and dear to my heart for several years now, and I am absolutely thrilled to be introducing it to those of you who don't know about this absolutely fabulous (and super budget-friendly service!) meal planning service.
I don't know about you, but in theory I absolutely love the idea of meal planning. Always knowing what you are going to cook for dinner AND having a once-a-week shopping list ready to go. Who wouldn't want that?
However in practice, the reality of meal planning isn't quite so simple. First of all, it takes a lot of work and effort to come up with a whole week's worth of yummy, family-friendly (but not too time consuming recipes.)  Second of all planning meals without first considering what is in season or on sale at the grocery store can end up being really expensive.
This is exactly why I love eMeals! Not only do they have a whole amazing lineup of yummy menus to choose from (Slow Cooker! Gluten-Free! Paleo! Vegetarian! Portion Control!) they put a lot of thought into choosing common ingredients that go on sale frequently, that are on season, and when possible, are even customized to your own store's weekly sale cycles. It really is genius.

eMeals is the perfect solution whether you just struggle with meal planning or whether you mostly use coupons or these other shopping strategies for cutting your grocery bill in half. I honestly can't recommend it enough. But it gets even better because this month you can save 15% off your new membership when you use the promo code LWSL15OFF! Yay!
*    *    *
Do you ever struggle with meal planning?