No time for Halloween? No worries–we've got you covered! Don't miss these simple Halloween ideas that can all be done in 15 minutes or less!
Are you tired of feeling like the mom who forgot about Halloween?
Does the thought of decorating your home for just a week or two overwhelm you? Or does the idea of making Halloween treats seem like too much work?
If you understand, join me today as I want to share a few really fun spooky and simple Halloween ideas that are simple for us last minute mamas!
If you need a virtual easy button for making Halloween special without a lot of time & effort, I truly think you'll enjoy these simple but classic ideas. They are sure to wow your guests that stop by for trick or treating!
Spooky & Simple Halloween Ideas (That You Can Do in Less than 15 Minutes)
Eye-Popping Puppy Chow
Mix up your favorite puppy chow but add a spooky twist— candy eyes! Growing up I remember sitting around the kitchen table stirring puppy chow when it came out of the microwave. It was always the best tasting when it was still warm!
If you loved Puppy Chow as a kid, you'll step back in time serving it to your family. This recipe takes less than 15 minutes to prepare. Once you're finished, mix in your candy eyes for an especially fun, spooky treat.
Be Our Ghost Biscotti
These Biscotti from Good Housekeeping are the perfect easy treats! During your next shopping trip, plan to pick up a pack of the pre-packaged Biscotti. Simply dunk the Biscotti in melted white chocolate and you have the perfect little ghosts ready to be decorated. You could decorate the ghost faces with store-bought frosting pens.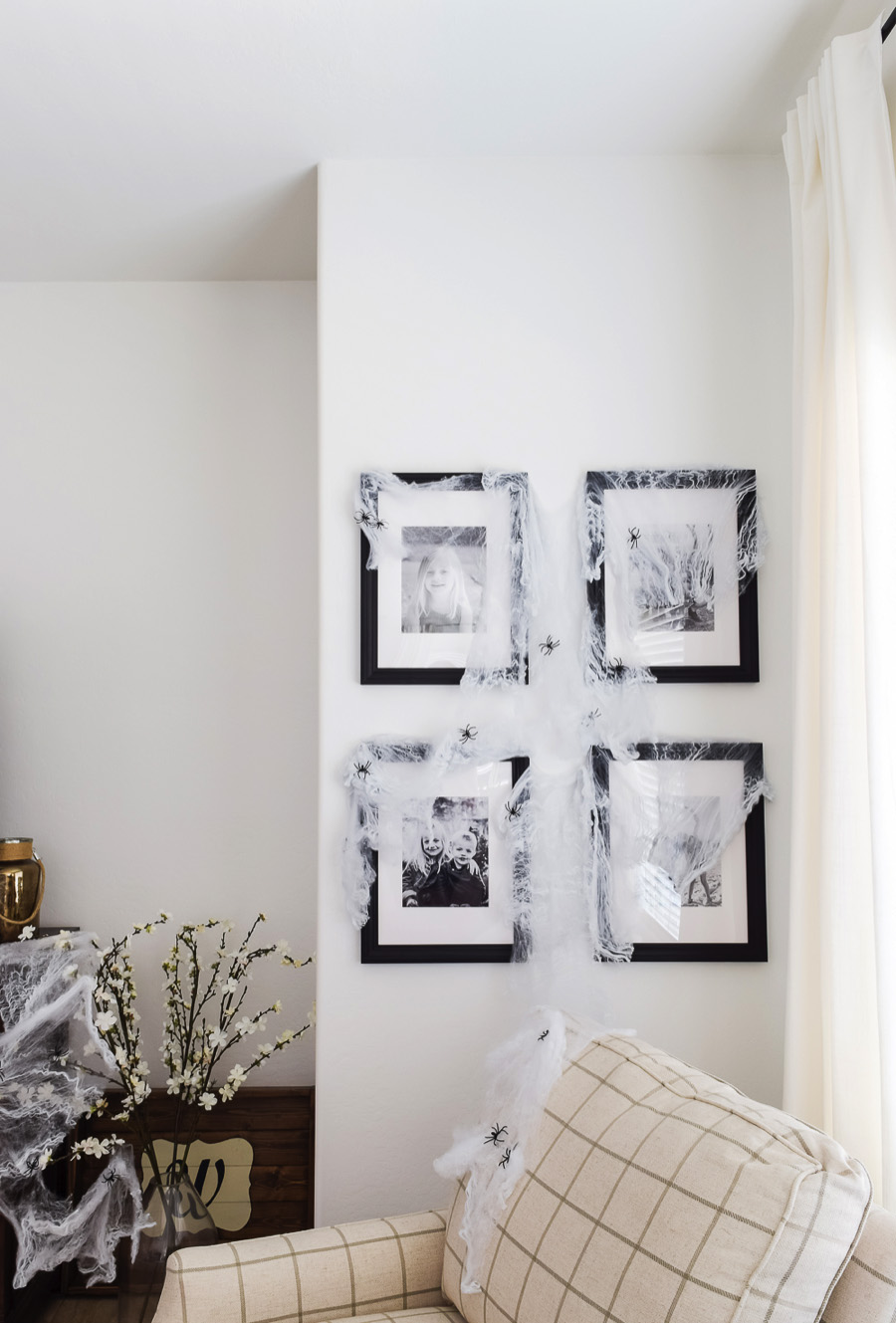 Make Your Home Feel Spirited
Are you planning on hosting a few extra people over for Trick or Treat? You can make your home look a little extra spooky in just a few minutes with these ideas! For maximum impact, set up your Halloween decor near your door so that your trick or treaters and guests are wowed upon stepping into your home!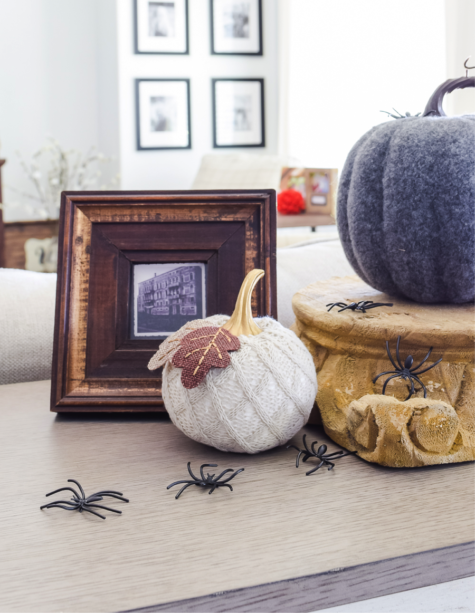 Spooky Spiders Around the House
This is one is so fun because it's simple and leaves a spooky feeling. Buy a pack of Spider rings and use a pair of scissors to cut off the ring part. Lay them around in clusters on your shelves, coffee tables, or anywhere else that may surprise someone walking by.
If you have the sticky-tack hanging material that teachers use, increase the spooky factor even more by applying them to the walls! When you tape them to the wall, place them close together so that it makes it look like they are curving toward a window, cabinet, or appliance!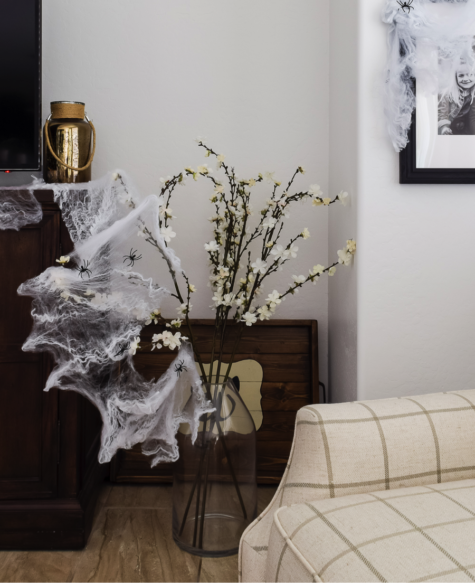 Hair Raising Spider Webs
For an ultimate impact in a short time, buy a few packs of spiderwebs to hang around the house. You can start a spiderweb by tucking one corner in a cabinet, picture frame, or mirror. Stretch and pull the cobweb material around edges, over furniture, or even to the floor! If you don't have a corner to tuck your spiderweb into, use double sided tape.
Decorate your spiderweb with those spider rings that you used above.
Want to do more with your cobwebs but still keep it super simple? Pull out an old string of Christmas lights and loosely wrap them around your what will become your cobweb frame. Then, build your spiderweb over the lights for a fun illuminated setup!
The best part about spiderwebs? The clean is incredibly easy. At the end of the night, pull it away from your counters and it all balls together.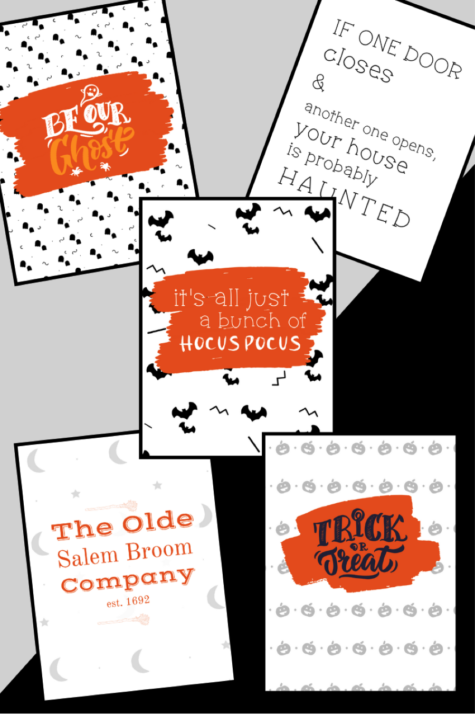 Decorate with Fun Printables for Free
Sometimes buying seasonal artwork can fall to the bottom of the to-do list. That is why free printables are always a great idea for quick & easy decor! I designed five different pieces for you to use this Halloween.
To use them at home, print them off using a color printer. You can slip them into a picture frame on a shelf, use washi tape to stick them to a wood cutting board propped up in your kitchen or even taped to a wall!
They are completely free for you to use around your home. Have fun decorating!
You can print these fun spooky Halloween printables HERE.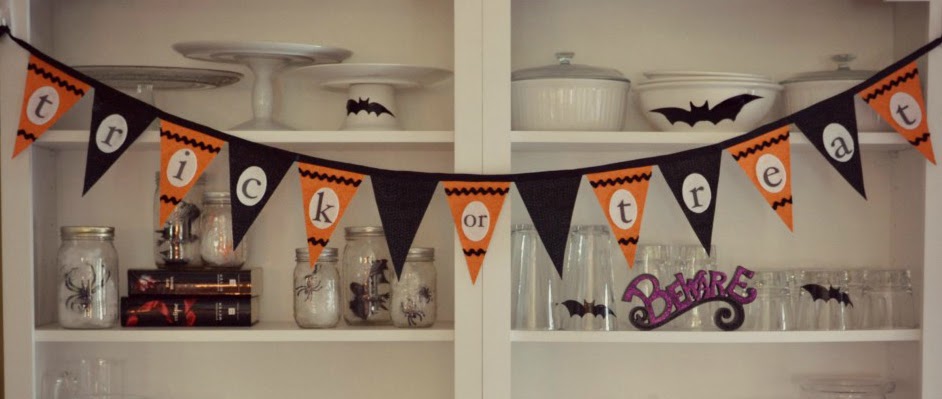 No-Sew Bunting
Up the Halloween punch with some fun bunting. But the best part? It's completely no-sew!
If you have extra wax paper in your kitchen drawer, you can make this decoration in no time. Bonus? Hang it where your guests will see it first or mingle the most, for maximum impact. Ruth shares how to make the no-sew Halloween bunting here!.
No Skills Needed Costumes
Classic Halloween costumes are also some of the easiest ones to put together quickly! While you're making sure the kids have a great Halloween, don't forget about yourself! You deserve to join in on the costume fun even if you are just passing out candy or walking with your kids. These costumes are no-sew and virtually zero effort. Make them for yourself or the kids if they have a sudden change of heart on their costume this year.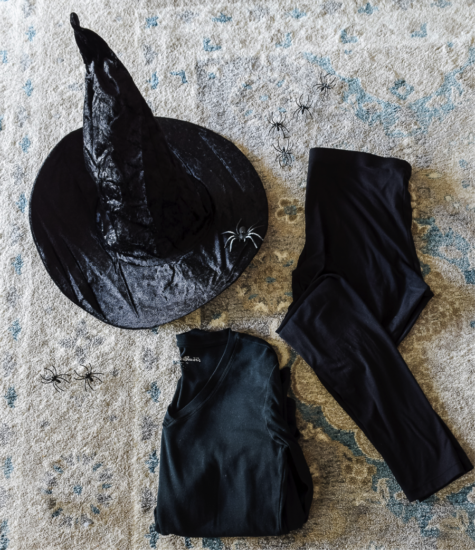 The 5 Minute Witch
The go-to classic Witch is perfect for a last-minute costume. Aside from a hat, you likely have everything you need already in your closet. Create a 15-minute costume by wearing a black shirt, skirt, leggings, and black boots! You can layer on the black clothing depending on your weather outside.
For extra punch, apply dark lipstick. Add a witch hat and you're instantly ready to greet any visitors or walk the kids outside.
Have a Little Fun Being Catty
Do you have a few black pieces of clothing in your closet but want to be something friendlier than a witch? You have another great option! Swap out the witch hat for a kitten ear headband. Plan to wear the same black outfit and add draw whiskers on your face with black eyeliner.
This is a great option for little ones who may change their mind or have multiple Trick or Treat / Trunk or Treat events where they want to wear a different costume.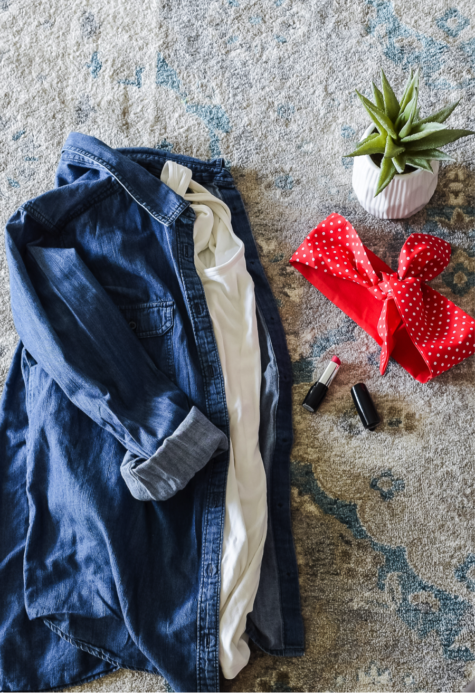 Be Iconic Like Rosie the Riveter
Classic Halloween costumes are also some of the easiest ones to put together quickly. You can transform into Rosie the Riveter with just three main items, chambray (a thin denim material) shirt, a red headband or bandanna, and bright red lipstick! Did you know that Rosie was created as an icon of the women who worked manufacturing roles during World War II? She represents an entire culture of women who were strong and resilient.
When you are just about ready to finish your costume, roll up your sleeves for that final Rosie the Riveter touch. I found this adorable headband on Amazon, it arrived in just a day.
Don't let Halloween sneak up on you leave you feeling left behind! You can make a fun & spooky Halloween at home in just a few minutes, and no one will know it was so easy to do! Start by ordering your spiderwebs and a witch's hat. You're already halfway done! Did you like these simple Halloween ideas? Leave a comment below and let us know which one you liked the best!
Want more? Check out these other Halloween posts:
PIN FOR LATER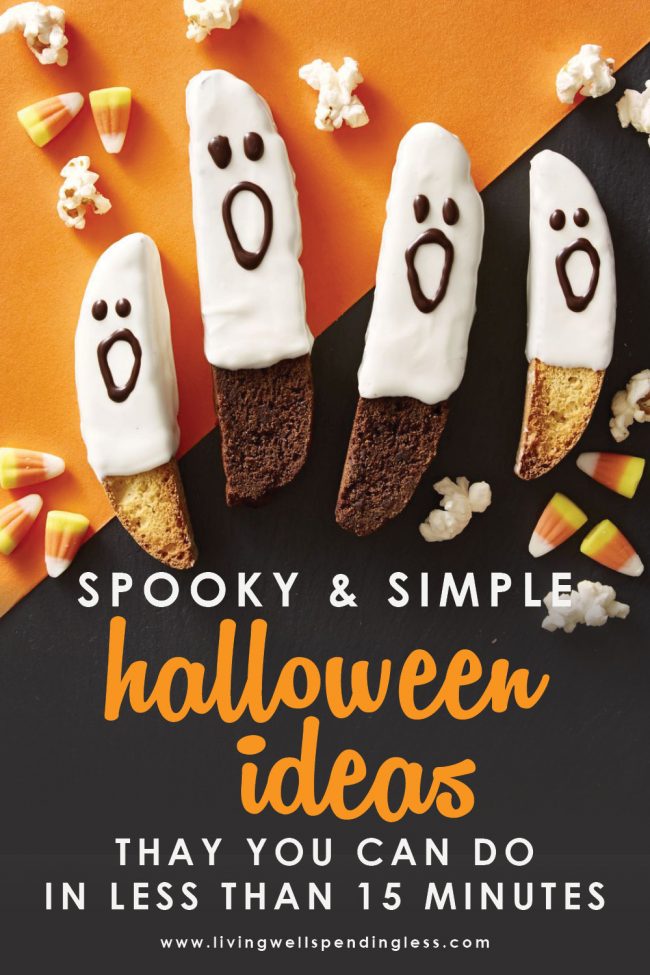 TAKE BACK CONTROL OF YOUR HOME LIFE
---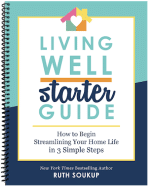 Ever feel like you just can't keep up? Our Living Well Starter Guide will show you how to start streamlining your life in just 3 simple steps. It's a game changer--get it free for a limited time!
If you love this resource, be sure to check out our digital library of helpful tools and resources for cleaning faster, taking control of your budget, organizing your schedule, and getting food on the table easier than ever before.