I love living in Indiana. We're a state of basketball and racing fanatics. We have the most beautiful fall, and our springs aren't too shabby either. And Hoosier hospitality? That's a real thing. The people are friendly, the property affordable, and most of all, it's the place I call home.
I love my state.
However (you knew that was coming, right?), the months of January and February can be brutal here. It seems like it's dark in the morning and it's dark at dinner time. The temperatures drop low, making even running quick errands feel like a three-day trek across the frozen tundra. We're not even safe from the potential of snowfall well into March. Sometimes it can feel like Narnia here – always winter, never Christmas.
Combine the less than ideal weather with the monotony of our school routines and by late March, we're all ready for a little vacation – from the cold, from the dark, from life.
Cue Spring Break.
A few years ago, our school system shifted from really long summers to primarily the month of June and most of July. That means we get two whole weeks of vacation during the third month of the year. Having more time on our hands can be a blessing and a curse. It means if we do decide to travel somewhere, that we have time on the front end to prepare and time when we return to get the laundry under control before heading back to the classroom. If we choose to remain at home, it doesn't take long before we all begin getting a little stir crazy.
This is precisely why for both our sanity and our bank account, I try to be on my A-game in planning for Spring Break. Whether we remain at home or we take an adventure, we need to be sure to budget both dollars and time well.
When Renting Plan Ahead, Book Last Minute
Our family prefers to rent a condo or house instead of booking a hotel room when we travel. We like eating our meals at our home away from home to save a few extra dollars. We enjoy a bit more space to move around and it's nice to have separate sleeping spaces so we don't feel piled on top of each other.
We've used sites like VRBO and Airbnb, and we've rented from local property management companies, too. I do a lot of research in choosing a home that best fits our needs. I read reviews, examine photos closely, and when I can, I talk to friends or family who may have stayed in the area before.
But the best savings strategy I've discovered is waiting until close to the last minute to book anything. Especially for homes that are owned by private owners, the desire to have someone in the home instead of leaving it vacant can make the price point much more flexible. Certainly, you run the risk of needing a plan B; however, the steep discount you can receive might be well worth it.
Typically, it's a good idea to have 3-5 properties in mind and send a direct message to each inquiring about flexibility in price or sharing your specific budget. The property owner may need to pass, but you won't know unless you ask.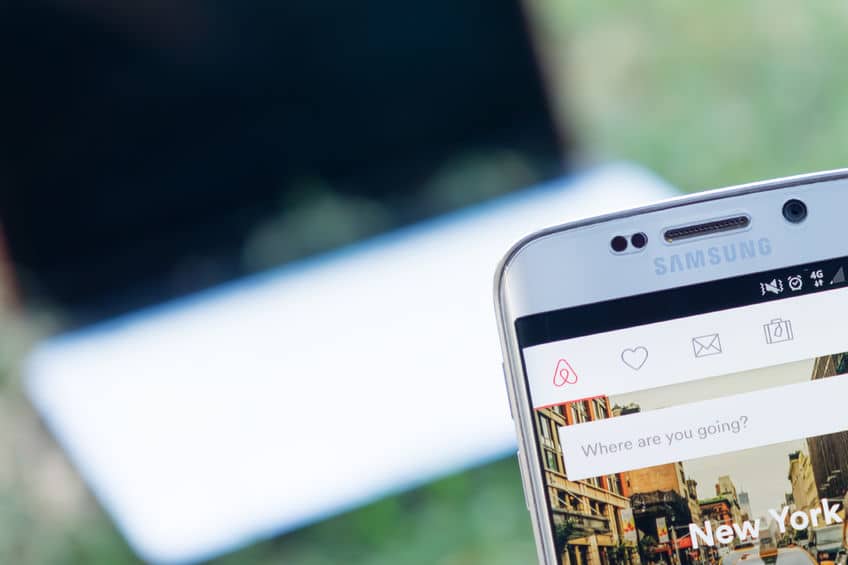 Visit Like a Pro
For the last handful of years, I've had the pleasure of blogging for Visit Indy, an organization that points convention-goers and tourists to the best dining, destinations, and attractions in Indianapolis. Nearly every city has an agency like this. It may go by the Convention and Visitors Bureau or Visitors Center, or just have the name of the city in its title.
Do a quick online search to discover if your destination (or nearest metropolitan area) has an organization like this. On their website, you'll not only find pointers and tips for visiting well, but you're likely to discover a calendar where you can search for free events or discounts on entry fees. You may also want to consider looking for community calendars on local television stations, too.
Stay At Home Adventures Make the Best Memories
The best childhoods are filled with adventure. While we might think that we need to give our kids trips to the best theme parks or fill their daily calendars with activities out the wazoo, the majority of our offspring just want time with us. Here are some of my favorite low cost/no-cost ideas to turn your own home into the very best Spring Break destination:
Blanket Fort Day:
Take the cushions off the couch, pull the pillows off the bed, and turn the linen closet inside out looking for blankets. Build the most intricate blanket fort possible in your living room, using whatever you can find. Spend the rest of the day enjoying your comfy dwelling. Read books. Play video games. Eat your meals. Watch a movie. The possibilities are limitless. At the end of the day, have everyone help with the fort demolition and clean up together.
Stay At Home Chefs:
Let your older children plan a meal from start to finish. Search the Internet for recipes and build a grocery store list to buy the items you don't already have. It can be as simple or as elaborate as you'd like. If there's a bit of *ahem* competition between your kids, then let each plan a course (appetizer, salad, main dish, bread, dessert, etc.) or choose a different day. Bonus: you don't have to cook dinner all by yourself.
Build Something Together:
Maybe it's a picnic table for the backyard or a new garden bed. Perhaps it's a small piece of furniture to add their bedrooms; like a side table or shelf. Spend the day getting all Bob the Builder as a family. Let the kids do as much work as possible. The shared experience no matter how messy outweighs the perfection of the piece.
Get Your Game On:
We LOVE board games in our house but it never seems like there's enough time to play. Allow each family member to choose one game per day, and spend at least one hour per day playing.
Park Bucket List:
Draw up a list of parks in your area and visit one per day. Pack a lunch and have a picnic, or choose to just spend an hour there.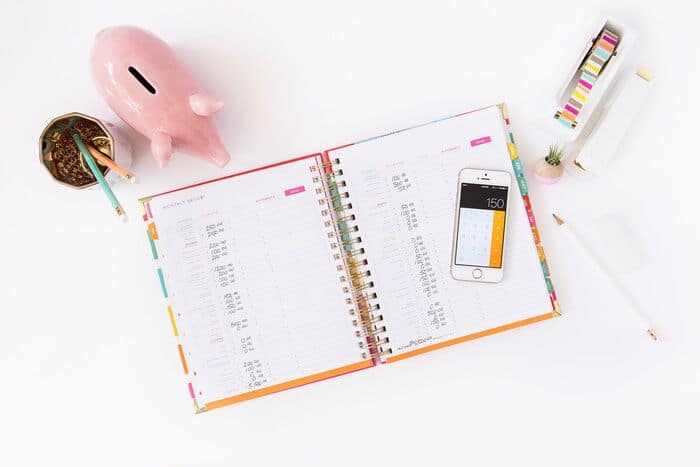 Begin Planning for Next Year
Maybe you don't have the funds for a major vacation this year. That doesn't mean you can't begin the process for planning (and saving) ahead. Have a family meeting to brainstorm where you'd like to visit. Let your kids do research on both prices and destinations. Then together, think about ways you could cut back, or things that you could do to help fund that trip. You might be surprised at what your kids are willing to sacrifice. By the way, if your dream involves visiting a large mouse and his many friends, check out Debt Free Disney: Saving For Your Vacation.
Spring Break Jar O' Ideas
Have your kids write down on slips of paper what they would like to do on Spring Break that doesn't cost any money. Add a few ideas of your own that are affordable but low in cost like a trip to the dollar theater or lunch out on the town. Fold the slips up and place them in a jar. Each day, draw out an idea to determine your destination or plan for the day. Allow your children to take turns pulling an idea from the jar, too.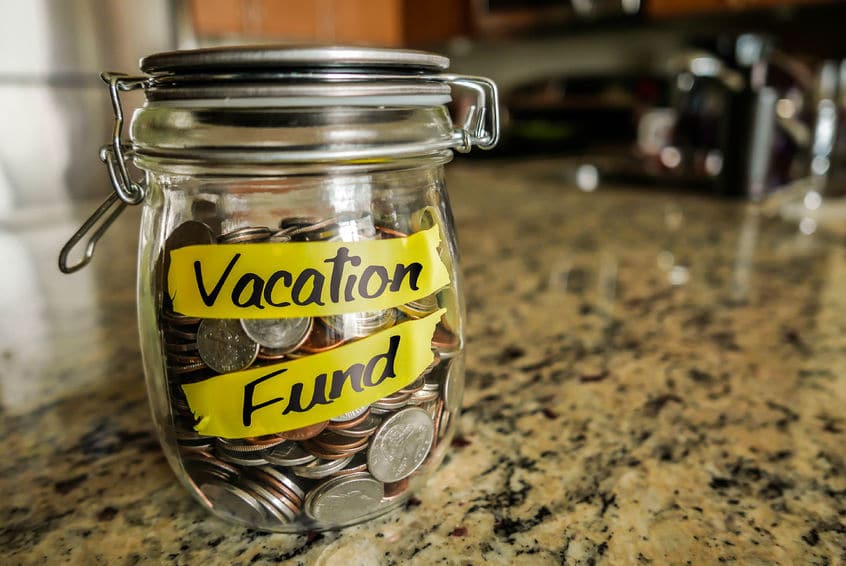 Cash Flow Your Experiences
It's incredibly easy to get caught up in the fun spontaneity of Spring Break. Your schedule is more flexible and sometimes that makes your spending a little too flexible. Whether you travel or stay at home, you always need a target budget in mind. The worst souvenir you could come home with is a gut full of regret from your overspending.
That's why it's a good idea to have a special bank account designated only for vacation expenses. You could choose to withdraw money from it and spend only cash during Spring Break, or you could set up a secondary checking account with a debit card to help you manage your money. Either way, having a target budget can keep you from stepping out of bounds and making money mistakes.
Spring Break is a gift. You're given a break from the humdrum schedule and the opportunity to relax as a family. Your kids won't be this age forever. Make meaningful memories while you can. Invest in the relationships that really count while being wise about managing your money well to ensure a bright financial future for your family.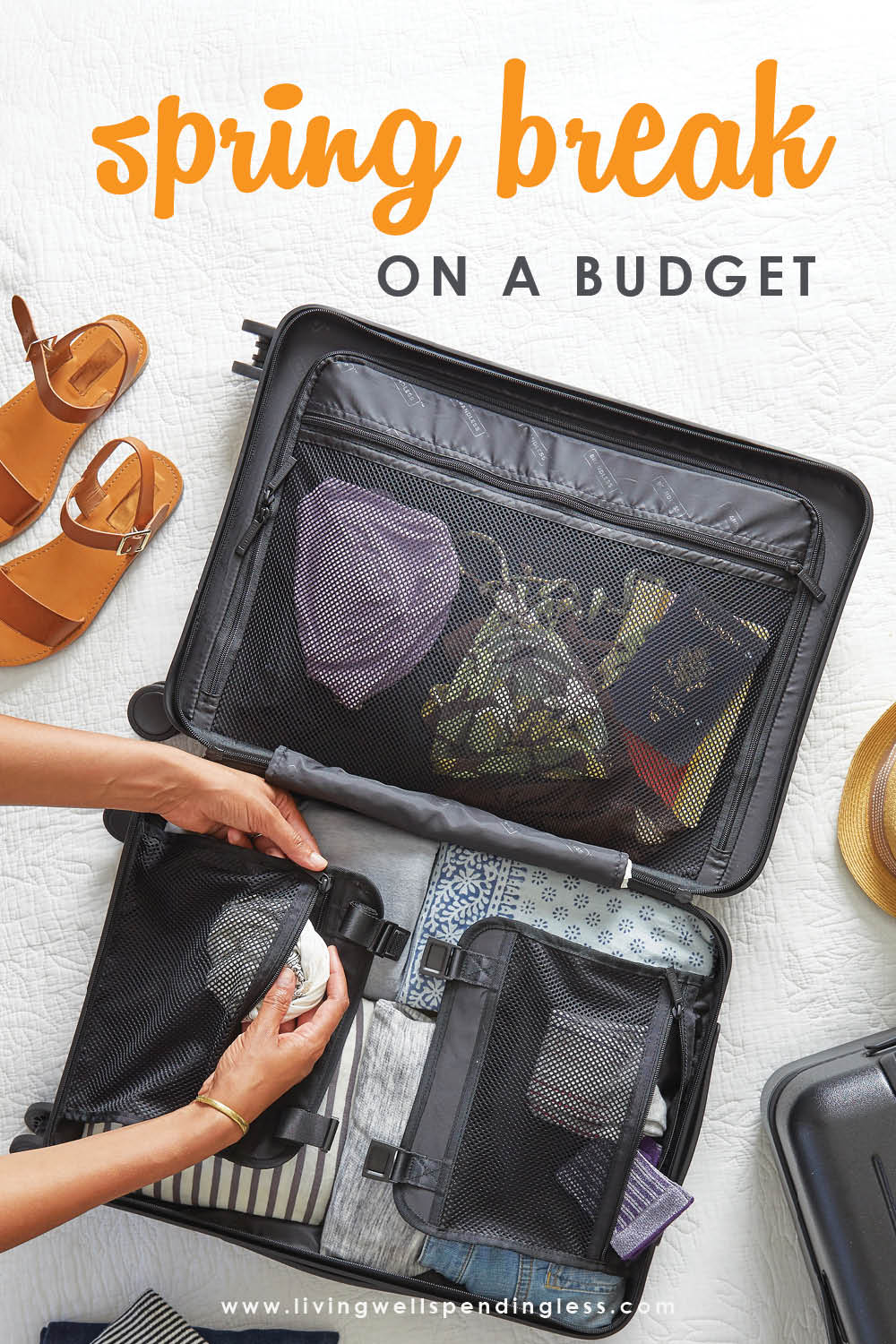 TAKE BACK CONTROL OF YOUR HOME LIFE
---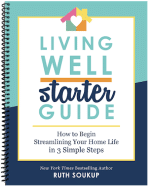 Ever feel like you just can't keep up? Our Living Well Starter Guide will show you how to start streamlining your life in just 3 simple steps. It's a game changer--get it free for a limited time!
If you love this resource, be sure to check out our digital library of helpful tools and resources for cleaning faster, taking control of your budget, organizing your schedule, and getting food on the table easier than ever before.