I just love spring, don't you? The birds are singing, the grass is greener, the air smells cleaner, the sun is shining—it's the perfect time for a fresh start, and there is nothing I love better than a fresh start! And while spring cleaning can sound like a total drag, I swear it doesn't have to be too hard. Plus, as I'm sure you know, when you put in the work, the results are SO rewarding.
It's a good idea to set aside an entire weekend to set ourselves up for a successful spring clean. (…and who wants to drag out the process anyway??) If you go in order, it can be easy to make over the whole house in just a short time. By the time summer arrives, you'll be ready to sip some lemonade and enjoy a lazy day in the yard!
First, we'll tackle the big stuff and clear out the clutter. Then, we'll make some great natural cleaning products. Last, we'll give the whole house a good clean from top to bottom.
There are always a few "problem areas" like the bathroom, the kitchen, or even your closet, which might need some extra time and attention. We've got a plan for rockin' through all these areas so you can have the freshest, cleanest house of your dreams!
And then, without further ado, let's get started!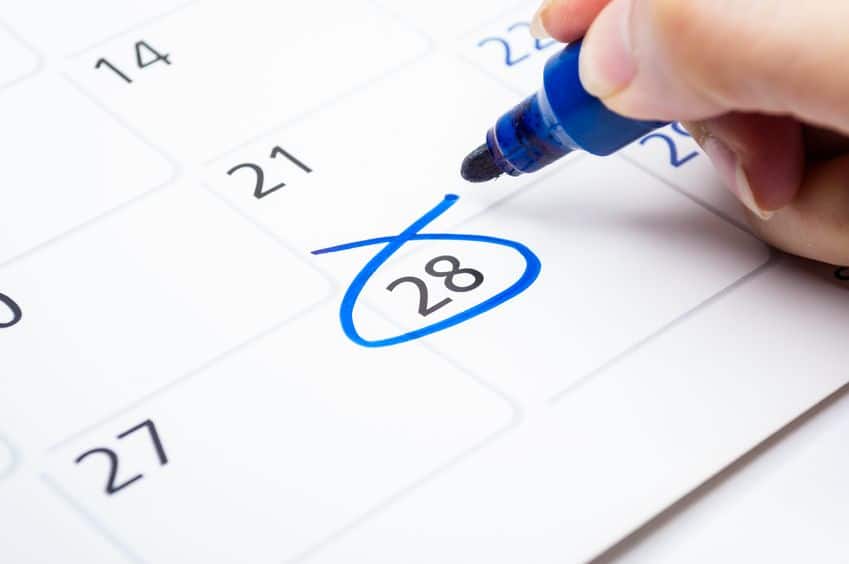 Step One: Plan a Weekend Purge
The first step in spring cleaning is to clear out the clutter. When we found ourselves with a house (and attic, and garage) full of stuff a few years ago, we had to do a total clutter overhaul. The great news is, once we started, we loved the feeling of being clutter-free so much that it's (mostly) stuck! We've been able to stop the flow of stuff for a while now, and you can too.
When winter's in full swing, we can accumulate a lot of….stuff. We end up with Christmas decorations and gifts, outgrown winter clothes and accessories, and items from the school year that fill the closets and halls. When the weather's cold, it can be challenging to organize and clean out. We end up shoving tons of stuff in the closet, or piling stuff in the garage or basement, and thinking, "I'll tackle this later."
Well, there's no time like the present to roll up your sleeves and get started. Plan a weekend purge and get the whole family working together to fly through all that stuff! As you go through closets and cupboards, you'll figure out what to do with all the excess stuff that's cluttering your home.
Even better? You'll probably end up earning a little money when you clean it out, whether you decide to have a yard sale, post a few items on Craigslist, or hit up your local consignment shop.
Set aside a weekend for the overhaul. You'll want to plan for a weekend when you'll have plenty of hands on deck and energy, so you can really dedicate yourself to the process. There's a step-by-step guide for your weekend purge here.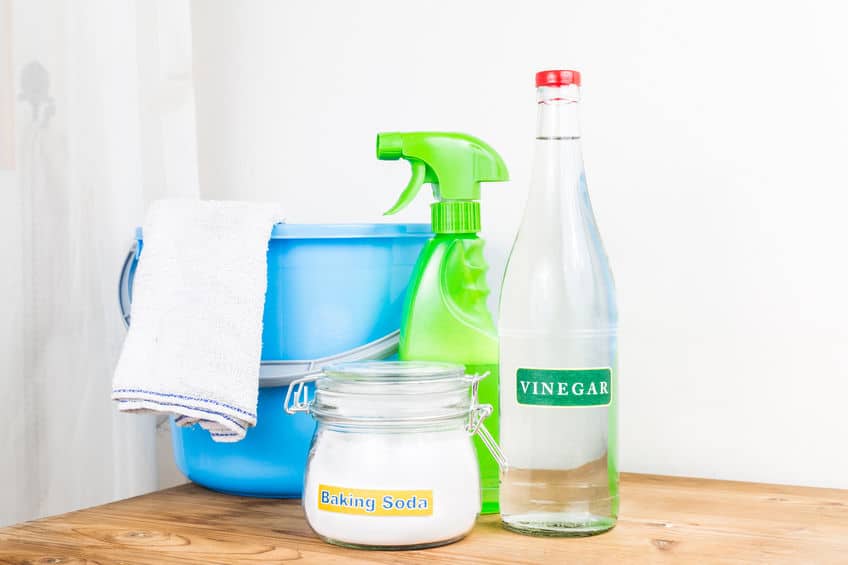 Step Two: Make Green & Thrifty Cleaning Products
Cleaning an organized house is SO much easier. We aren't fighting against all the clutter and stuff. We're able to clearly see where everything goes, so then it's just a matter of doing some serious deep cleaning.
I'm not a big fan of using chemical products. My daughter is very sensitive to chemicals and has some allergies, so we're very careful to use natural products as much as we can. I don't know about you, but I just love having a clean house, as well as the smell of lemon, peppermint and other great "clean scents."
If you also prefer "green" cleaning products, you can make a whole bunch of them for literally pennies on the dollar. Even better? Most of them call for ingredients you probably have in your kitchen right now! Vinegar, baking soda and lemon juice are simple but powerful ingredients that can clean and freshen your whole home.
Once you've cleared out your clutter, learn how to whip up a few green and thrifty cleaning products here so you can be 100% ready to get your house gleaming!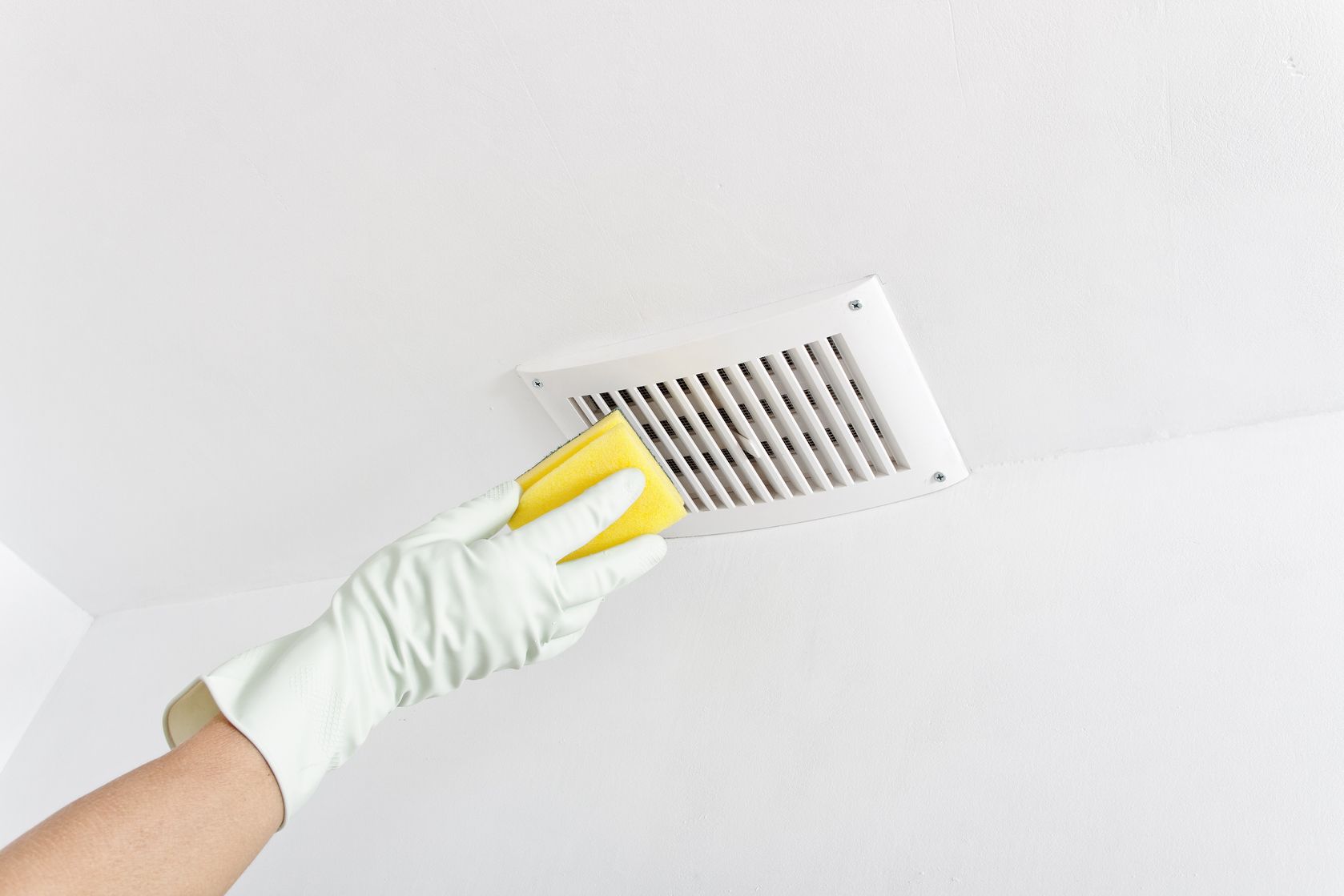 Step Three: Spring Cleaning Top to Bottom
When cleaning, go top to bottom. That means all the dust and dirt moves downward as you go, saving you time because you don't have to keep cleaning the same surfaces over and over again. (Thanks, gravity!)
First, make sure everything is still put away. If you started with a weekend purge last weekend or even if you just did as much clutter clearing as you could, you're ready to go. Touch up any areas that need some organizing and ensure your laundry is done and your counters are cleaned off. Ok, now we're really ready to go!
Gather rags, cleaning products and dusters. Fill a bucket with some sudsy water and keep a few towels handy as well. Be sure you also have your vacuum handy, and ready any supplies you might need, like air filters and light bulbs.
You're going to start with the "top zone" of the top floor of your home. What's the top zone? It's any area above your head. Start here:
Dust or vacuum upper ledges and above cabinets
Clean air vents
Dust or clean ceiling fans
Dust or wash light fixtures
Clean high windows
Change light bulbs and replace air filters
Once you've tackled the top zone, move to the "mid-to-top-zone." This includes everything at eye level. Next steps:
Wash, iron, and re-hang curtains
Dust bookshelves and other tall furniture
Wash windows
Dust pictures, mirrors, clocks, and other wall hangings
Next, move to the "mid-to-low-zone," otherwise known as waist-level. These are the surfaces you probably clean weekly, but for today, give them a little more attention and an extra deep cleaning:
Dust surfaces
Polish wood furniture
Clean leather furniture
Vacuum and spot clean upholstered furniture
Wash sheets and change bed linens
Clean and wipe down bathroom sinks and counters
Scrub showers and bathtubs
Clean toilets
Finally, move to the "bottom zone" or floor-level surfaces. It's time to pick up ALL that dirt and dust that's shifted down toward the floor. Now it's time to:
Sweep hard floors
Spot clean and mop tile or linoleum floors
Vacuum rugs and carpets
Wash small area rugs
Dust baseboards
Sweep front and back steps and/or porch
It's that simple! If you have a second floor, start there and move down, cleaning the stairs in between the two floors.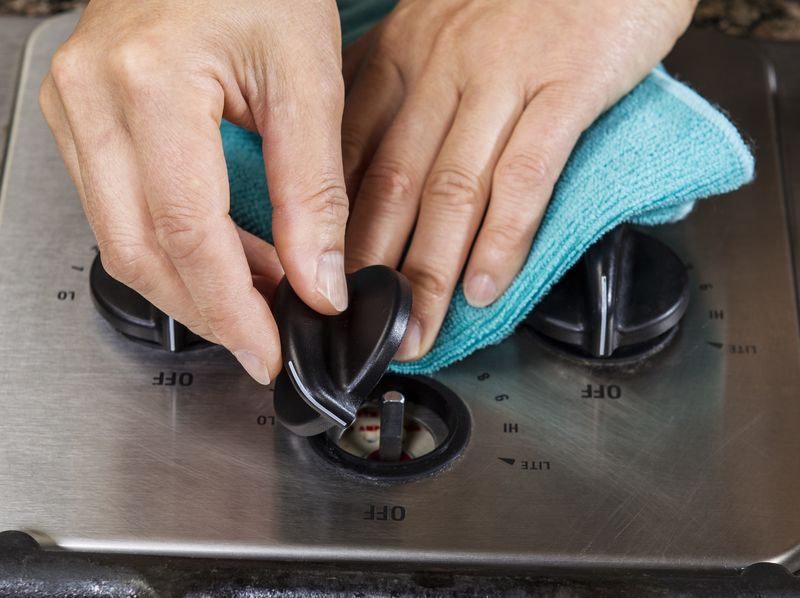 Bonus: How To Tackle the Tough Areas
There are a couple areas we might find a bit more challenging, like the bathroom, the kitchen, or even our closet. These areas tend to accumulate more "stuff" and get dirtier than other areas of the house. If you really want to crush your spring cleaning goals, set aside a separate weekend to tackle the really tough stuff.
The Kitchen: If you want to give your kitchen the ultimate clean, you'll want to deep clean the fridge and freezer, clean the stove and oven, and really give your sink and dishwasher a little extra attention too. Spruce up your garbage disposal with a little baking soda, and wash and change your trash bin before replacing the bag.
The Bathroom: To deep-clean the bathroom and keep things clean and germ-free, spray down the toilet and sink, clean and scrub the tile and grout, and spend some time cleaning the shower, especially in the corners where mildew can build up. Clean mirrors and wipe with newspaper to really get them shining and sparkling. (To avoid inky fingers, be sure your newsprint is at least 4 days old.)
The Closet: Often spring gives us a desire to clean out our closet and overhaul our wardrobe as well. A few years ago, I was feeling particularly frustrated with my closet. I felt like it was full of clothes, and yet I had nothing to wear…
I went out and got some really nice hangers, but I could only afford 40 to start—so I decided to pare down my closet to only 40 hangers. Talk about a game-changer! I couldn't believe it—when I narrowed down my wardrobe to 40 pieces that fit and flattered, I ended up having no trouble finding what to wear! I no longer felt like I was rummaging through piles of clothes every time I got dressed.
If you need help tackling your closet, check out this 40 Hanger Guide to help you get started. I know it sounds a little scary, but it really works!
Finally, check out any other areas of concern in your house—the laundry room, the "pet area" (if you have pets), and/or the garage or pantry. Establishing regular speed cleaning routines can help us stay up on these problem areas, and on the housecleaning in general. Once it's clean and organized, it's so much easier to keep it that way!
Congratulations! Your house is now clean, organized and ready for the summer sunshine! By taking a couple weekends in the spring to really overhaul and organize, you'll create a home that's fresh, clean and ready for spring!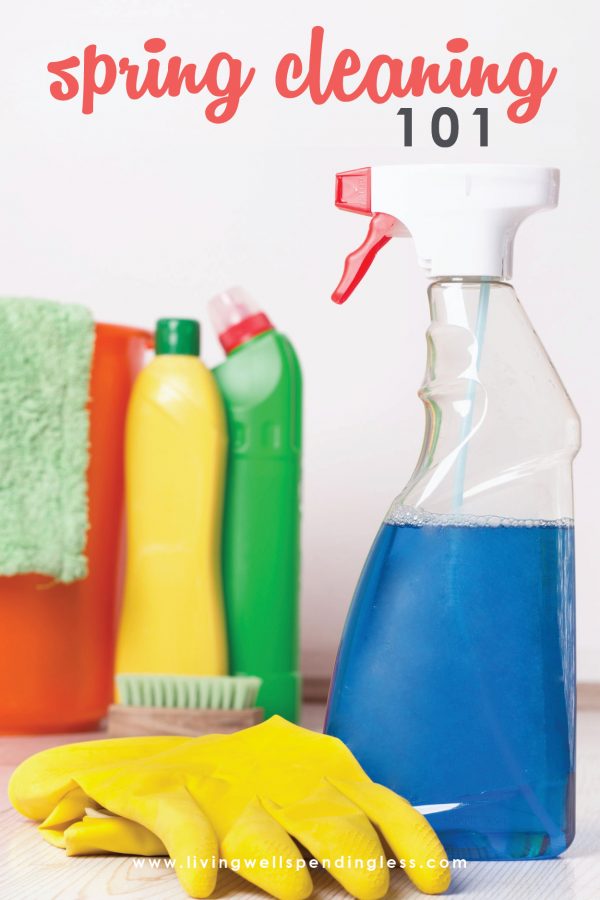 TAKE BACK CONTROL OF YOUR HOME LIFE
---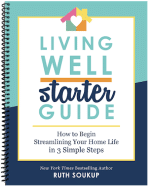 Ever feel like you just can't keep up? Our Living Well Starter Guide will show you how to start streamlining your life in just 3 simple steps. It's a game changer--get it free for a limited time!
If you love this resource, be sure to check out our digital library of helpful tools and resources for cleaning faster, taking control of your budget, organizing your schedule, and getting food on the table easier than ever before.