I know what you're thinking.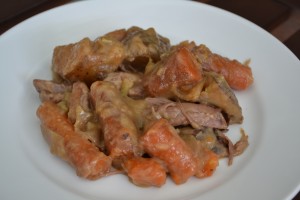 You're thinking, "you really expect me to try a pot roast recipe from a vegetarian?"
Well rest assured that this recipe is largely Husband created and 100% Husband approved. In fact, for this particular pot roast, he even did all the leg work.
I don't cook a lot of meat, not because I'm opposed to it, but because it is very difficult to cook something you don't eat. Ever. I have been a vegetarian my entire adult life. Even as a kid I didn't like the taste and texture, so I would avoid eating it whenever possible. I honestly have absolutely no idea what it is supposed to taste like, so it is difficult to gage whether it is seasoned correctly or cooked the right amount. When I do cook meat, I have a tendency to overcook it. And I don't like messing up.
But I love making pot roast because a.) it is super easy, b.) I can make it ahead and then forget about it, c.) cleanup is minimal, and d.) it makes Husband (and the "steak" loving kiddos) very happy.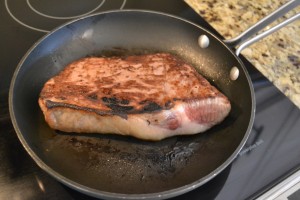 Step 1: Heat a large skillet over medium-high heat. Quicly brown all sides of the roast, cooking for just a couple of  minutes on each side. Set meat into crock pot.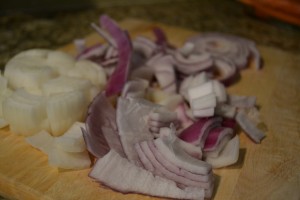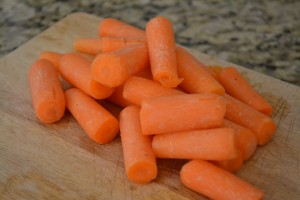 Step 2: Chop vegetables into large chunks. We always include onions, carrots, and potatoes. If we have any on hand, we will throw in some mushrooms or garlic.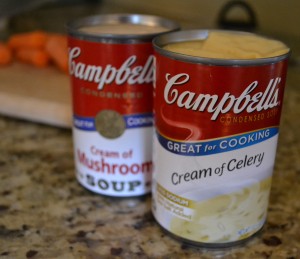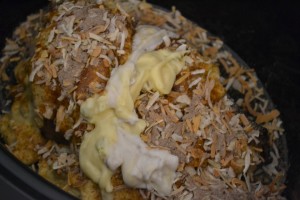 Step 3:  Pour 1 can of condensed Cream of Celery and 1 can of condensed Cream of Mushroom soup over meat. Pour 1 packet of Onion Soup Mix over condensed soup.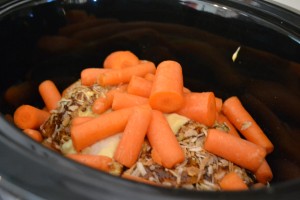 Step 4: Cover meat & soup with chopped vegetables. Put lid on slow cooker and cook on low for 6-8 hours, depending on size of meat.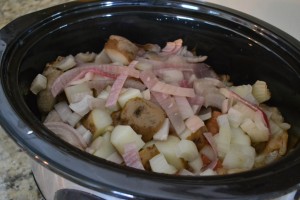 After a few hours it will look something like this. Once the meat starts to produce more liquid, you can stir gently to cover the vegetables. This particular piece of meat was fairly lean and didn't produce as much juice as usual.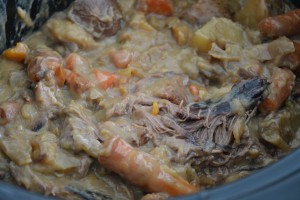 When the meat is tender and fully cooked, it is done. Serve and enjoy!
(And if you're wondering what I eat while the rest of my family is enjoying Pot Roast, I usually set aside some of the veggies while I am chopping, and then roast them just before we are planning to eat.)
Have a great weekend!