I love lasagna.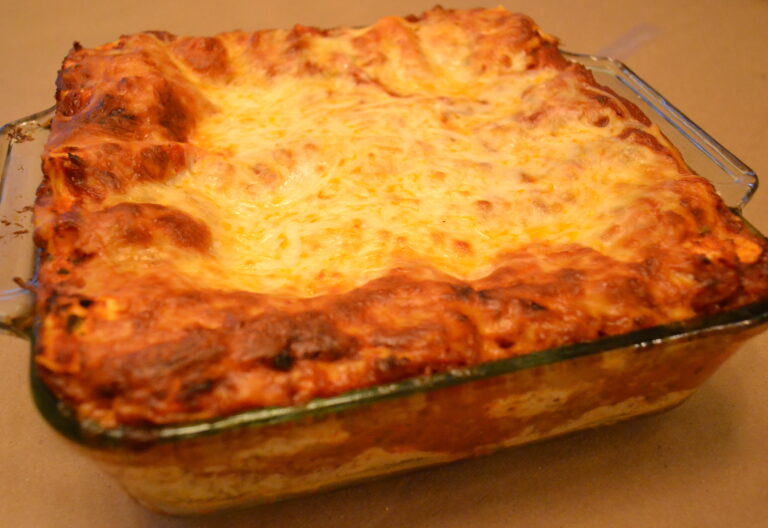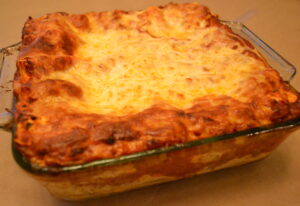 Growing up, my mom never made it. I guess probably because we're Dutch, not Italian. We ate things like Hutspot and Pannekoek and Boerenkool. In any case, I never even tried it until I was 14 or so and babysitting for one of the few non-Dutch families in my small town.
It was love at first bite.
As an adult, the idea of making lasagna from scratch always intimidated me. I love to cook, but in my mind it was still so "exotic." But finally one day I found a recipe for Butternut Squash Lasagna that sounded so good, I just had to try it. (Husband has no idea, I'm sure, even to this day, how terribly proud I was of that first lasagna. He's not a big fan of butternut squash.)
As a vegetarian, Lasagna is one of my favorite go-to meals. There are so many different variations, the possibilities are practically endless, and it is so easy to make that it is practically fool proof. Even better, it is always well-received by the family. (Because as every mom knows, any recipe that can avoid a mealtime battle is one to try!)
DIG DEEPER
---
Stockpiling can save us a bundle. Simply amass a small stockpile of items when they're at "rock bottom" prices or when you find a great sale.
Find out more by opting-in below to have the Stockpile Printable sent straight to your inbox!

This version again uses one of my favorite stockpile staples, vegetarian protein crumbles, but you could just use a pound regular ground beef or ground turkey instead. (Just be sure to drain the meat before adding the tomatoes.)  I also usually use the no-cook noodles because they are easier and faster, but any lasagna noodles would work (just be sure to cook them first!)
Ingredients:
3 tablespoons olive oil 1 small onion, chopped 1 pkg. vegetarian protein crumbles (like Boca, Quorn, or Morningstar) (still frozen is fine) 1 150z can diced tomatoes 1 150z package Ricotta cheese (can also substitute cottage cheese) 1/2 teaspoon garlic powder 1/2 tablespoon Italian seasoning 1/2 teaspoon dry rubbed sage 8 no-cook lasagna noodles 1 jar spaghetti sauce (I used Ragu Tomato Basil) 2 cups shredded Mozzarella cheese.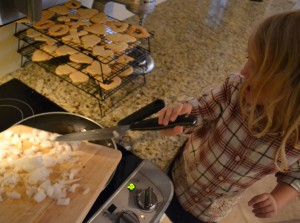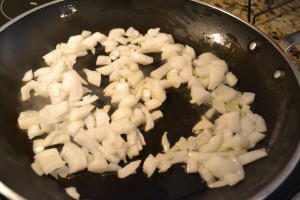 Step 1: Heat olive oil in pan over medium-high heat. Saute onions until tender, about 5 minutes.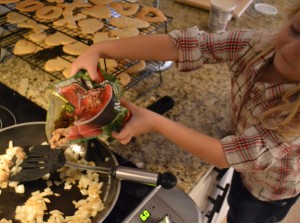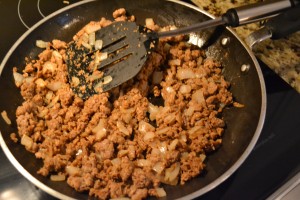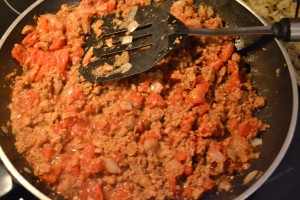 Step 2: Add protein crumbles to pan. Reduce heat to medium. Saute until "meat" is browned, about 5 minutes, then add undrained can of diced tomatoes. Cook a few minutes more, until some of the liquid is gone, then remove from heat and let cool slightly.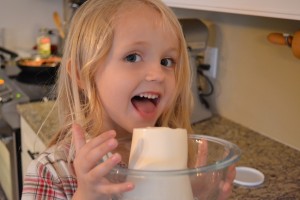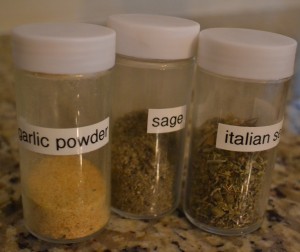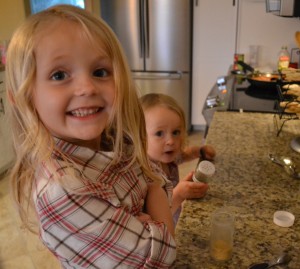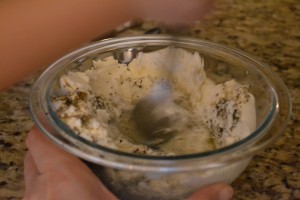 Step 3: Mix ricotta with spices in a small bowl. Set aside.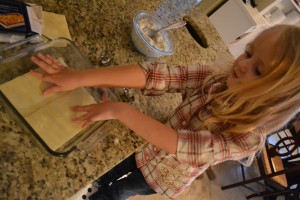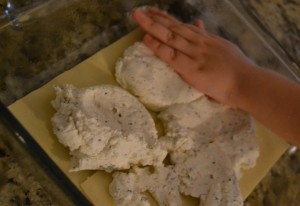 Step 4: Coat 9×9″ dish with cooking spray.
Lay 2 noodles on bottom of dish, then spread half of ricotta mixture over noodles, followed by a layer of half the "meat" mixture. Cover "meat" with 1/3 of the sauce, then another layer of noodles. Spread remaining half of ricotta over noodles, then sprinkle 1 cup of the cheese over ricotta. Cover with layer of noodles, then repeat "meat" & 1/3 jar sauce layers. Do one final layer of noodles, cover with remaining sauce, and then top with remaining cheese. Don't worry if you do the layers differently! It doesn't really matter and will still taste good no matter what.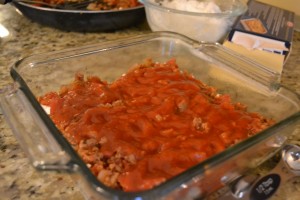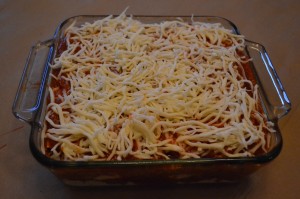 Step 5: Cover with foil and bake at 350 degrees for 45 minutes. Remove foil and bake 20-25 minutes more, until top is brown.