Ready to make your dreams a reality?
---
Our Doing it Scared® coaching program takes you by the hand and helps you first understand yourself and exactly what's holding you back, then helps you take clear and focused action towards achieving your biggest goals and dreams. Enrollment is open now for just five days only!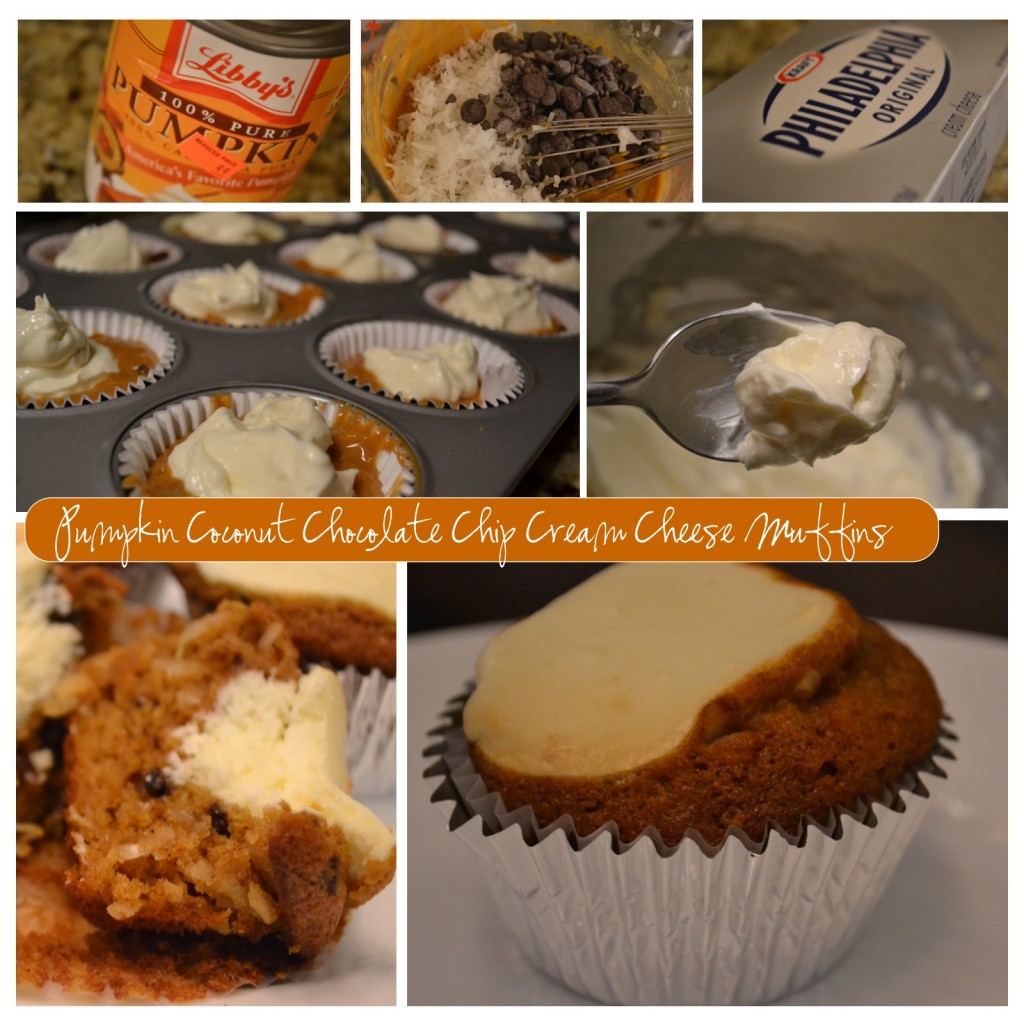 Sometime last winter I found canned pumpkin on clearance at Walgreeens. It made the perfect "filler" item to complete my multiple transactions, so I stocked up and bought all the cans they had left. I'm so happy fall is finally here so I can start to use it! (I am incapable of eating pumpkin anything at any other time of the year. Is that just me?)
These muffins were a breeze to whip up and soooo yummy! If you're not into coconut or chocolate, you could easily omit one or both and have them taste just as good.
Pumpkin Coconut Chocolate Chip Cream Cheese Muffins
Muffins
1 c. sugar 1 1/4 c. flour 1 tbsp. cinnamon 1 1/2 tsp. baking soda 1 tsp. salt 2 eggs 1/2 of a 15oz. can of pumpkin 1/2 cup coconut 1/3 c. chocolate chips  
Cream Cheese Filling
8oz cream cheese 1/4 c. sugar 1 egg  
1. In large bowl, mix together flour, 1 c. sugar, cinnamon, baking soda, salt, 2 eggs, pumpkin, coconut, & chocolate chips. Stir just until blended; do not over mix.
2. In separate bowl, beat cream cheese, 1/4 c. sugar, & 1 egg on high until fluffy and smooth, about 1 minute.
3. Fill muffin cups approximately 2/3 full with pumpkin batter. Carefully place a spoonful of cream cheese mixture in the center of pumpkin batter. Bake at 350 degrees for 20-22 minutes until cream cheese is set and lightly golden, and knife inserted into muffin comes out clean.
Yum! What are your favorite canned pumpkin recipes?