Being vegetarian, I am constantly trying to find or create recipes that will satisfy my meat-eating family. Husband flat-out refuses to eat tofu, and we won't even talk about the ill-fated polenta incident. The food I make has to look "normal" and taste good. Chili, tacos, spaghetti…unadventurous as they may be, the closer my meals come to good old fashioned "comfort food," the better they are received.
DIG DEEPER
---
Stockpiling can save us a bundle. Simply amass a small stockpile of items when they're at "rock bottom" prices or when you find a great sale.
Find out more by opting-in below to have the Stockpile Printable sent straight to your inbox!

Vegetarian Meatloaf is something I have making for years. It is extremely filling, has less than half the calories of regular meatloaf, and tastes delicious.
It is always a huge hit in my house.
And it is fun (and super easy) to make. There aren't a lot of recipes that are toddler-friendly, but this one is pretty foolproof.
Even better, it is made from all the ingredients that I normally keep on hand.
Vegetarian Meatloaf
2 packages vegetable protein crumbles (like Boca or Morningstar)
2 small or 1 medium onion, chopped
5-6 garlic cloves, crushed in a garlic press or finely chopped
1 tablespoon dried parsley
1/2 tablespoon chili powder
1/2 tablespoon dried sage
1/2 tablespoon seasoned salt
1 teaspoon black pepper
1/4 cup Worcestshire
2 eggs, beaten
3/4 cup milk
2/3 – 1 cup bread crumbs
1/2 cup ketchup
3 tablespoons firmly packed brown sugar
1 teaspoon seasoned salt
1 teaspoon dry mustard
1/2 teaspoon ground black pepper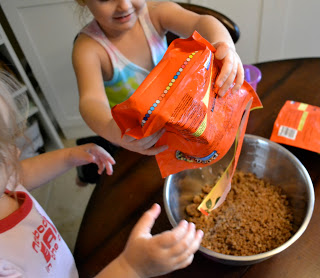 Step 1: Pour the vegetarian protein crumbles into a bowl. They can still be frozen, but beat the bag against the counter before opening to get rid of any large chunks.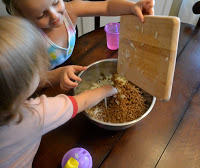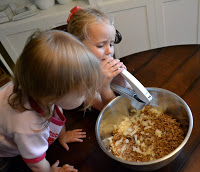 Step 2: Add chopped onion and crushed garlic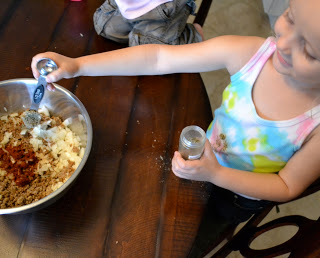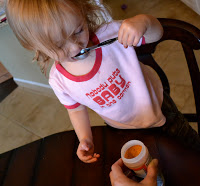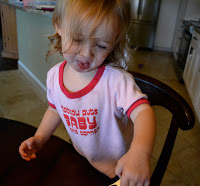 Step 3: Add spices. These can be adjusted to taste or to the whims of your kids if you have "helpers." This version turned out extra peppery, which in our case was fine because we all love pepper. Blend ingredients. Try not to scatter tiny frozen protein pieces all over the floor (unless you have a dog, in which case, no biggie.)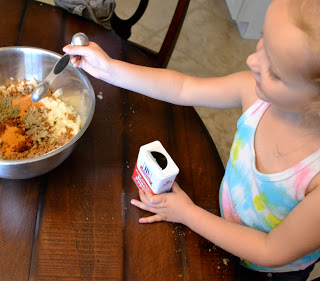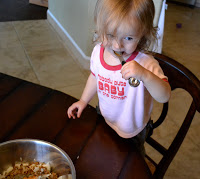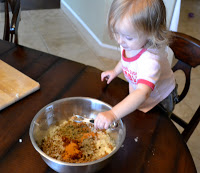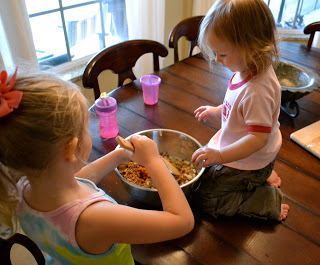 Step 4:  Add milk, eggs, & Worcestshire. Blend well, then add bread crumbs and mix together. Use enough bread crumbs to make the mixture hold together.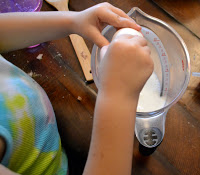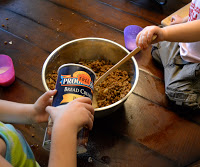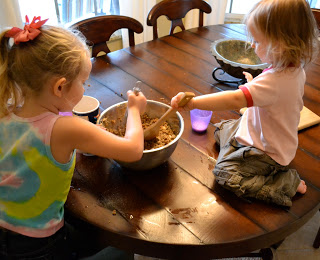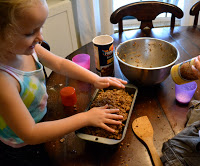 Step 5: Spray loaf pan with cooking spray; press mixture into pan, patting down firmly. Cover with foil and refrigerate 1-2 hours (or overnight), then bake, covered, at 350 degrees for 90 minutes.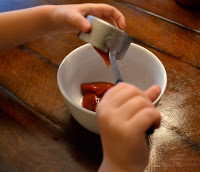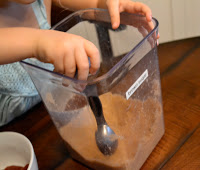 Step 6: To make topping, mix together ketchup with brown sugar, dry mustard, salt, & pepper.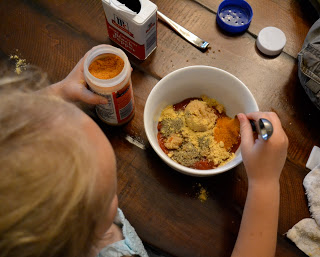 (If you look closely, you will notice that Princess has made a wardrobe change, something that happens about 20 times a day in our house. To moms of girls, tell me, is this normal? How long does that phase last?)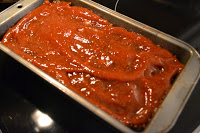 Step 7: After the meatloaf has cooked for 60 minutes, remove foil and spread ketchup mixture over top. Return to oven for remaining 30 minutes.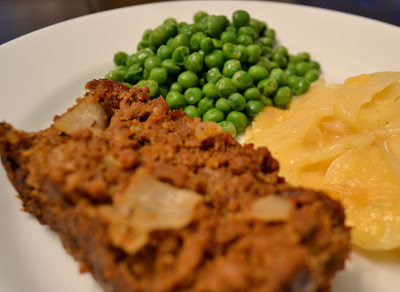 Step 8: Round up some other stockpile staples (in this case frozen peas and scalloped potatoes) to round out your meal and wait for the compliments to roll on in.
Happy cooking!