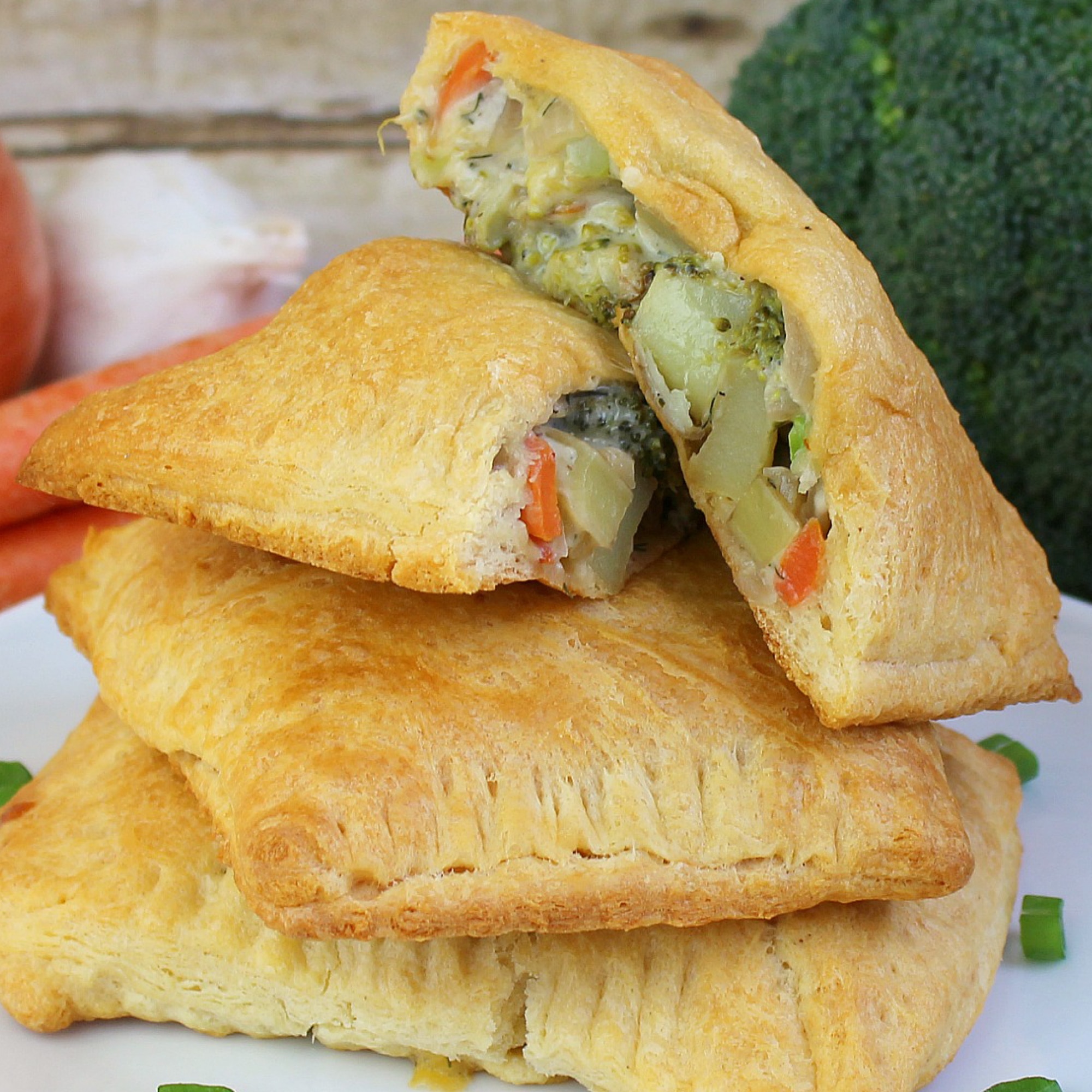 Maybe it's all this talk of blizzards everywhere, but for some reason this week I've had a major craving for pot pie. Of course I live in Florida and it's not even remotely cold here. But that's the thing about comfort food. It's good all the time, no matter where you live.
DIG DEEPER
---
Stockpiling can save us a bundle. Simply amass a small stockpile of items when they're at "rock bottom" prices or when you find a great sale.
Find out more by opting-in below to have the Stockpile Printable sent straight to your inbox!

I honestly didn't think my kids would eat a real pot pie. While I love to bake, I didn't feel like going through all the effort making a homemade pie crust, only to have the girls turn up their noses at it.
I decided to improvise. I came up with Roasted Vegetable Pot Pie Pockets.
I really, really love oven roasted vegetables. I could eat them all day long. And they're so easy. I don't know why I don't make them every day. Even Princess, my ultra picky one, who didn't even want to taste it, cleared her plate. We had fun making them, too. I call it a "recipe," but really we just sort-of made it up as we went.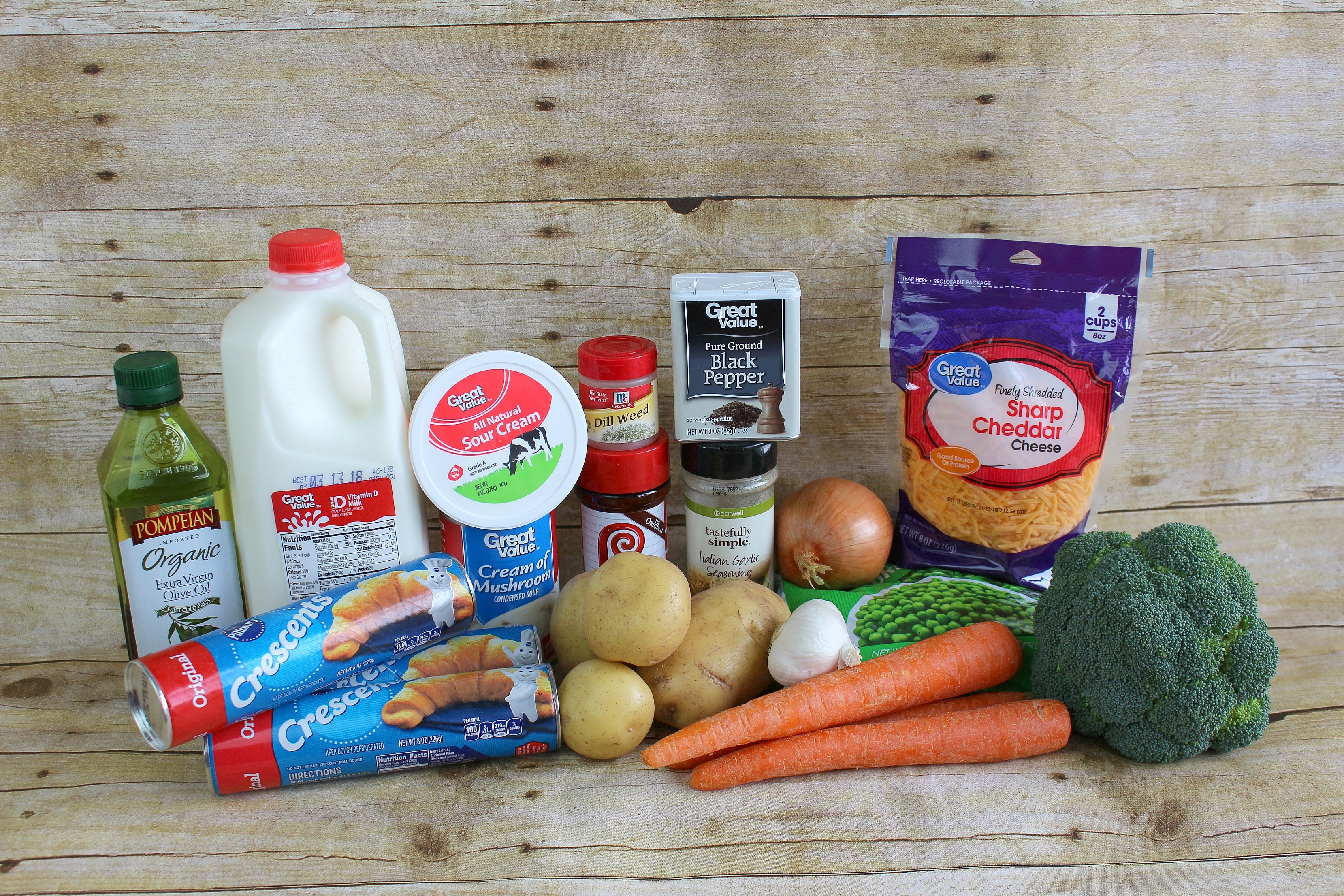 Here is what you need:
4 potatoes, cleaned and sliced
1 onion, chopped
4 cloves garlic, chopped 1 head of broccoli, chop florets 3 carrots, cleaned and chopped 2 Tbsp olive oil 1 tsp seasoned salt 1/2 tsp black pepper 1 tsp Italian seasoning 1- 15oz can Cream of Mushroom Soup
1/3 cup sour cream
1/4 cup milk
1 cup frozen peas 1/2 cup shredded cheddar cheese 1/2 Tbsp dried dill
3 packages crescent rolls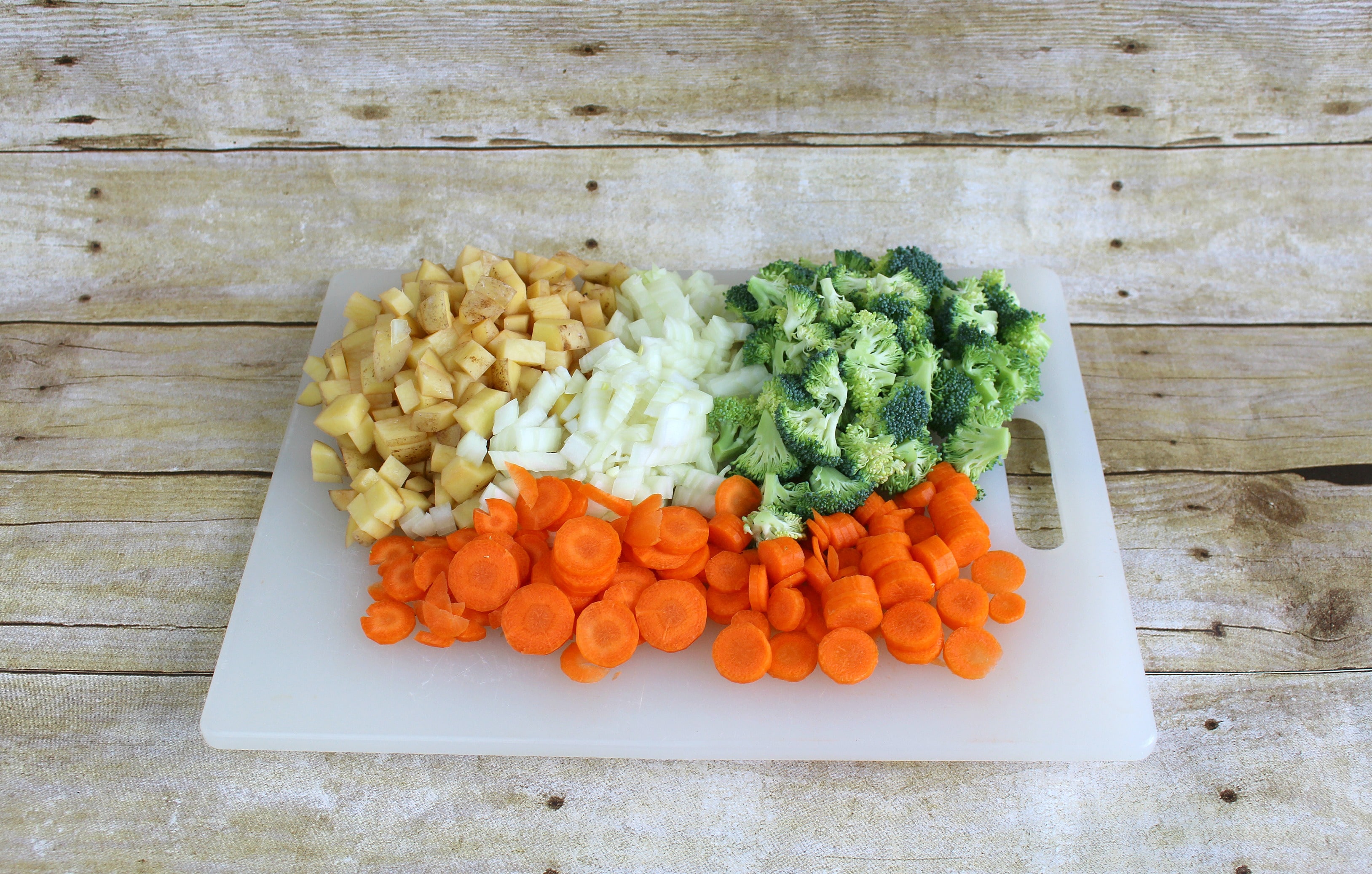 Step 1: Gather your veggies. I used carrots, broccoli, potatoes, garlic, & onion because that's what I had on hand, but you could also use cauliflower, Brussels Sprouts, or even sweet potatoes. Chop veggies into bite-size chunks.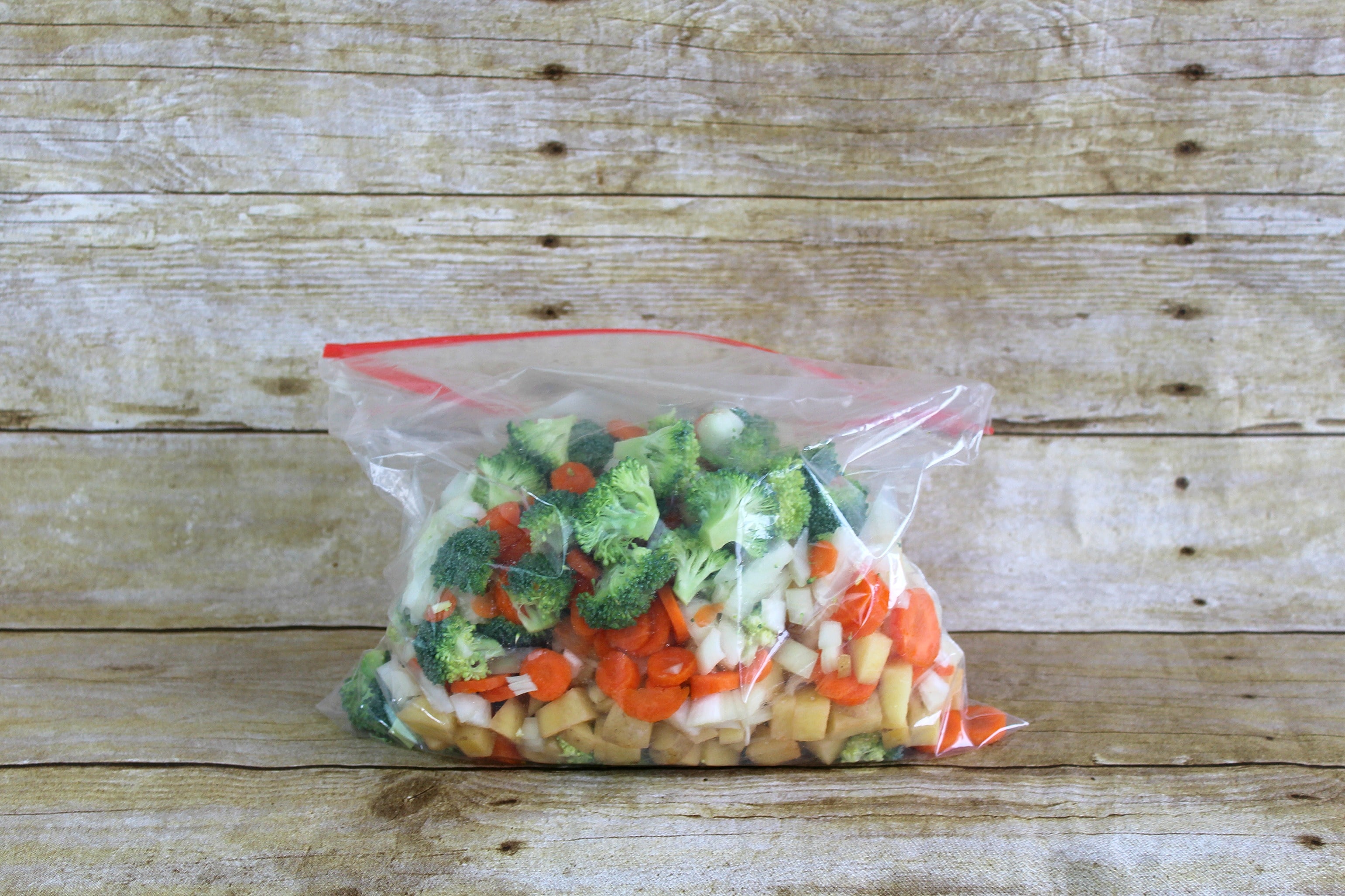 Step 2: Put the veggies in a large plastic bag. This is a good job for the kiddos. Try not to let them eat all the carrots before they fill up the bag.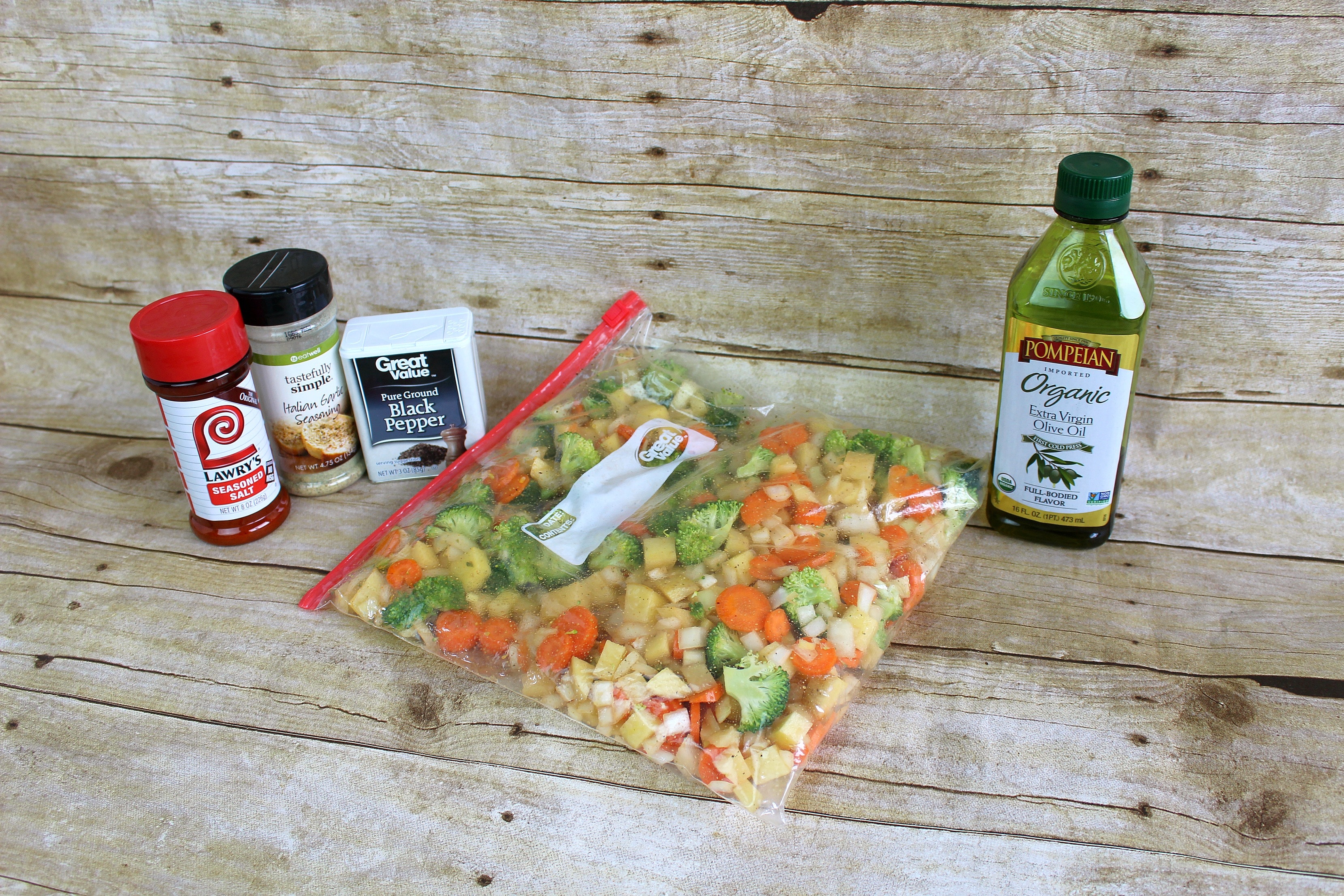 Step 3: Put 2 Tbsp of olive oil in the bag, along with some seasonings. We used 1 teaspoon of seasoned salt, 1/2 teaspoon black pepper, and 1 teaspoon of Italian seasoning in each bag. Shake up the bag until the oil and seasonings coat the vegetables.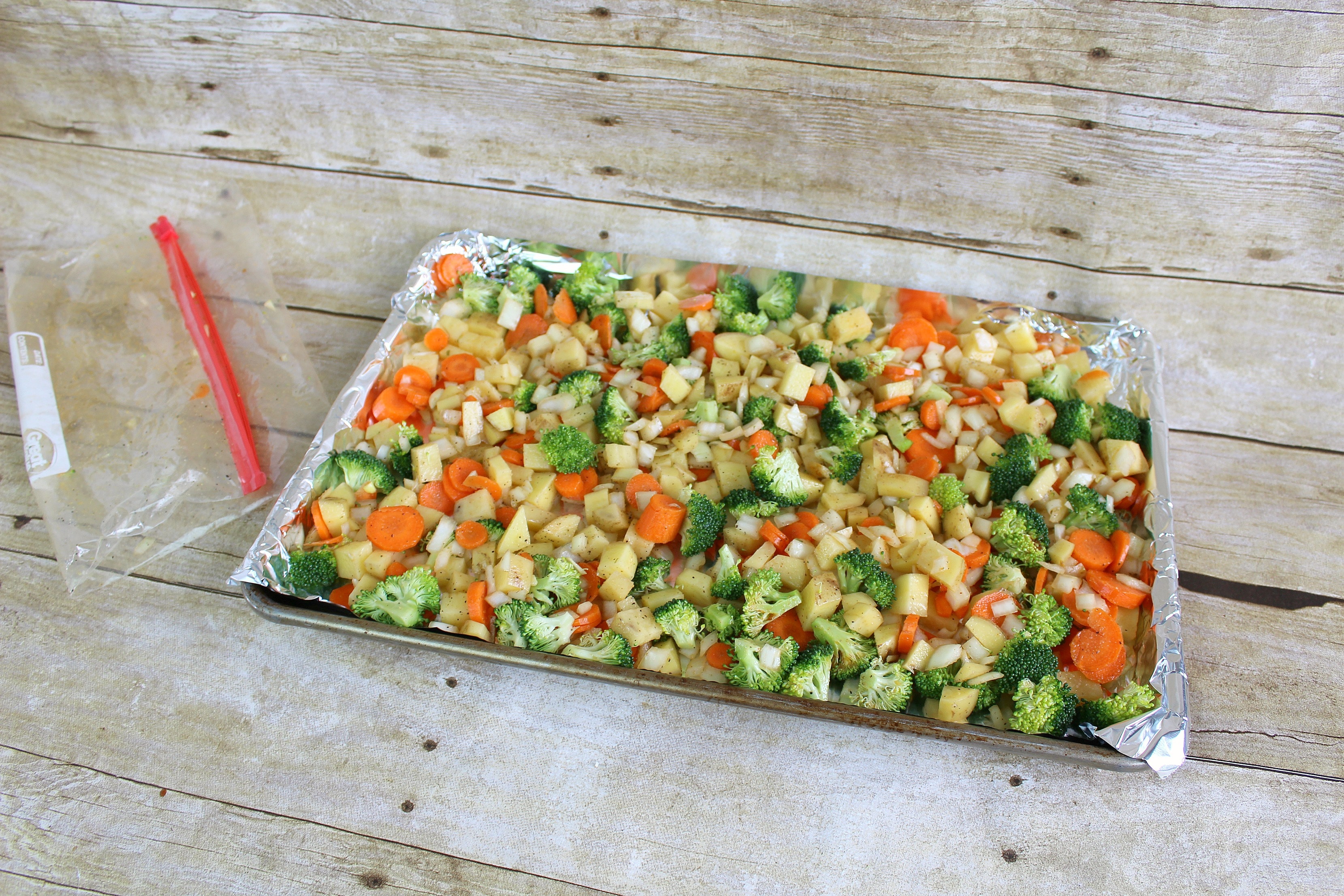 Step 4: Spread out the vegetables on a foil-covered pan. Roast at 425 degrees for approximately 30 minutes. Stir halfway through. Let cool.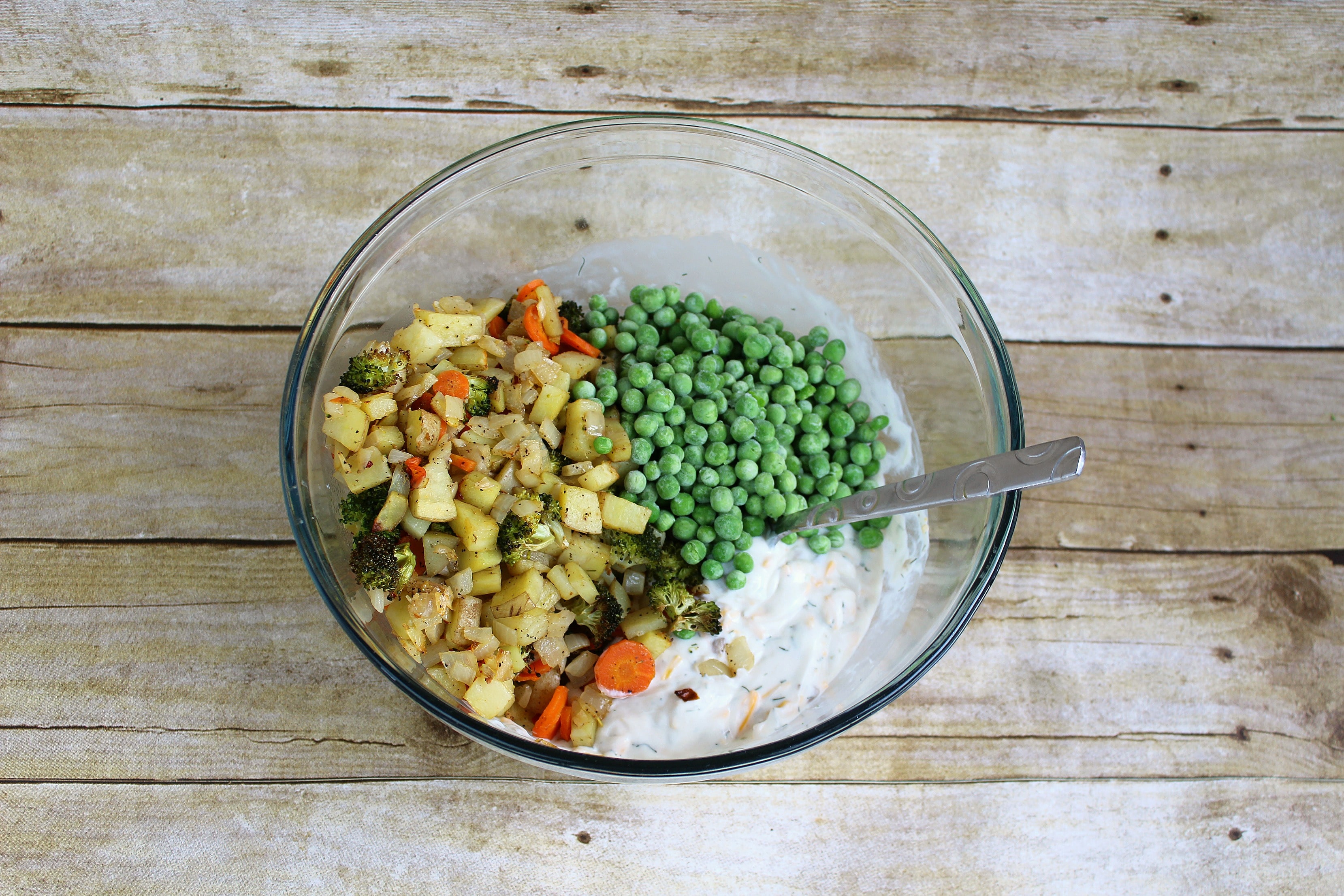 Step 5: Pour 1 can cream of mushroom soup, 1/3 cup sour cream, 1/4 cup milk, 1/2 c. shredded cheddar cheese, and 1/2 tablespoon dried dill into a large bowl. Whisk until smooth. Add 1 cup frozen peas; stir, then add roasted vegetable mixture and stir until blended. If you are a meat eater, you could also add some cooked chicken to the mixture as well.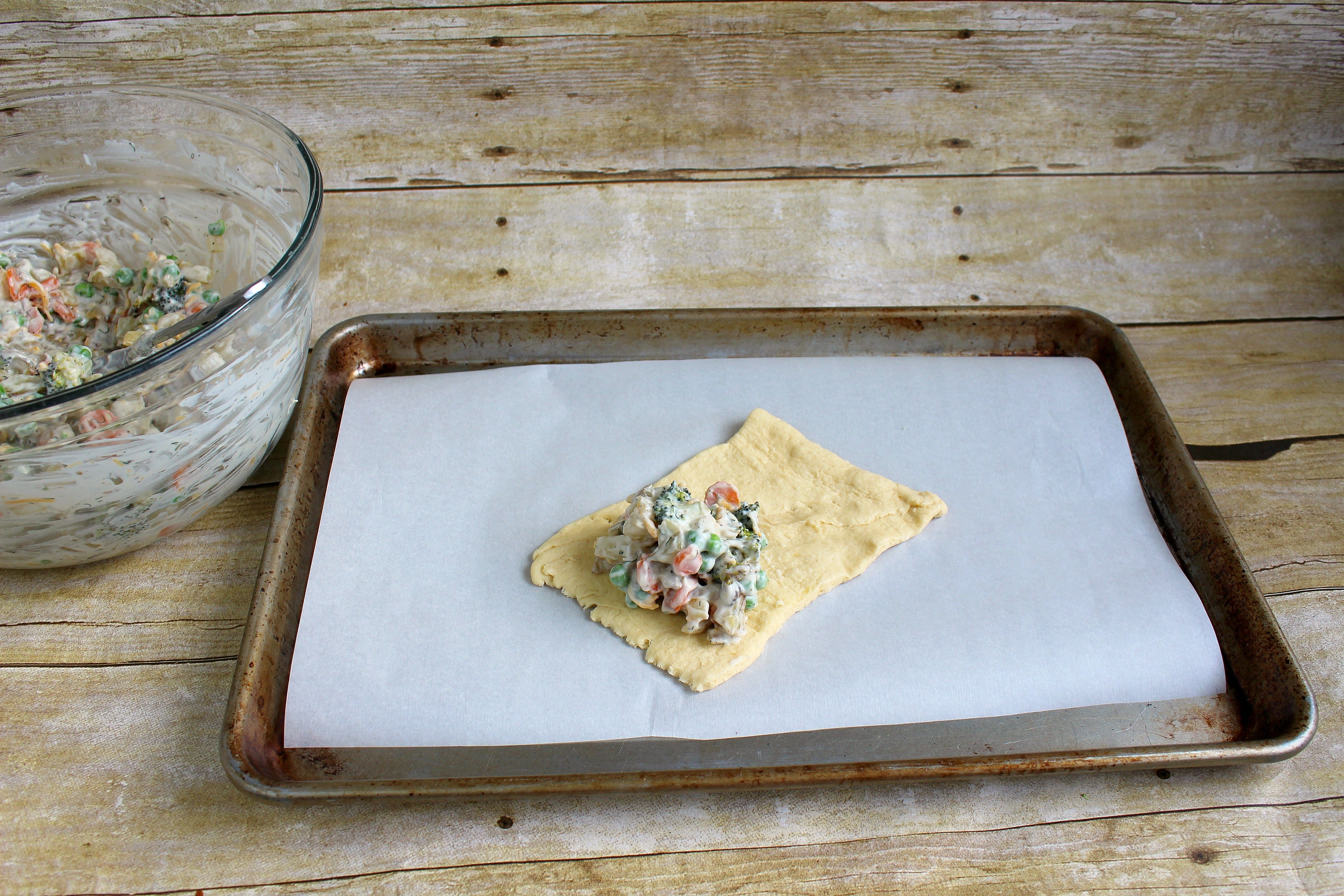 Step 6a: Unroll package of crescent rolls. Press 2 of the triangles together to form rectangle, then place a spoonful of mixture on one half of the rectangle.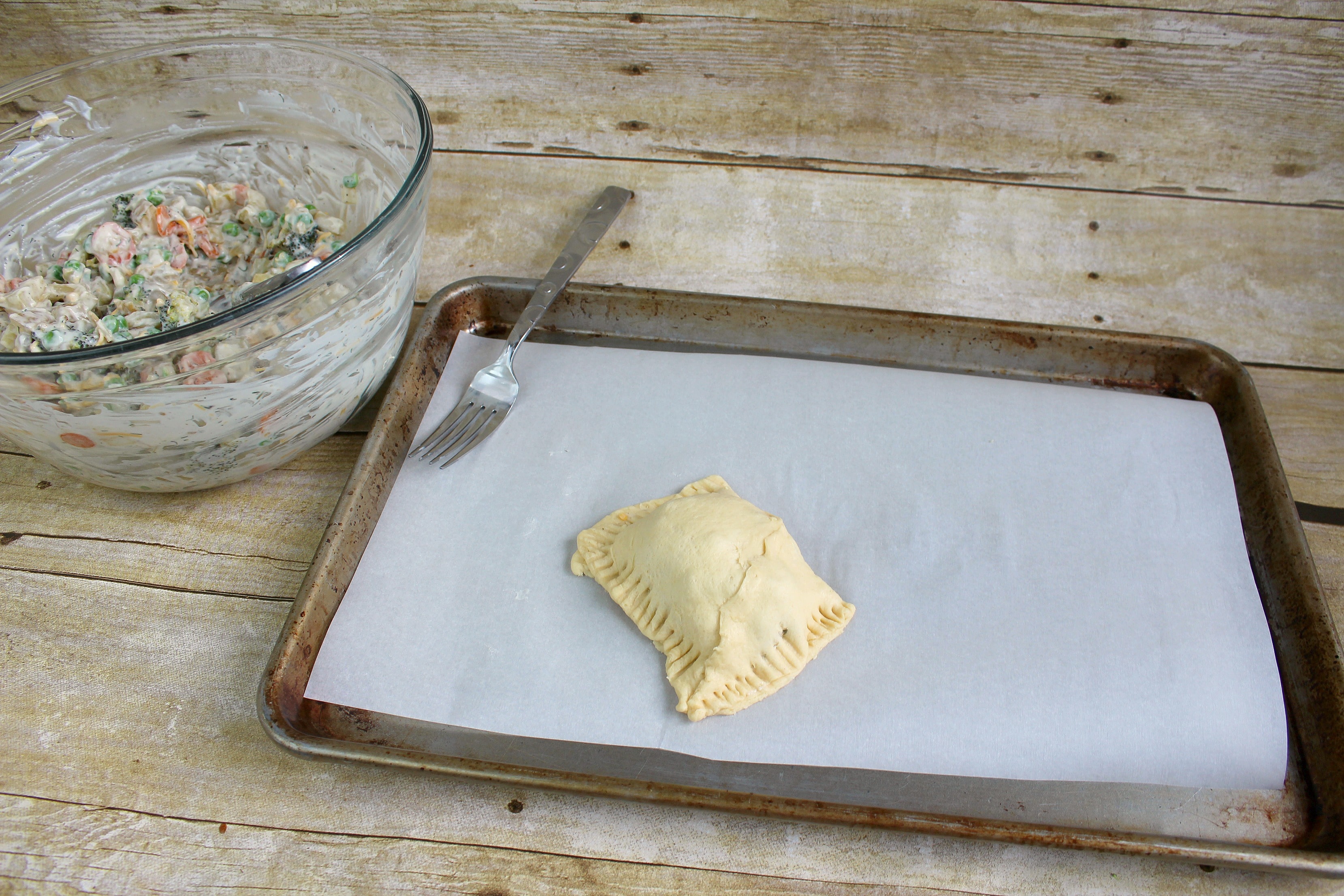 Step 6b: Fold dough over top of mixture and seal by pressing edges with a fork. Place pockets on parchment paper-lined cookie sheet.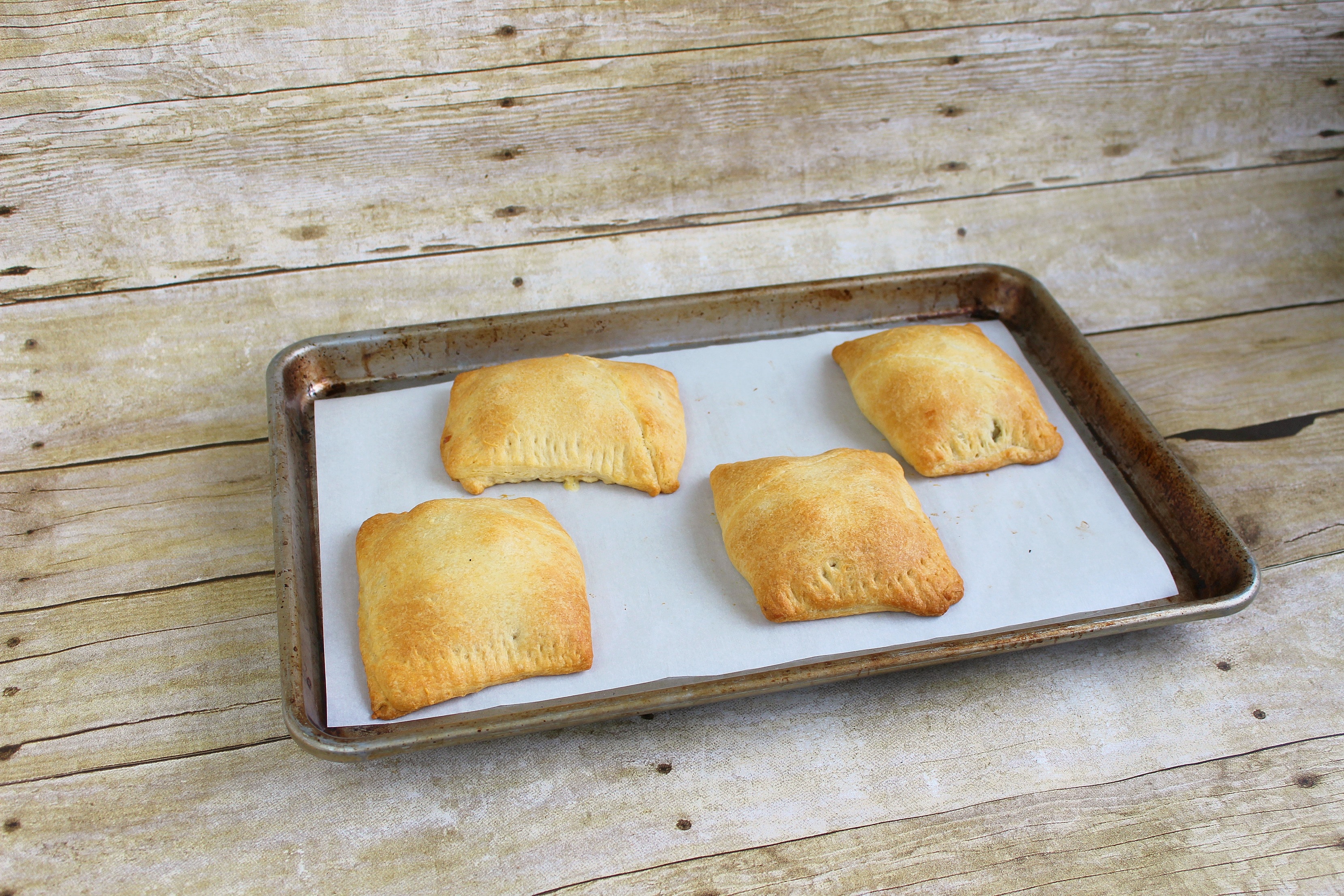 Step 7: Bake at 350 degrees for approximately 20 minutes. (Makes enough mixture to fill 12 pockets or 6 people)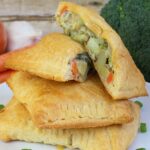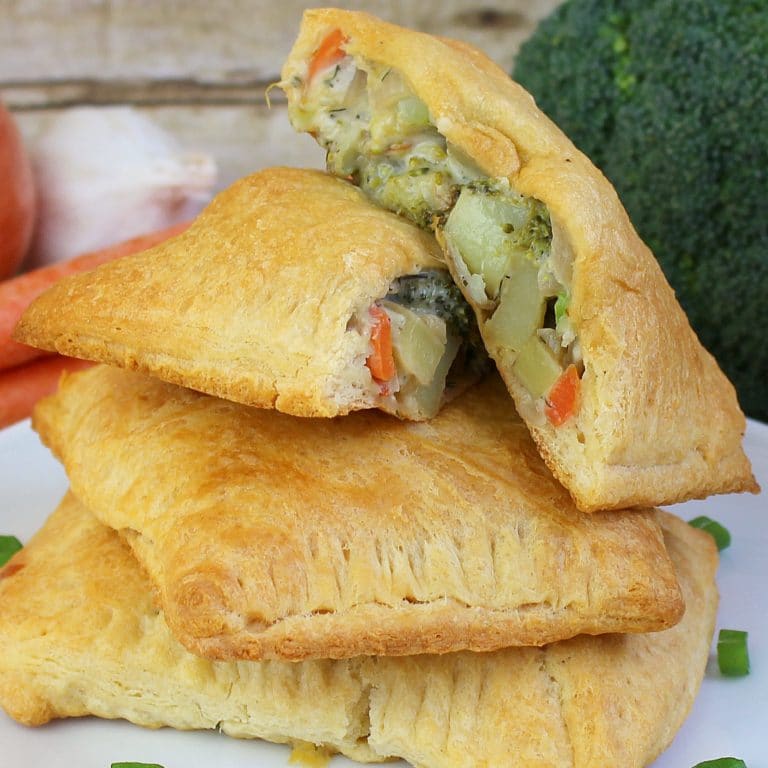 Roasted Vegetable Pot Pie Pockets
Craving comfort food? These yummy "cheater" Roasted Vegetable Pot Pie pockets are easy, delicious, and kid-friendly too!
Ingredients
4

potatoes,chopped

1

onion,chopped

4

cloves

garlic,chopped

1

head

of broccoli florets, chopped

3

carrots, peeled and chopped

2

tbsp

olive oil

1

tsp

seasoned salt

1/2

tsp

black pepper

1

tsp

Italian seasoning

1

15 oz. can

Cream of Mushroom Soup

1/3

cup

sour cream

1/4

cup

milk

1

cup

frozen peas

1/2

cup

shredded cheddar cheese

1/2

tbsp

dried dill

3

8 oz. containers

crescent rolls
Instructions
Gather your veggies. I used carrots, broccoli, potatoes, garlic, & onion because that's what I had on hand, but you could also use cauliflower, Brussels Sprouts, or even sweet potatoes. Chop veggies into bite-size chunks.

Put the veggies in a large plastic bag. This is a good job for the kiddos. Try not to let them eat all the carrots before they fill up the bag.

Put 2 Tbsp of olive oil in the bag, along with some seasonings. We used 1 teaspoon of seasoned salt, 1/2 teaspoon black pepper, and 1 teaspoon of Italian seasoning in each bag. Shake up the bag until the oil and seasonings coat the vegetables.

Spread out the vegetables on a foil-covered pan. Roast at 425 degrees for approximately 30 minutes. Stir halfway through. Let cool.

Pour 1 can cream of mushroom soup, 1/3 cup sour cream, 1/4 cup milk, 1/2 c. shredded cheddar cheese, and 1/2 tablespoon dried dill into a large bowl. Whisk until smooth. Add 1 cup frozen peas; stir, then add roasted vegetable mixture and stir until blended. If you are a meat eater, you could also add some cooked chicken to the mixture as well.

Unroll package of crescent rolls. Press 2 of the triangles together to form rectangle, then place a spoonful of mixture on one half of the rectangle.

Fold dough over top of mixture and seal by pressing edges with a fork. Place pockets on parchment paper-lined cookie sheet.

Bake at 350 degrees for approximately 20 minutes. (Makes enough mixture to fill 12 pockets or feed 6 people)