We've all heard it…"Mom, I'm bored! Moooooommmm, there's nothing to do!"
For most of us, it's a cringe-inducing question at best…and pretty frustrating at worst (especially if we're trying to focus on something).
As moms, sure, we might feel annoyed—but sometimes we even feel…guilt. I know it sounds silly, but if it happens to me, I can't be alone in this. It's that little twinge of guilt…like we're not "entertaining" enough or we're not paying enough attention. We might even feel like we're somehow failing as parents or that life isn't fun enough for our kids.
But a lot of the time, it just makes us feel crabby. We're thinking, "Here we've spent all this money on swim, dance, violin lessons, art classes, softball teams, etc., etc., etc. Plus, you have a billion toys, books and videogames—and you're STILL bored?!"
First of all, when you hear, "I'm bored," (and you will, believe me), take a deep breath and let all that guilt and frustration go. All kids get "bored" or uncomfortable when they experience quiet time and downtime. It's part of being a kid. In fact, it's an important life lesson: we don't always need to be entertained, excited and thrilled to be fulfilled.
On top of that, YOU have a life. I have a life. We're not just here simply to entertain our kids all the time. So, instead of dropping everything to entertain the kids, let's help our kids come up with fun things to do on their own.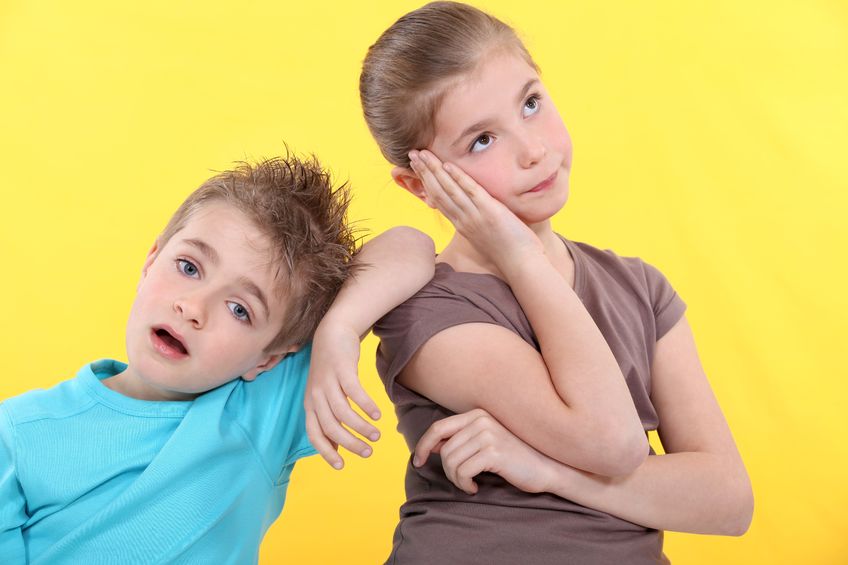 How to Handle "Mom, I'm Bored!"
So what's a mom to do?
First of all, when I was researching this topic, I came across a few articles that pointed out an important fact: often boredom doesn't really stem from a lack of activity. It stems from a lack of attention and a feeling of being unfulfilled or uncomfortable.
(I know, I know, I'm not helping alleviate the mom guilt! Sorry!!)
So the very first thing to do when you hear the boredom question raised is to give your child a little bit of positive attention. But this doesn't mean drop everything. Instead, just hit the pause button for a minute or two and give your child some one-on-one love.
Maybe they just need to talk a little about what they're feeling. Maybe they just need a little help brainstorming something to do or help figuring out a problem they need to solve. Rather than telling our kids to "go find something to do," let's pause and just focus on them for a minute or two.
Sometimes those few minutes of attention are all they need to get back on track. Remind your kids that it's their responsibility to entertain themselves (within the parameters of your House Rules—so if screen time is limited, they need to find another option).
While sure, you can help them come up with a few things to do, but first, it's best to try to help them reset. It could mean the difference between engaging and getting "into" what they're doing, or continuing the day with a negative attitude.
If, however, the reset has happened and you're both struggling to come up with something to do, might I suggest a "Boredom Jar"?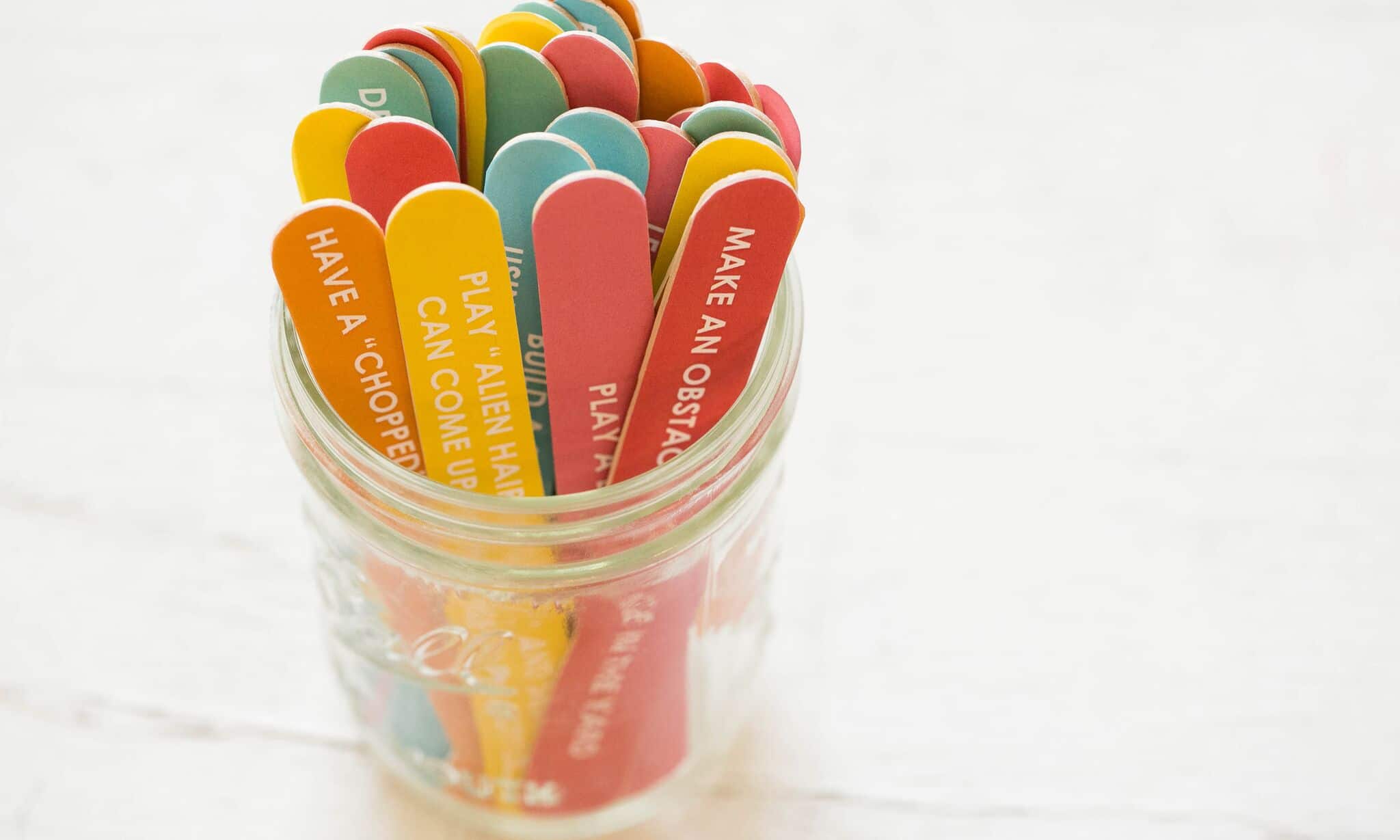 What's a Boredom Jar?
Take a jar, box, basket, whatever…and write down as many ideas as you can—think up projects, fun activities, learning games, and more. When boredom strikes, kids pick a fun thing from the Boredom Jar. Let them know whatever they pick, they have to go with it (for at least 10-15 minutes) to give it a serious try. If after that long they still don't love it, clean up and pick another slip from the Boredom Jar.
You're only limited by your imagination! Plus, there are tons of resources online to help you find ideas for your Boredom Jar. Try to pick Boredom Busters that fit your kid's age, abilities, and interests—and choose activities you KNOW they already love to do. Make each Boredom Buster a little challenging or physically engaging or focused to really ensure your kids stay out of the boredom zone for as long as possible.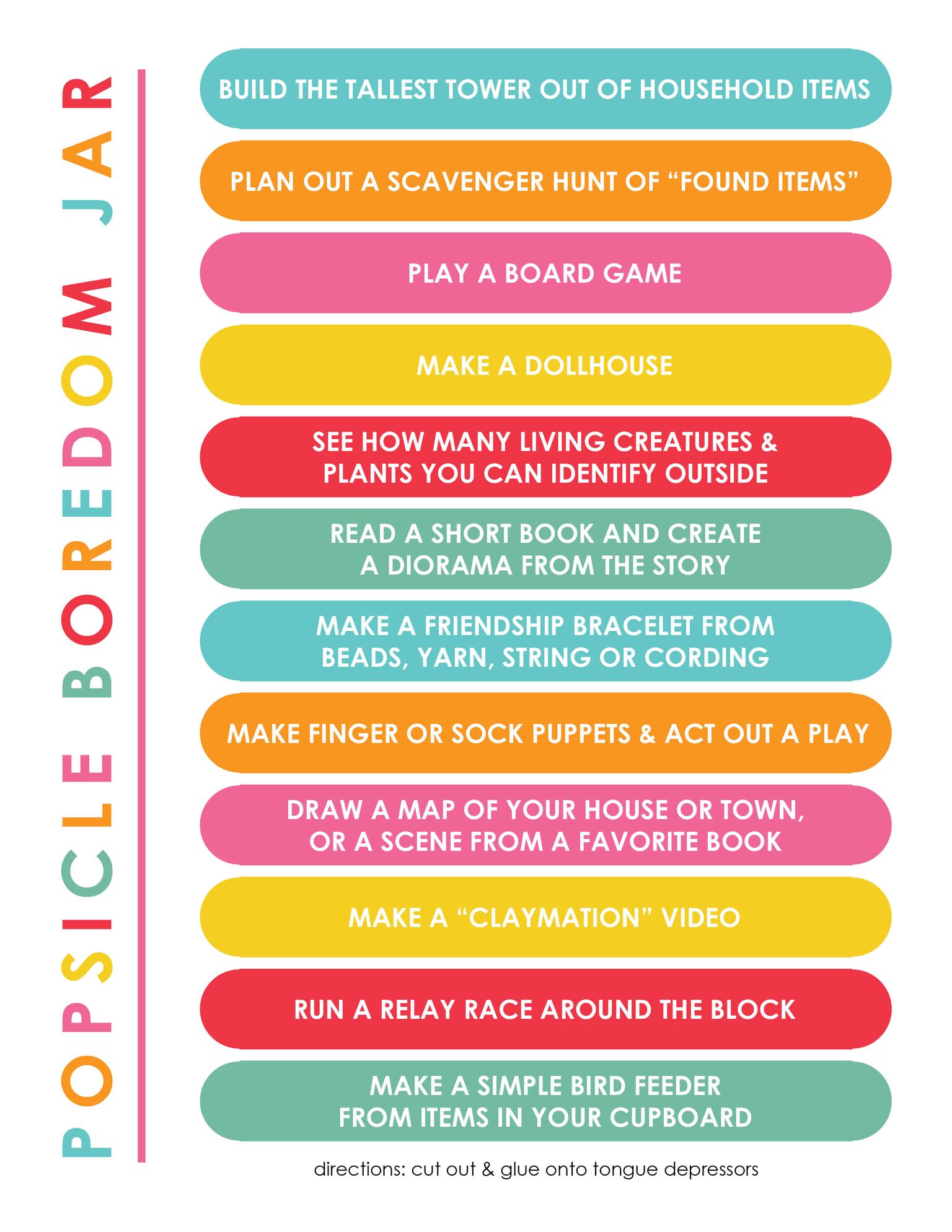 Click here for your free boredom jar printables!
Here are 50 Boredom Busters to get your Boredom Jar started!
Please note: Almost all of these ideas can be modified and adjusted to fit each child's age and ability. Plus, each of these Boredom Busters requires minimal "mom time" (meaning very little supervision and assistance) and these items can be created/activities can be played using items the average household typically has on hand. Feel free include all of these ideas in your Boredom Jar or change them up so they fit your kid's age, style and ability level. (Mom knows best!)
Build the tallest tower you can out of household items.
Plan and carry out a scavenger hunt of "found items."
Play a board game.
Make a dollhouse.
Play explorer and see how many living creatures and plants you can identify outside.
Read a short book and create a diorama from the story.
Make a friendship bracelet from beads, yarn, string or cording.
Make finger or sock puppets and act out a play.
Draw a map of your house or town, or a scene from a favorite book.
Make a "claymation" video.
Run a relay race around the block.
Make a simple bird feeder from items in your cupboard.
Create your house out of Legos or blocks.
Make a mini dinosaur habitat in the yard.
Use action figures to recreate a movie scene.
Do a "triathlon" using three sports and a timer. (For example: do 50 jumping jacks, bike around the block, run around the yard.)
Make an obstacle course in the living room or yard.
Decoupage a jar to make a candleholder.
Draw out a star map on dark construction paper, punch holes and project it onto the ceiling with a flashlight.
Put on a play with shadow puppets.
Have a "Chopped" competition/cook-off (or pretend to) and see who can come up with the wildest dish ideas.
Using newspapers or magazines, see who can build the strongest structure.
Make a picnic lunch and enjoy it indoors or outdoors.
Hold a read-a-thon.
Have a daytime slumber party. (Get out sleeping bags, put on pajamas, and play games.)
Plant something in the garden.
Rearrange your bedroom.
Set up a lemonade stand.
Make rainbow playdoh. (Add scented oils for a real sensory experience.)
Make no-bake cookies.
Make a gift for someone.
Write a thank you card to your teacher.
Sew a bag or a pillow using fabric scraps or upcycle a t-shirt.
Put on a musical theater production.
Dance party!
Build a "candy house" (using cookies, pretzels, candy, and frosting).
Make a fairy house from moss, leaves, sticks, etc.
Create a mini-scrapbook using photos of your friends or from your last vacation.
Update your desk and create a cool workspace.
Learn to play a tune on the piano, harmonica, guitar, recorder, etc.
Play "alien hair salon" and see who can come up with the wildest style.
Go on a photo "hunt" to document birds, bugs, cocoons, nests or other creatures.
Host a circus or a carnival in your yard or room.
Build a superhighway using toy cars and found items.
Memorize state capitols, times tables, or create another brain challenge.
Play charades.
Make a fort.
Create a time capsule.
Write a letter to your hero.
Come up with an exercise or dance routine.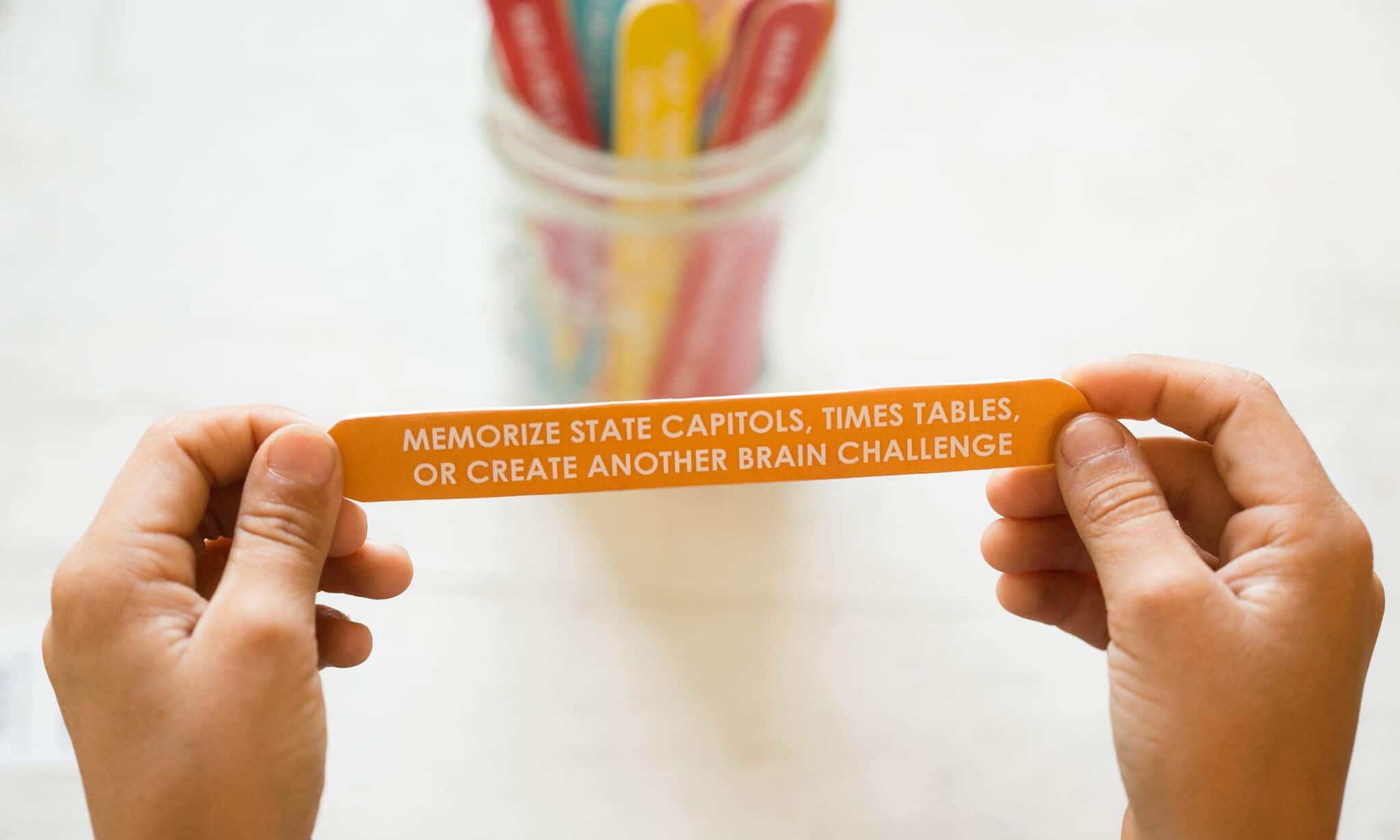 There are so many ideas out there to add to your Boredom Jar—the idea is to come up with age-appropriate activities that are interesting, require minimal planning to carry out, and don't involve screen time. You can make an indoor list and an outdoor list, depending on the weather and where you live.
Involve your kids in the planning process, especially if they're older. Have them come up with different ideas they'd enjoy and add them to the jar OR surprise them by coming up with the list.
Remember, boredom isn't always a bad thing. It helps kids learn to be more creative and helps them realize that life isn't always exciting and action-packed. Sometimes you have to make your own excitement.
Whatever you do, when you hear, "Mom, I'm bored," try not to take it personally or feel guilty! It's a natural part of growing up and learning to cope with different situations in life.
Also remember that boredom doesn't always mean literal boredom. It can also indicate your kids are uncomfortable in a situation or don't enjoy what they're doing. Often kids will say something is boring when really it's challenging, difficult or a situation that makes them have to stretch beyond their norm.
So, the next time you hear the call, be armed with your Boredom Busters in your Boredom Jar, and come equipped a few minutes for some love and understanding. Take a cue from Mary Poppins and remember that life is what you make of it, so help your child find the fun in any situation!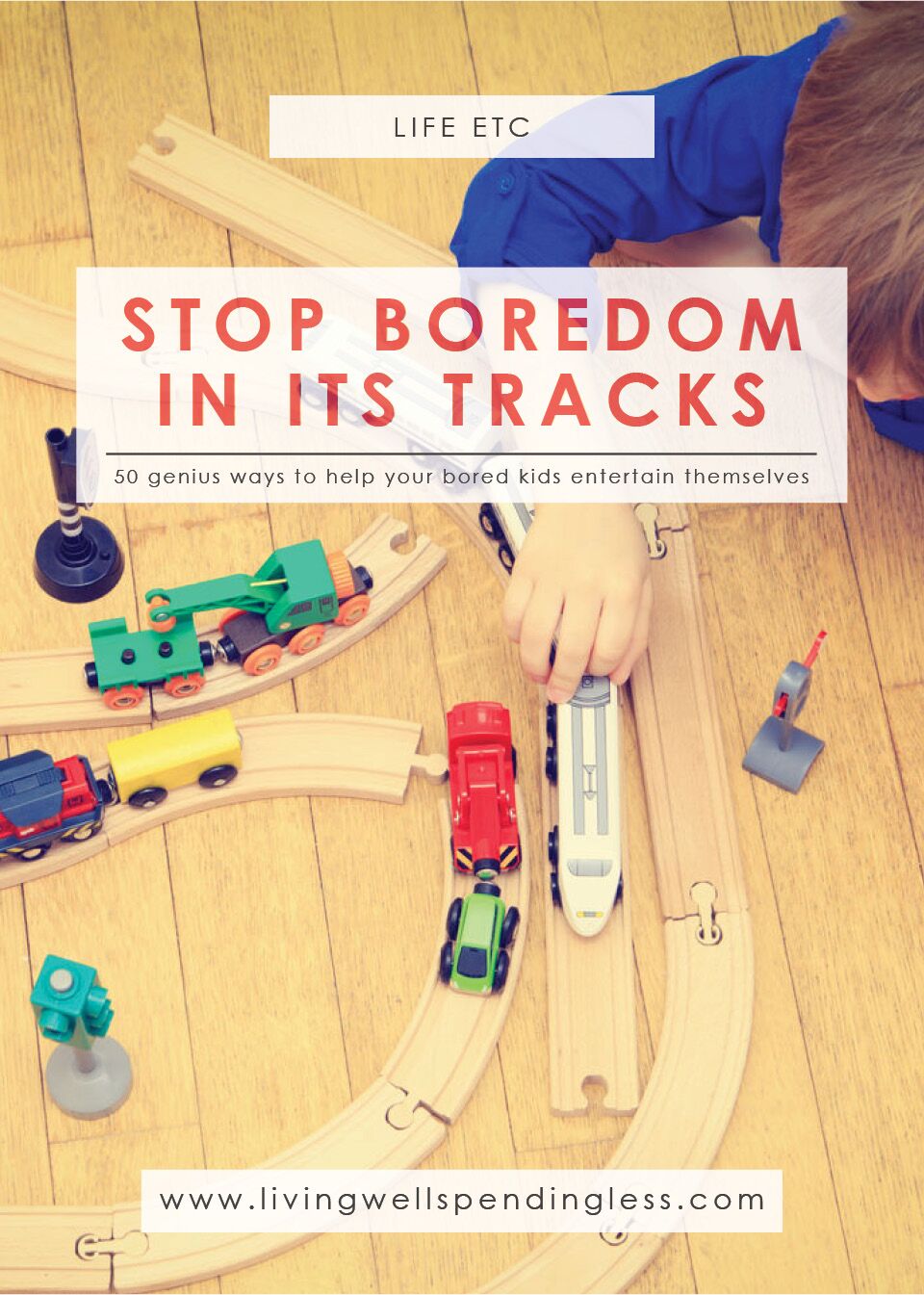 TAKE BACK CONTROL OF YOUR HOME LIFE
---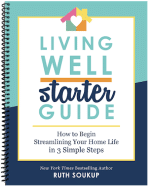 Ever feel like you just can't keep up? Our Living Well Starter Guide will show you how to start streamlining your life in just 3 simple steps. It's a game changer--get it free for a limited time!
If you love this resource, be sure to check out our digital library of helpful tools and resources for cleaning faster, taking control of your budget, organizing your schedule, and getting food on the table easier than ever before.