I almost skipped my drugstore shopping altogether today. Husband and I got up early and spent all day cleaning out our garage, something we've needed to do badly since Hurricane Charley ravaged our house in 2004. It was exhausting and dirty and hot, and by the time we finally called it a day, shopping ranked very low on my list of things I felt like doing.
But I'm a very schedule-oriented (aka obsessive) person and I didn't want to start off my week feeling "behind." So I dutifully took out my lists and started gathering my coupons. It's not a particularly "good" week at either CVS or Walgreens, so both lists were pretty small to begin with, and then, frustratingly, several of the coupons I was looking for were not included in my region's inserts. Sigh. But those are the breaks and not every deal is meant to be. In the grand scheme of couponing, I have nothing to complain about.
And as luck would have it, I ended up walking in to my favorite CVS just minutes after they had marked down a whole cart full of Kraft and Pillsbury brand groceries to 90% off. I couldn't resist taking a quick peek, and then figured I should check my handy
Couponizer
book to see if I had any matching coupons. Lo and behold, can you believe I had matching coupons for almost everything! It was as though the coupon gods were smiling down upon me.
Here is what I got: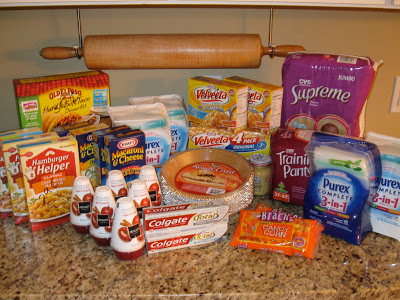 At CVS I spent $13.20 for $140.59 worth of groceries & drugstore merchandise, a savings of 91%.
Coupons Used:
(2) $1 off Colgate Total (Smart Source insert 10/10)
(4) $3 off Purex Complete 3-in-1 (Red Plum insert 10/10)
(1) Buy 3, Get 3 Free Renuzit (Red Plum insert 10/10)
(1) $3 off CVS Diapers (CVS coupon machine, printed last week)
(2) $0.99 off Brach's Candy Corn (CVS coupon machine, printed today)
(2) $0.55 off 2 Kraft Macaroni & Cheese (no more prints available)
(2) $1 off Velveeta Deluxe Shells & Cheese (no more prints available)
(1) $1 off 3 Hamburger Helper (Better at Home coupon booklet)
(1) $1 off 3 Old El Paso (Better at Home coupon booklet)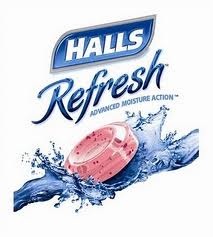 At Walgreens, I spent $0.25 for a $2.59 bag of Halls Refresh, a savings of 90%. I also got a $1 Register Reward to use on my next visit. I forgot to take a picture so I added this lovely stock photo.
Coupons Used:
(1) $0.75 off Halls Refresh (October All You Magazine)
Altogether I spent $13.45 for 143.18 worth of groceries and drugstore merchandise, an average savings of
91%
for the day.
Happy shopping!
P.S.
If you haven't already, don't forget to enter in this week's
share-the-wealth giveaway
, a fabulous box of goodies worth
$100!
New entries will be accepted until midnight on Monday 10/11 and a winner will be drawn at random on Tuesday 10/12.
Click here
to enter.