GET ORGANIZED THIS HOLIDAY SEASON!
---
Our game-changing Holiday Planner is back and better than ever, and FREE for a limited time. Grab it now while supplies last!

I plan to hit both CVS and Walgreens later this week to take advantage of their awesome Black Friday sales, but I did make a quick trip to CVS today to grab a few gift items (and milk!).
Here is what I got: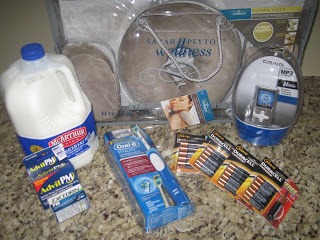 At CVS I spent $35.37 for $178.57 worth of groceries and merchandise, a savings of 80%.
Transaction #1:
Bought: (1) Oral B Vitality Toothbrush
Coupons Used:
(1) $10 off Oral B Vitality (Red Plum insert, 11/14)
(1) Raincheck (Oral B Vitality for $23, get back $13 ECBs)
$10.99 ECBs (random leftovers from previous weeks)
Total OOP: $3.62
Received: $13 ECBs
Transaction #2:
Bought: (4) Duracell Batteries, (1) Sarah Peyton Wellness Set
Coupons Used:
(4) $1.50 off Duracell Batteries (Red Plum insert 11/14)
$13 ECBs (from Transaction 1)
Total OOP: $16.30
Received: $10 ECBs
Transaction #3:
Bought: (1) Craig MP3 Video Player
Coupons Used:
$10 ECBs (from Transaction 2)
Total OOP: $15.56
Received: $5 ECBs
Transaction #4:
Bought: (1) Gallon Milk, (1) Excedrin PM, (1) Advil PM
Coupons Used:
$5 ECBs (from Transaction 3)
Total OOP: $0.19
Received: $2 ECBs