For 3 months I have been wishing and hoping for a deal on women's deodorant. Somehow I've managed to accumulate about 20 free containers of Right Guard for men as I scrape the very bottom remnants of my own deodorant. Today my patience finally paid off! Actually, it was a pretty good day all around. I ended up with 4 tubes of free lipstick, a ton of free dish soap, free toothpaste, free air freshener, free men's deodorant (more Right Guard!), free ThermaCare heating pads, and lots & lots of canned vegetables.
Here is what I got: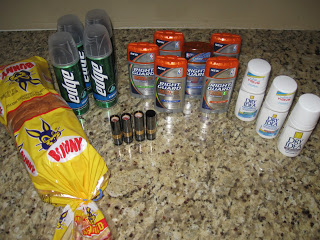 At CVS I spent $12.48 for $105.62 worth of groceries (even though it doesn't look like much!), a savings of 88%. I realized when I got home that I somehow managed to forget my bag of dog food at the store, so I will have to go back tomorrow.
Coupons Used:
$11.98 Extra Care Bucks from last week
(3) $3.00 off 2 Right Guard Total Defense 5 Deodorant (printable here)
(1) $1.00 off Iams dog food (Proctor & Gamble insert, 8/29)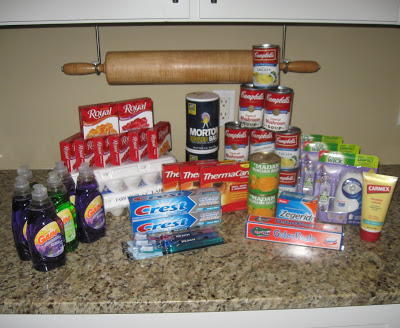 At Walgreens, I spent $5.70 (after $10 rebate) for $105.53 worth of groceries, a crazily stellar savings of 95%! I think it was probably my best Walgreens trip ever. I did have a bit of a catastrophe occur when the lid on one of the bottles of dish soap came off in the bag and dumped dish soap over everything! I was using a reusable bag so of course everything was all in one bag. The cashier was super helpful, though, and we got everything cleaned up and/or replaced, and I was back on my way in no time. I'm just happy I didn't get dish soap all over my new minivan!
Coupons Used:
$2.00 Register Reward from last week
(6) $1.00 off Gain (Proctor & Gamble insert, 8/29)
(2) $0.75 off Crest toothpaste (Proctor & Gamble insert, 8/29)
(3) $4.00 off AirWick Air Effects Starter Kit (Smart Source Insert 8/08)
(1) $4.00 off Zegerid OTC (All You Magazine, August 2010)
Walgreens Insert Coupons:
5/$1.00 Royal Gelatin
2/$1.00 Morton Salt
$0.89 Gain Dish Soap
2/$1.00 Mandarin Oranges
$0.99 Reach Toothbrushes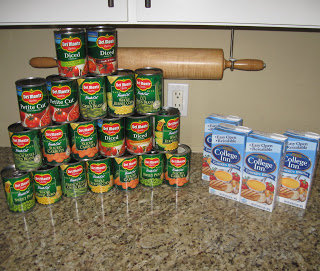 Even though I normally do my grocery shopping on Thursdays, I also had to pop back into Publix to take advantage of this week's sale on canned goods that matched up with a coupon in today's paper. My husband is obsessed with stocking up on canned goods in the event of a natural disaster or total societal collapse. (I'm only partially kidding. In 2004 our house, along with our entire town, was nearly destroyed during Hurricane Charley, a category 4 storm. We learned the hard way how important it is to be prepared for an emergency!)  Every week he looks at our stockpile and says, "honey, we don't have enough canned goods!" Well, after this week, I hope we're set. Anyway, I spent $11.60 on $37.20 worth of groceries, a savings of 69%. A small price to pay for peace of mind!
Coupons Used:
(4) $1.00 off 5 Del Monte canned vegetables or fruit (Smart Source insert 9/19)
(4) $0.75 off College Inn Broth (Smart Source insert 9/19)
Overall, I spent $29.78 for $248.35 worth of groceries and merchandise, an average savings of
88%
for the day. And as a [recovering] shopaholic, it still amazes me that I can spend the entire afternoon shopping, come home with a carload of stuff, and have spent less than $30.
Let the week begin!