This is a guest post from Tammy of Grace Uncommon
If you're anything like me you're well enough into parenting and life to know that the calendar isn't slowing down anytime soon. In fact, it's quite possible it may never let go of it's fierce hold on me unless I get downright bossy about it.
And so I'm bossing.
We live in a day and time that if your kids don't start soccer, baseball, volleyball or ballet by age 3, then they're somehow falling behind or you're not measuring up. Where should-haves and should-dos are running our to-dos and must-dos.
I can't tell you how many times I sit down to write my to-do list and it's so full of things I don't have any interest or desire to do, that I start writing down things I've already done or really don't need to do so that I can at least cross something off!
Can I get an amen?!
So many of us (and quite possibly all of us) live in a perpetual state of what my family affectionately calls FOMO. Fear Of Missing Out.
We're afraid if we don't show up or give in then somehow we'll be left behind.
And so we pack our schedules with as much as we can manage, running ourselves and even our kids to the brink of empty, crashing in bed wondering why we do it all in the first place, and then waking up to start it all over the very next day.
And I'm wondering what it is that we really fear missing out on or losing, if we just step back a little? What are we afraid of?
Because each of us knows at the very deepest level of our heart that our spouses and kids and family comes first. That on the brink of disaster or emergency there are only a handful that we can call. We know our deepest, truest and yet we're afraid to give up on the false security of casting wide nets.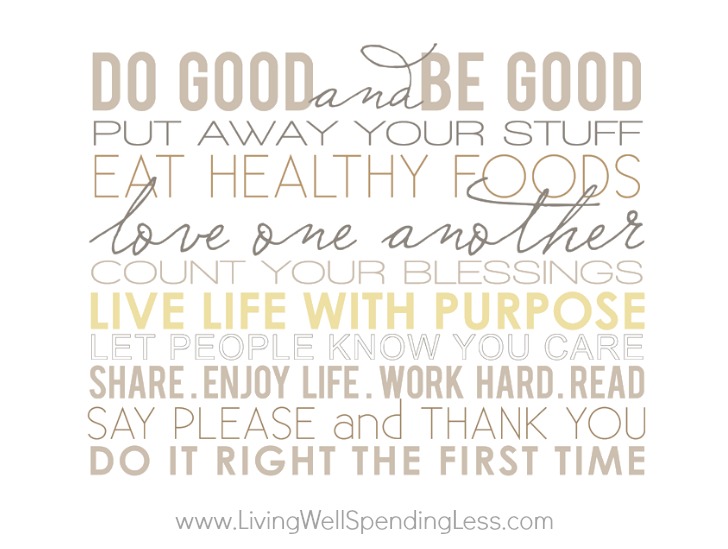 When you look at successful corporations and businesses, what do they have in common? Many of the greatest cast as vision and actually write a mission statement for their organization. Recently, my husband and I wrote a family mission statement.
It's merely a reflection of our heart for our family and the way we want to design our lives with intention. It reflects what we want to be about, what is important to us, and how we will try to live our lives together, and as individuals, with unity and purpose. My husband and I both strongly believe that we have the power and the great privilege to design our lives. It's our job to do it well.
When you sit down with pen and paper and really think about the things that matter…a lot of the distractions easily fall away. You identify what things are most important to you. What you believe makes you strong. You can read ours here and I cannot suggest strongly enough that you write one for your family (business).
Because the reality is: if you're not minding your business, who is?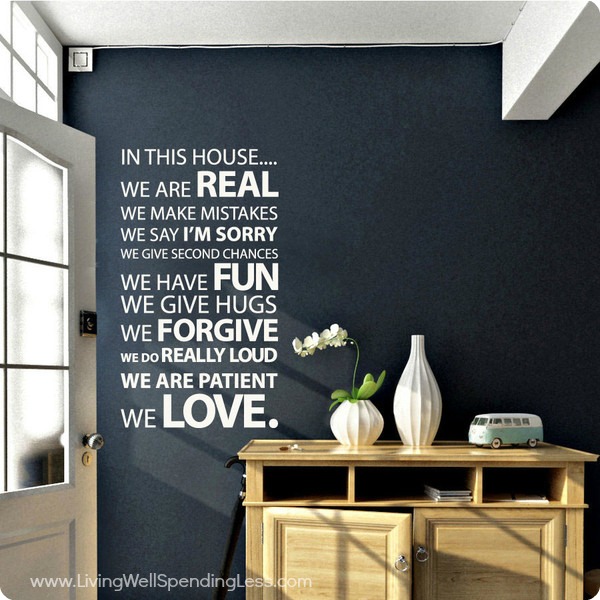 Once you have written your family mission statement, it is time to take back your schedule! Here are five essential questions to consider before adding anything to your calendar or to-do list:
1. Does it fit with our family mission?
You and I both know that some really good things still won't fit in with your family mission. When we determine to live a life with intention there are some bad or destructive things that naturally have to go. What we sometimes don't realize at first is that some really good and fun things might have to go too. Because even good and wonderful things might not fit into our purpose or mission as a family. They might cause tension or competition or merely create less room to breathe. Make sure what you add fits with your mission and purpose.
2. Is this something we want to do?
If you're anything like me you're quick to say yes and then wrestle with resentment about it later. This can be something trivial like agreeing to organize a school bake sale, or major like an ongoing troublesome relationship. Think first: is this something I want to do? Be brave enough to choose temporary discomfort over lasting resentment and bitterness.
3. Will it add to or detract from the goals of our family?
Some things that you consider for your schedule might fit in with your purpose, but everything has the potential to either add or detract. Some commitments get more demanding down the road and you can see that from the start. Make sure when you commit to something you're not signing up for a slippery slope that will put you and your family in a difficult situation down the road. It's far easier to stay off the hamster wheel, than to try to jump off later.
4. Is anyone left out if we make this decision?
If your family is like mine, you've got a couple of different personalities on board. If a decision will completely exclude or conflict with one of the children's personalities or character it might not be a good fit. It's never fair to sacrifice one child for the sake of another. Of course we need to recognize each child has different gifts and strengths and honor and encourage them. But consider what commitments you make and how they affect each person in the family unit.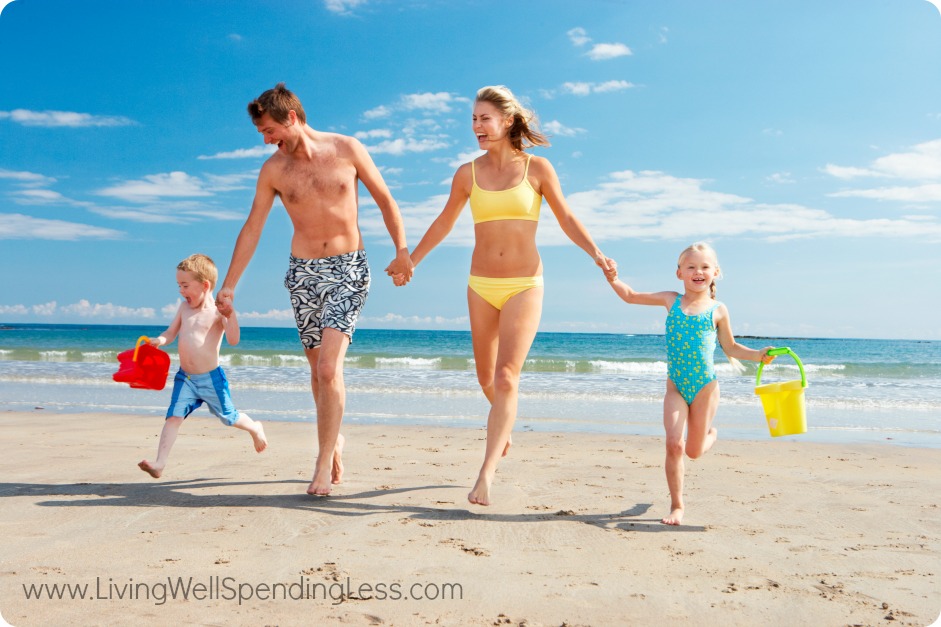 5. Is there still room for fun?
I'm a big believer that you can't really plan fun. I mean, we all try. We organize and orchestrate trips and game nights and all number of things. But in my experience the most fun moments occurred spontaneously. They happened because there was room. When our schedules are so jammed packed that there isn't any breathing space, we choke the life out of spontaneity and creativity. Make sure whatever your schedule is, you make room for fun.
Being busy and planning fun activities for our kids and families is never a bad thing. But sometimes we get so busy being busy that we forget to check in with the heart of our family. We lose track of what is truly important to us. In the midst of the noise and chaos of raising kids it's easy to get distracted by the desire to make our lives look perfect and full on the surface. To make it look and feel like we're involved and belong.
But at the end of the day, where we really belong is to each other. This family we have been given, it is ours to manage well. To teach our children how to grow and learn and live with their whole hearts. Sometimes in our best efforts to do this job well, we start running and doing and busying ourselves more than we realize. Sometimes it's time to just breathe. Sometimes it's time to do less, to have more. Sit down with your family. Figure out what is important to you and then plan your life and your schedule around that. I think you'll be glad you did.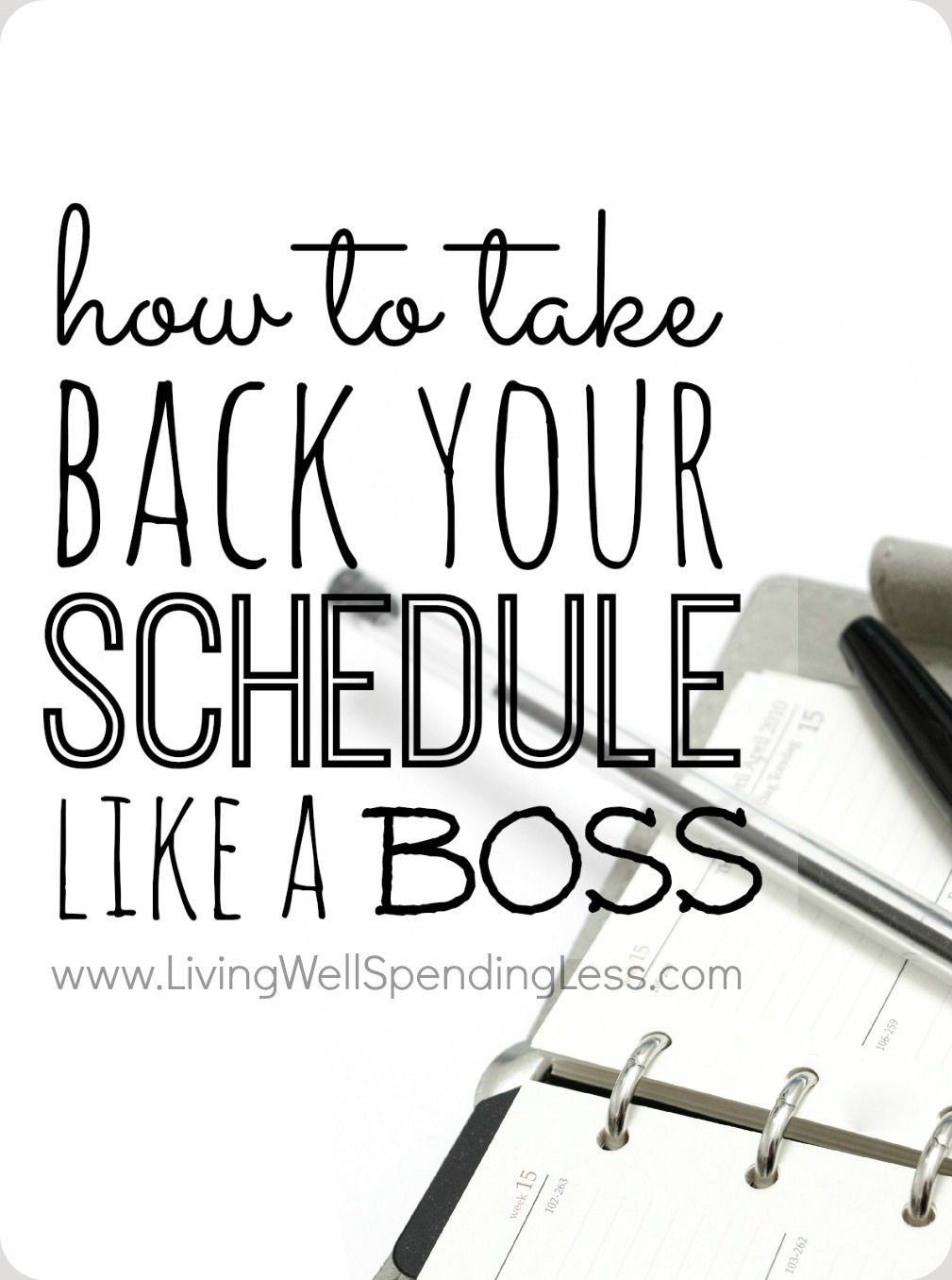 Tammy is an encourager, contemplator and deeply soulful spirit. She writes candidly on her blog:

Grace Uncommon

about the common struggles that bond us together as women, and how we can boldly design unhindered lives. She just released her first book,

Pretty: Breaking Free From The Illusions of a Superficial Life.
TAKE BACK CONTROL OF YOUR HOME LIFE
---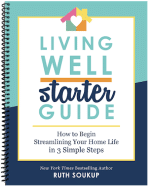 Ever feel like you just can't keep up? Our Living Well Starter Guide will show you how to start streamlining your life in just 3 simple steps. It's a game changer--get it free for a limited time!
If you love this resource, be sure to check out our digital library of helpful tools and resources for cleaning faster, taking control of your budget, organizing your schedule, and getting food on the table easier than ever before.