Take control of your laundry with this easy-to-implement master plan that's guaranteed to make your life–and your laundry–a whole lot easier!
Laundry.
For a busy woman and mom, this one word can send you reeling into a mix between overwhelm and avoidance. It's one of those tasks that is always there. And, just when you think it's all done, you discover that more dirty clothes have magically appeared from seemingly out of nowhere.
But what if I told you laundry doesn't have to be a source of stress?
All you need is a plan.
As a mom of 9, I am no stranger to laundry. And like you, it can make me a little crazy at times. But, I've discovered a step-by-step process that really does take your laundry from overwhelming to totally manageable. Trust me, I have tried it all, and this masterplan for laundry is going to be your new best friend. It's kind of like having "Alice" from the Brady Bunch in your home. I realize you may not be familiar with the Brady Bunch, but Alice was there for whatever Mrs. Brady needed her for – including laundry. But, no Alice is needed with this plan!
When managing a home, it is essential to have a plan in place. Things won't ever go perfectly, but with a plan you've got a structure to help get everything done with some wiggle room for unexpected happenings.
Take Control of Your Laundry: Your New Master Plan
Follow this master plan, and laundry will no longer be something that brings you stress and frustration. You can simply get it done and get on with your day!
Step one: Train your family
Training your kids to do laundry not only helps you, it also helps them. Kids can be trained on what clothes are dirty and what clothes are not. For instance, pajamas and clothes worn for only a short time are typically not dirty after just one use. There is no reason to wash clothes that aren't truly dirty. Teach your kids when their clothes are dirty first and foremost.
Next, give your kids an easy place to put their dirty laundry. Hampers or baskets with lids typically don't work well as you'll find dirty laundry everywhere but in the hamper or basket. Give them an easy place to put their laundry and show them how to put it there.
Third, train your kids to help with loading the washer and dryer if they can reach them. My young kids love moving clothes from the washer to the dryer. Young kids can also fold washcloths and small towels, pair socks, possibly fold some simple items, and put their own laundry away if they can reach it.
Kids should also be trained on what to do with any clothes that have stains or things that might be hard to get out like ketchup or mud. It will save you time to not have to look through each item of clothing for stains that need to be dealt with. Give them a place to put clothes they think will have stains so these clothes don't end up in the laundry.
Step two: Sort your laundry
Typically it is best to sort by color. Darks, lights, and whites. You may also have delicate items or things that need to be hand washed. Make sure to pull these out to take care of properly.
This step is as simple as gathering up all the laundry and either making piles on the floor or piles that are sorted into the different baskets or hampers in your laundry room.
When it comes to water temperature, most things can actually be washed on cold. But, you may prefer to wash whites on hot, lights on warm or cool, and darks on cold. Back before we had such robust machines and detergent, these were the most recommended water temperatures, but these days it really can all be done on cold. The advantage of using cold water is that it keeps fading, bleeding of colors, and the wearing of the fabrics to a minimum.
If you're ever unsure of what temperature to use, choose cold to avoid possible damage. If you worry about germs as I do, the heat of the dryer takes care of that.
Step three: Get a jumpstart
When you've got laundry on your to-do list for the day, take care of the sorting the night before. Then, take it one step further and put a load in the washer so it's ready to go in the dryer in the morning. Having a load of laundry already through the washer takes the overwhelming task of laundry and gives you a jumpstart before you really dive in.
I also find that being able to get out of bed and head to the washer to switch the load to the dryer first thing in the morning gives me something that is a bit active right away. It helps shake the sleep off a bit, which makes for a more productive morning.
Step four: Snap the wrinkles out
Before putting clothes in the dryer, give everything a quick snap to get some of the wrinkles out. This really cuts down on the amount of wrinkles you'll have when things come out of the dryer. Less wrinkles means less ironing. Taking the extra step of snapping the wrinkles out before moving them to the dryer will be a few moments worth taking.
Step five: Load of the dryer
Be sure to avoid overloading the dryer. This helps cut down on the wrinkles. If you have more delicate fabrics, you'll want to be sure to use a low heat setting on your dryer. This will make things take a bit longer to dry, but you'll be at less risk for shrinking and finding things misshaped.
Step six: Catch the dryer right away
This is an essential step in having clothes that are less wrinkled. Just as with taking the clothes out of the washer, give everything a good snap or two to shake out as many of the wrinkles as you can.
Although folding the laundry right away is ideal, If you don't have the time to fold it right away you can carefully hang it over the dryer door to fold later. It is essential that all the wrinkles are out and that each piece is flat. Your goal is to make a neat and flat pile that is hanging over the door.
Step seven: Take the final step
I have been so guilty of having piles of laundry around – clean laundry – for days! I have no idea why sometimes this last step can be so hard, but it can be. However, it is so worth taking the final step of putting your laundry away right away to avoid being overwhelmed by laundry. You've put forth the effort of coming this far, take the final step to put your laundry away.
Don't forget the value in training your kids to help you with laundry. Putting their own laundry away, at least on a small scale, makes the task more manageable for you.
When it comes to laundry, there are some general tips to follow that will make the entire process easier.
Do something else while you're folding laundry
Does anyone really like folding laundry? I'm really not sure. But, I find that I don't mind folding laundry when I can catch up on my latest show or listen to a book on Audible at the same time. In fact, I might even say I like folding laundry under these circumstances.
Use the sun
For any persistent stains, try putting them out in the sun for the better part of a day. It is amazing what the sun can do to even the most stubborn of stains.
Color coding can help
For some, color coding things makes it even easier to get laundry put away. My kids have bathroom towels and washcloths that are all color coded. My older girls each have hangers that are all one color to make it easier to grab what is theirs from the laundry room. And having socks that are all the same color (one color for boys and one color for girls) makes it much easier to pair socks.
Pair socks all at once
This is especially helpful if you've got kids in the home. I often end up with one sock in one load of laundry and its matching sock in a different load. Keeping all the socks together and matching them up at one time means you're not hunting for sock matches and it just goes faster to do it all at once.
Having a step by step land for laundry is the key to staying on top of the laundry in your home and family. Using this step-by-step plan has helped me manage the laundry for my family of 11, and I know it will do the same for you!
And believe it or not, you'll probably even find that staying on top of your laundry will make every other area of your life less overwhelming as well.
To recap, here are ways on How To Take Control of Your Laundry:
Step one: Train your family
Step two: Sort your laundry
Step three: Get a jumpstart
Step four: Snap the wrinkles out
Step five: Load of the dryer
Step six: Catch the dryer right away
Step seven: Take the final step
Do something else while you're folding laundry
Use the sun
Color coding can help
Pair socks all at once
Want more? Don't miss these helpful resources!
PIN FOR LATER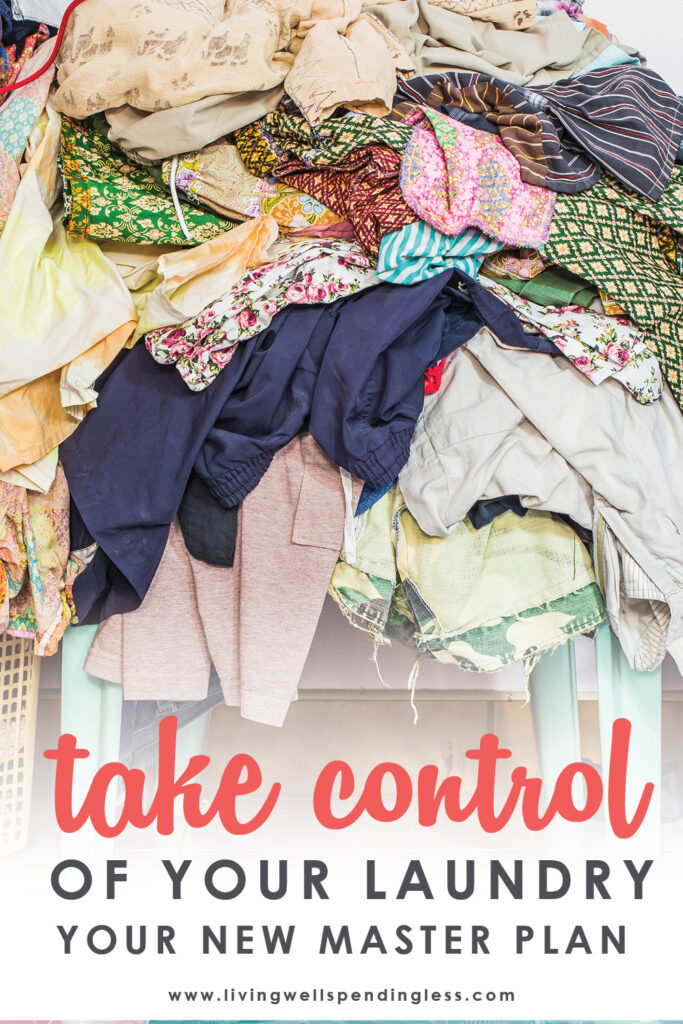 TAKE BACK CONTROL OF YOUR HOME LIFE
---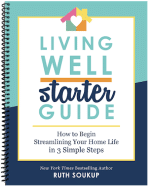 Ever feel like you just can't keep up? Our Living Well Starter Guide will show you how to start streamlining your life in just 3 simple steps. It's a game changer--get it free for a limited time!
If you love this resource, be sure to check out our digital library of helpful tools and resources for cleaning faster, taking control of your budget, organizing your schedule, and getting food on the table easier than ever before.