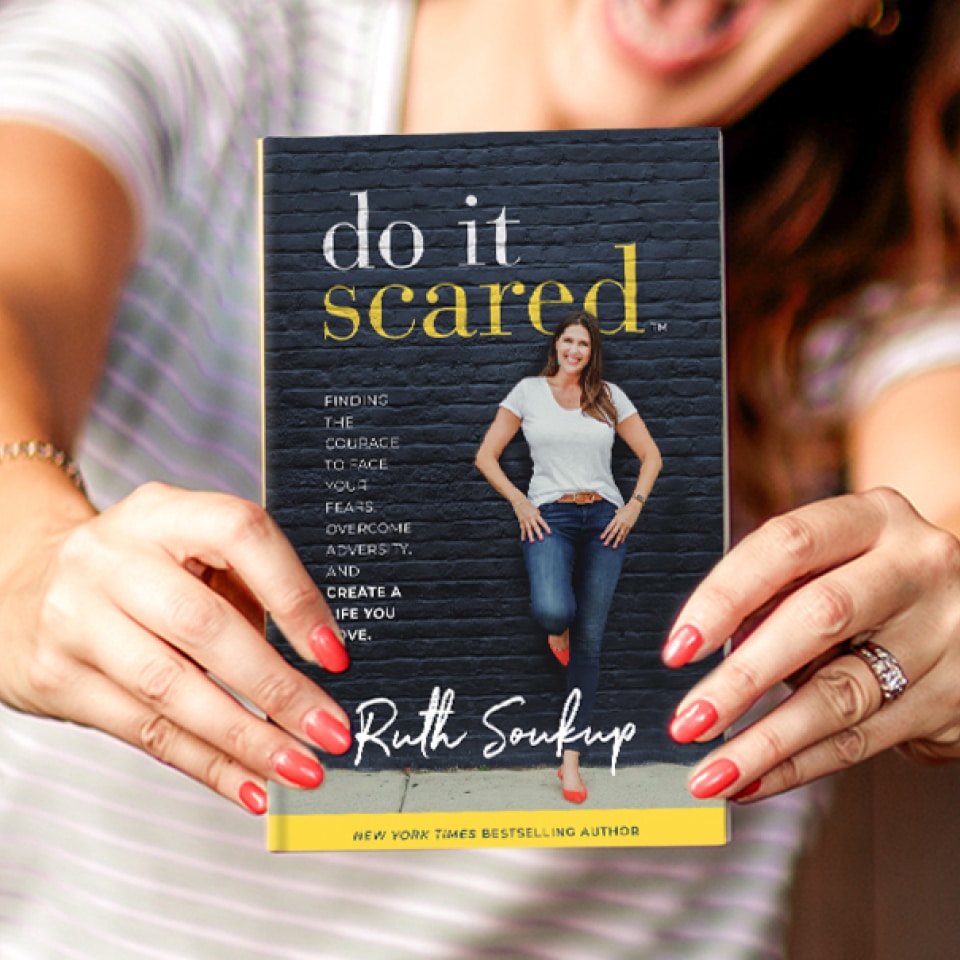 I've been scared my whole life.
Scared of putting myself out there, scared of making a mistake, scared of stepping outside the lines, scared of what other people might say.
Scared that I might not be enough.
And for a long time, that fear held me back. It was always there, impacting the decisions that I made and damaging my self-esteem. That fear kept me inside a box, never daring to step outside my comfort zone, or to follow my own path, or to pursue my own goals and dreams whole-heartedly.
But then I learned a secret that changed everything.
It was that courage doesn't mean that we're never afraid; instead, courage is taking action in the face of fear. Real courage is doing it scared.
And so I started taking action. Small steps at first, but those small steps gave me the courage to take bigger steps, and then even bigger ones after that. But even as I worked to overcome fear in my own life, I started to realize that I was not the only one who was letting fear hold me back.
Far from it.
DIG DEEPER
---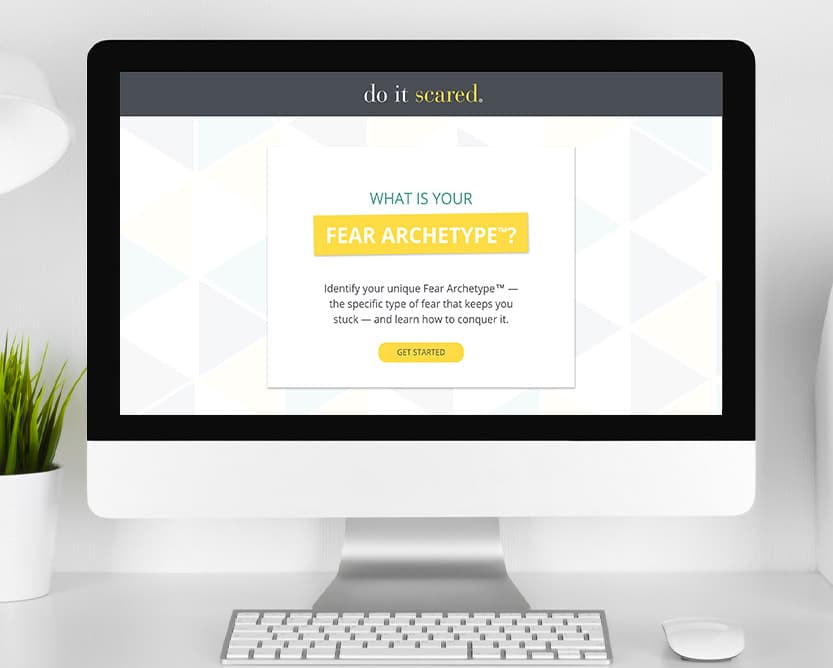 We designed the Do It Scared Assessment™ to uncover your Fear Archetype™ and give you in-depth practical resources. Soon you'll be able to recognize your fear type (from procrastinator to self-doubter), overcome it, and create a life you love. You'll get the most accurate results if you answer without overthinking. Remember, everyone is unique. There is no such thing as a bad Archetype, just a nameless fear lurking in your blind spot. Are you ready?
Over and over, I started hearing from members of our community, saying things like they felt stuck or alone or anxious or unfulfilled, but not sure how to break free. I heard from women who had spent so much time taking care of everyone else around them that they weren't even sure who they were anymore, much less what they wanted. And they were afraid it might be too late. I heard from people who were desperate to make changes in their life, but afraid of what that change might bring—wanting to go back to school or start a business or write a book or lose weight or pay off debt—but not knowing how to take that first step.
It made me curious to find out more about how fear affects us and holds us back, but also eager to figure out what we can do about it.
Because I believe that if we can understand our fear, we can also conquer it.
And so I embarked on what has become more than a two-year journey to understand fear and how to move past it. It started with an in-depth study, during which my research team and I surveyed more than 4,000 people on the role of fear in their lives.
During the course of that study, we discovered that not all fear is created equal, but that there are seven distinct ways that fear manifests itself in our lives and holds us back—the seven Fear Archetypes™.
From there, we created the Do It Scared Fear Assessment™, to help you identify your own specific Fear Archetype and better understand the role of fear in your own life.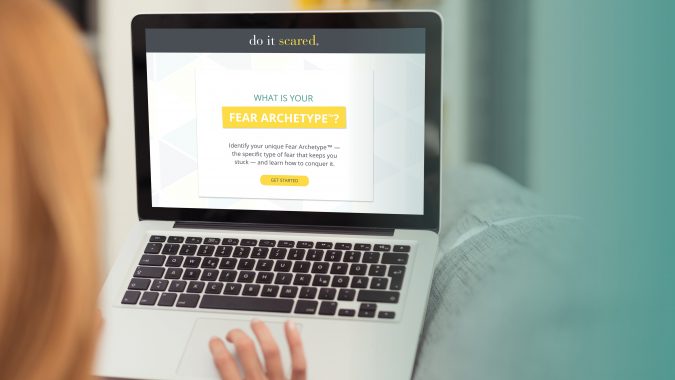 However, we also learned that what people crave more than anything else is real accountability along with ongoing encouragement, and so we created the Doing It Scared Members-Only Community to provide both.
Finding the courage to face your fears, overcome adversity, and create a life you love is a topic I've been talking about on the Do It Scared podcast for the past year, and now, after long last, I couldn't be more excited to let you know that the Do It Scared™ book is in bookstores everywhere now!
Believe me when I tell you that this book is a game changer! Equal parts inspiration and tough love, Do It Scared combines practical, easy-to-implement tips, along with the motivation and encouragement to actually start making real changes that lead to big results. It is the go-to-guide for anyone who feels like you've been sitting on the sidelines of your own life, afraid to truly dive in and go after your dreams.
It's the book that changes everything.
And, if you haven't yet ordered your copy, this is a gentle reminder to make sure you do that soon, not JUST because it is an incredible book, but also so that you can take advantage of our incredible Do It Scared Book Bonuses, which is pretty amazing.
Here's what it includes:
Free Premium Do It Scared® Fear Assessment Report. Our Do It Scared Fear Assessment is designed to help you identify the unique ways in which fear is impacting your life and potentially holding you back from achieving your goals and dreams. Our premium report will give you a lot more insight into your top three Fear Archetypes, including how they interact—and what you can do about them. (a $15 value)
1 Month Trial Membership to Doing It Scared. Our exclusive members-only community, Doing It Scared, was created to providing accountability, motivation, & encouragement to anyone who's working towards chasing a dream or going after a big goal. It's a place that provides both the practical resources to help you get and stay focused, along with the ongoing support to get you there. (a $25 value)
The Do It Scared Workbook. This digital workbook and journal is the perfect companion to the book, designed to bring the lessons alive. It will help you maximize the impact it has in your own life by helping you to reflect on the specific areas that fear may be affecting you, as well as create an action plan for moving forward. (a $15 value)
Altogether, it is a $55 value, but only when you order.
Pretty sweet, right? We think so too!
So here's what to do next:
Order the book HERE
Fill out the form

HERE

to claim your bonuses.
Check your email your bonuses & membership access
Stay tuned for more details about exciting book launch happenings, but in the meantime, this is a great opportunity to secure your copy AND get some insanely good bonuses at the same time!!
P.S. Did you already order the book? Hooray—you already qualify for all the bonuses!! Simply fill out the form with your order number HERE.