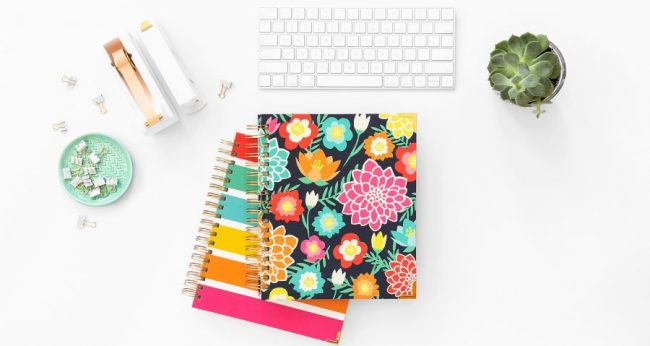 Still wondering if the Living Well Planner is right for you? Don't miss this super honest Living Well Planner review from a planner "junkie"!
As a long time fan of Erin Condren, I did the unthinkable last year and switched to the Living Well Planner. It was a pretty simple decision because the Living Well Planner® had personalized sections on budgeting, menu planning, and goal setting. You can read my full comparison of the two here.
I am so glad that I switched!
I've been using the Living Well Planner® for over a year now and am still thrilled with it (which as any planner nerd can tell you is a rare find to not have planner regret a year later!)
In fact, as soon as the NEW version came out (with a lot of updates!), I started using it that day. And I've been using it for over a month now.
And of course, I'm going to walk you through it step-by-step…
Let's go!
Already know you want it? You can skip the details and get the planner here.
The Planner that Changed Everything: My personal review on the new Living Well Planner®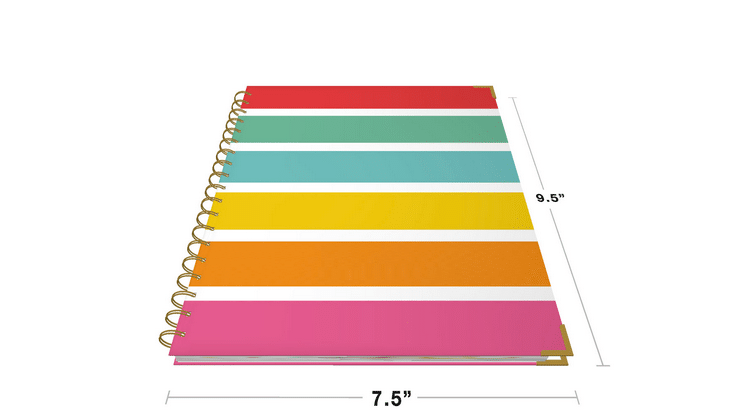 Cover and Binding
The new planner is bright and colorful, it's extremely thick cardboard, with thick binding. Not even a hint of binding separation and I would call this extremely sturdy.
Bonus points because it's just gorgeous. I adore this color scheme and I love that it continues throughout the planner.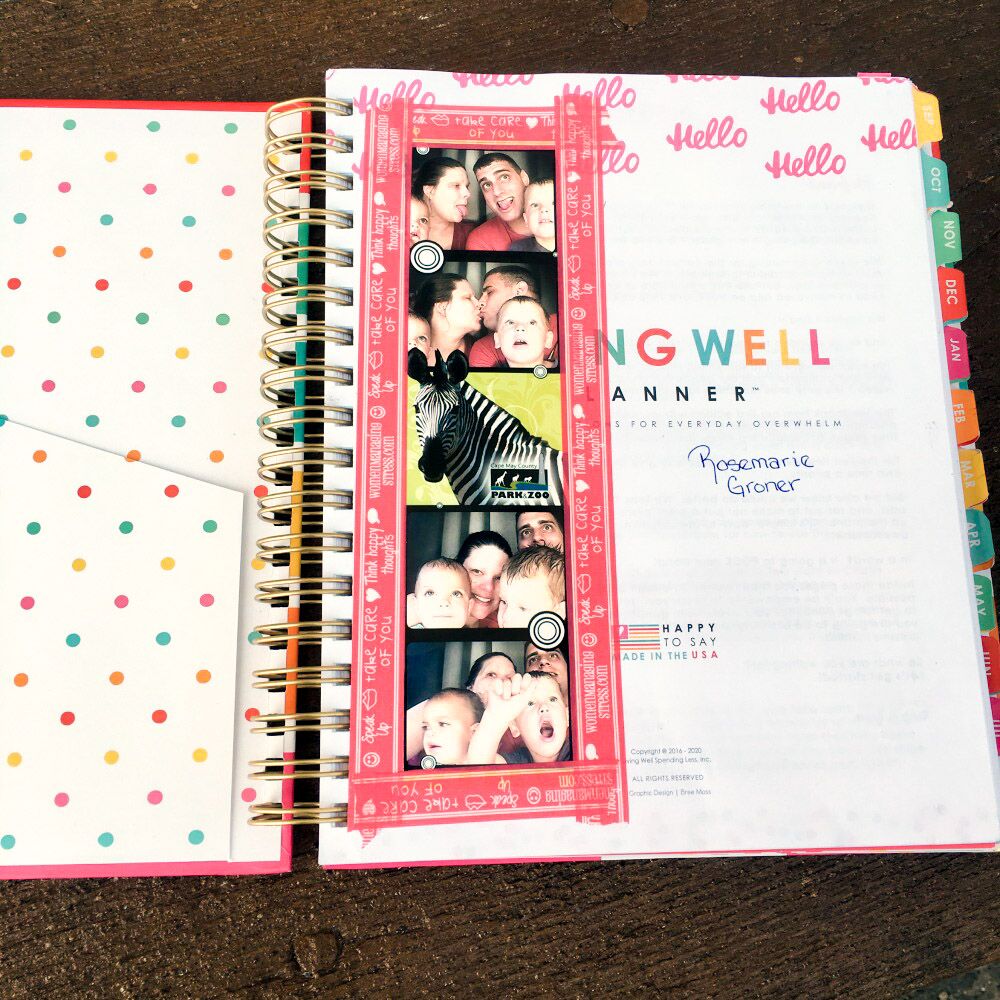 Room to Personalize
Any planner nerd can tell you that the fun in a planner is to personalize it, I always take a few pages and scrapbook them. I add photos to the front cover and first page for those days that I need a quick pick me up.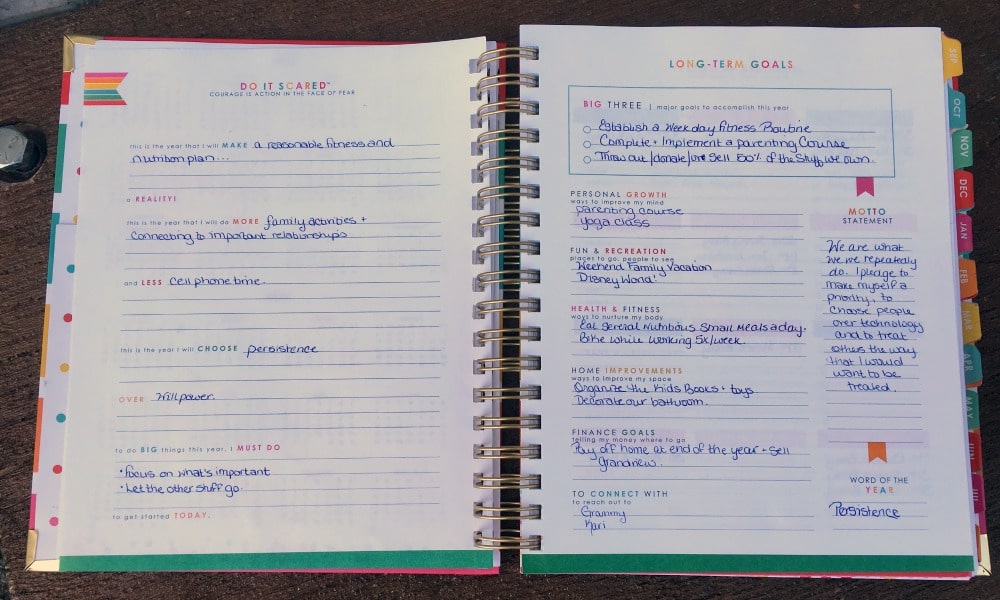 Long Term Goal Planning
The first thing you should know is that this is not just a planner. If you buy the planner and use it as a planner, you're missing out big time. It's an extremely effective organization, goal setting, and planning system.
In order to get the results that you're looking for, you need to learn how to use the planner.
I can't stress that enough.
If you buy the planner, and use it then you'll love it. But, if you take the course that goes along with it, and learn the system behind the planner and implement it, you'll be a raving fan like me.
It makes a huge difference!
You get automatically enrolled in the Crushing It Bootcamp when you buy the planner. Take advantage of it! And read those emails- they are super helpful.
In the long term goals section, you spell out what goals you want to meet at the end of the year.
After you set your goals, you prioritize which goals are most important to you.
My list above got cut down from about 1,000 things that I wanted to do in a year, but when I went through this process, I realized that I would never actually get that much done.
I prioritized to make sure that the things with the biggest impact, or that are the most important things get done first.
Reference pages- there's also a page for important dates, a year at a glance calendar, important numbers, and notes and ideas.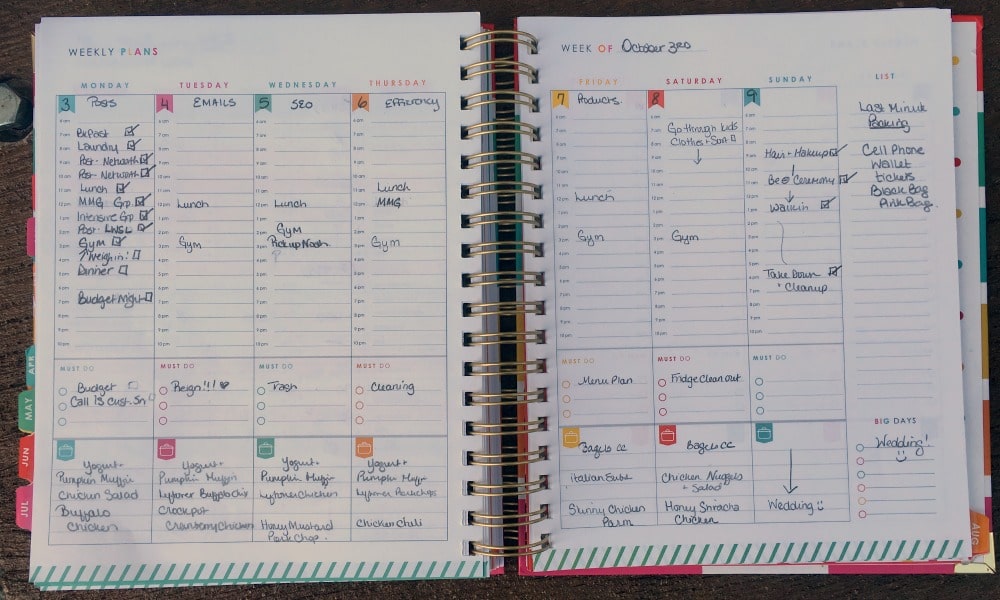 Monthly Planning Pages
This planner is entirely unique because instead of having sections (like a budgeting section, a weekly section etc), every section is contained within the month. And I absolutely love it.
Everything is easy to find, condensed and works easily.
Pro planner tip– I only use pencil for planning pages. And I always add check marks. I'm not one of those people that makes everything Pinterest perfect, It's a planner, it's meant to be used, but I found that my productivity was higher when I switched to all pencil and check marks. Likely because the planner stays neat and clean and inspiring.
My life changes too much for pen.
We start off with our monthly goals (incorporating the yearly goals we have and breaking them down into monthly goals).
Under monthly goals, I'm listing all of the things that I'd like to do this month, and then prioritizing that into my top 3 goals and my most important goal.
I like to hack the motto statement and list the why. Why do I want those goals?
For me, my husband is opening a brewery at the end of October and early November and life will change a lot in our house (am I the only one that hates change?) I know that if I get routines in place now, this transition will be a lot easier.
And that's exactly what this planner is about, making your life easier!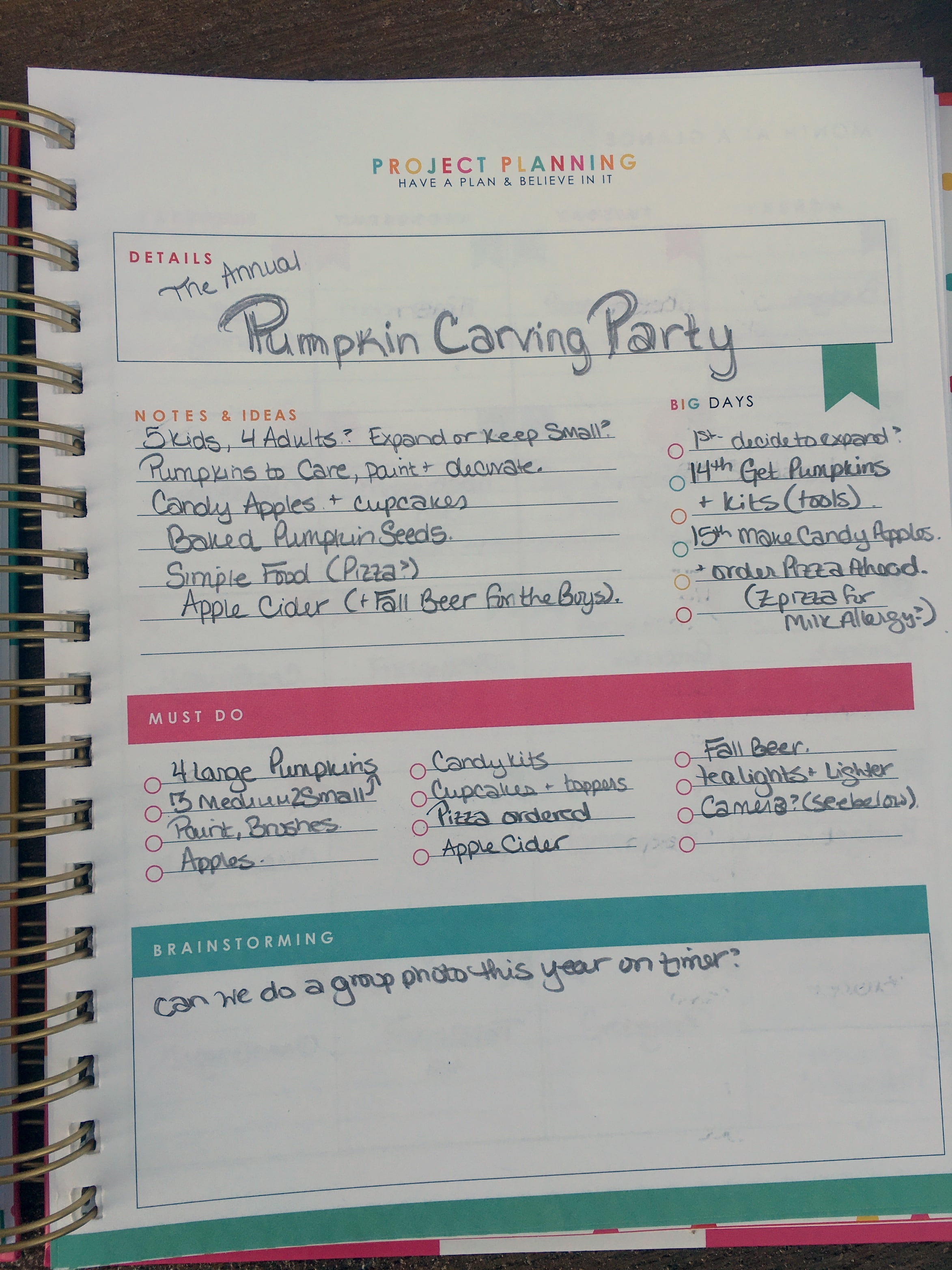 Step It Out
The next pages take your goals and projects and let you step them out one by one so you can see the small steps that need to be taken to accomplish a large project.
I always use goal crushing for my top goal and use the project planner to plan parties, events, or organizing projects.
Month at a Glance
Okay, no judging here, but I mentioned I'm a planner nerd. I'm also an efficiency nerd and I love schedules that allow me to focus my efforts on one major task a day.
Outside of work, each day of the week has a theme (that can be changed in special circumstances), so I'm only focusing on one household area a day. It makes life so much easier. Plus, Tuesday's are my favorite day ever because I binge watch Netflix all night (which is why my Tuesdays say Reign, it's my current obsession).
I'll also list major events on here that will screw up that schedule (like weddings and parties).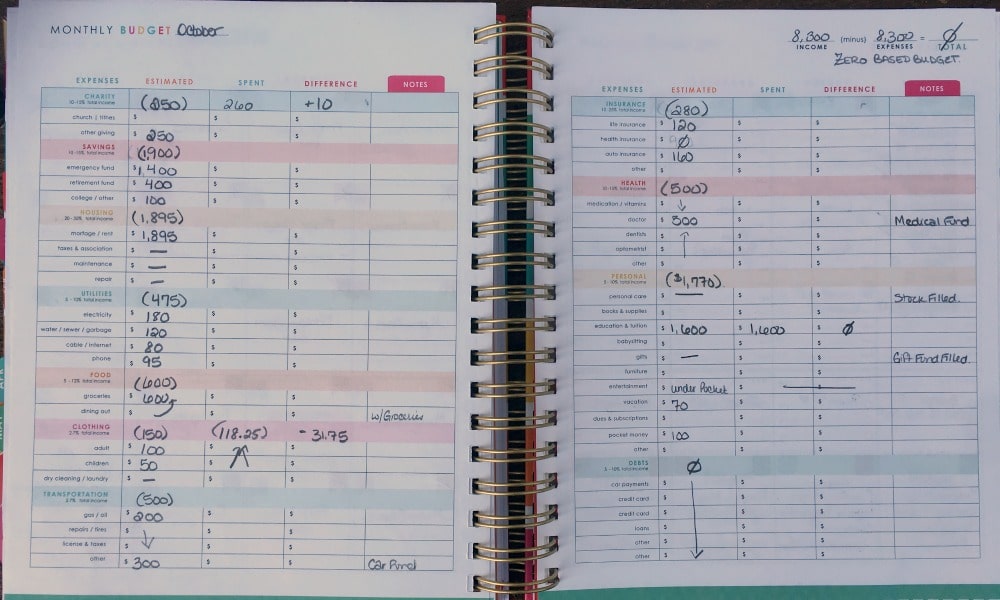 Monthly Budget
We do a Zero Based budget and are one month ahead (so we're paying this month's bills, with last month's income). Depending on where you are in your financial journey, using my photo of budget section as a reference may not help you as much, since this is so different for everyone and we have a weird budget right now.
We paid off over $30,000 of debt and are now debt free, with a relatively high income, and we're not big spenders on personal stuff. (Thank goodness since we live in a crazy expensive housing market!)
Our focus right now is beefing up our savings and a medical fund (exciting stuff right?). We usually have a lot more in personal money, but this month we decided to reduce that since we had some leftover from last month.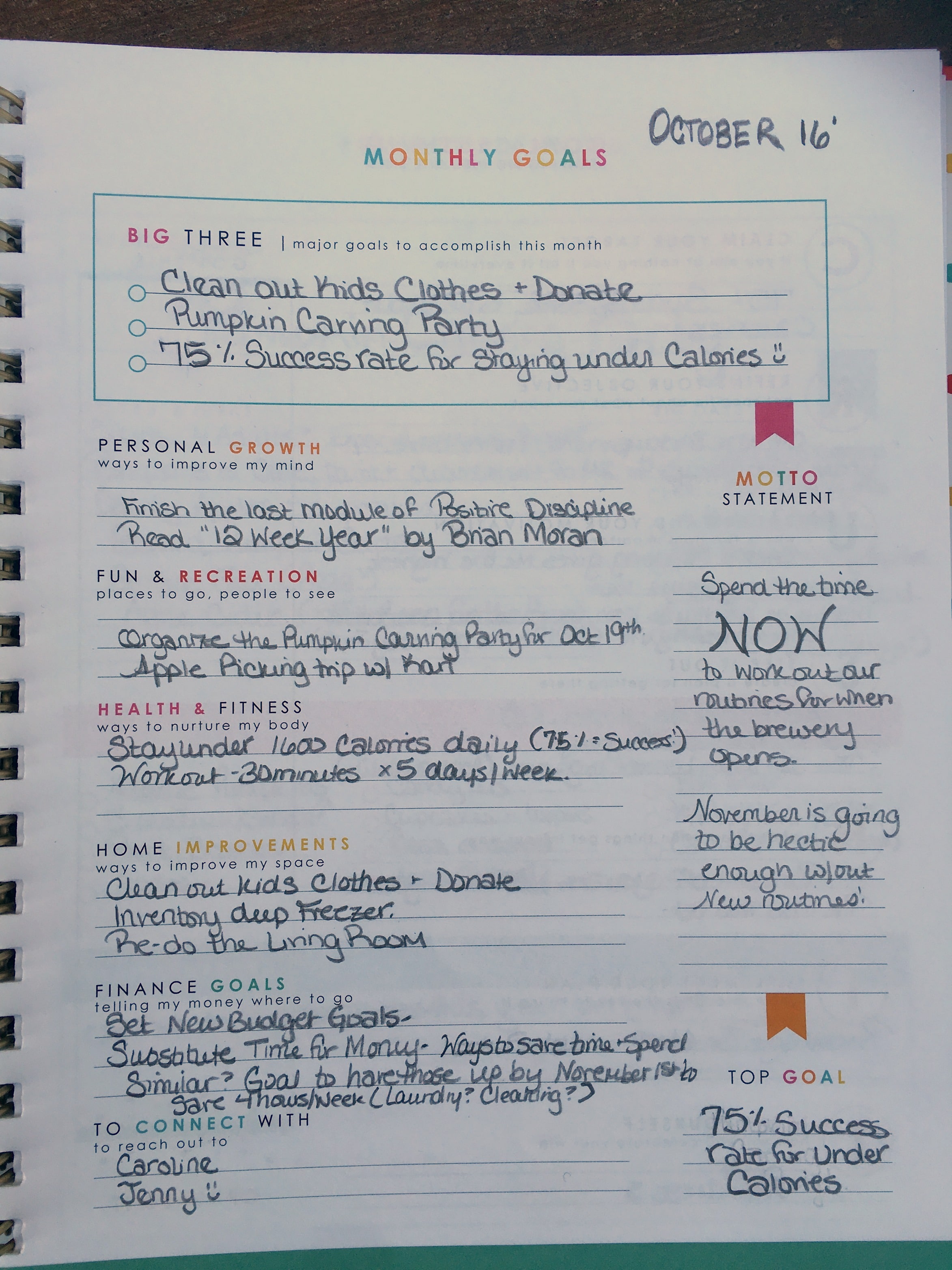 Must Do
You'll notice that the actions steps to the monthly goals are listed in the planner and assigned times. (See Saturday morning- Going through the kids clothes is on both my monthly goals, and is part of my yearly goals (donate and reduce our stuff by 50%).
I list my weekly tasks (carried over from the monthly at a glance) under the must do section and then add in anything else that comes up. As soon as I think "I need to do this!", It goes into the calendar and I assign it a day.
Menu Plan
The menu plan is my favorite part of this planner (okay, there's a few "favorite parts!"), I love that it gives me enough room to spell out each meal. You could, in theory, make a shopping list on the right-hand list side, but I just enter it into the lists app on my phone so I don't have to carry my planner with me.
List
I use the list section to keep track of anything I end up needing. This week it was a last minute reminder to pack for the wedding. Last week it was a running list of stuff from work that got out of control to see if I could barrel through some of those tasks before the week was up.
Monthly Expenses
I don't usually use monthly expenses (I categorize the purchases on our banking dashboard) since we're really used to budgeting by now, but I would have loved this back when we were new!
Thoughts and Thanks
I had a grateful journal that I loved and this has the same effect. As you think good thoughts, you just write it down. It could be anything as silly as "Super happy I married a guy that does the dishes" to "I have super sexy arms".
It actually flips your life outlook over time as you consistently see the positive in things.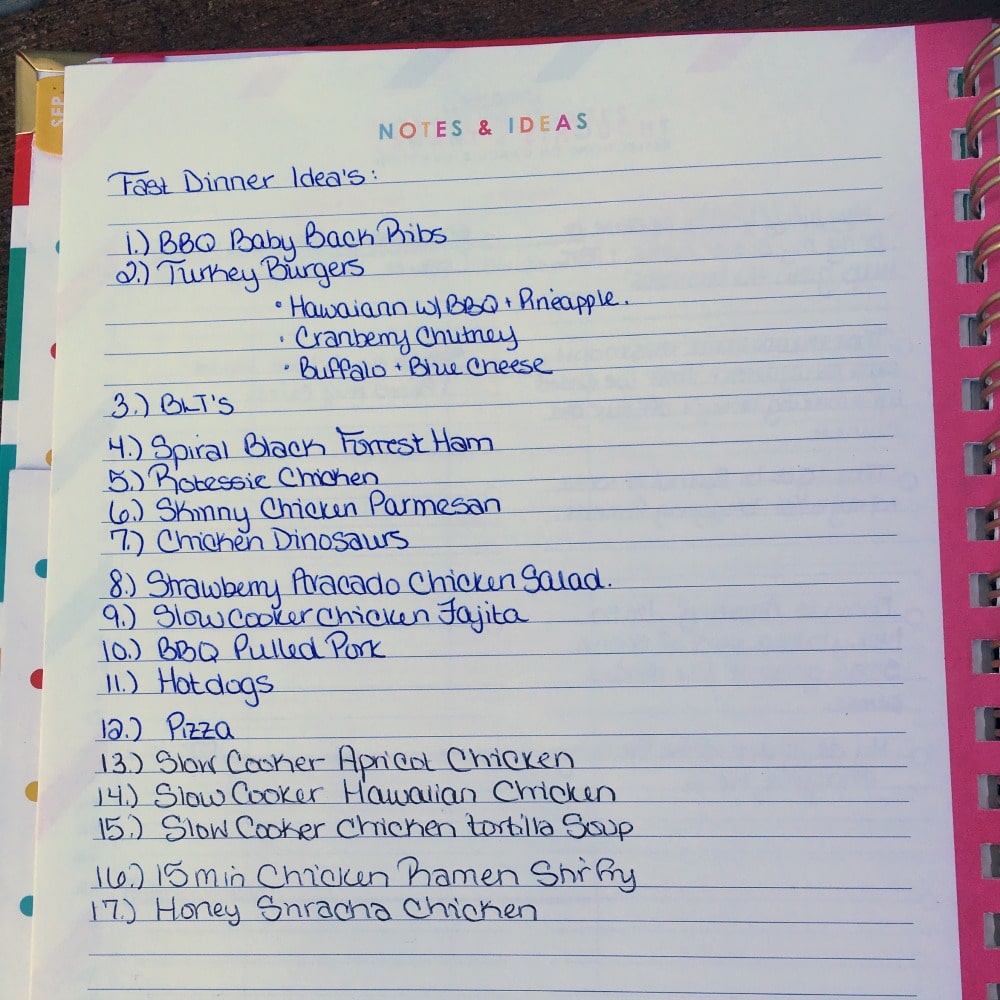 Notes and Ideas
I use the notes and ideas section to keep reference information. So far I've done super easy dinner ideas, and work courses I'd like to take.
Each month has a signature motivation page, with colorfully designed quotes.
Cleaning Schedule
There's a cleaning schedule at the very back of the book, which we don't currently use. I'm embarrassed to tell you that my husband is usually the cleaner. I love organizing and routines, but I don't think I've ever mopped a floor in my life. Thankfully I married a guy that likes cleaning (I know, weird, right?).
The Verdict:
I love this planner!
I think you will too. It's hard not to love. I've converted all my friends.
And I know we already talked about this, but if you listen to me and take the training on how to use the system before you dive into it, you'll be thrilled with it!
You can buy the Living Well Planner here.
You can come back and thank me after. 🙂
Still not sure if the Living Well Planner® is right for you? Check out this 3D view and learn more about how our planner can help you organize YOUR life!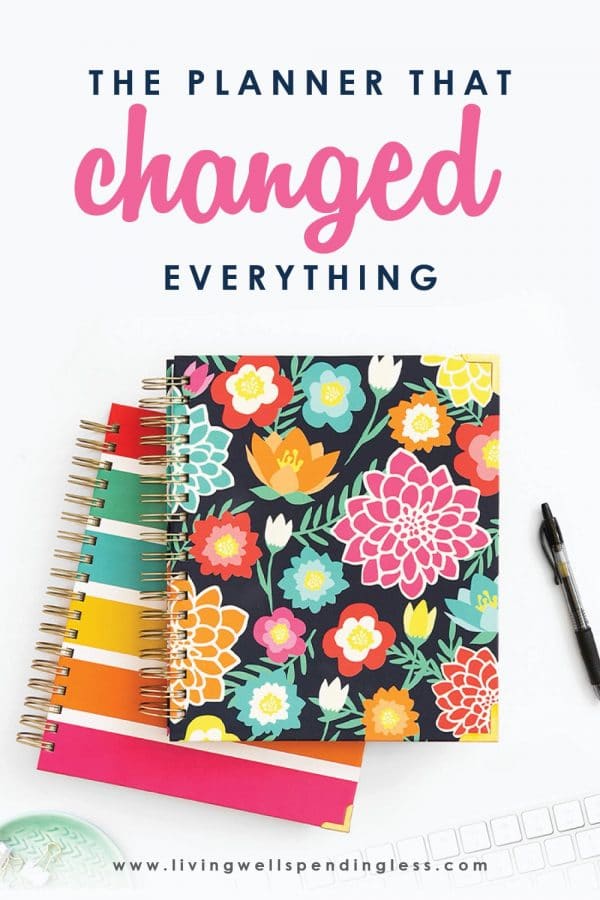 TAKE BACK CONTROL OF YOUR HOME LIFE
---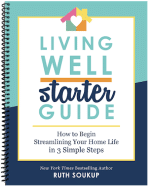 Ever feel like you just can't keep up? Our Living Well Starter Guide will show you how to start streamlining your life in just 3 simple steps. It's a game changer--get it free for a limited time!
If you love this resource, be sure to check out our digital library of helpful tools and resources for cleaning faster, taking control of your budget, organizing your schedule, and getting food on the table easier than ever before.