Looking for the ultimate menu for Thanksgiving dinner? We've got you covered! We've even included a shopping list and all the recipes!
I love me some Thanksgiving.
In fact, I think out of all the holidays, it's the one I get most excited about. Good food + gratitude + football? Seriously, what could be better than that?
And it's not just that I love Thanksgiving, I love cooking for Thanksgiving. All of it. The turkey, the cranberry sauce, the mashed potatoes. And of course, the pies. Oh, the pies.
Ever since cooking my very first Thanksgiving dinner as a college student in 1999 (which wasn't great, I'll admit), I've worked very hard to hone and refine my menu, collecting and developing a handful of recipes that always knock it out of the park. My goal for Thanksgiving is that every dish on the table is the best thing you've ever tasted, and I'm excited to tell you that after 20 years of trial and error, I think I've finally nailed it–the Ultimate Thanksgiving Menu.
And friend, today I'm sharing it with you.
Plus, just to make your life a little bit easier, I've also included a shopping list for all the ingredients you'll need, as well as a timeline to follow to make sure your Thanksgiving dinner gets to the table without a hitch.
The Ultimate Thanksgiving Menu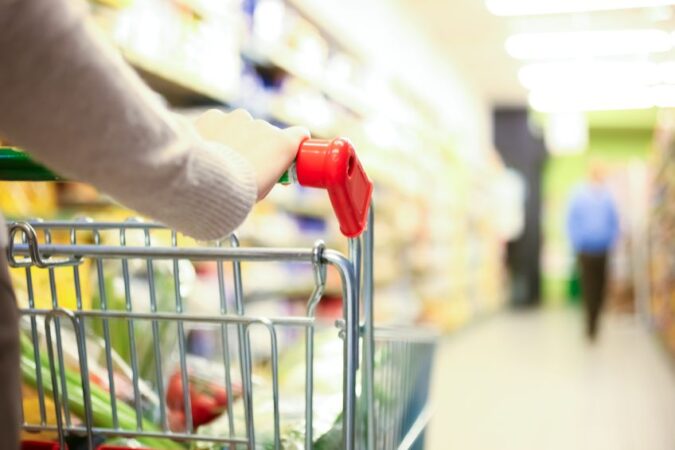 THE SHOPPING LIST
NON-PERISHABLES
olive oil
Real Mayonnaise (Make sure it's regular, not light!)
honey mustard
onion powder
garlic powder
nutmeg
cinnamon
pumpkin pie spice
salt pepper
seasoned salt
2 cartons chicken broth
Ritz crackers
1 bag Pepperidge Farm Herb Seasoned or Cornbread Stuffing
cocoa powder
1 cup corn syrup
flour
1/2 cup brown sugar
1 1/2 cups sugar
3 cups pecans
36 large marshmallows
1 15oz can pumpkin
1 15 oz can sweetened condensed milk
1/2 cup raisins
1 8oz jar caramel sauce (optional)
1 jar salted caramel sauce
triple sec (liquor)
PERISHABLES
Produce:
1 bunch each of red and golden beets
1 bag fresh cranberries
7 tart green apples
3 sweet apples (such as Pink Lady, Macintosh, Envy, or Honeycrisp)
2 ripe pears, peeled
2 oranges
1 lemon
1 fennel bulb
2 yellow onions
6 to 9 ounces arugula
1 8oz. package sliced mushrooms (optional)
1 bunch celery
1 5lb bag Yukon Gold Mashed Potatoes
7 medium sweet potatoes
2 pounds Brussels Sprouts
Dairy:
1 8oz package cream cheese
1 16oz carton sour cream
1 quart Heavy whipping cream
1 stick unsalted butter, softened
8 sticks salted butter
1 cup grated Parmesan cheese
1/2 cup shredded cheddar cheese
7 large eggs
Frozen or Refrigerated:
2 10oz packages frozen, whole kernel corn
2 packages refrigerated rolled pie crust
1 pre-made pie crust
1 package Heat and Serve Rolls
1 Frozen Turkey, 12-20 pounds (We tend to like Butterball. It's the best.)
1 carton Vanilla Ice Cream
Household Supplies
1 Reynolds Turkey bag
1 roasting pan (use a disposable one if necessary!)
Special Tools
Electric knife for carving (highly recommended!)
THE TIMELINE
EARLY NOVEMBER
Finalize your shopping list & start stocking up on necessary non-perishable items as they go on sale.
Make sure you have any tools or equipment you'll need
Make arrangements for dishes, serve-ware, silverware, table linens, tables, and anything else you might need.
5-7 DAYS BEFORE THANKSGIVING
Go grocery shopping to purchase all non-perishable food items + turkey.
Begin thawing the turkey in the refrigerator (this time will vary, based on size—check instructions on the package!)
Make the Cranberry Compote. This is better made a few days ahead of time.
DAY BEFORE THANKSGIVING
Purchase perishable food items, that you want to be super fresh. Example the Arugula or fresh bread from the bakery.
Prep Twice Baked Sweet Potatoes through Step 4
Bake Pies
THANKSGIVING DAY
5-6 HOURS BEFORE DINNER
Remove turkey from the refrigerator; allow it to sit for 1 hour at room temperature
Prepare your stuffing
Set the table
4-5 HOURS BEFORE DINNER
Preheat oven & stuff the turkey; place in the turkey bag
Put the turkey in the oven
Run the dishwasher, if necessary.
2-3 HOURS BEFORE DINNER
Prep & roast Parmesan Roasted Brussels Sprouts; let sit at room temperature until ready to reheat.
Prep Creamy Corn Casserole but do not bake; place in refrigerator until ready to cook
Prep Fennel & Beet Salad, but do not add beets; place in refrigerator until serving time, then add beets right before serving.
Make the Best Ever No-Fuss Mashed Potatoes & transfer to an oven-proof dish; let sit at room temp until ready to reheat
Remove Twice-Baked Sweet Potatoes from the refrigerator
Cut marshmallows in half and use to finish prepping Sweet Potatoes; set aside until ready to cook
Unload the dishwasher
1 HOUR BEFORE DINNER
Whip the cream for the pie
Prepare the coffee but do not brew until 20 minutes before it will be served
Check the temperature of the turkey at the thigh. If the thermometer reads 165 degrees, remove the turkey from the oven. If not, check the temperature every 15 minutes until done.
30 MINUTES BEFORE DINNER
Let the turkey sit for 20-25 minutes before carving.
Remove stuffing from the bird; transfer to an oven-proof dish & cover with foil.
Place several pats of butter on mashed potatoes and cover with lid or foil.
Place stuffing, sweet potatoes, corn casserole, mashed potatoes, and Brussels sprouts into the oven and bake at 350 degrees for 30 minutes (while the turkey is setting), so that all food is ready to serve at once. (Make sure everything is covered to keep in moist!).
If there's room, add heat & serve rolls to the oven when there are 10 minutes left on the timer; otherwise wait until the other side dishes come out, and then bake rolls.
Make the gravy
Carve the turkey
DINNERTIME
Bring all food to the table or buffet; make sure each dish has a serving spoon.
Make kids' plates, if necessary
Pour beverages.
Sit and enjoy!
AFTER DINNER
Clear the table & designate a place for guest to retire
Pack up leftovers
Load dishwasher & run it
Turn on the coffee pot; place Oh So Easy Apple Pie & Salted Caramel Chocolate Pecan Pie in the oven to warm.
Serve pies with ice cream and whipped cream!
Congratulations–you did it!
Pin for later: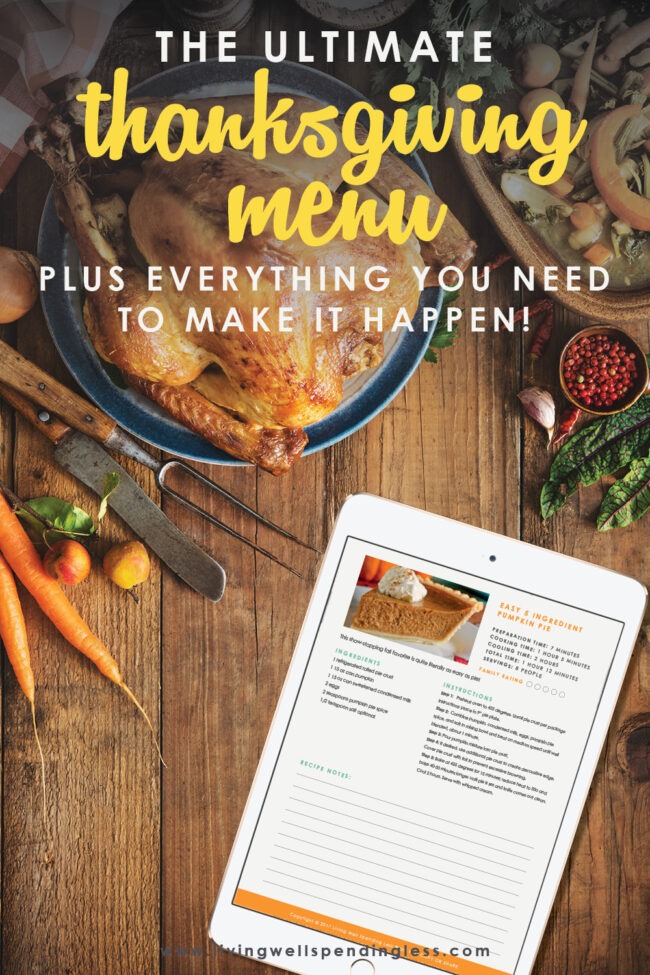 TAKE BACK CONTROL OF YOUR HOME LIFE
---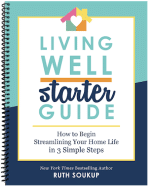 Ever feel like you just can't keep up? Our Living Well Starter Guide will show you how to start streamlining your life in just 3 simple steps. It's a game changer--get it free for a limited time!
If you love this resource, be sure to check out our digital library of helpful tools and resources for cleaning faster, taking control of your budget, organizing your schedule, and getting food on the table easier than ever before.