Today's guest post comes from Kate @ Coupon Cravings

If you have heard of the movie Good Will Hunting, you'll quickly realize this guest post really has little to do with a genius, a therapist or math. Well, a little math, I suppose…
Being a Mother of two and wife to a full-time banker, I rarely get time alone. But, when I do, I love to go Goodwill hunting. This is a chance to spend some "me-time" perusing the racks upon racks of deliciously frugal finds of my local Goodwill store. Not only do I know I am doing good by giving back to the Goodwill mission, but I am also saving tremendously on things that I normally would have bought brand new. And, if I can save a few bucks, well, why not?
I struck gold on a recent trip, scoring five pair of shorts (Gap, Aeropostale, Express & more popular quality, yet costly brands), three pair of capris and a shirt for myself! And, to boot, I also got my husband a nice pair of Nautica cargo shorts and a pair of Cutter & Buck khaki dress shorts all for $40.99 total, which works out to $3.73 per item. Holy buckets! My one pair of white Ann Taylor Loft shorts would have cost that much in-store and maybe even as much online using coupon codes!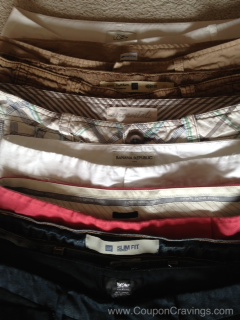 Now, as to not send you out unprepared, I have some "Goodwill hunting" tips:
Timing is everything. Go towards the middle of a season, shopping for the upcoming season. So, for example, I went shopping for shorts while there was still snow on the ground here in Iowa.
Be patient. There are racks upon racks to look through so along with your patience, make sure you've set aside some time to look. Thankfully everything is color-coded so you can jump to the colors that look best on you.
Be comfortable. Wear comfy clothes and easy-to-remove shoes so you can try some things on while you're there.
Get dressed up. As with any clothes shopping experience tip you've heard, wear makeup and look presentable. You're much more likely to look the way you would when you actually wear the items you're purchasing.
Don't be let down. There are times where you can spend a lot of time hunting and find nothing, zilch, nada. It happens, but just be prepared for that time where you strike gold, like I did on my most recent trip.
Here's to giving you good luck on your next trip to Goodwill, you never know what great finds you might come across!
Kate Sorensen is a frugality blogger at Coupon Cravings. She enjoys sharing frugal finds, tips, coupons and the like. But one of her most favorite hobbies? Yep, Goodwill hunting.
Thank you Kate! If you are interested in guest posting, please contact me for guest post guidelines.
* * *
Do you enjoy thrift store shopping? Do you have any tips or tricks of your own to add?
TAKE BACK CONTROL OF YOUR HOME LIFE
---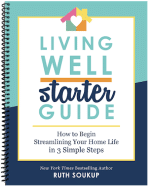 Ever feel like you just can't keep up? Our Living Well Starter Guide will show you how to start streamlining your life in just 3 simple steps. It's a game changer--get it free for a limited time!
If you love this resource, be sure to check out our digital library of helpful tools and resources for cleaning faster, taking control of your budget, organizing your schedule, and getting food on the table easier than ever before.