Whew, what a day! After posting a video just yesterday about how little time I spend organizing and sorting my coupons, I feel a little sheepish today telling you that today's shopping trip took a LOT more time than usual to prepare for.
If you've been following my shopping results for a while you know it has been quite some time since I've done a major stock-up-on-everything trip, but today I was almost out of diapers and down to my last roll of paper towels, which threw me into an I-need-to-stockpile panic. Granted, considering the whole family's been battling the flu all week it may just have been fever-induced delirium.
In any case, here is what I got: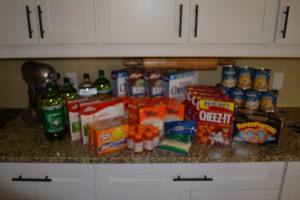 At Publix I spent  $18.12 for $135.00 worth of groceries, a savings of 87%.
I have to give a huge shout-out to Kimberly, the super-sweet store manager at the Punta Gorda Publix, who saw me coming (hard to miss the 6'2″ girl with the gigantic stack of coupons) and was kind enough to open a separate lane and check me out herself so that others wouldn't have to wait. Love that store!
(I would normally list all my coupon match-ups here, but since I am not feeling well AND because I promised my husband a date night, that is just going to have to wait until tomorrow! So sorry!)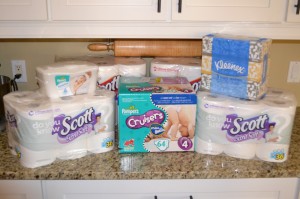 At CVS I spent $21.89 for $85.52 worth of drugstore merchandise.
I have to also give a huge shout-out to the manager at the Edgewater/41 CVS store, who was super helpful and accommodating. The store was out of the advertised paper towels and toilet paper, so she substituted 2 of a smaller size for the same price, which ended up being an even better deal, and then the store didn't have the right kind of Pampers wipes that were on my (recently expired) coupon, so she substituted a different type of Pampers wipes as well. AND she was totally nice about it–in fact, it was her idea!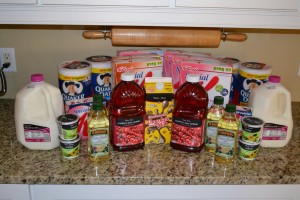 At Winn-Dixie, I spent $26.14 for $93.29 worth of groceries, a savings of 72%.
I haven't done any shopping at Winn-Dixie in a LONG time because to be quite honest, their deals aren't as good as Publix. It is also a much further drive from my house. But the promise of cheap olive oil (something I've been needing for a while but hadn't been able to match up until now), Special K Red Berries (I could eat that stuff all day long!), and free milk lured me in.
Overall, today I spent a total of $66.15 for $313.81 worth of groceries and merchandise, an average savings of 79% for the day.
Combined with my totals from Sunday, this week I have spent a total of $90.84 (sheesh!) for $512.78 worth of groceries and drugstore merchandise, an average savings of 83% for the week.
Now it's your turn to share! If you have a blog, please link up your shopping post below, or simply leave a comment to share your shopping experience. As always, please feel free to post any questions below as well, and I will answer them as best I can!
And finally, just a quick reminder for those of you in Southwest Florida:  there are still a few spots left for my first coupon class that starts next Tuesday, January 18th. It will be in the evening, and will run every other Tuesday for 4 weeks. Please contact me asap if you are interested in attending.