Aside from forgetting my list and all my coupons on the kitchen counter (and having to go all the way back home to get them), today's shopping trip was relatively uneventful. I wasn't super excited by the ads at either Publix or Winn-Dixie this week, but luckily I have enough food in my stockpile to last us several months, which meant I didn't really have to buy too much.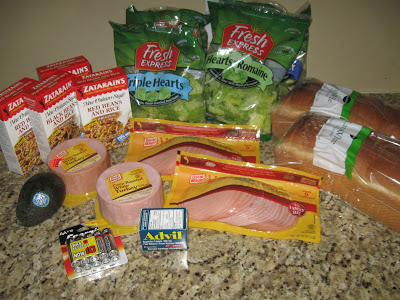 At Publix I spent $16.87 for 53.94 worth of groceries, a savings of 69%.
Coupons used:
(1) $1 off Energizer batteries (Smart Source insert 10/3)
(1) $1.25 off Energizer batteries (Publix green advantage flyer, available in front of store)
(2) $1 off Publix Bread when you buy Oscar Mayer Variety Pack (no more prints available)
(1) $1 off 4 boxes Zatarain's (Red Plum insert 9/19)
(1) free bottle of Advil 24 count (received in mail after signing up on facebook)
Combined with my shopping totals from
Sunday
, this week I spent $30.32 for 197.10 worth of groceries and drugstore merchandise, an average savings of
85%
for the week.
P.S. Don't forget to enter this week's
share-the-wealth giveaway
, a fabulous box of drugstore goodies worth
$85!
Click here
for details.