I'm sure many of you probably had a chance to watch "Extreme Couponing" on TLC  last night. We don't have cable, so I actually didn't get a chance to watch the whole show, but I did watch a lot of clips online this morning. I found it very unfortunate that TLC chose to portray people who use coupons as little more than obsessive-compulsive weirdos.
I think everyone is probably a little quirky in their own way, but I certainly don't consider myself  some sort of freak for using coupons. I'm just a normal mom who likes to shop who figured out that saving money on groceries means more money for other things. I decided to make a little video of today's shopping trip to show that normal people can use coupons too.
Here is what I got: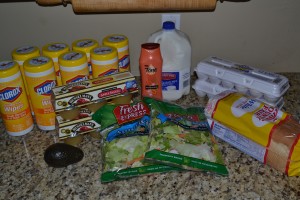 At Publix I spent $5.16 for $38.79 worth of groceries, a savings of  87%.
Coupons used:
(4) $2 off 2 Clorox Wipes (All the Trimmings coupon booklet)
(4) $2 off 2 Clorox Wipes (Publix store coupon, Yellow Advantage Flyer)
(2) $1 off Fresh Express Salads (printable here)
(1) Free Hass Avocado (printable here)
At CVS I spent $1.22 for $9.13 worth of groceries & drugstore merchandise, a savings of  87%.
Coupons Used:
Transaction 1 (bought Tone Body Wash):
$2 ECB from several weeks ago
$1 off Tone Body Wash (printable here)
Transaction 2 (bought milk):
$3 ECB from Transaction 1
At Walgreens I spent $0.37 for $4.67 worth of groceries, a savings of 92%.
Coupons Used:
(2) $2.00 Register Rewards from two weeks ago.
Overall, I spent $7.12 for $52.59 worth of groceries and drugstore merchandise, an average savings of 87% for the day and for the week.
Now it's your turn to share! I love reading other people's shopping adventures & learn something new every week. If you have a blog, please link up your shopping post below, or simply leave a comment to share your shopping experience. As always, please feel free to post any questions below as well, and I will answer them as best I can!