It wasn't really an exciting week for groceries. I have been chomping at the bit to use my new Kraft $5 off of 5 coupons. I thought I had struck pay dirt when I caught someone's comment on SouthernSavers.com that Kraft Deli Deluxe slices were on sale, since I would then be able to stack 5 Publix store coupons & get cheap cheese and free produce. Yay! Alas, when I got to the store, the cheese was not on sale, and my dreams of $5 worth of free fruit and vegetables were dashed. All was not lost, however, because there was a nice little Publix tailgating coupon booklet at the front of the store that got me some free peanut butter and almost-free popcorn.
Here is what I got: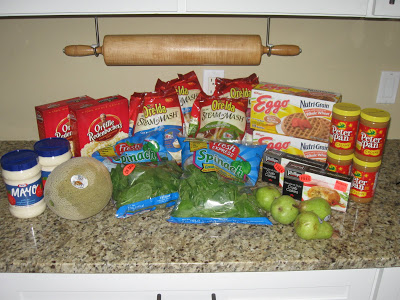 At Publix I spent $20.02 for $79.12 worth of groceries, a savings of 75%.
Coupons Used:
(2) $1 off Orville Redenbacher's popcorn (All You Magazine, August)
(2) $1 off Kraft Mayo (no more prints available)
(1) $1 off of 2 Eggo Waffles (Red Plum Insert, 7/25)
(2) $1 off Fresh Express Artisan Salads (printable here)
(4) $1 off Peter Pan Peanut Butter (Publix in-store tailgating booklet)
(1) $3 off $10 in selected Conagra products (Publix in-store tailgating booklet)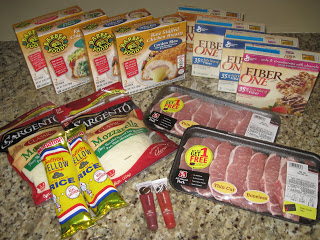 At Winn-Dixie I spent $23.87 for $63.21 worth of groceries, a savings of 63%. I learned that the trick to a hassle free check-out at Winn-Dixie is to a.) pick the teenage cashier who is more concerned with flirting with the bag boy than inspecting your coupons, and b.) hand her the coupons first, wait for the total, and then use your Winn-Dixie card and wait for the new total.
Coupons Used:
(2) $1.00 off any Cover Girl product (Proctor & Gamble insert, 8/29)
$0.50 off 2 Sargento Cheese (Smart Source insert 8/29)
Altogether, I spent $43.89 for $142.33 worth of groceries, an average savings of 69% for the day.
Combined with my
Sunday totals
,
this week
I spent a total of $66.72 for $352.47 worth of groceries, an overall average savings of
81%
!
If you are new to couponing and would like to learn more about getting started, be sure to check out my
beginner's guide to couponing
on the left hand menu!