I'll be honest, today was not one of my better shopping days. Savings-wise, I still did fine, but I was frazzled and disorganized, and generally a bit crabby overall. The last day of the month caught me by surprise, and I feel like I have been rushing around all day (even more than normal) trying to catch up on all the things I wanted to have done by today. I never did catch up and spent most of the day feeling frustrated. I left for Publix without organizing my coupons and my checkout was a complete disaster. I'm pretty sure I missed out on some major savings, but everything was so scattered that there is no way to be sure. The very un-friendly cashier didn't help matters either. Of course she was probably just mirroring my bad mood. UPDATE:  I couldn't shake the feeling that something was wrong with my total. Turns out I was right. I was charged full price for something I didn't end up buying (because it wasn't on sale. I went back for a price adjustment today & my new (better) totals are reflected below.
It's a shame too, because there were some really nice things that happened this week. I received a stunningly beautiful handmade thank-you card in the mail from Crystal (the winner of my first share-the-wealth giveaway.)  And a few days ago I received 6-$2 off Smart Balance milk coupons in the mail from Olenka, a fellow blogging frugalista, which I was able to use yesterday while they were still on sale at Publix. (I included that purchase with today's shopping report.)  And as if that weren't enough, I'm getting a fabulous blog makeover from Seventy Two Blog Designs.
So enough of all that negativity. It's time to snap out of it and move on!
Speaking of which, on to shopping: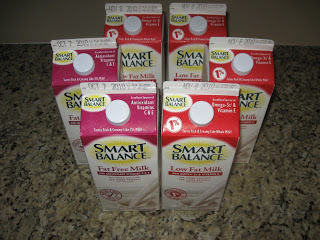 At Publix yesterday I spent $3.00 for $21.54 worth of milk, a savings of 86%. Thanks again Olenka for sharing your coupons. That was amazingly sweet of you!
Coupons used:
(6) $2 off Smart Balance Milk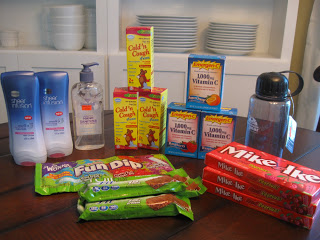 My first stop this morning was to Walgreens. I normally do all my drugstore shopping on Sunday, but this Walgreens was right next to Winn-Dixie and the freebies were really good this week, so I thought I'd just run in and see if they had anything left. I ended up paying $3.30 for $76.96 worth of merchandise, a savings of 96%. I also tried one of those Full Bars today and they are both tasty and filling! If I were dieting, I would definitely pay money for a snack like that!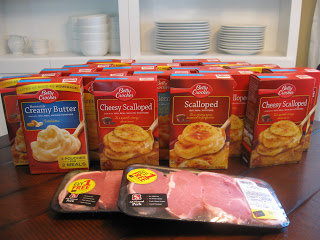 I almost didn't bother with Winn-Dixie again this week, but they had Betty Crocker scalloped potatoes on BOGO sale. My husband and kids really like those AND I had a whole bunch of coupons from the Pillsbury Better at Home booklet that was available at the grocery stores a few weeks ago. While I was there, I figured I would grab a few more pork chops, which are also a hit with the fam. At Winn-Dixie I spent $15.77 for $49.20 worth of groceries, a savings of 68%.
Coupons Used:
(9) $1 off of 2 Betty Crocker Boxed Potatoes (Better at Home booklet)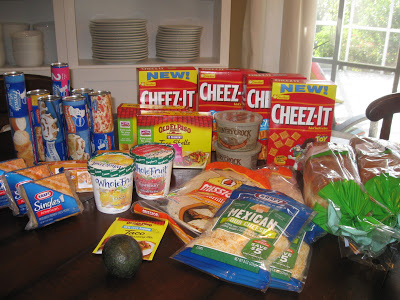 On my main trip to Publix today, I spent $27.08 for $89.76 worth of groceries, a savings of 70%. I somehow completely forgot about the Hamburger Helper, so I may go back later this week.
Coupons Used (not sure if they were all processed correctly):
(2) $5 off 5 Kraft Dairy products (no more prints available)
(2) $1 off Publix bread when you buy Kraft Singles
(4) $0.55 off Kraft Singles (Publix coupon–
print here
)
(4) $1 off Kraft chunk cheese (Publix coupon, no more prints available)
(2) $1 off 2 Cheez-It crackers (Red Plum insert, 8/29)
(2) $0.50 off Whole Fruit Sorbet (Red Plum insert, 7/25)
(1) Free Hass Avocado (no more prints available)
(2) $1 off 2 Pillsbury Sweet Rolls (Better at Home booklet)
(1) $1 off 3 Old El Paso Products (Better at Home booklet)
(1) Free Old El Paso Taco Seasoning when you buy 2 boxes of shells (peelie on box)
(2) $0.40 off Country Crock (All You Magazine, August 2010)
Overall, I spent $49.15 for $237.46, an average savings of 79% for the day. Combined with my
Sunday totals
, this week I spent $71.90 for $462.08 worth of groceries and drugstore merchandise, an average savings of
84%
for the week.