There were a few things I still wanted to snag before the grocery stores switched promotions tomorrow. Unfortunately, waiting until the last minute did not work in my favor at Winn-Dixie, where they were out of Kibbles & Bits (on sale for BOGO + $1 off coupons) and Lysol Toilet Bowl Cleaner (also BOGO + coupons), which, neat-freak that I am, I use on a daily basis and can't get enough of. Alas, I did get a raincheck and the gal told me they should be restocking both items tomorrow, in time to still use my coupons which expire on 7/31. Anyway, I did still manage to get a few other great deals! Overall I spent $28.57 for $88.98 worth of groceries, a savings of 68%.
Here is what I got: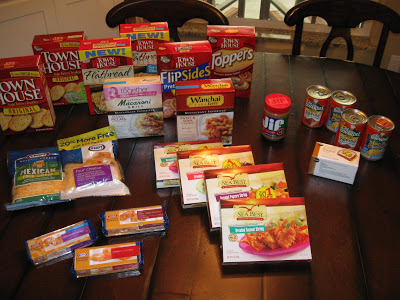 At Publix, I spent $0.37 for $8.85 worth of groceries, a savings of 96%! (Chef Boyardee cans were on sale for BOGO, plus I had 4 $1 off Target (competitor) coupons and a $1.50 manufacturer coupon, which left me with a profit of $2.50, which I put towards some much-needed butter.)
At Walgreens, I spent $0.00 on a $3.59 jar of Jif Peanut Butter. (I had a $2 register reward leftover from my last visit, as well as a 2/$4 coupon from the Sunday paper.)
Finally, at Winn-Dixie I spent $28.20 on $76.54 worth of groceries, a savings of 63%.