I don't normally shop on Tuesdays, but I wanted to quick run into Publix to grab some Bailey's coffee creamer while it was still on BOGO sale. (There was a $1 off coupon in this past Sunday's paper.)  When I got there, I remembered that sweet onions were on sale and I had forgotten to grab them last Thursday even though they are on my Thanksgiving list. The Bailey's creamer was completely sold out, but since I was there I couldn't resist grabbing a free avocado and a very cheap can of pinto beans.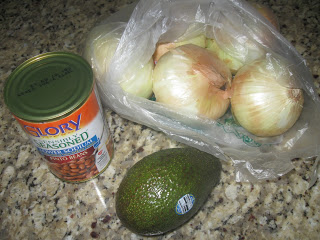 I spent $1.41 for $7.58 worth of groceries, a savings of 81%. I also got a raincheck for the creamer, so I should be able to grab it next time.
Coupons Used:
(2) $1 off any Produce (Target coupon, no more prints available)
Combined with my CVS trip on
Sunday
, this week I have spent a total of $11.55 for 108.72 worth of groceries and drugstore merchandise, an average savings of
89%
for the week so far.