Want to stretch your dollars and make the most of what you have on hand? There are lots of cool ways you can up-cycle items that might otherwise get thrown away–check out these 7 smart new uses for old things to get your creative juices flowing!
Have you ever heard of upcycling?
In a nutshell, "upcycling" simply means finding new uses for old things, rather than just tossing them out. For those of us who enjoy being thrifty and crafty, upcycling can be tons of fun, super inspiring, and a great way to decorate or make gifts for others. Not only does upcycling stretch your dollars a little further, but you can feel good about giving new life to items you might have otherwise thrown out.
As much as I love to declutter and simplify, there are times when reusing and repurposing can really come in handy. The idea is that we should not spend money on more, when something on-hand will do.
Next time you find yourself annoyed or wrestling with something around the house, take a moment to ponder (or Google) a new way to address the issue. Before you run to the store, look at what you have on hand.
This can be a great life lesson exercise for the kids too—whether it applies to dress up, pet toys or just household chores and duties. Try searching for terms like "Upcycle," "DIY," and "Life Hack." You'll be amazed at all the tips and tricks you find…it seems there's a new or better way to do nearly everything!
All this resourcefulness isn't new, or limited to the internet, for that matter. Challenge yourself to get creative and think like your grandmother did during the Depression. Don't go to extremes, but within reason, many little items can easily be reused. My grandparent used to save everything—from cereal boxes to yarn scraps to rubber bands (which can open any stuck lid including nail polish!)—but everything that came into that house was reused…even food and meat containers. Yikes!
While saving too much can make for a disorganized (and scary) problem, trying to repurpose packaging and other items can keep them out of the landfill and help stretch your budget. I'm always amazed at how easy it is (most of the time) to bring new life to ordinary and old things.
Here are a few ideas to get you started: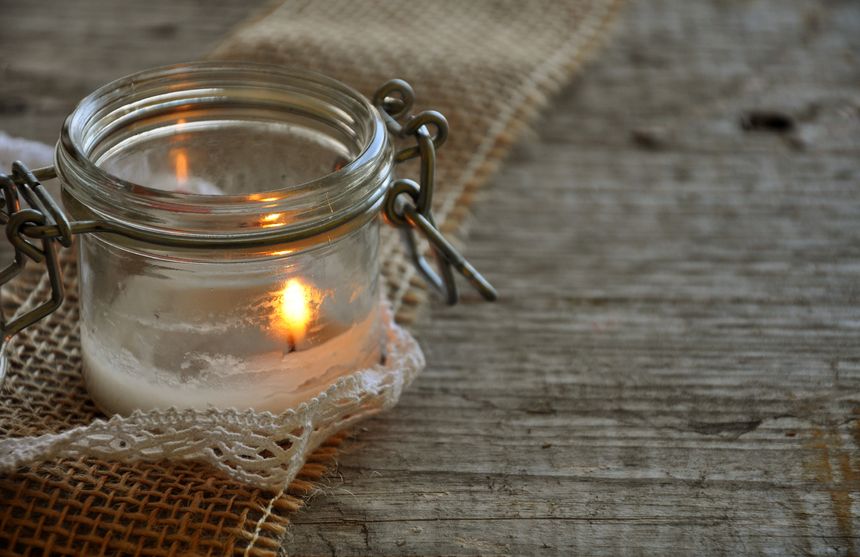 From Empty Jar to Layered Candle
I love a scented candle. (Who doesn't?) While some can be a little strong or perfumy, there are some lovely single note candles out there that really make your house smell great. They can be pricy though and once a candle is burned down, you end up with a bunch of jars with black rims, and about half an inch of unused wax in the bottom. Rather than just throwing out the candle, try reusing the wax and jar to make a beautiful and fragrant layered candle! Wicks are very inexpensive ($2-$3 for 10) and can be purchased at a craft store. Gather all of your candles and try to group them by similar scents (cinnamon, vanilla, spice or strawberry, pineapple, cherry).
Here is an excellent tutorial on making beautiful layered candles. To reuse your jar, simply wipe clean with a paper towel dipped in orange oil, Goo Gone or baby oil to remove residual wax, labels and carbon staining around the top—and/or try running your candle jar through the dishwasher.
From Lotion Bottle to Cell Phone Charging Center
As much as we try to cut back on product packaging that comes into our house, it seems we still generate a fair amount of trash. When thinking of upcycled crafts, I like to try to repurpose used containers and items, rather than simply throwing them in the garbage. Plastic bottles can be recycled, if offered by your city, but there are other fun uses for plastic bottles in pretty colors. Method brand cleaning bottles look like colored glass when cleaned and spruced up. They can make pretty vases and holders for pencils and other little items.
One of my favorite ideas for plastic bottles is as a charging station for your cell phone. There are several internet tutorials on how to do this, but the best I've found is this one on Make It & Love It. Sketch out the shape and, using scissors or an X-ACTO knife, simply cut the container into a holder that fits right over the outlet! This keeps cords up and out of the way for little ones and prolongs the life of your charger, since you won't be tripping over it and ripping it out of the socket.
I also love the idea of using Mod Podge and fabric to dress up the container a little bit. Pick a print that nicely fits your décor or that will blend in to any room. It's a perfect resting place for your phone to safely sit while it charges and a perfect way to easily locate your phone when it's done!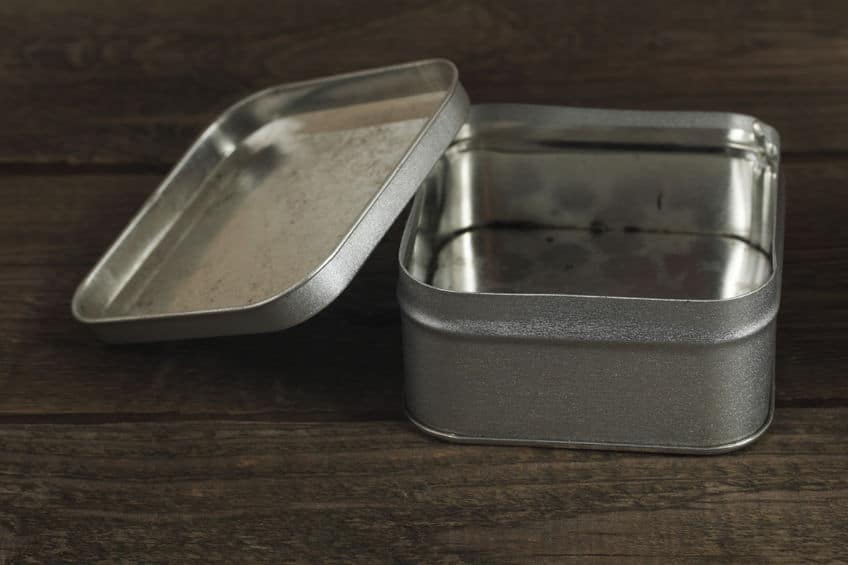 From Mint Container to Tiny House
Pill bottles and mint containers can also make great upcycle items. Tiny tins are generally a great way to store little items in your bag and purse. Use clean, recycled pill bottles in your car to store tokens or quarters for tolls and meters, a few emergency essentials (matches, Band-Aids, needle and thread), or even extra grocery bags and/or doggie clean-up bags. Altoids and other candy tins are especially coveted around our house because they offer so many options.
One of the cutest mint tin uses I've seen is to create a "tiny house." If you have girls you KNOW the fascination with all things tiny—Polly Pocket, Littlest Pet Shop…anything small that can be carried in a bag or purse can make for hours of play. Rather than dropping $5-$20 on a "tiny toy" at the store, get creative and make your own little menagerie.
There are several tutorials online, and I love the versatility—from animals, to dollies, to mini-monsters, there's a mini-house for everything. This tutorial on Tea Rose Home shows how to build and decorate a tin to create a little bedroom. Felt scraps, pretty papers and even clay like Sculpey can be used to decorate and accessorize your tiny house.
The next time you have a rainy afternoon, or you just need a project that the kids can get into for a few hours, a tiny-tin home is your new go-to.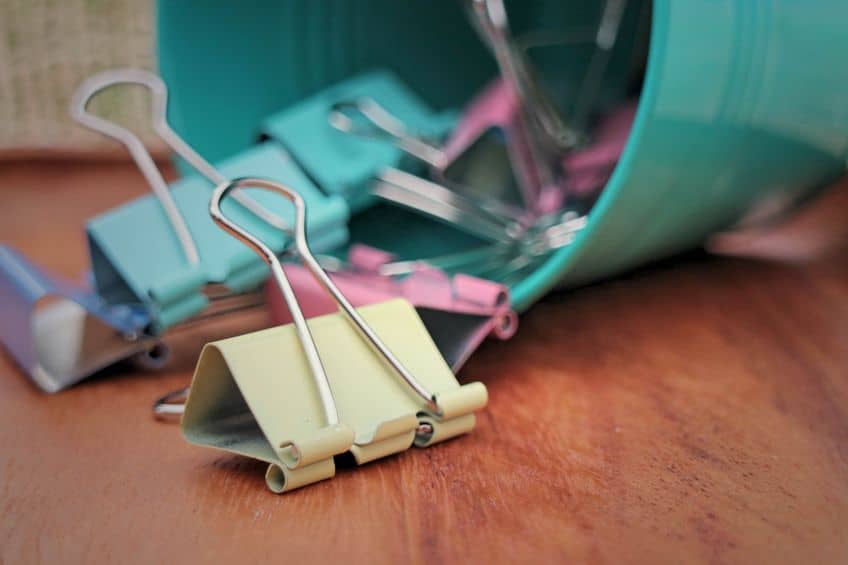 From Clips to Organizing Tools
Many household items can be repurposed to help with your organizing. Binder clips can help organize cords, as well as serve as great chip clips, razor covers, and more. Paper clips are great for cleaning out small crevices and can also be used to hang necklaces with outfits, hang multiple hangers together while ironing, act as pull tabs for zippers, and much more.
Those little bread tags that always end up on the floor can be reused again to organize cords (it's a continuous quest, really), or as wine glass markers. Bread and garbage bag twist ties also come in very handy when something needs to be repaired quickly—from a key ring, to a zipper pull, to trellising up some tomato plants—any time a short piece of coated wire is needed.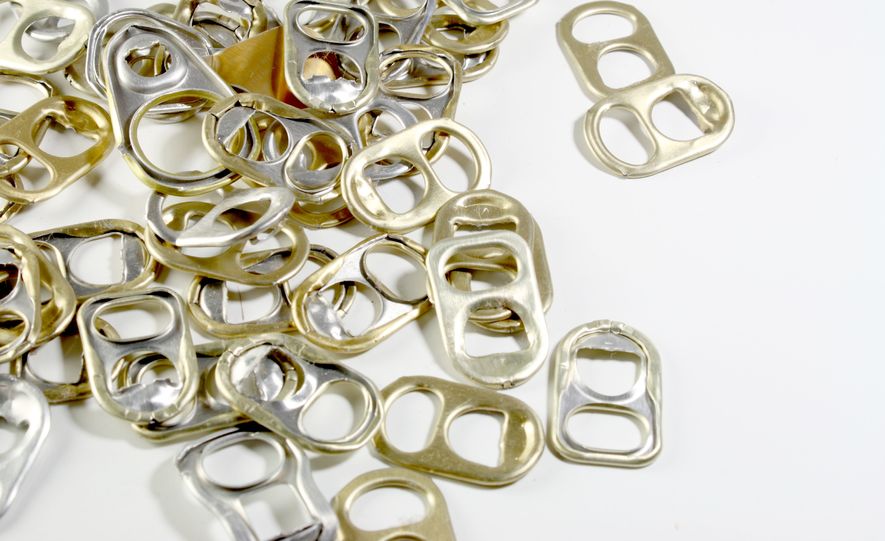 From Soda Pop to Substance
Pull tabs from your soda cans (something we often toss without a second thought) can be used as picture hangers, made into bracelets, purses and even dresses, or given to Ronald McDonald House Charities.
Not everyone has a surplus of cans, of course, but even if your family members aren't big soda (or beer) drinkers, it seems that, at every party and get together, cans abound. Of course crushing them down and hauling them to the recycling center is the preferred option to trashing them and watching them add to our landfills. Aluminum, however, is also very easy to work with and fun to sculpt. You can make jewelry, bracelets and decorations. (Just be careful, because the raw edges can be very sharp!)
My girls love butterflies, so when I saw these soda-can garden butterflies, I couldn't wait to try them. Using just scissors and wire (or a die cut machine, if you're brave about cutting metal with yours), you can make beautiful decorations that are suitable for the yard, the Christmas tree, or to enhance a gift package. Try turning them into a pretty mobile, and use twigs and string for a natural effect. I love the contrast of the natural with the commercial printing on the cans. If you prefer, you can also create leaves like these beautiful leaf ornaments from Little House in the Suburbs. They catch the sunlight and sparkle when hung from windows.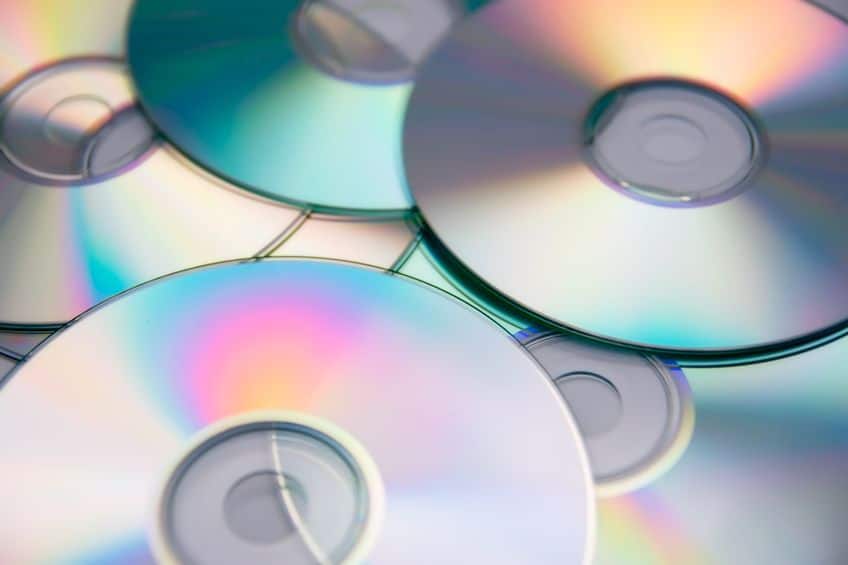 From CDs to Coasters
One of the most challenging upcycles is electronic items. First, there were cassettes and VHS tapes—and now with MP3s, there are CDs, DVDs, old iPods and more.
First things first: be aware that many larger electronics and items such as ink cartridges and even cellular phones can contain harmful chemicals from the manufacturing process. These should be properly disposed of, rather than made into cute crafts (of course). Many schools and other non-profits offer recycling programs for ink and small electronics, which can sometimes earn you some extra money. Check with your child's school to see if they offer such a program. The Apple Store will recycle iPods and iPhones and may even offer you credit towards your next purchase for the exchange.
For all the other little electronic items (cords, cassettes, discs and more), start thinking outside the box. One of the biggest challenges I've found when repurposing electronics is that frankly, they just aren't that attractive to begin with, and they only fit a certain aesthetic. Still, with a little research, there are lots of ideas that can work for anyone. If you're feeling extra ambitious you can also get really creative with CD cases and make a little greenhouse just like they did at "So You Think You're Crafty."
For old CDs, one of the more attractive solutions I've found are these cute coasters. Using a decoupage medium like Mod Podge, fabric, scrapbooking paper or other cute patterns—it's actually really simple. Trace the CD, cover in the medium, and then seal with a polyurethane sealant. (Mod Podge will leave the surface slightly sticky, especially when holding glasses with condensation.) These coasters last for a good while, but many of us have so many old CDs and DVDs around, we could probably make a set to go with every season.
From T-Shirt to Shopping Bag
Plastic bags are really terrible. They're bad for the environment from the manufacturing process right up until they end up in the oceans or in landfills. As we've tried to simplify in our house and become conscious consumers, we've cut back on our use of bags as much as possible. I fervently try to bring shopping bags with me wherever I go, so I keep them in my car, purse and stashed other places, lest I forget them.
There are always reusable shopping bags available for purchase at the store and they're of course, highly preferred to plastic, but why not simply make your own? I've found several tutorials that require minimal sewing skills and just an old t-shirt or pillowcase—it doesn't get any simpler than that!
To make a shopping bag from an old tee, simply stitch along the bottom of the shirt to hold it together, cut off the arms and neck and you have a bag with handles. If you prefer something that looks a bit more polished, try making a "mesh" bag. These fold up really small, so you can stash them in your car, diaper bag, gym bag or desk.
When it comes to repurposing and upcycling, get creative and challenge yourself to find new uses rather than just buying something new at the store. Clothing, furniture, toys—all of these items can be donated, sold or made into something that will bring joy and a sense of purpose to your family. Giving new life to old things can be incredibly satisfying. You may even find you have a real flair for recycled crafts!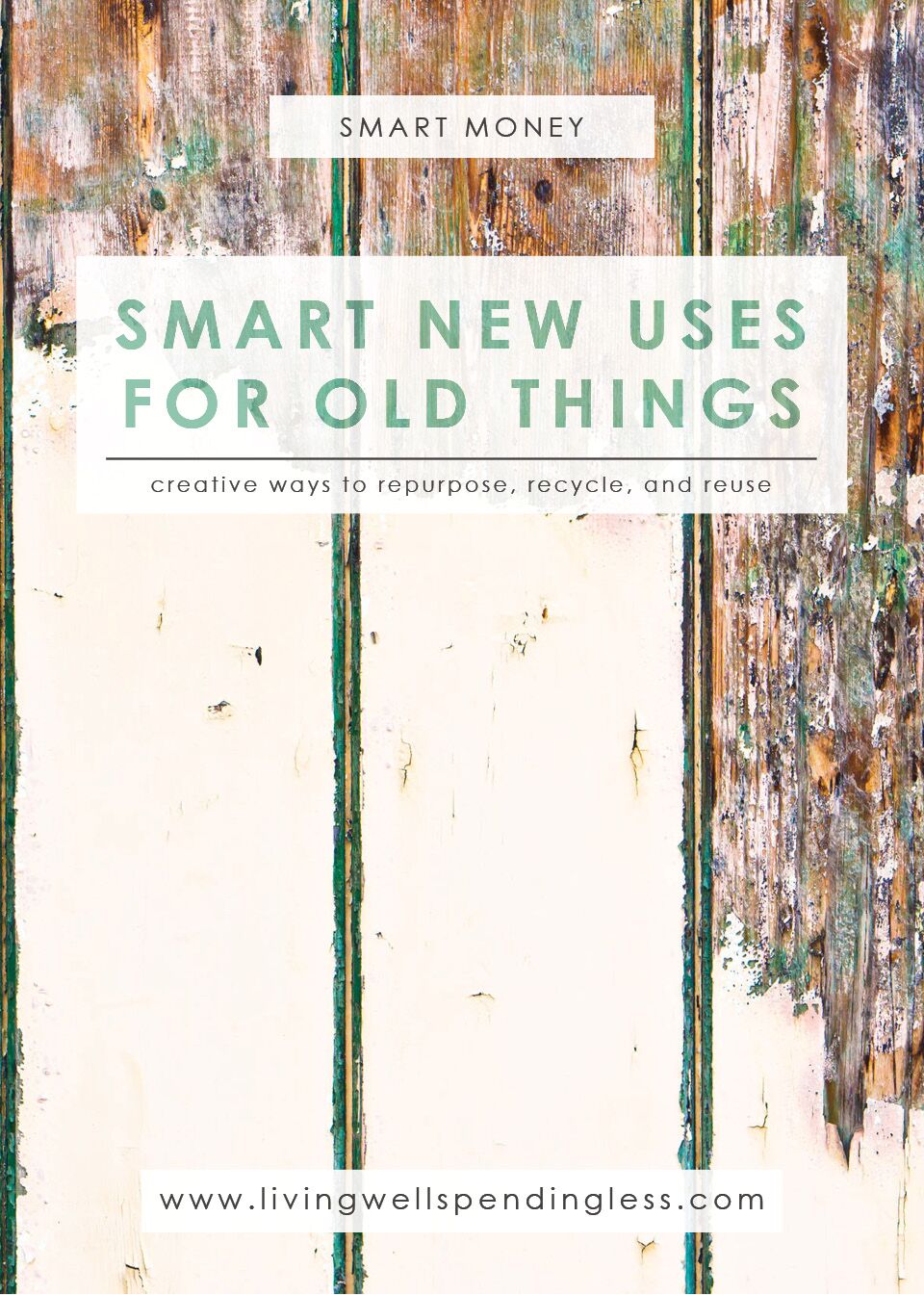 TAKE BACK CONTROL OF YOUR HOME LIFE
---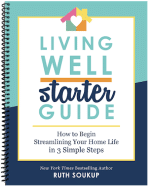 Ever feel like you just can't keep up? Our Living Well Starter Guide will show you how to start streamlining your life in just 3 simple steps. It's a game changer--get it free for a limited time!
If you love this resource, be sure to check out our digital library of helpful tools and resources for cleaning faster, taking control of your budget, organizing your schedule, and getting food on the table easier than ever before.