Things have been a little slow at Walgreens for the past few weeks, but they made up for it today with some great free-after-Register-Rewards deals. I finally found some of that elusive Listerine Zero (and better yet, got it for free!)  There was a pretty good deal on sugar ($1.99 Walgreens coupon in paper + a $0.40 off manufacturer's coupon in this week's Red Plum insert = $1.59 for a four pound bag of sugar!)  I love to bake so I have been trying to find ways to save on those baking staples that don't seem to go on sale very often. I was very excited about the free (after RRs) Hair & Nails vitamins and free Carmex lip balm. The Tylenol Precise cream and pain relieving pads were a steal at $0.99 each (after store and manufacturer coupons–normally $7.99 each!), but I don't know how excited to be since they are a new product that we've never tried before.
My big splurge for the week was for 2 four-packs of Starbucks Mocha Frappuccinos. I am originally from the Seattle area, which means I have been drinking Starbucks almost from the time I could walk. (Okay, maybe not that long, but at least as long as I've been able to drive!)  My husband hates Starbucks (along with all things trendy), so it drives him crazy that I can't seem to break my coffee addiction. They were on sale for 2 for $10 and there was a $1 off of 2 coupon in the September Walgreens Coupon Booklet (available at the front of the store). I also had 2 $1 off coupons that I printed from the Starbucks website, which made them $3.50 each. Not exactly a steal, but I'm hoping that Starbucks in my fridge at home will help curb my habit and allow me to cut that item out of my budget this next month!
All in all, I spent $15.02 for $75.08 worth of merchandise, a savings of 80%.
Here is what I got: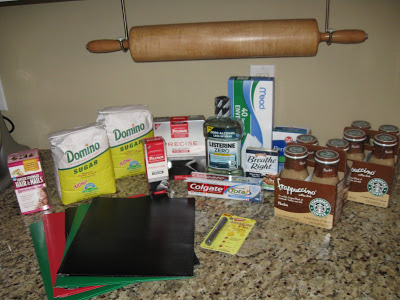 As with all my shopping result posts, please feel free to post a comment if you have any questions on which coupons I used or where I got them! I love reading your comments & I am more than happy to help in any way I can!