I subscribe to at least 10 magazines. So many that I don't have time to read them all. I know I should let some of the subscriptions go, but I can't. I love them. The pretty colors, the pictures, the craft ideas, the home decorating advice. And the recipes. Oh, the recipes!
Lately it seems I have had even less time to pore through them, (though I somehow managed to add 3 more subscriptions to my pile), often managing barely a quick page through before they hit the magazine shelf, only to be covered up in a few weeks' time by another issue I don't have time to read. Over the past few months, however, in those quick glance-overs I have noticed several recipes for a watermelon-feta salad. They have caught my eye because a.) the flavor combination sounds so interesting and b.) the colors in the pictures were so vibrant and mouth-watering. So somewhere in my brain, I tucked away the idea.
Fast-forward to 5pm this evening, when I had to [once again] come up with a delicious dinner on the fly. My family is actually pretty easy to satisfy–give them some sort of meat, peas or corn, and some sort of starch and they are perfectly content, thrilled actually. And with all the coupon shopping that I do, I have enough meat, frozen veggies, and rice/potatoes to keep them happy for a long time to come. As a vegetarian my own tastes, on the other hand, are a little more complicated. So tonight I put the Broccoli & Cheese-stuffed chicken in the oven for my family and searched the fridge for something to make for myself.
This weekend on our drive back from Orlando, we randomly stopped at a roadside fruit stand and loaded up on some really cheap watermelon. And last week, feta cheese was on sale at Publix AND I had a buy 1 get 1 free coupon. As I peered into the fridge, all those cursory glances through my favorite zines came rushing back and it hit me:  Watermelon Feta Salad.
There was only one problem.
I had absolutely no idea in which of my gazillion magazines I had seen the recipes, and searching could literally take hours. I had 20 minutes.
I decided to wing it.
I filled a medium size bowl with chopped up watermelon, added some very thinly sliced onion (about an eighth of a medium Vidalia onion) and a few ounces of feta cheese, then mixed it all together. I then spooned some onto a plate, sprinkled it with pepper, and drizzled it with balsamic vinegar glaze.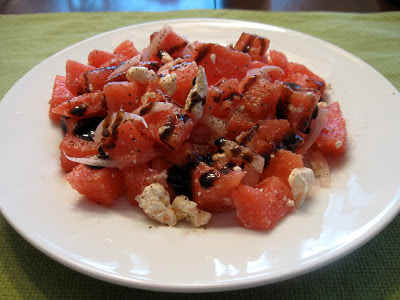 And I have to say, it was incredible! I'm almost embarrassed to admit that I couldn't get enough and I ended up eating the whole bowl all by myself. (Luckily it is also a fairly low-calorie meal, not to mention super easy, quick, and cheap!) It's not for everyone–my husband and kids refused to even taste it–but if you like flavorful foods, give it a try. You won't regret it.