Struggling with unhappiness during the holidays? Don't miss these 4 questions to ask yourself to help take the pressure off this holiday season!
"When I put makeup on is when I'm pretending the most," Sally said, "And holiday time is the worst. I have to wear make-up for days."
Sally is not my friend, she is my patient.
I am a Family Physician who takes care of Sally and her family's physical needs. The holidays, though, have a knack for bringing out the other side of life – the emotional needs. Like Sally, so many women feel the worst at a time when they should be celebrating the best in life. And, boy, are we good at making ourselves feel bad about that.
Sally lost her husband this year to a cruel disease called dementia. She is a pastor who gives advice all day but struggles alone at home at night. She wears her make-up on days she feels especially vulnerable as she says, "People will just comment on that. They say how good I look that day. Deep down, I know that I am just existing."
I looked at Sally in my little exam room and replied, "You have no idea how true that is for so many women. So many women live a life of just existing." In fact, in the United States today, women are twice as likely as men to be diagnosed with depression.
And that's especially true during the holidays. A study by the American Psychological Association found that nearly half of women in the United States experienced heightened stress during the holidays. With extra schedule stressors, financial pressures to provide the perfect holiday, and the long dark days this time of year, the holiday blues quickly become holiday burnout. An NBC poll showed that 45% of Americans would prefer to skip Christmas altogether.
I can understand why. And if I'm being totally honest, the truth is that I often "put on the make-up" during the holidays myself.
As the mother of 2 biological daughters and 3 step-sons, we have 4 families to contend with, in one day. Holiday negotiations typically begin a month in advance. My mother-in-law doesn't want to eat that early, my nieces don't want to get up that early, and my ex-husband has nothing scheduled at the time he has my daughter and needs to renegotiate. It becomes my part-time job to nail down the specifics of a "perfect" holiday.
My husband, year after year, just throws his hands up and says, "This is why I hate the holidays." When this moment occurs, and it does every time, I know I will get no further assistance from him. Like 45% of Americans, he has gotten to the point of hating most holidays.
But last year, everything changed. We had a baby.
And that baby, in more ways than one, changed my mindset and my priorities, because I wasn't willing to keep allowing misery to be our holiday tradition.
Instead, I started asking myself four simple but powerful questions–a practice that literally changed everything.
And if you're also struggling with unhappiness during the holidays, I recommend you take a few minutes and ask them to yourself.
Why Aren't You Happy? How to Take the Pressure Off This Holiday Season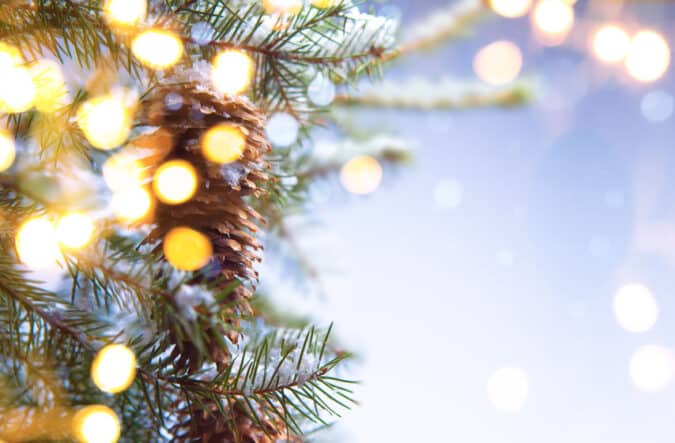 What are my favorite memories of this holiday?
Take a moment to close your eyes and picture your favorite holiday from years past. What sticks out in your mind?
Think about the setting – was it warm? Cool? Are there certain smells that come to mind? Was there music playing in the background? Do you remember a certain treat or food from the event?
Is there anything specific that makes this holiday unique? Is there a special tradition that you just loved?
For most people. It is the sense of holiday and tradition that sticks. The memories that remain strongest in our brains are either associated with a certain sense (the smell of the Christmas tree, the warmly lit room, etc.) or are repetitive in nature.
More than likely, there are just a few specifics from any holiday that come to mind. That's good news for us as busy moms – it takes the pressure off all the rest. Those few specifics are the things you should focus on and make sure to include every year. Create a warm environment and then ditch the extra work!
Are my expectations realistic?
Moms put so much pressure on ourselves to continue tradition, set perfect memories, and make everyone else happy. A sick child or grumpy teen can ruin that perfect holiday picture in no time and result in a grumpy mom. And nothing ruins holidays more than an unhappy, tired, bitter mom. That is something within your control.
Avoid setting yourself up for failure by setting realistic expectations for the holiday. And if you have a big goal to change a holiday tradition, consider staging it over a few years. You will reach the same goal with less external chaos in the process.
Feeling stressed, burnt out, or overwhelmed? Maybe it's time to step back and take a break! Check out these 20 signs that you're pushing yourself too far.
Will this matter to me in 20 years?
When things don't go as planned, we have a choice: Roll with it and make it fun or wallow in our misery. And often we pick unhappiness due to unrealistic expectations.
Some things you cannot prepare for, trust me I have tried. When those unfortunate events occur, we know as moms we are more than capable of rolling with them – we do it every day. And the holidays are no exception.
If you too find yourself and your family sitting at a lonely kitchen table on Christmas morning, think to yourself, "Will this matter in 20 years?" And choose to go grab a coffee and look at Christmas lights rather than focus on that empty table. I know it sounds cliche but that mindset alone practiced repetitively will help change your holiday frustrations.
Do I really want to "put on the make-up" today?
We don't actually have to "put on the make-up" every day – Sally doesn't. It's a choice we make to cover our imperfections and put up a shield. Sometimes we may need that shield to protect a fragile scar. That may be especially true during the holidays.
Nothing is more ingrained in our souls than a judgmental parent or family member to bring out the need to put on a show. It brings up our childhood shame that we, as adults, struggle to overcome. The antidote to that may be a little make-up in the moment but, at heart, is the greater need for self-compassion.
Dr. Kristin Neff, associate professor at the University of Texas Austin, is the reigning queen of self-compassion in my book. She describes 3 fundamental elements in practicing self-compassion: kindness, mindfulness, and common humanity. And common humanity is huge at the holidays. Dr. Neff describes it as, "Remembering that everyone is imperfect and lives an imperfect life." (Test your own self-compassion HERE.)
When you realize that the largest aspect shared by all humans is imperfection, it can change your mind altogether. Even that annoying family member who questions all of your decisions. That person is imperfect, too. You are not alone. And "make-up" will not change that.
Keep What Matters – Ditch the Rest
It's a simple exercise, but asking yourself these 4 questions before (and during) your holiday planning will allow you to focus on the things that make a difference and ditch the rest.
After all, as I reminded Sally, her need to "wear make-up" is evidence of a life well-lived, traditions lost, and times gone by.
And we still have memories to create.
Feeling stressed, burnt out, or overwhelmed? Maybe it's time to step back and take a break!
Other resources:
PIN FOR LATER: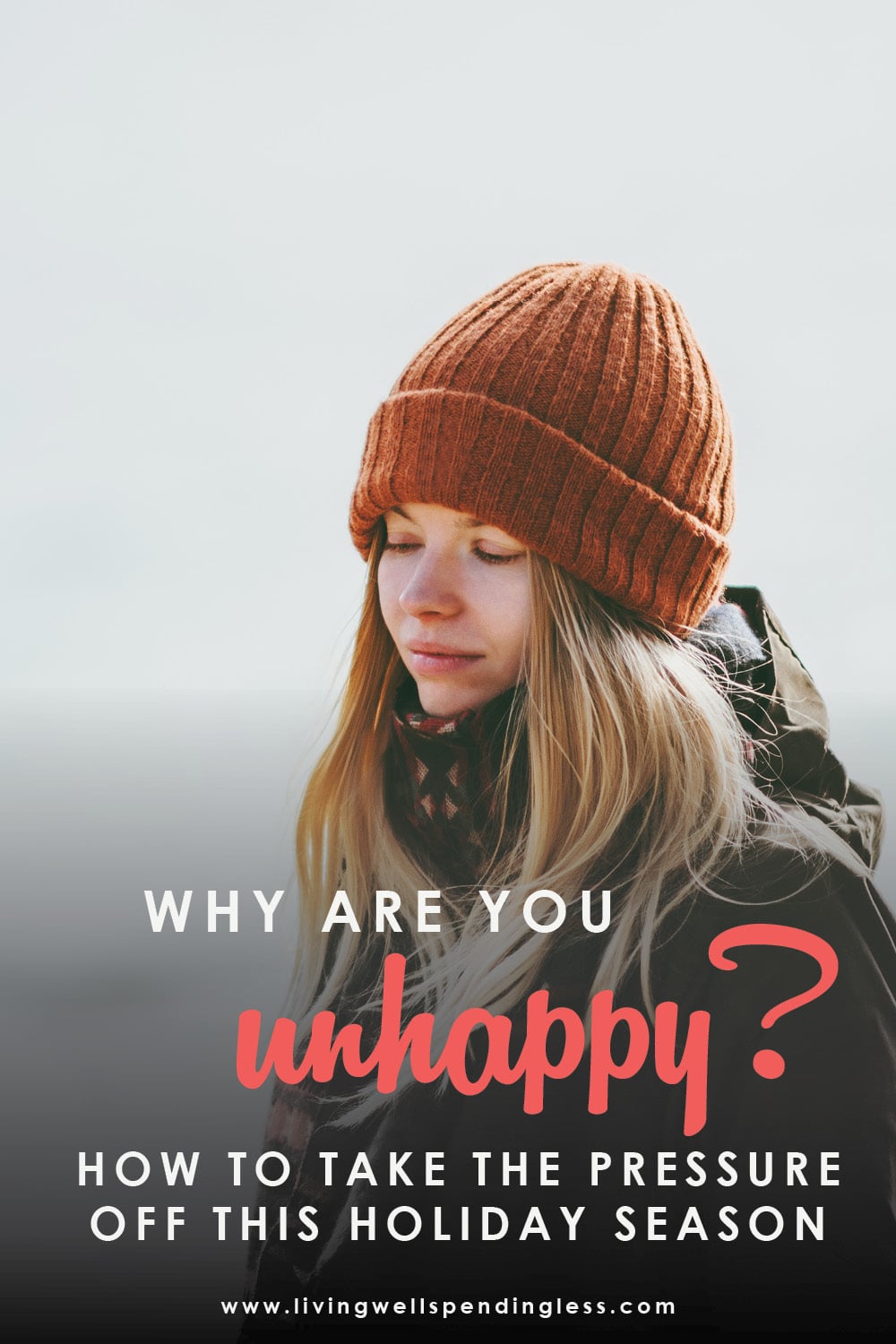 TAKE BACK CONTROL OF YOUR HOME LIFE
---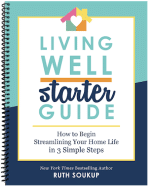 Ever feel like you just can't keep up? Our Living Well Starter Guide will show you how to start streamlining your life in just 3 simple steps. It's a game changer--get it free for a limited time!
If you love this resource, be sure to check out our digital library of helpful tools and resources for cleaning faster, taking control of your budget, organizing your schedule, and getting food on the table easier than ever before.