I love saving money with coupons. I don't always love using coupons. Because, let's face it, clipping coupons—enough to really save a LOT on groceries—is a lot of work. Yes, the payoff is often impressive—I mean, who wouldn't want to bring home $127 worth of groceries for less than $0.25—but the truth is that using coupons is not always feasible.
I know many of you first found this blog by searching for help on how to start using coupons. You stumbled upon my Beginner's Guide to Coupons, mastered the 8 week baby steps program, and are now coupon geniuses. Please don't worry—this is still a good thing! Everything in that guide is still relevant and valid, and if you still love using coupons (or still really want to learn), this post is not intended to dissuade you from using them in any way.
In fact, this post is not meant to discourage those who do use coupons, but rather to encourage and relieve a little guilt for those of you who don't. We all go through seasons, and right now, in this season of my life, I simply don't use that many coupons. These are my main reasons why:
Clipping coupons takes time I don't have
Extreme couponing—the kind that really saves a significant amount of money—takes a lot of time. It literally takes hours to plan one really successful shopping trip, first studying the ad, then making a list and printing and clipping all the correct coupons. I know I've played the "I'm so busy" card a lot lately, and I don't mean to imply that my life is busier than anyone else's, but I've found that right now between working and homeschooling, I am stretched about as far as I can go. There just isn't a lot of time left for planning elaborate shopping trips. Most weeks we are often lucky if we make it to the store at all, and for my own sanity, I have to be okay with that.
I can still save money on groceries without using coupons
My philosophy on groceries has always been this: Any savings is better than none. Just because I don't spend a lot of time clipping coupons doesn't mean I'm not trying to keep my grocery bill to a minimum. As I explained in this earlier post about how to cut your grocery bill in half, the main savings from extreme couponing come not from the coupons, but from the store sales.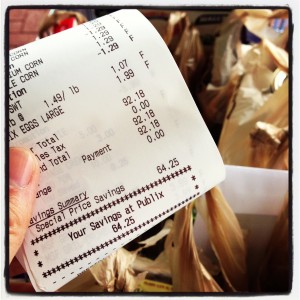 I make a point to shop only for what is on sale, and to stock up on the items I know my family will eat. With the exception of milk and eggs, if it is not on sale, it does not go in our cart. Even without coupons, I generally still save between 30 and 40 percent on my grocery bill each week, and generally still only spend about $70 a week on groceries. (With coupons it was about $50 a week)
I've also been experimenting a little more with digital coupons including the new Publix digital coupon system and coupon apps such as Ibotta and Endorse, which pay you cash back for buying participating items and are quick & simple to use.
Our pantry is plenty full
When I first started using coupons I was so excited at the thought of getting so much for so little that I bought a LOT of food, often without really considering how much my family was capable of eating or whether we even liked what I was buying. As a recovering shopaholic, couponing fulfilled my need to consume.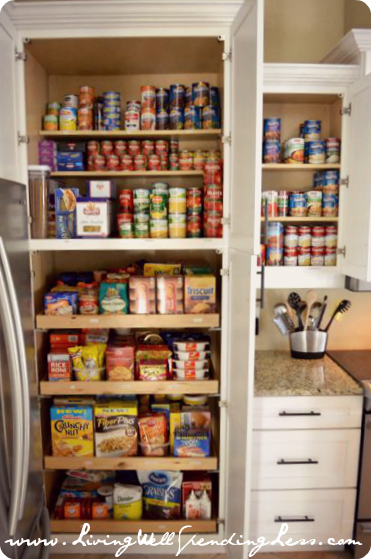 Last fall, when we did our two-month spending freeze and pantry challenge, we were faced with the reality of a pantry full of food we didn't really want, some of which was no longer even edible. We ate as much as we could but we also had to throw away a lot, which felt incredibly wasteful.
Since then I have made a much bigger effort to stock up only on food I know we will eat, and to buy smaller quantities that are more appropriate for our family of four.
We are eating fewer processed foods
While there are still coupons available for healthier foods, many of the available coupons—and most of the super hot deals and freebies–are for heavily processed or junk food. While my family still eats our fair share of junk food (and probably always will), we have been trying to get at least a little more wholesome in the foods we eat, sticking more to fresh fruits & vegetables, dairy products, and whole grains rather than a lot of the pre-packaged convenience foods we ate when I was using a lot more coupons.
We participate in a local farm co-op
This is the second year we have bought a membership to Worden Farm, our local organic farm co-op. Every week we bring home a huge pile of fresh vegetables which means we need a lot less food from the grocery store.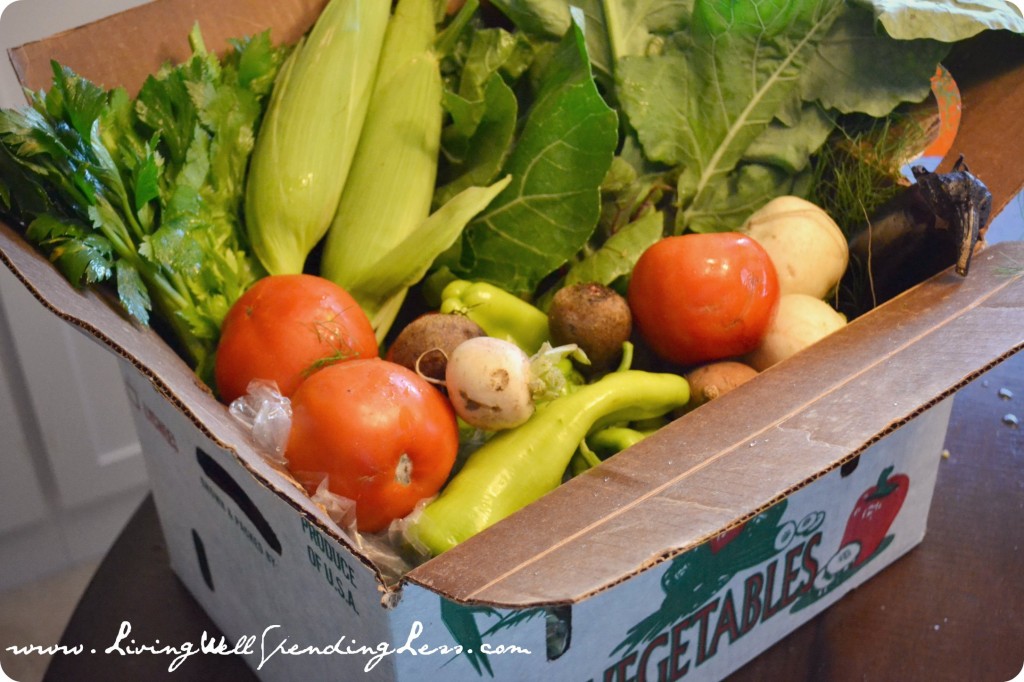 I can't say enough good things about the experience! Not only does it mean healthier, greener meals and less time spent at the grocery store, it completely changed my kids. They literally went from crying and screaming at the sight of anything green to vegetable lovers whose favorite food is now veggie frittata, and will happily eat almost anything.
Our local season is almost over (new memberships will be available soon) but those of you in other areas of the country may want to check out LocalHarvest.org to find a co-op in your area.
* * *
Ultimately the decision to use (or not use) coupons is a personal choice, one you have to weigh against other important factors in your life such as budget, time, and dietary needs. Hopefully in the future I will have more time to devote to coupons again, but for now this is what is fits our season of life. My ultimate goal for this blog is not to shove coupons–or any other way of saving money–down your throat, but rather to inspire you to find what works best for you and your family while being honest about my own ups and downs. Because at the end of the day–say it with me–any savings is better than none!
* * *
Do you use coupons? Why or why not?
TAKE BACK CONTROL OF YOUR HOME LIFE
---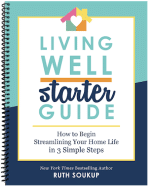 Ever feel like you just can't keep up? Our Living Well Starter Guide will show you how to start streamlining your life in just 3 simple steps. It's a game changer--get it free for a limited time!
If you love this resource, be sure to check out our digital library of helpful tools and resources for cleaning faster, taking control of your budget, organizing your schedule, and getting food on the table easier than ever before.