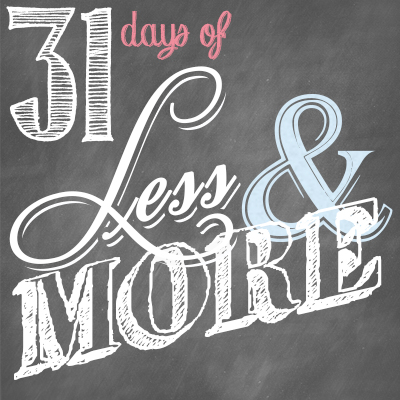 This is Day 1 of our 31 Days of Less & More challenge. To read all the posts in order, start with this post, then visit the Overview Page to see the outline for the whole series.  
 *   *   *
Last October, after practically killing myself to write & publish a post every day for a whole month, I swore that I would never again do another on of the Nester's 31 days series. I loved 31 Days of Living Well & Spending Zero, but by then end of the month, I was exhausted! It was just too much work, too much stress, too much energy….just too much.
Well…..never say never.
Because of course a few months passed, the craziness of the holiday season faded away, and I found myself pondering another idea for 31 days series, spurred by an idea and a need that has been pressing on my heart for some time:
LESS
After a lifetime of always wanting more, I think I've finally come to a point where all I really want now is less. Less distraction, less stress, less heartache, less stuff. At the same time what I truly crave is purpose, joy, peace, and contentment.
When I talked to my dear blogging friend (and accountability partner) Edie about the idea of doing a 31 Days of Less series, she embraced it completely, but she also pointed out the other side. The opposite of less, of course, is more. Nature hates a void; if there is less of something, what will fill its place?
What if, she suggested, we did a series together? 31 Days of Less AND More.  Each day could tackle a different goal—LESS of one thing and MORE of something better.
I thought it was brilliant.
Edie and I are so excited to share this series with you this month. It will be a little different from my regular lineup of blog posts, but my hope is that it will offer something even better. We hope to offer nourishment for your soul and the encouragement you need to make a series of small adjustments that can together add up to a very big change. We have been working on it together for the better part of six months now, and we have been praying daily that this will truly be a month of blessing to each of you.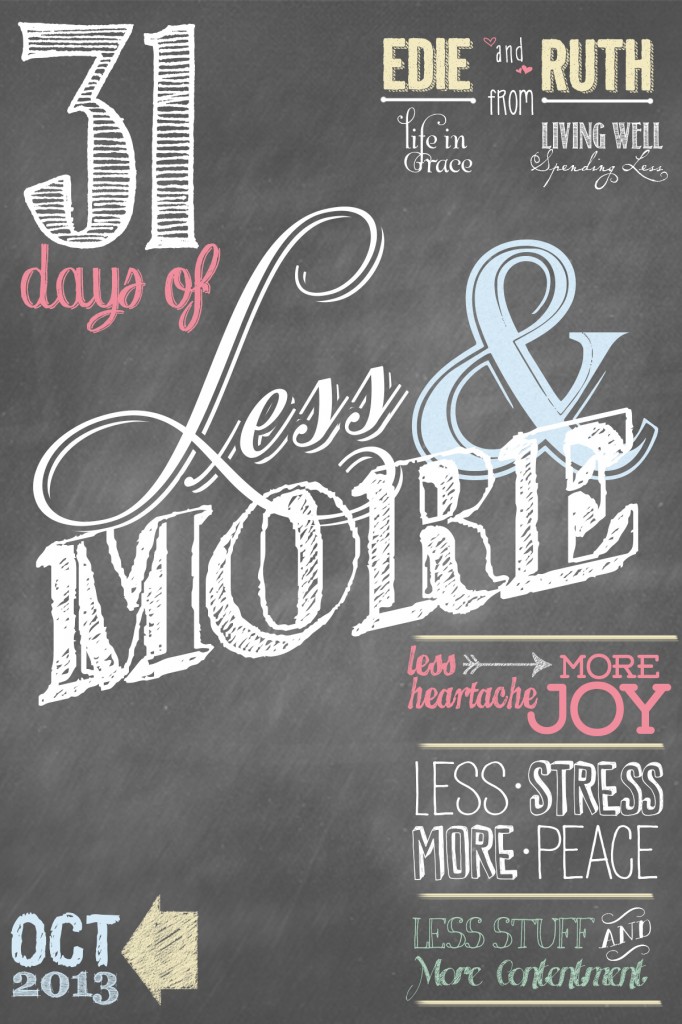 So as not to overwhelm you, each of our posts will be short—500 words or less—and together will give you one small challenge to focus on each day. You can do as many or as few of these tasks as you feel able. Our goal isn't to stress you out, but to offer practical tips and encouragement as we walk through this journey together.
The series will be broken up into three main parts. Part One—days 2-11—will focus on filling our lives with less heartache and more joy. Next, Part Two—days 12-21—will focus on creating less stress but more peace. Finally, Part Three—days 22-31—will hone in on our physical spaces and focus on having less stuff but more contentment.
We will be encouraging lots of support and discussion on our Facebook pages, so be sure to "like" both Living Well Spending Less and Life in Grace on Facebook if you don't already!
Finally, for those of you who want to do another 31 Days of Living Well & Spending Zero, please feel free to do that too! These two series can definitely be tackled at the same time, and I will be joining you in a month of zero spending. If you would like to join the no-spend challenge, be sure to join the dedicated Facebook group here, where I will be posting the challenges from last year each day.
Be sure to read Edie's corresponding post HERE
TODAY'S CHALLENGE:
Commit to joining us for 31 days of Less & More! Public accountability is a powerful motivator, so we strongly encourage you to let others know that you are IN! Leave a comment below or on the LWSL Facebook Page. Even better, post about this challenge on your personal page so that your own friends & family can encourage and challenge you, or perhaps even join you!
*   *   *
Are you ready for this challenge? What are your fears or concerns? What are you most excited about?