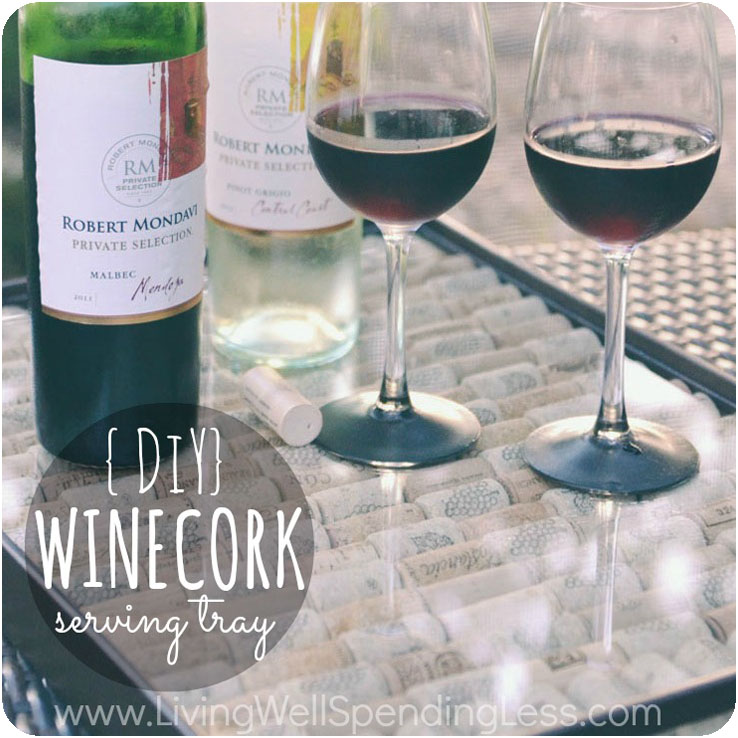 For reasons I can't fully explain, I've been collecting wine corks for almost as long as Husband and I have been together. Am I the only one who does this? I can't even remember why I started or what my original intention was, but after nine years we had amassed quite an impressive little stash of corks from all our favorite wines. (My current favorite is the Robert Mondavi Private Selection Malbec. Less than $11 a bottle and soooooo good!)
A couple of months ago I finally decided it was time to either throw them away or put them to good use.
After pondering my options for a while, I finally settled on the idea of a simple serving tray. It was so easy to make that I almost feel like I cheated, but since it did require both spray paint and a trip to the hardware store to have a piece of acrylic cut to size, I think it still counts!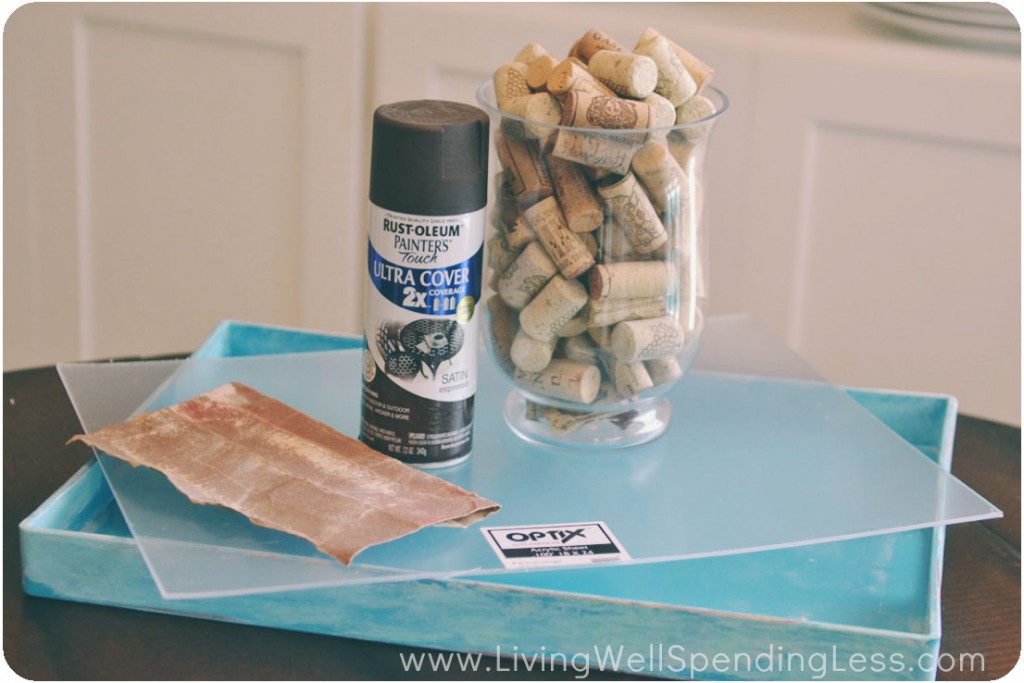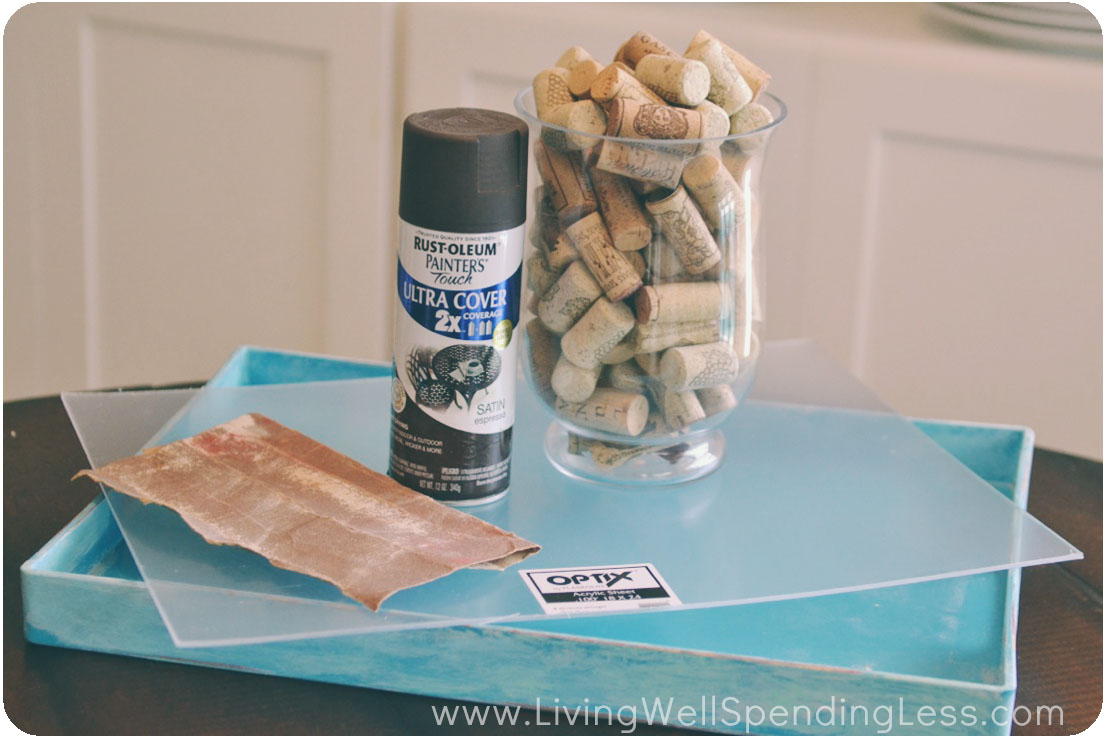 Here is what you need:
old serving tray sandpaper spray paint wine corks (around 150-200 of them) clear acrylic or glass, cut to fit tray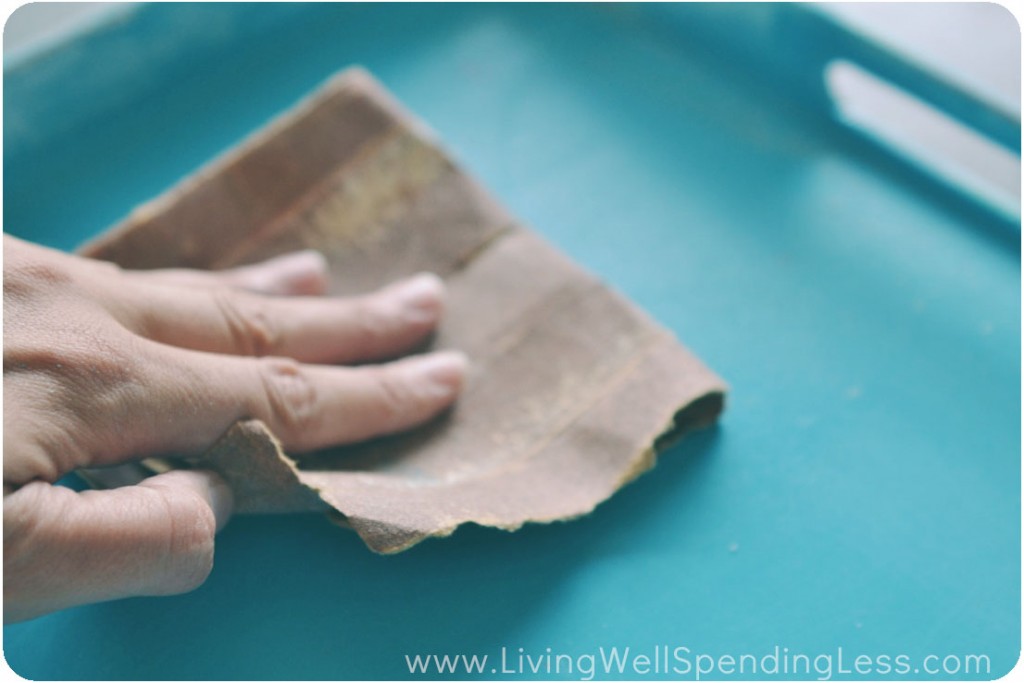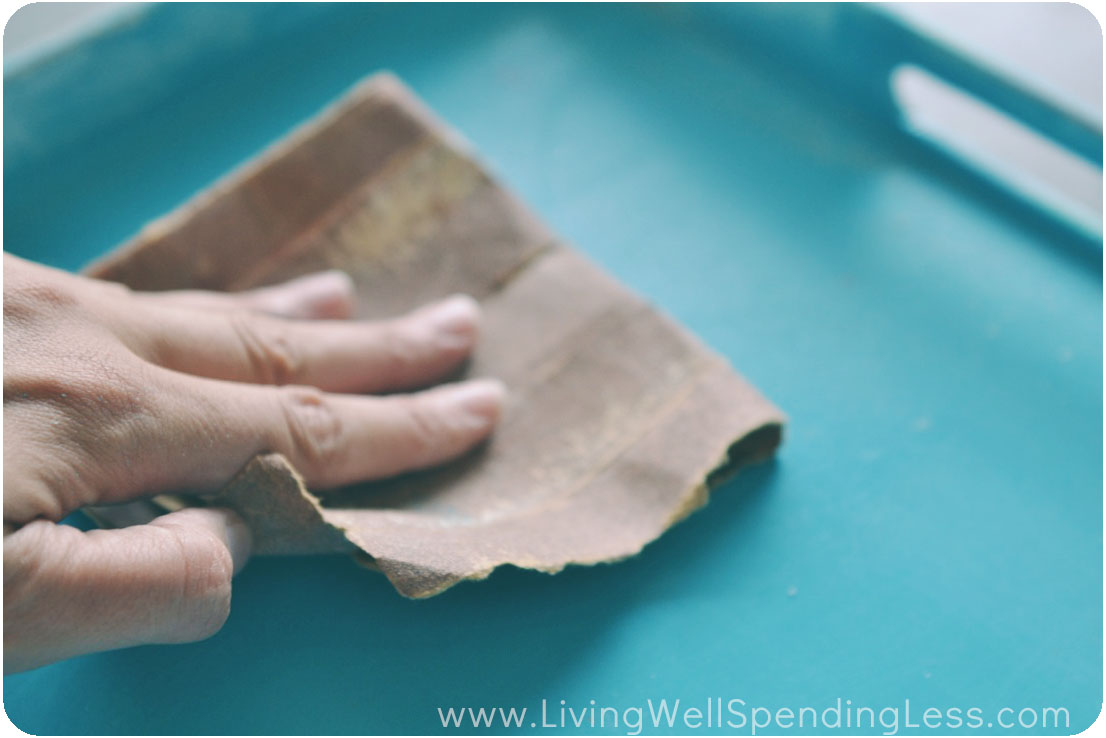 Step 1:  My first step is prepping serving tray. My own trusty little tray has seen a lot use this year, first as a desk organizer and then as part of the summer beachy decor for Trouble's mermaid party. Sand it thoroughly with fine grit sandpaper, then wipe it down really well to remove all the dust.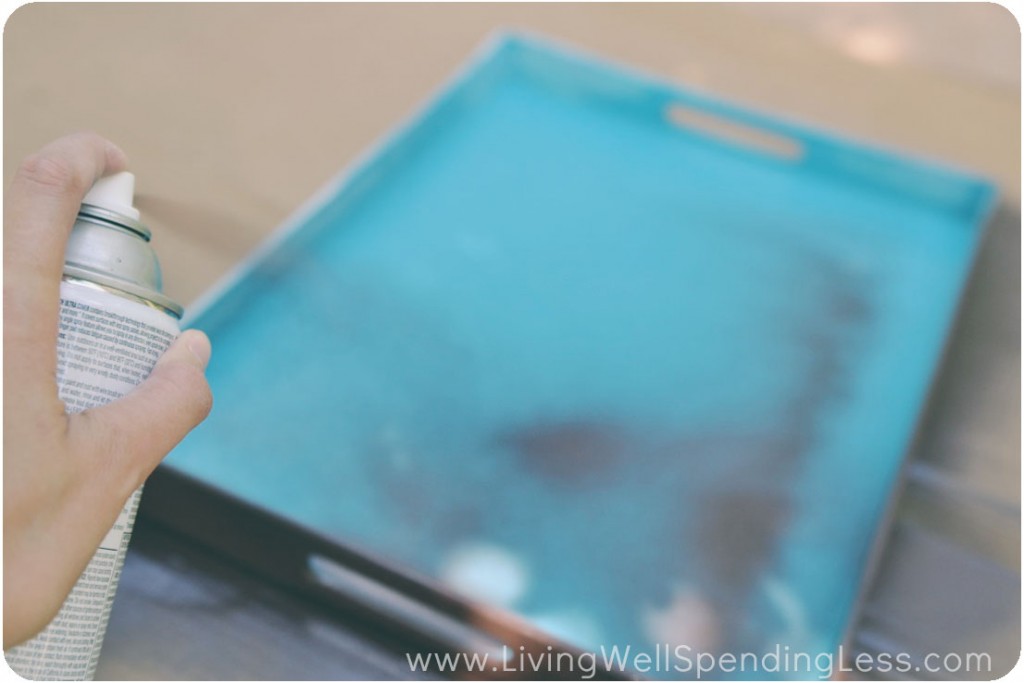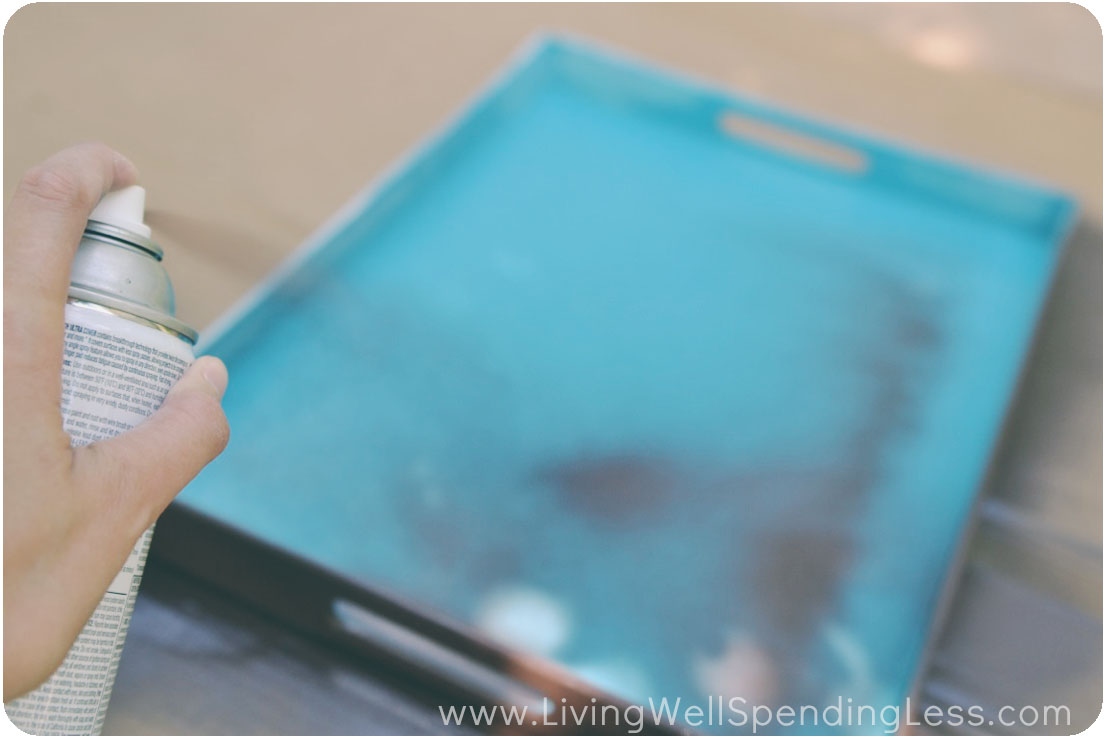 Step 2:  Lightly spray the top and sides of the tray with spray paint. A bright color or even a metallic paint would probably look good too. Ultimately I decided on dark brown because I wanted a nice neutral to showcase the corks.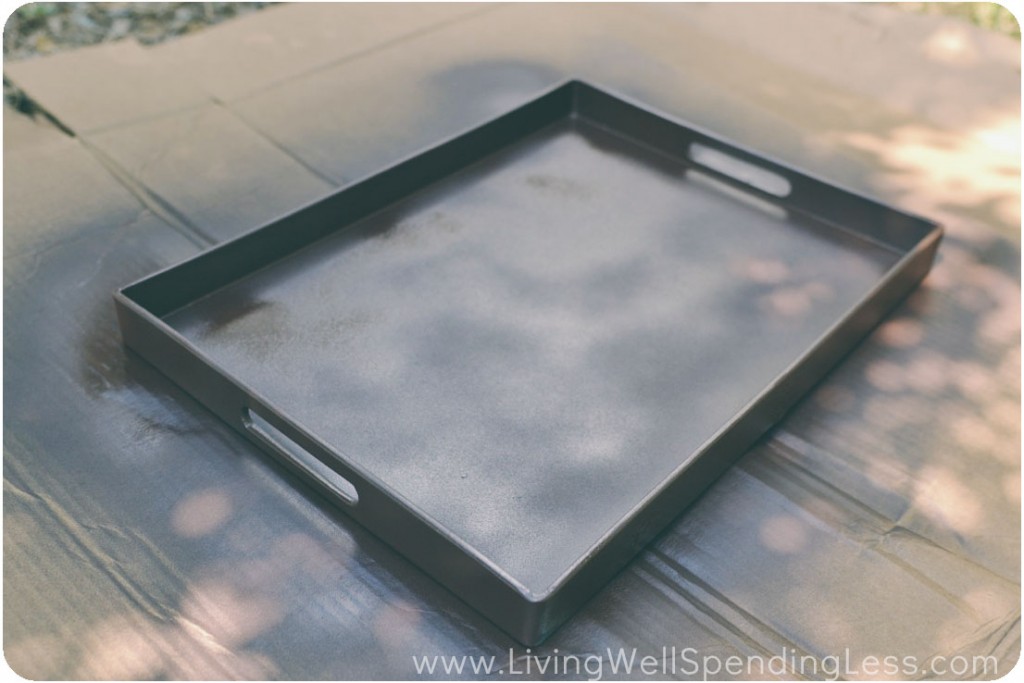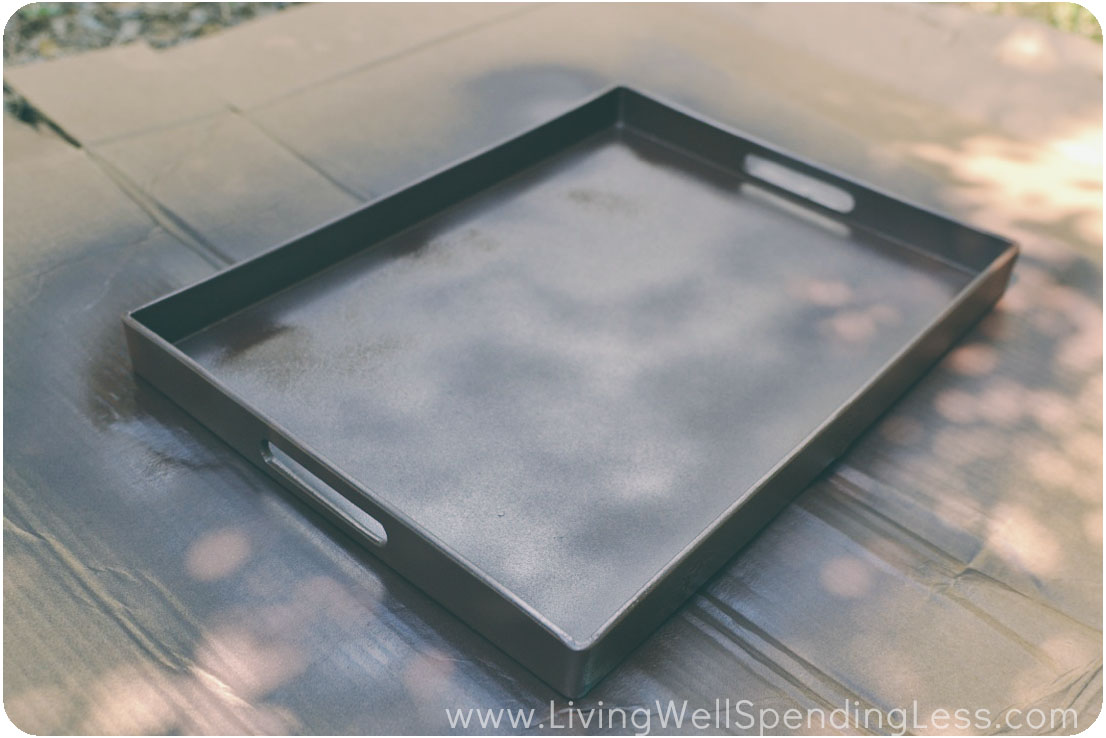 Step 3:  Let the spray paint dry completely, then re-spray a second coat. Let the second coat dry and re-spray again, for a total of three coats. After the third coat of paint let it dry for 24 hours.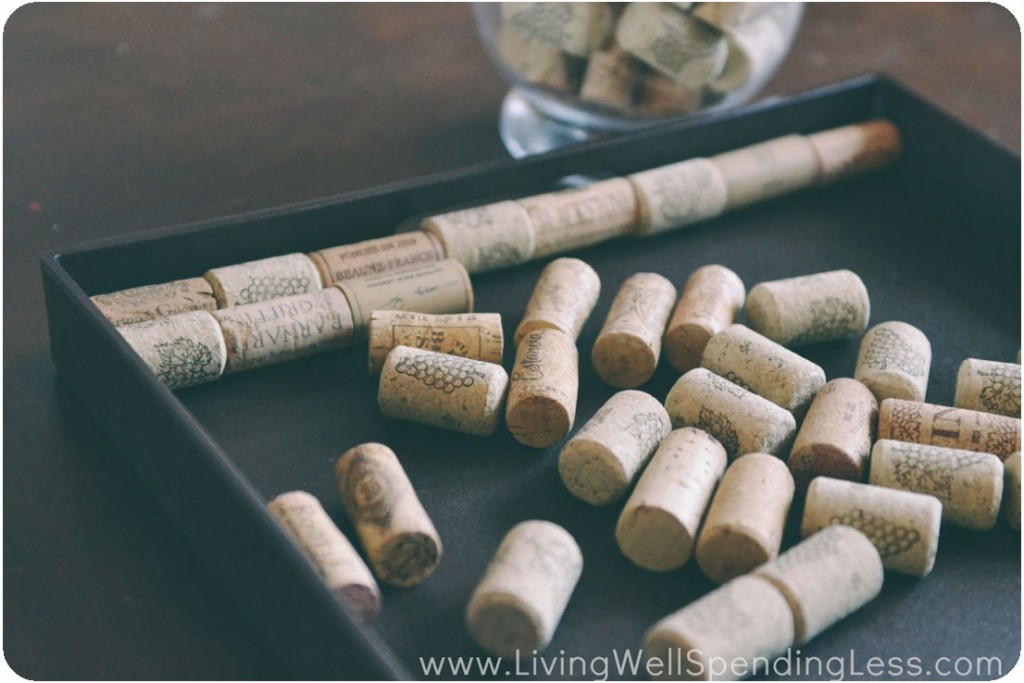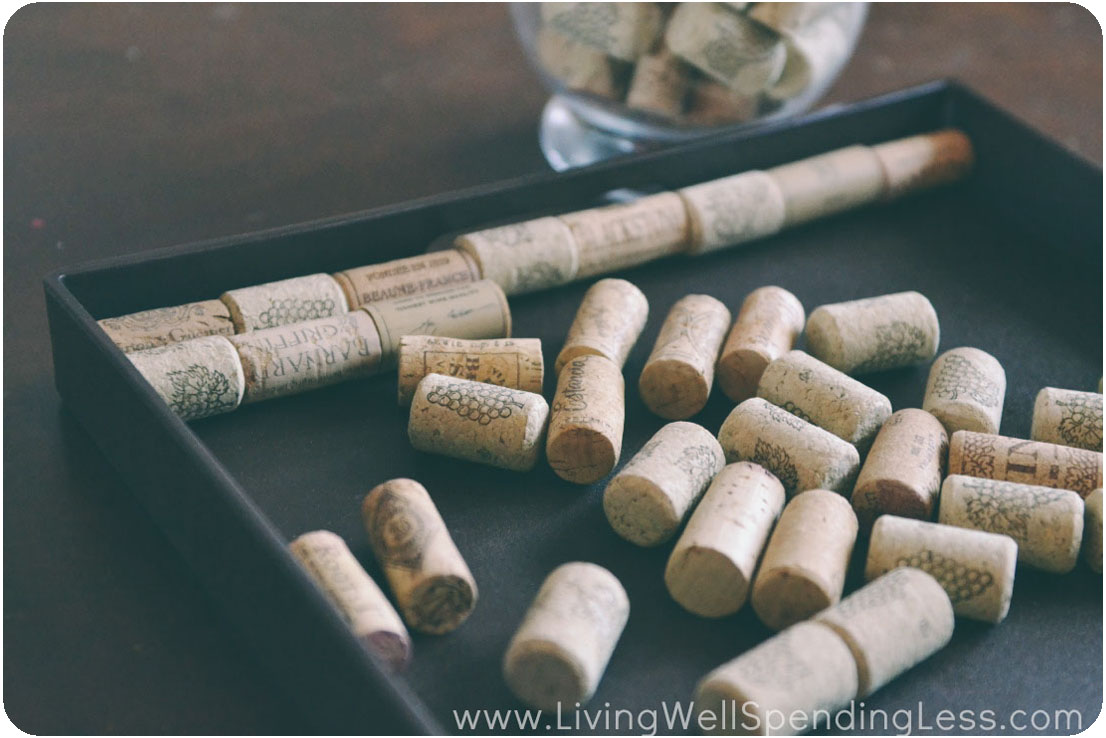 Step 4:  The next step is arranging the corks in the tray. If you are short on corks, you could cut them in half so that they will lay flat and not be so high on the tray. I preferred to use the full corks.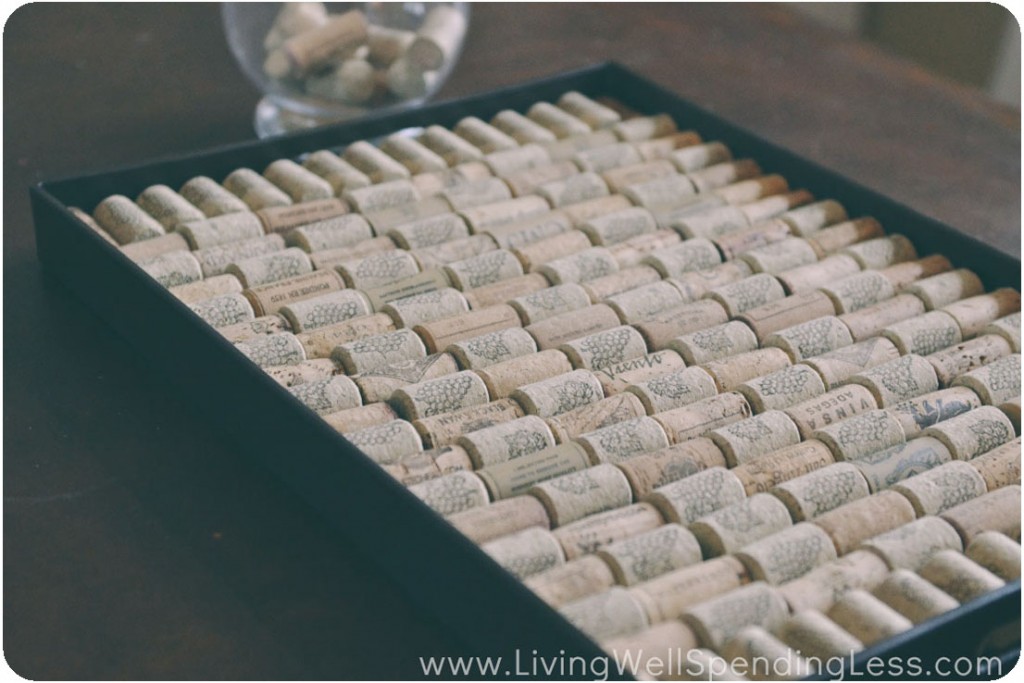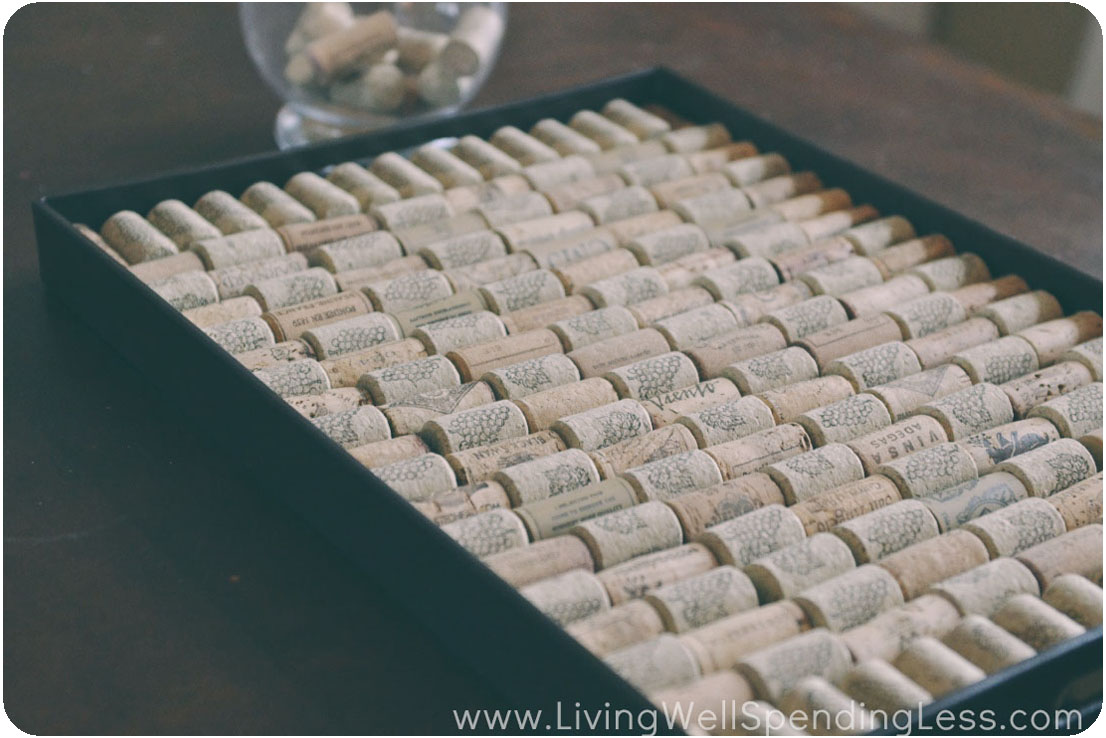 Step 5:  Continue arranging the corks until the whole tray was full. There is no need to glue them down.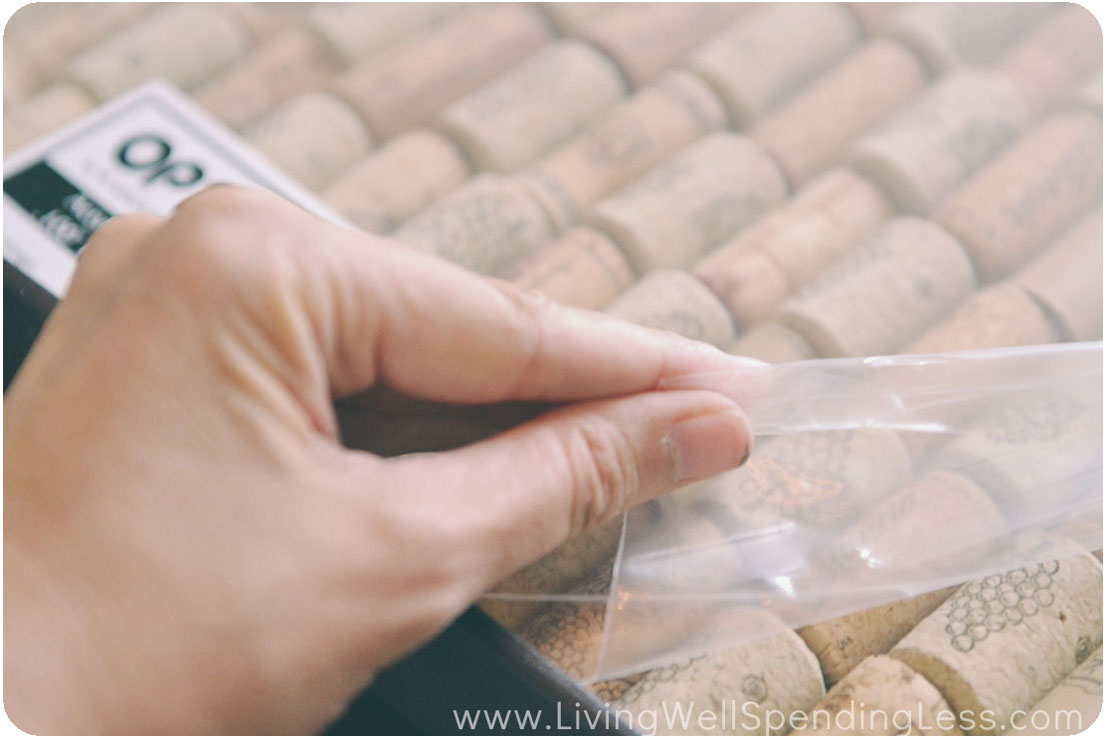 Step 6:  Place the cut acrylic or glass over top of the corks. (Note: I bought the acrylic at a local hardware store for around $10. I could've bought glass instead for about $6, but the hardware store guy said the acrylic would be stronger.) Remove the film from the glass or acrylic, then sit back and admire your handiwork!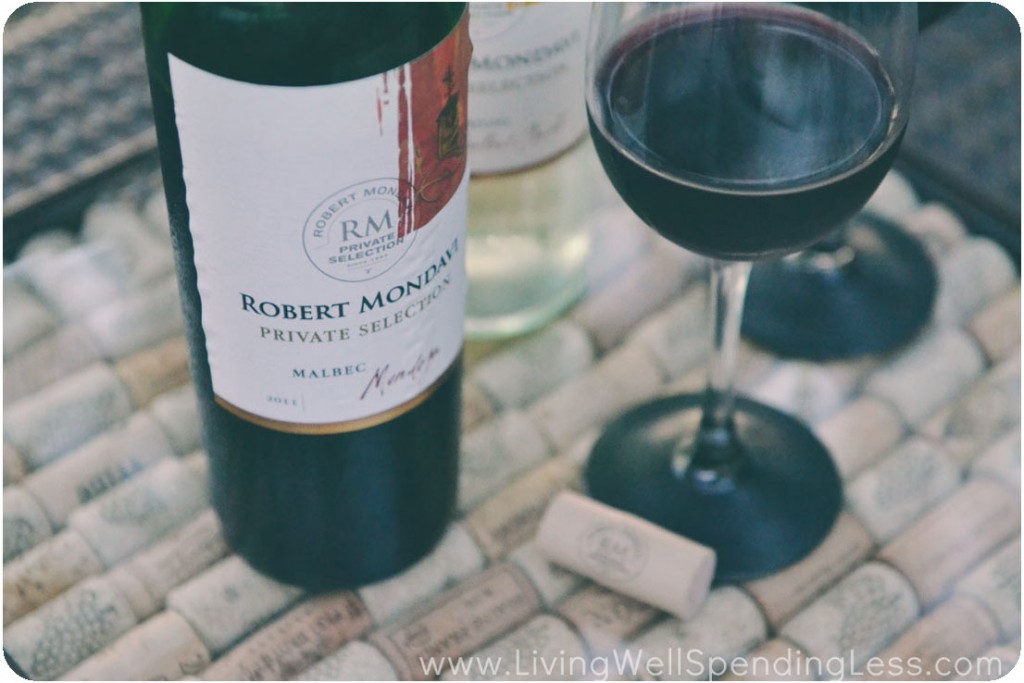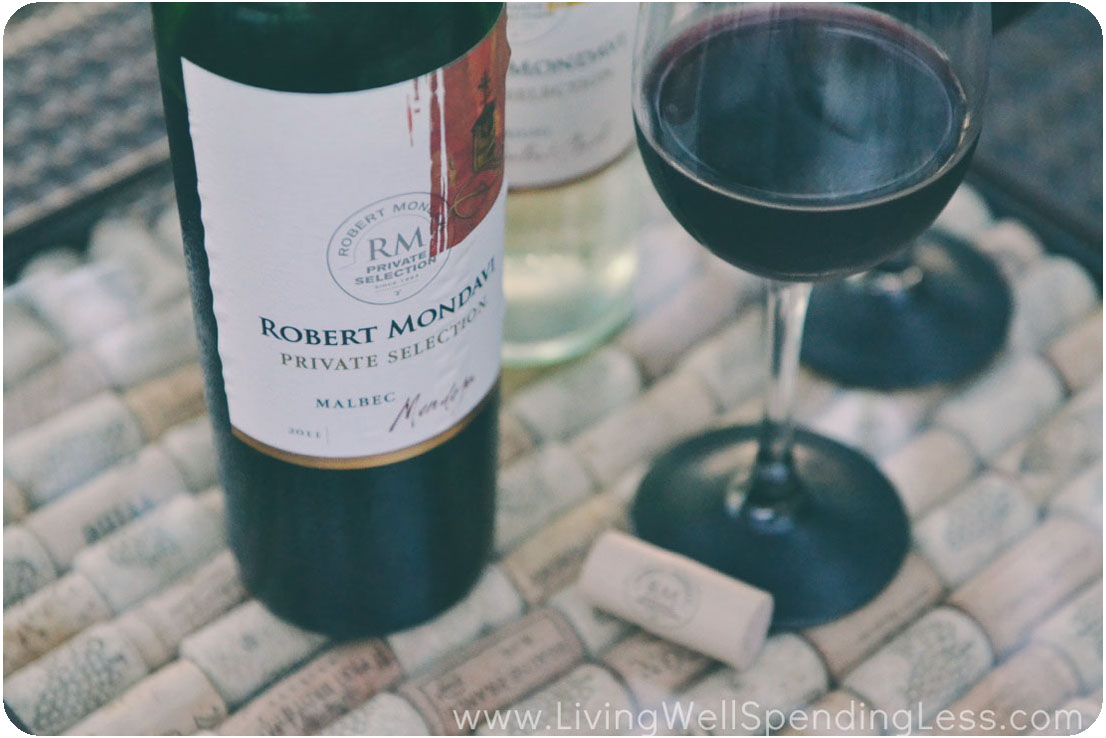 I honestly couldn't be more thrilled with how it turned out. I just love how it shows off the rustic beauty of the corks & it reminds me of all the wonderful moments Husband and I have shared over the years. It was such an easy project to do that I'm almost kicking myself for not doing it sooner!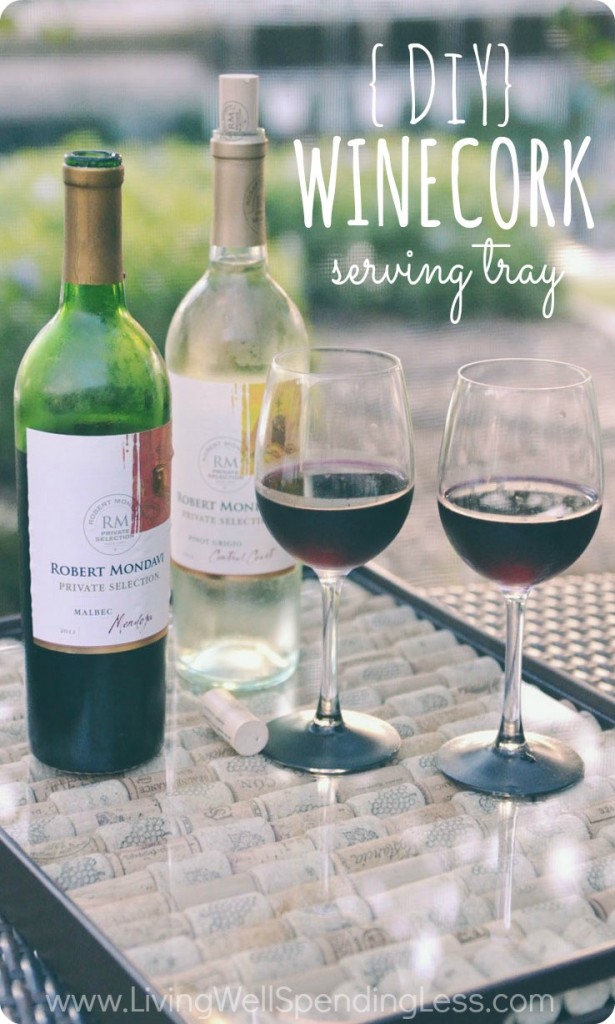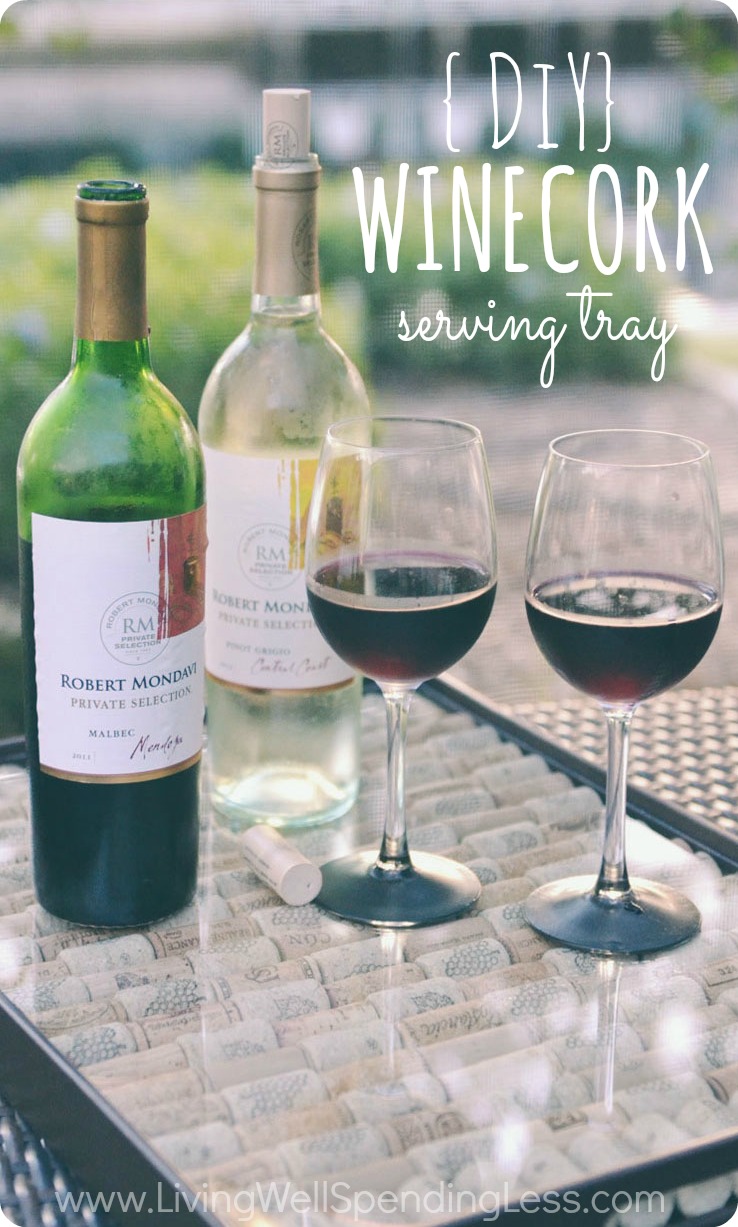 This post was underwritten by Robert Mondavi Private Selection. All opinions are mine. Robert Mondavi believes that great wines begin in the vineyard. He has transformed wine culture in the U.S. by creating Robert Mondavi Private Selection as "quality wines of affordable elegance." (The perfect wine for those of us dedicated to living well but spending less!)

*   *   *
Do you collect wine corks? Have you ever used them in a DiY project of your own?