Print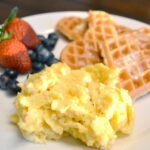 HOW TO MAKE PERFECT SCRAMBLED EGGS
Step-by-step instructions making the fluffiest, yummiest scrambled eggs ever!
Crack your eggs into a bowl.

Whisk eggs until all yolks are broken and well blended.

Pour in half & half and add salt & pepper to taste; whisk well.

Add dabs of cream cheese. Don't try to whisk any more.

Melt butter in pan over medium-low to low heat. Pour in egg mixture. Using knife or whisk, spread out cream cheese dabs so they aren't all clumped together. Let set for a minute or two.

After eggs have set; stir ONE time. Just once. This is very important! Over-stirring scrambled eggs is the mistake most people make. The LESS you stir them, the fluffier and better they will turn out.

After another minute, stir ONE time, then add shredded cheese. Wait another minute then stir once more. Lower heat if necessary.

Wait another minute then flip eggs upside down to make sure they are evenly cooked. Cook for about one minute longer and they are done! Remove from heat and enjoy
Preparation time: 5 minute(s). Cooking time: 10 minute(s). Number of servings (yield): 8.