Print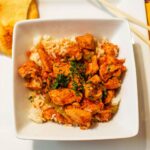 Easy Chicken Curry
This deliciously simple Chicken Curry recipe is the perfect way to turn boring old chicken into a meal your whole family will love.
Total Time
5
hours
10
minutes
Cut chicken into strips; set aside.

Mix together lemon juice, chili powder, salt, garlic, ginger, red chili peppers, crushed tomatoes, honey, chicken stock, Garam masala, and melted butter.

Divide chicken into 2 gallon size freezer bags (be sure to label bags first). Divide mixture over top chicken.

Thaw if frozen; cook in crockpot on low for 3-5 hours or high for 2-3 hours; until chicken is cooked. (Note-don't worry if your chicken isn't all the way thawed. It can also cook from frozen, it might just take a little longer.)

Once chicken is cooked; turn heat off and add yogurt to crockpot and stir.

Serve chicken over cooked rice and along side some naan.
Crockpot Cooking time: 3-5 hours on low or 2-3 hours on high in slow cooker
Number of servings (yield): 4
Instant Pot recipe update: Defrost chicken curry in the fridge the night before. Then place chicken curry in Instant Pot and add a 3/4 cup of water, close the lid making sure the vent valve is on the sealing position. Press the Pressure-cooking setting and set the time for 40 minutes. Once 40 minutes is up, do a quick release. Then remove at least one cup of liquid and turn IP to sauté. This helps the sauce to thicken and coat the chicken.