Print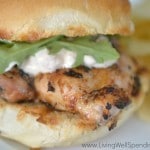 Simple Summer Chicken Sandwich
These fresh flavors come together so easily and fast. It's the perfect summertime meal!
2

lemons

1

cup

olive oil

6

cloves

garlic

1

cup

ketchup

2

teaspoons

McCormick Montreal steak seasoning

1/2

teaspoon

black pepper

1/4

teaspoon

cracked red pepper

1/2

cup

fresh parsley

chopped

3.5-4

pounds

boneless chicken

Arugula

optional, cooking day only

Rolls

cooking day only

Tomato basil mayo

optional, cooking day only
Squeeze lemons to release fresh lemon juice.

Mince or crush garlic in garlic press.

Chop parsley, set aside.

Whisk lemon juice, olive oil, minced garlic, parsley, cracked red pepper flakes, steak seasoning, ketchup & pepper together in bowl, then divide into 2 1-gallon freezer bags. (If freezing, be sure to label bags ahead of time.)

Marinate chicken in bag for at least 30 minutes or longer, or press out air from bag and freeze.

Thaw if frozen. Grill 7-8 minutes per side, basting with additional marinade, if desired. Alternatively, you can pour contents into slow cooker. Cook on low for 3-4 hours or high for 2-3 hours, or place in casserole dish and bake at 400 degrees for 30-40 minutes.

Serve chicken on roll with arugula and tomato basil mayo.