Print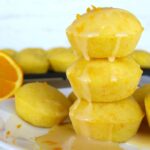 Creamsicle Pancake Bites
These delicious little pancake bites are simple to make, eat, and share. The unique use of a simple orange is so bright and cheery it will have your taste-buds singing!
2

cups

flour

2

tsp

baking powder

1/4

tsp

salt

1 1/2

cups

milk

1/4

cup

maple syrup

2

eggs

1/4

cup

applesauce

1

tsp

vanilla extract

zest of 1 large orange
In a large bowl, mix together flour, baking powder, salt.

In a medium-sized bowl, whisk together milk, maple syrup, eggs, applesauce, vanilla, and the zest of the orange.

Pour the wet ingredients into the dry ingredients and stir until just combined.

Spray a mini muffin tin or silicone pan with non-stick cooking spray. Preheat your oven to 400 degrees Fahrenheit.

Using a spoon or cookie dough scoop pour a scant tablespoon of the batter into each muffin well.

Bake for 10-11 minutes or until toothpick inserted comes out clean. Remove from the pan and eat warm with syrup.

To make the syrup, add the powdered sugar, vanilla, and fresh squeezed orange juice to a bowl and whisk together. Dip each pancake bite into the syrup or pour syrup over the warm bites on a plate.
These bites can be refrigerated for 1 week or frozen for months. The syrup stays fresh for a few days at room temperature. We like to serve the bites with small individual bowls of syrup for each person to dip their pancake muffins in.