Print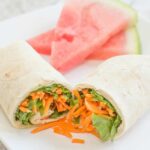 MAKE AHEAD LUNCH WRAPS
These make ahead lunch wraps are the perfect solution to lunch on the go.
Prep: Cut 10 pieces of parchment paper large enough for each tortilla shell. Place one tortilla shell on a piece of parchment paper.

Spoon one-two large tablespoon of hummus on to tortilla shell and spread out.

Add 2-3 slices of turkey meat.

Then add several baby spinach leaves and carrots to tortilla shell.

Wrap in sides of tortilla shell and then roll, and wrap up in parchment paper and place in freezer bag. ( Be sure to label bag first)
Keep in fridge for 3-5 days. Perfect for lunch boxes or picnics. Preparation time: 5-7 minutes. Number of servings (yield): 10.