Print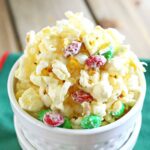 WHITE CHOCOLATE HOLIDAY POPCORN
This super simple and festive treat makes a great gift for teachers, neighbors and friends.
Place popped popcorn in a large bowl. Combine chocolate chips & shortening in a microwave safe bowl. Heat on 50% power in 30 second intervals until melted, stirring in-between each round.

Drizzle the melted chocolate over the popcorn & toss in about 1/3 of the M&M's. Mix until the popcorn is evenly coated with the chocolate. Continue adding more M&M's as you mix. The chocolate will cool & the M&M's will stick to the popcorn instead of sinking to the bottom of the bowl if you mix them in increments.
Preparation time: 3-5 minutes. Cooking time: 3-5 minute(s).