Print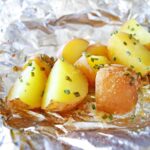 Easy Roasted Potatoes
These potatoes come together with just a few ingredients and make a great side dish for any meal.
Start by preheating the oven to 375 & cutting your potatoes. I like to quarter them so they are more bite size.

Place potatoes on sheets of foil on a large baking sheet. Combine olive oil, lemon juice & seasonings in small bowl & whisk until combined. Spoon over your potatoes - it's not going to coat them completely, that's okay.

Fold the foil in & pinch tightly so it's sealed closed. Bake about 17-25 minutes or until tender.